Industry Insights
[224+ Pages Report] According to Facts and Factors, the global electric vehicle supply equipment market is expected to increase at a compound annual growth rate (CAGR) of 33.2% during the projection period between 2022 and 2028. The valuation for the global electric vehicle supply equipment market was USD 32.5 billion in 2021 and it is expected to cross USD 210 billion by 2028. The report explores various factors and their implications on the electric vehicle supply equipment market's growth.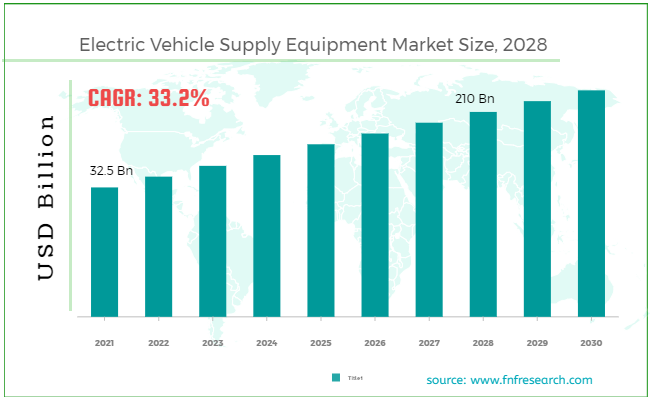 To know more about this report | Request Free Sample Copy
Market Overview
The electric vehicle supply equipment (EVSE) provides power to an electric vehicle (EV). They are also known as charging docks or charging stations since they supply electricity to the vehicle and use it to refill the vehicle's batteries. Electrical wires, supporting equipment, software, and communication protocols comprise EVSE systems, which supply energy efficiently and safely to the grid.
Electric vehicle supply equipment assembles components for charging electric vehicles in a variety of commercial and residential settings, including hotels, depots, roads, parks, houses, and corporate headquarters. The market is being supported by an increasing number of public and private efforts to encourage electric vehicle adoption. Some countries offer incentives, such as subsidies and tax breaks, to encourage electric vehicle adoption.
COVID-19 Impact:
The COVID-19 crisis has influenced practically every sector, including commercial vehicles and EVSE businesses. Some enterprises and original equipment manufacturers were closed down to handle and overcome the COVID-19 crisis. This shutdown had a significant influence on the economic environment, particularly in developing countries. Government restrictions on commodity travel and several other lockdown measures significantly disrupted the supply chain, resulting in a complete standstill in production because the majority of raw materials for automotive production are provided by Asian countries. As a result, EVSE manufacturers will be unable to meet targets for the electrification of automobiles due to disruptions in financial assets and cash flow for the EVSE segment.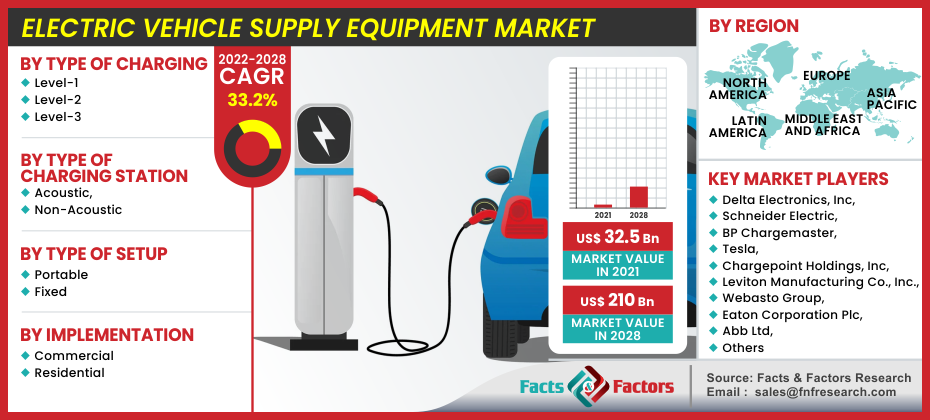 To know more about this report | Request Free Sample Copy
Growth Drivers
Initiatives by the government to build charging infrastructure for electric vehicles are expected to drive the market
Electric vehicle charging stations are important to the widespread production of electric vehicles, which has resulted in greater government backing around the world. Many governments have recognized the importance of becoming electric in order to reduce automobile pollution and have created many programs to supply electric vehicle charging stations around the world. For example, the Automotive Research Association of India (ARAI) plans to establish more than 200 electric vehicle charging stations across the country. Furthermore, Tata Power, an Indian utility, looks to support the government of India's National Electric Mobility Mission. Tata Power created the first batch of electric vehicle charging stations in Mumbai (India) for India's burgeoning EV ecosystem, giving customers easy access to energy-saving solutions.
Furthermore, developed countries such as the United States, the United Kingdom, and China have taken initiatives to improve charging infrastructure in their respective countries in order to facilitate the transition to electric vehicles. In addition, the Japanese government established an electric car policy in August 2018 to strengthen cooperation and enable a smooth transition in the automobile industry. Furthermore, it has launched the program for Faster Adoption and Production of Electric and Hybrid Vehicles II (FAME). According to this, incentives would be granted to encourage domestic electric vehicle production. As a result, such government initiatives are expected to accelerate the electric vehicle and electric vehicle supply equipment industries.
Increasing demand for fuel-efficient and lower-emission automobiles is expected to propel the market's growth
Gasoline is a fossil fuel. It is not a sustainable source of energy and will be depleted in the future. As a result, it is vital to identify and implement alternate fuel sources to support long-term growth. This necessitates the adoption of electric vehicles, which do not require gasoline and are less expensive than traditional autos. An electric automobile converts more than half of the electrical energy contained in gasoline, whereas gas-powered vehicles only convert between 17–21% of the energy contained in the fuel. The recent increase in gasoline and diesel fuel prices has increased demand for fuel-efficient vehicles. This is due to dwindling fossil fuel resources and a growing desire among corporations to maximize earnings from these oil deposits.
Restraints
High cost of installation may limit the market's growth
The expense of building charging infrastructure for electric vehicles is relatively significant. High costs and a lack of charging infrastructure are important impediments to the expansion of the electric car charging infrastructure market. Charging electric vehicles necessitates a permanent location as well as a person to manage the charging network and charging points. This expense becomes the deciding factor, rendering charging station financing untenable. Furthermore, numerous governments have imposed limitations and per-unit charges on electric vehicle drivers, complicating the operations of EV charging point owners. This factor may stifle the expansion of the global electric vehicle supply equipment market.
Opportunities
Efforts by the government to improve access to charging stations are expected to result in significant market growth
The growing number of charging stations around the country stimulates the electric vehicle market because charging stations are now available everywhere, allowing electric vehicles to be used for longer trips. Many governments are pushing for electric vehicles since they are both cost-effective and environmentally friendly. As a result, there will be plenty of exciting opportunities in the electric vehicle supply equipment market in the near future.
For the purchase of electric vehicles, the US government offers a grant in the form of a tax credit of up to USD 7500. The need for electric vehicle supply equipment is expected to increase as a result of these efforts.
In countries including Germany, Norway, Canada, and the United States, governments and OEMs are collaborating to construct electric vehicle charging stations. All of these programs and promotions, combined with electric vehicles' minimal maintenance costs, vast potential for fast-charging sites, and increased electric vehicle sales, are projected to fuel demand for electric vehicle supply equipment in the next few years.
Challenges
The lack of standards in the electric vehicle industry remains a persistent problem
Challenges such as the rise of the electric vehicle market and fluctuations in charging loads have underlined the necessity for standardization of electric vehicle charging sites. Certain charging stations for electric vehicles may only function at a specified voltage. Level 1 charging points, for example, provide a power of 120 volts AC, while level 2 charging points provide a power of 208 volts AC or 240 volts AC. In contrast, DC charging points employ 480-volt AC to provide fast charging. Governments must standardize charging stations in order to generate a favorable environment and increase electric vehicle sales. Quick-charging norms vary from country to country.
Segmentation Analysis
The global electric vehicle supply equipment market is segregated on the basis of type of charging, type of charging station, type of setup, implementation, and region.
By type of charging, the market is divided into level-1, level-2, and level-3. Among these, the level-2 type of charging segment holds the major share in the global EVSE market and will record robust gains in the future.
By type of charging station, the market is divided into inductive, super, and normal. Normal charging type holds a major share in the global EVSE market however, the inductive charging segment is expected to be the fastest-growing segment in the coming years.
By type of setup, the market is classified into portable and fixed. The fixed charger segment is projected to be the fastest-growing segment during the forecast period.
By implementation, the market is segmented into commercial and residential. The commercial segment is estimated to be the fastest-growing market during the forecast period.
Report Scope
| | |
| --- | --- |
| Report Attribute | Details |
| Market Size in 2021 | USD 32.5 Billion |
| Projected Market Size in 2028 | USD 210 Billion |
| CAGR Growth Rate | 33.2% CAGR |
| Base Year | 2021 |
| Forecast Years | 2022-2028 |
| Key Market Players | Delta Electronics, Inc, Schneider Electric, BP Chargemaster, Tesla, Chargepoint Holdings, Inc, Leviton Manufacturing Co., Inc., Webasto Group, Eaton Corporation Plc, Abb Ltd, and Siemens AG. |
| Key Segment | By Type of Charging, By Type of Charging Station, By Type of Setup, By Implementation, and By Region |
| Major Regions Covered | North America, Europe, Asia Pacific, Latin America, and the Middle East & Africa |
| Purchase Options | Request customized purchase options to meet your research needs. Explore purchase options |
Regional Landscape
Asia Pacific holds the highest market share and is predicted to grow at the quickest CAGR over the forecast period. The emphasis placed by various governments on promoting the use of electric vehicles and supporting charging infrastructure has prompted a number of start-ups as well as significant global corporations to collaborate with government agencies to develop novel charging solutions. Furthermore, governments in countries such as Japan and South Korea are making significant investments in expanding EV charging infrastructure. For example, the city administration of Beijing (China) intends to establish 1,628 public charging stations in hotels, retail malls, and parks spread throughout more than ten districts.
Over the projection period, the European market is expected to rise at a rapid pace. This is due to expanding collaborations between automakers such as BMW AG, Daimler AG, and Volkswagen Group for the construction of rapid charging networks throughout Europe. In addition, oil firms such as BP Plc and Royal Dutch Shell Plc are working with electric vehicle supply equipment vendors to integrate electric car charging stations at preexisting gas and fuel stations. Furthermore, expanding public-private partnerships (PPP) projects for the expansion of EVSE on roads are likely to fuel the European market.
Recent Developments
August 2021: Ez4EV Private Limited is India-based battery storage and charger technology business that has introduced the EzUrja on-demand mobile charging solution for electric vehicles. This solution is handled as an IoT device and employs a novel electric car 'charging-on-demand' method, allowing for distant condition monitoring and operation organization.
March 2021: Shell revealed plans to expand its current 60,000 EV charging station network to around 500,000 charging stations by 2050.
Competitive Landscape
Some of the main competitors dominating the global electric vehicle supply equipment market are :
Delta Electronics Inc
Schneider Electric
BP Chargemaster
Tesla
Chargepoint Holdings Inc
Leviton Manufacturing Co. Inc.
Webasto Group
Eaton Corporation Plc
Abb Ltd
Siemens AG
The global electric vehicle supply equipment market is segmented as follows:
By Type of Charging Segment Analysis
By Type of Charging Station Segment Analysis
By Type of Setup Segment Analysis
By Implementation Segment Analysis
By Regional Segment Analysis
North America

The U.S.
Canada
Mexico
Rest of North America

Europe

France
The UK
Spain
Germany
Italy
Nordic countries

Denmark
Finland
Iceland
Sweden
Norway

Benelux Reunion

Belgium
The Netherlands
Luxembourg

Rest of Europe

Asia Pacific

China
Japan
India
New Zealand
Australia
South Korea
Southeast Asia

Indonesia
Thailand
Malaysia
Singapore
Rest of Southeast Asia

Rest of Southeast Asia

The Middle East & Africa

Saudi Arabia
UAE
Egypt
Kuwait
South Africa
Rest of the Middle East & Africa

Latin America

Brazil
Argentina
Rest of Latin America