Covid-19
Global Polymeric Adsorbents Market Size, Share
The pandemic continues to cause unprecedented disruption across industries worldwide.Get detailed insights regarding the impact of COVID-19 on the market. Request Sample
Industry Insights
[187+ Pages Report] According to Facts and Factors, the global polymeric adsorbents market was valued at roughly USD 112 Million in 2020 and is predicted to create revenue of roughly USD 162 Million by the end of 2026, with a CAGR of roughly 6.2% between 2021 and 2026.
Market Overview
Polymeric adsorbents are adsorbents that have been artificially produced and have their subunits covalently linked together. When compared to traditional adsorbents, these polymers have a wider variety of characteristics, including higher porosity, greater endurance, and a bigger surface area. Polymer adsorbents are widely utilized to treat phenolic wastes in a variety of end-use sectors, including pharmaceuticals, food & beverages, textiles, and others, due to their outstanding physicochemical qualities and adsorption capabilities. Mechanical strength, adsorption capacity, and selectivity may all be changed depending on the operating requirements.
Key Trends
Polymeric adsorbents are mostly utilized in the pharmaceutical sectors and food & beverage for purification and separation procedures. Purification of pharmaceutical goods, such as antibiotics and active pharmaceutical ingredients (APIs), as well as food and beverage items, such as citric juices and vitamins, entails removing unwanted components and extracting high-quality and purified products. Polymeric adsorbents are more effective than conventional adsorbents at extracting components without contamination. They are also extremely resistant to caustic and acidic environments. This is anticipated to drive the polymeric adsorbents market.
In industrial applications, polymeric adsorbents are used to remove phenol and substituted phenol from non-aqueous streams and aqueous, purify alkanol amines, recover heterocyclic amines, recover toluene, benzene, and xylene, decolonize organic streams and kraft pulp mill effluents, and purify hydrogen peroxide. Government laws governing the emission of flue and hazardous gases are forcing the chemical industry to use improved adsorption technology in purification operations all around the world. As a result, polymeric adsorbents are chosen over activated carbon due to their greater average pore diameter. This is expected to create lucrative opportunities for the market in the upcoming years.
Segmentation Analysis
The global polymeric adsorbents market is divided based on type, application,end-user industry, and region
Based on type the market is bifurcated into aromatic, methacrylic, modified aromatic, and others. Aromatic dominated the type segment as its resin is utilized in various food processing industries to recover materials such as proteins along with other high-value materials. It is also utilized to decolorize and purify food additives and ingredients. Also, the aromatic resin is used to purify and separate compounds with smaller molecular weight such as vitamins, enzymes, antibiotics, peptides, amino acids, and steroids. It can also be utilized in several process cycles in batch or column systems due to its thermal stability and physical resistance.
Based on the application the market is segregated into chlorinated solvents removal, purification of alkanol amines, anthocyanin removal, heterocyclic amines removal, sugar decolorization, and others. Chlorinated solvents removal dominated the application segmentation in 2020. This can be attributed to its use in cleaning solutions such as glues, paint thinner, resins, and pesticides among others. Chlorinated solvents, such as trichloroethylene (TCE), carbon tetrachloride (carbon tet), and methylene chloride, are a wide family of chemical compounds that include chlorine. Their chlorine-containing chemical structure aids them in dissolving organic compounds like fats and greases effectively, as well as serving as raw materials or intermediates in the manufacture of other chemicals. Workers can be exposed to chlorinated solvents by solvent absorption, skin contact, and inhalation. Because solvents evaporate quickly, inhalation is the most prevalent method of workplace exposure. Another significant method of exposure in the workplace is through skin contact. As a result of its increasing importance in the removal of chlorinated solvents, the market demand for polymeric adsorbents is increasing.
Based on the end-user industry, the market is bifurcated into the industrial, pharmaceutical, food and beverage, chemicals, textile, and others. The pharmaceutical segment dominated the end-user industry segmentation due to its use in the pharmaceutical industry for purification and separation of enzymes, and antibiotics among others. Proteins, peptides, antibiotics, and several compounds can be removed efficiently using polymeric adsorbents. In many cases, the resin's pore structure may be used to increase the removal of smaller molecules while rejecting larger ones. Due to the hemocompatible nature of adsorbent resins, they are frequently employed to extract substances such as β2-microglobulin and cytokines from blood and other biologic fluids while leaving serum proteins intact. As a result, polymeric adsorbents are becoming more prevalent in the market.
Polymeric Adsorbents Market: Report Scope
| | |
| --- | --- |
| Report Attribute | Details |
| Market Size in 2020 | USD 112 Million |
| Projected Market Size in 2026 | USD 162 Million |
| CAGR Growth Rate | 6.2% |
| Base Year | 2020 |
| Forecast Years | 2021-2026 |
| Key Market Players | Lanxess AG, Ion Exchange (India) Ltd., Thermax Limited, Amicogen (China) Biopharm Co., Ltd., Shanghai Bairy Technology Co., Ltd and Others |
| Key Segments | Type, Application, End-User, and Region |
| Major Regions Covered | North America, Europe, Asia Pacific, Latin America, and Middle East & Africa |
| Purchase Options | Request customized purchase options to meet your research needs. Explore purchase options |
Regional Analysis
Asia Pacific region dominated the polymeric adsorbents market and is anticipated to continue its dominance in the upcoming years. The growing demand for polymeric adsorbents is due to increasing demand from developing and developed economies in the region such as India, China, Japan, and South Korea. The growing demand from end-user industries such as food & beverage and in these countries is one of the driving factors for the polymeric adsorbents market in the Asia Pacific. Increasing private and public investments, growing disposable income, population, and economy are some of the reasons driving these industries in the Asia Pacific region. China is projected to be the region's fastest-growing country-level market due to the presence of significant end-use industries. Due to rising demand for polymeric adsorbents in different end-use sectors such as textile and pharmaceutical, India and other Southeast Asian nations are projected to boost regional market expansion.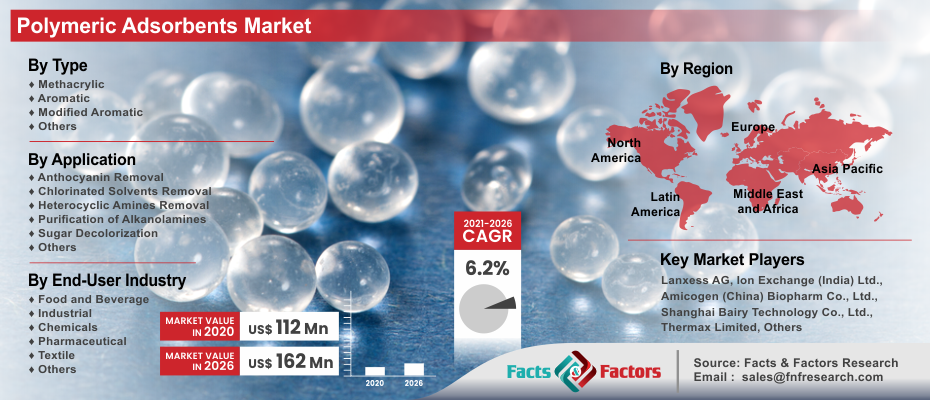 Competitive Players
Some main participants of the global polymeric adsorbents market are Lanxess AG, Ion Exchange (India) Ltd., Thermax Limited, Amicogen (China) Biopharm Co., Ltd., Shanghai Bairy Technology Co., Ltd., Canftech Inc., Samyang Corporation, Jiangsu Kimshan New Material Co., Ltd, ResinTech Inc., Tianjin NankaiHecheng Science &Technology Co., Ltd., DuPont de Nemours, Inc., Purolite, Chemra GmbH, Minerals Technologies Inc., Mitsubishi Chemical Corporation, Ajinomoto Fine-Techno Co., Inc., Ningbo Zhengguang Resin Co., Ltd., Suqing Group, Suzhou Bojie Resin Technology Co., Ltd., Sunresin New Materials Co Ltd, Seppro Separation Technology LTD, and Jiangsu Jinkai Resin Chemical Co., Ltd. amongst others.
By Type
Methacrylic
Aromatic
Modified Aromatic
Others
By Application
Anthocyanin Removal
Chlorinated Solvents Removal
Heterocyclic Amines Removal
Purification of Alkanolamines
Sugar Decolorization
Others
By End-User Industry
Food and Beverage
Industrial
Chemicals
Pharmaceutical
Textile
Others
By Region
North America
Europe

France
UK
Spain
Germany
Italy
Rest of Europe

Asia Pacific

China
Japan
India
South Korea
Southeast Asia
Rest of Asia Pacific

Latin America

Brazil
Mexico
Rest of Latin America

Middle East & Africa

GCC Countries
South Africa
Rest of Middle East & Africa