Covid-19
Global Nitric Acid Market Size, Share
The pandemic continues to cause unprecedented disruption across industries worldwide.Get detailed insights regarding the impact of COVID-19 on the market. Request Sample
Industry Insights
[223+ Pages Report] According to Facts and Factors, the global nitric acid market was valued at USD 24.90 billion in 2021 and is predicted to increase at a CAGR of 3.10% to USD 30.08 billion by 2028. The study examines the market in terms of revenue in each of the key regions, which are classified into countries.
Market Overview
Nitric Acid is a corrosive acid that is colorless in its pure form. The acid turns yellow when oxides decompose. Commercial production of nitric acid occurs through the Ostwald process, where catalytic oxidation of anhydrous ammonia occurs. This yields nitric oxide, which is treated with water and re-oxidized again to obtain nitric acid. Nitric is used to produce chemicals such as adipic acid, ammonium nitrate, toluene diisocyanate, nitrobenzene nitroglycerine, and trinitrotoluene. These chemicals are used in end-use industries like explosives, agrochemicals, automotive, electronics, etc. Increasing usage of nitric acid in the production of fertilizers like potassium and ammonium nitrate, calcium ammonium nitrate, and nitro phosphate is projected to propel the demand for nitric acid during the forecast period. As the population rises, there is a need to increase crop yields, which calls for higher utilization of fertilizers, thereby boosting the market growth.
Nitric acid intermediate toluene di-isocyanate is used to make insulating materials such as polyurethane foams. Increasing consumption of polyurethane among end-use sectors such as automotive, construction, and furniture is expected to drive the use of TDI, thus positively impacting the demand for nitric acid worldwide. Nitric acid is used to formulate adipic acid, a raw material used in to make nylon. Nylon is used widely in the automotive industry to reduce heavy metal components a lighter vehicle results in fuel efficiency and less harm to the environment. Therefore, strict government regulations in developed markets like Europe and North America mandate automobile manufacturers to use lightweight components. This translates to rising demand for adipic acid for nylon composite and fiber for automotive interiors, a significant market driver.
Stringent environment laws mandating fuel economy and eco-friendly cars, a rising population leading to increasing crop yields, and a growing textile industry offer great opportunities for growth in the nitric acid market. However, concerns regarding the health hazards of nitric acid are identified as an impeding factor.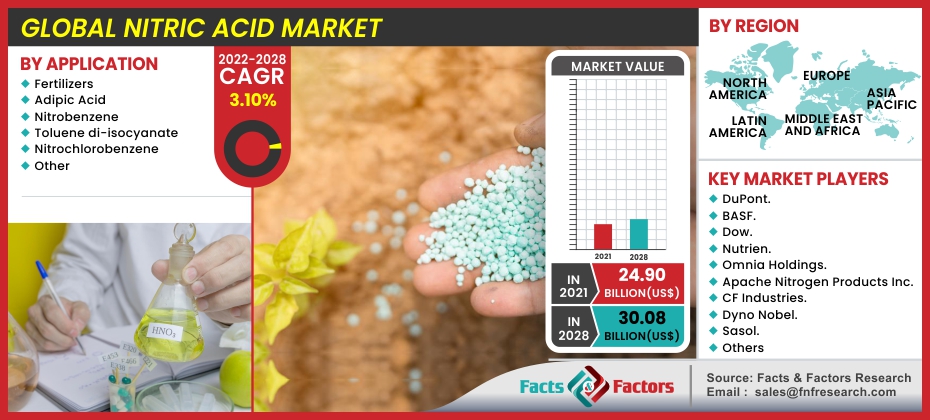 Impact of COVID - 19
The Covid-19 pandemic has industries hard, temporarily shutting down business and manufacturing activities. The decline in production and demand has disrupted supply chains. In addition, temporary delays in car production have caused a drop in demand for adipic acid, a raw material used to produce nylon resin and fiber, which is used in car interiors, thereby restraining market growth. Nonetheless, the increasing demand for plastics in the medical industry will augment the market's growth. The growing demand for personal protective equipment has led to increased production of plastic, which has positively impacted the nitric acid market.
The complete research study looks at both the qualitative and quantitative aspects of the Nitric Acid Market. Both the demand and supply sides of the market have been investigated. The demand side study examines market income in various regions before comparing it to all major countries. The supply-side research examines the industry's top rivals and their regional and global presence and strategies. Each major country in North America, Europe, Asia Pacific, the Middle East, Africa, and Latin America is thoroughly investigated.
Segmentation Analysis
The global nitric acid market is segregated based on application.
The fertilizer segment accounted for the largest market share in 2021, which is expected to continue during the forecast period. Around eighty percent of nitric acid is utilized to manufacture fertilizers such as ammonium and potassium nitrate and nitro phosphates. The increasing demand for nitrogen fertilizers made from ammonium nitrate is projected to drive the segment and, for the most part, the overall market.
The adipic acid segment is projected to witness rapid growth during the forecast period. This is because adipic acid, an intermediate of nitric acid, produces nylon fiber and resin. This polymer composite is experiencing a massive demand from automobile manufacturers worldwide to make lightweight vehicles that are fuel-efficient and environment-friendly. Thus, increasing demand for nylon polymer composite to manufacture lightweight vehicles will augment market growth during the forecast period.
Report Scope
| | |
| --- | --- |
| Report Attribute | Details |
| Market Size in 2021 | USD 24.90 Billion |
| Projected Market Size in 2028 | USD 30.08 Billion |
| CAGR Growth Rate | 3.10% CAGR |
| Base Year | 2021 |
| Forecast Years | 2022-2028 |
| Key Market Players | DuPont, BASF, Dow, Nutrien, Omnia Holdings, Apache Nitrogen Products Inc, CF Industries, Dyno Nobel, Sasol, Angus Chemical Company, Enaex S.A, J R Simplot, and Others |
| Key Segment | By Application, and Region |
| Major Regions Covered | North America, Europe, Asia Pacific, Latin America, and the Middle East & Africa |
| Purchase Options | Request customized purchase options to meet your research needs. Explore purchase options |
Regional Landscape
Asia-pacific accounted for the largest share of the global nitric acid market in terms of region. The growth factor identified is the rising demand for nitric acid from end-use industries such as agriculture, automobile, and construction. Proliferating population in the region and an increasing need for crop yield in India, China, and Japan are expected to boost market growth during the forecast period. China dominated the APAC market with increasing infrastructure projects, rising middle-class income, and a growing population.
The demand for nitric acid in Europe is expected to proliferate as there is an increasing demand for lightweight automobiles to become fuel-efficient and environment-friendly. Germany is home to the most prominent automobile manufacturers with companies like BMW, Adam Opel, Daimler AG, etc. As a result, there is a considerable demand for nylon in automobile interiors and components.
List of Key Players in the Global Nitric Acid Market:
DuPont
BASF
Dow
Nutrien
Omnia Holdings
Apache Nitrogen Products Inc.
CF Industries
Dyno Nobel
Sasol
Angus Chemical Company
Enaex S.A.
J R Simplot
The global nitric acid market is segmented as follows;
By Application
Fertilizers
Adipic Acid
Nitrobenzene
Toluene di-isocyanate
Nitrochlorobenzene
Other
By Regional Segment Analysis
North America
Europe

France
The UK
Spain
Germany
Italy
Nordic Countries
Benelux Union

Belgium
The Netherlands
Luxembourg

Rest of Europe

Asia Pacific

China
Japan
India
Australia
South Korea
Southeast Asia

Indonesia
Thailand
Malaysia
Singapore
Rest of Southeast Asia

Rest of Asia Pacific

The Middle East & Africa

Saudi Arabia
UAE
Egypt
South Africa
Rest of the Middle East & Africa

Latin America

Brazil
Argentina
Rest of Latin America