Industry Insights
[210+ Pages Report] According to Facts and Factors, the global nitrogenous fertilizer market was valued at USD 58.03 billion in 2021 and is predicted to increase at a CAGR of 4.05% to USD 74.90 billion by 2028. The study examines the market in terms of revenue in each of the main regions, which are classified into countries.
Market Overview
One of the most important elements for plant growth is nitrogen. It exists naturally in the environment, but only a few plants can absorb it. As a result, it is provided to plants synthetically in the form of nitrogenous fertilizers. On the global market, urea, ammonia, ammonium sulfate, calcium ammonium nitrate, and a few other nitrogenous fertilizers are available in various nutritional value proportions. Nitrogenous fertilizers are commonly used in agricultural products like fruits, vegetables, cereals, and cotton. Crop production levels are heavily influenced by climate changes, which in turn alter crop demand and supply according to season. Fertilizers are essential components in agricultural methods that help crops grow faster.
The demand for nitrogenous fertilizers has been increasing in the agriculture business in order to supply optimum nutrition to food crops and hence increase yield. The use of nitrogenous fertilizers in agricultural production is becoming increasingly important in emerging economies around the world. Farmers in underdeveloped countries are learning more about how to handle chemicals correctly. Local businesses are also involved in offering sales services for technologies and crop nutrient requirements.
The world's growing population and shrinking arable land are two of the primary factors driving the market growth. Another key growth-inducing aspect is the establishment of favorable government policies encouraging the use of sophisticated fertilizers for increased yield. The expanding usage of these fertilizers for improved soil fertility and increased yield of crops such as corn, rice, and sugarcane has resulted in a large increase in crop demand to meet the fast-increasing global population. Furthermore, the scarcity of arable land as a result of increasing urbanization and industrialization is increasing the use of these fertilizers to maximize productivity. Other factors, such as rising demand for grain-based biofuels and intensive research and development (R&D) operations to develop more efficient and environmentally friendly variations, are expected to boost the market's prospects.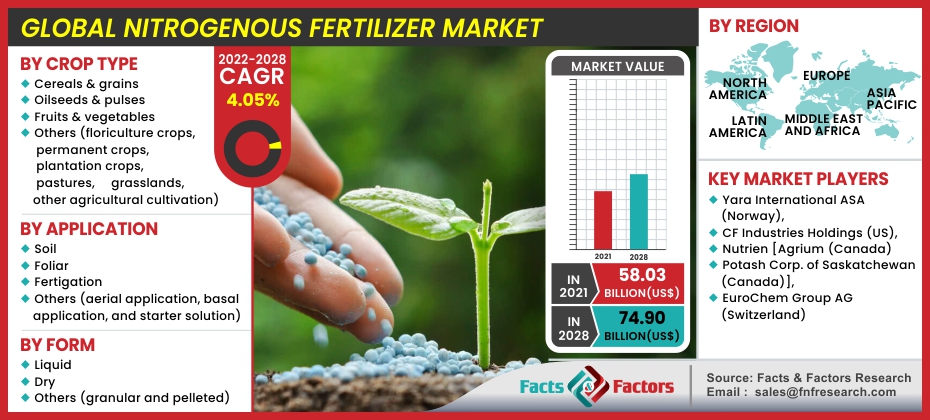 To know more about this report | Request Free Sample Copy
Impact of COVID – 19
COVID-19 has had an impact on all of the processes that connect all of the operations and link farm products to final consumers. Agricultural inputs such as fertilizer, seed, and insecticides have been in short supply for farmers. China is one of the world's largest fertilizer manufacturers and exporters. The Chinese embargo had a significant impact on the international fertilizer trade. When China's lockdown began, it had a significant impact in terms of production reduction due to manpower shortages and transportation issues, resulting in stockpiling. Prices are at an all-time low, stockpiles are huge, and demand in producing countries is uncertain.
The complete research study looks at both the qualitative and quantitative aspects of the Nitrogenous Fertilizer market. Both the demand and supply sides of the market have been investigated. The demand side study examines market income in various regions before comparing it to all of the major countries. The supply-side research examines the industry's top rivals, as well as their regional and global presence and strategies. Each major country in North America, Europe, Asia Pacific, the Middle East and Africa, and Latin America is thoroughly investigated.
Segmentation Analysis
The global Nitrogenous Fertilizer market is segregated based on crop type, application, and form.
Based on the crop type, the cereals and grains segment made up the majority of income. This is due to the extreme care that these crops require in order to produce high yields and maximize profitability for farmers and the agriculture industry as a whole. For cereals and grains, nitrogenous fertilizers such as anhydrous ammonia, ammonium nitrate, and urea are chosen since the required quantity of these nitrogenous fertilizers is smaller to assure an adequate supply of nitrogen for maximum plant growth. The oilseeds and pulses segment was the second-largest application segment, with the highest revenue CAGR expected throughout the forecast period. This can be attributable to the need to increase seed germination rates and ensure the optimal formation of dense pulse canopies.
Based on the form, the liquid segment dominates the market over the forecast period. In comparison to liquid nitrogenous fertilizers, dry nitrogenous fertilizers are commonly employed because they are readily available and inexpensive. Besides that, farmers are becoming more aware of the benefits of liquid nitrogenous fertilizers, such as their stability and increased effectiveness for crop absorption. As a result, demand for liquid nitrogenous fertilizers has increased.
Report Scope
| | |
| --- | --- |
| Report Attribute | Details |
| Market Size in 2021 | USD 58.03 Billion |
| Projected Market Size in 2028 | USD 74.90 Billion |
| CAGR Growth Rate | 4.05% CAGR |
| Base Year | 2021 |
| Forecast Years | 2022-2028 |
| Key Market Players | Yara International ASA (Norway), CF Industries Holdings (US), Nutrien Agrium (Canada) Potash Corp. of Saskatchewan (Canada), EuroChem Group AG (Switzerland), and Others |
| Key Segment | By Crop Type, Application, Form, and Region |
| Major Regions Covered | North America, Europe, Asia Pacific, Latin America, and the Middle East & Africa |
| Purchase Options | Request customized purchase options to meet your research needs. Explore purchase options |
Regional Landscape
The market was dominated by the Asia Pacific, which accounted for the majority of revenue. This is due to the vast amount of cultivable land available, the large rural population, and favorable climatic conditions. Due to rising demand and a greater emphasis on food security, major global nitrogen fertilizer manufacturers have established manufacturing facilities in Asian countries.
China is the world's largest nitrogen fertilizer consumer, accounting for one-third of global consumption. These fertilizers significantly contribute to the country's food security by allowing for significant increases in grain and non-grain yields. Rice, wheat, barley, millets, soybeans, tomatoes, potatoes, peanuts, tea, and cotton are the country's main crops.
List of Key Players in the Global Nitrogenous Fertilizer Market:
Yara International ASA (Norway)
CF Industries Holdings (US)
Nutrien Agrium (Canada)
Potash Corp. of Saskatchewan (Canada)
EuroChem Group AG (Switzerland)
The global nitrogenous fertilizer market is segmented as follows;
On the basis of Crop Type
Cereals & Grains
Oilseeds & Pulses
Fruits & Vegetables
Others (Floriculture Crops, Permanent Crops, Plantation Crops, Pastures, Grasslands, and Other Agricultural Cultivation)
On the basis of Application
Soil
Foliar
Fertigation
Others (Aerial Application, Basal Application, and Starter Solution)
On the basis of Form
Liquid
Dry
Others (Granular and Pelleted)
On the basis of Region
North America
Europe

France
The UK
Spain
Germany
Italy
Nordic Countries
Benelux Union

Belgium
The Netherlands
Luxembourg

Rest of Europe

Asia Pacific

China
Japan
India
Australia
South Korea
Southeast Asia

Indonesia
Thailand
Malaysia
Singapore
Rest of Southeast Asia

Rest of Asia Pacific

The Middle East & Africa

Saudi Arabia
UAE
Egypt
South Africa
Rest of the Middle East & Africa

Latin America

Brazil
Argentina
Rest of Latin America