Industry Insights
[231+ Pages Report] According to the report published by Facts and Factors, the global MRI contrast media agents market size was worth around USD 2.0 billion in 2022 and is predicted to grow to around USD 3.2 billion by 2030 with a compound annual growth rate (CAGR) of roughly 6.1% between 2023 and 2030. The report analyzes the global MRI contrast media agent market's drivers, restraints/challenges, and the effect they have on the demands during the projection period. In addition, the report explores emerging opportunities in the MRI contrast media agents market.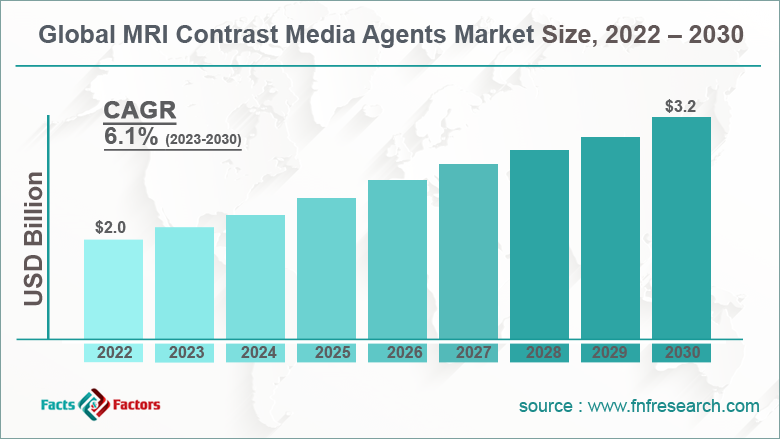 Market Overview
The use of magnetic resonance (MR) contrast agents has significantly changed how MR imaging is used for a variety of clinical purposes. The frequency of contrast-enhanced exams has significantly increased since the first MR contrast agent was introduced in 1988. Currently, contrast agents are used in 40% to 50% of all MR exams. The MR signal characteristics of surrounding tissue are impacted by the paramagnetic or superparamagnetic metal ions found in MR contrast agents.
These contrast agents are mainly used to improve the sensitivity of MR for identifying different pathological processes as well as different pathologies. The use of contrast agents also allows for the representation of both normal and abnormal vasculature, abnormalities related to flow, and pathophysiologic processes like perfusion. At high field intensities (>1.5T), contrast agents might also be used in new, creative ways. The capacity to acquire MR images more quickly as a consequence can improve the time resolution of functional studies like MR perfusion.
Key Insights
As per the analysis shared by our research analyst, the global MRI contrast media agents market is estimated to grow annually at a CAGR of around 6.1% over the forecast period (2023-2030).
In terms of revenue, the global MRI contrast media agents market size was valued at around USD 2.0 billion in 2022 and is projected to reach USD 3.2 billion, by 2030.
The increasing prevalence of the chronic disease across the globe is expected to drive the growth of the MRI contrast media agents market over the projected period.
Based on the product, the paramagnetic agents accounted for the largest revenue share in 2022.
Based on the application, the neurological imaging segment is expected to dominate the market over the forecast period.
Based on region, North America is expected to dominate the market during the forecast period.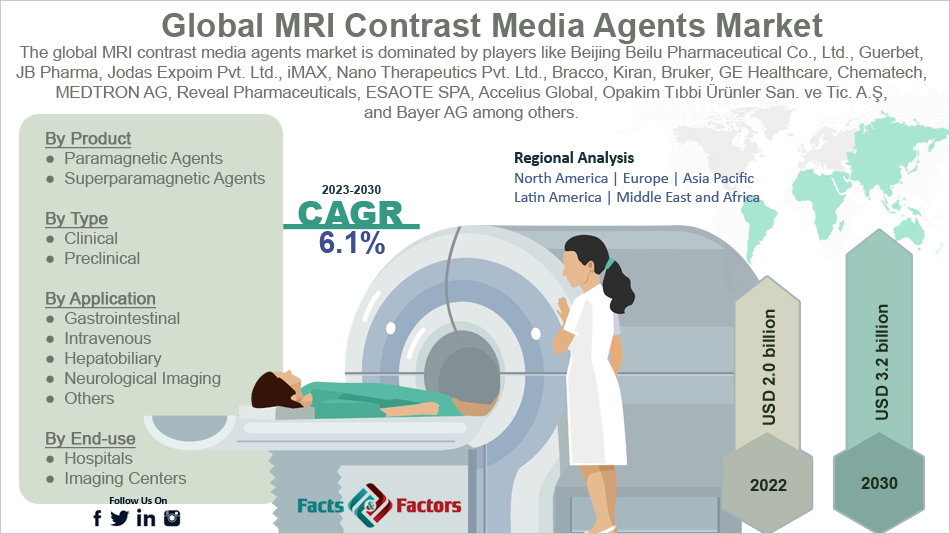 Growth Drivers
The growing prevalence of chronic disease drives the market growth
The number of individuals who have cancer has significantly increased on a global scale. People are embracing sedentary lifestyles, which are characterized by a high-calorie diet and low physical exercise, in many nations around the world. The prevalence of cancer is predicted to rise as a result of these lifestyle shifts.
During diagnostic imaging techniques, contrast media are used to improve the visibility of the body's structures and organs. The demand for advanced diagnostic imaging methods will rise as the incidence of chronic diseases like cancer and CVD rises, which will fuel the global MRI contrast media agents market expansion.
Restraints
The high cost of MRI contrast media devices and the lack of skilled professionals act as a major restraint
For low-osmolar contrast media, moderate-to-severe instantaneous ADRs resulted in cost increases of USD 1657 and USD 6285, respectively, which constrained market growth. Over the forecast period, it is anticipated that the high cost of contrast media injectors, the minor but adverse side effects of contrast media, and a shortage of qualified personnel to operate the most recent imaging technology will impede global market expansion.
Opportunities
Increasing market competitiveness and growing support the government bodies provide a lucrative opportunity
Utilizing MRI technology, MRI contrast agents are being used more frequently to diagnose chronic diseases. By 2020, chronic diseases will be responsible for 75 percent of all deaths globally, predicts the WHO. If people receive early diagnosis and treatment, chronic diseases can be prevented.
However, only four companies Bayer AG, GE Healthcare LLC, Guerbet GmbH, and Bracco Imaging SpA—are currently engaged in the global manufacture of MRI contrast agents, which will present enormous possibilities for both start-ups and established businesses. Contrast media from businesses like Miltenyi Biotec B.V. & Co. Kg and Reveal Pharma is currently undergoing preclinical trials. Receiving FDA clearance is crucial due to the contrast agents' effectiveness, safety, and in vivo compatibility. The MRI contrast media agents industry is being driven by several government initiatives to build contemporary healthcare facilities and provide funding for new MRI equipment.
Challenges
Side effects and allergic reactions pose a major challenge
Contrast agents are safe to use in a variety of MRI diagnostic techniques. However, some of the side effects and allergic reactions associated with their use may limit the market growth. Serious allergic reactions to contrast material are extremely rare, and adverse reactions can range from mild to severe, posing a significant barrier to market growth.
Segmentation Analysis
The global MRI contrast media agents industry is segmented based on product, type, application, end-use, and region.
Based on the product, the global market is bifurcated into paramagnetic agents and superparamagnetic agents. The paramagnetic agents accounted for the largest revenue share in 2022 and are expected to retain their dominance over the projected period. Paramagnetic contrast agents are used to improve MRI images and show areas of pathology and associated hypervascularity. Because they primarily affect the T1 relaxation time in the tissues where they have accumulated, they have their greatest impact on T1-weighted imaging. A magnetic field 1000 times greater than that produced by water protons is produced by the paramagnetic contrast agents. Except for the fact that the strength of their magnetic interaction has a much greater impact on the relaxation time, the interaction between the contrast agent and the water proton is precisely the same as the corresponding interactions with other molecules. Thus, driving the segment growth.
Based on the type, the global MRI contrast media agents market is bifurcated into clinical and preclinical.
Based on the end-use, the market is bifurcated into hospitals and imaging centers.
Based on the application, the global MRI contrast media agents industry is segmented into gastrointestinal, intravenous, hepatobiliary, neurological imaging, and others. The neurological imaging segment is expected to dominate the market over the forecast period as the quality of the scans generated is better than that of computerized tomography scans. These contrast chemicals' main goal is to make target organs and particular tissues visible. The majority of agents containing gadolinium and ferumoxides highlight and magnify the physiochemical impacts on the liver.
Studies indicate that gadoxetic acid-enhanced liver MRI is a developing method with the potential for non-invasive quantification of liver function and staging of hepatic fibrosis. Nearly 30 million MRI scans are performed annually in the U.S. On the other hand, the gastrointestinal segment is growing at the highest CAGR over the forecast period. In some clinical situations, gastrointestinal MRI contrast agents may be useful for differentiating between the intestine and normal organs and intra-abdominal masses. As intestine contrast agents, mixtures of oil emulsion and paramagnetic materials may be used. These include infant formula with ferrous sulphate in an emulsion as well as corn oil emulsions with ferric ammonium citrate.
Recent Developments:
In October 2022, the 2022 Radiological Society of North America (RSNA) will feature the recently approved Gadopiclenol Injection, a novel, highly stable macrocyclic gadolinium-based contrast agent (GBCA), commercialized as VUEWAY (gadopiclenol injection by Bracco, among a robust line of imaging products, devices, and support solutions, according to a statement from Bracco Diagnostics Inc., the U.S. subsidiary of Bracco Imaging S.p.A.
In October 2022, Gadoterate Meglumine Injection, USP, a bioequivalent and therapeutic equivalent substitute for the contrast agent Dotarem®, was introduced by Fresenius Kabi. This is Fresenius Kabi's second contrast drug to be released in the US. Amid a widespread shortage, Fresenius Kabi launched Iodixanol Injection, USP in July. Radiologists employ contrast agents to improve the visibility of internal structures during imaging processes like MRI or CT images. For Fresenius Kabi, contrast agents are a brand-new subcategory of medical supplies.
In September 2022, for use with magnetic resonance imaging (MRI) in patients 2 years of age and older to discover and see lesions with abnormal vascularity in the central nervous system (CNS; brain, spine, and associated tissues), the Food and Drug Administration (FDA) has approved two new macrocyclic gadolinium-based contrast agents (GBCAs), Elucirem and Vueway (gadopiclenol) (head and neck, thorax, abdomen, pelvis, and musculoskeletal system).ss
Report Scope
| | |
| --- | --- |
| Report Attribute | Details |
| Market Size in 2022 | USD 2 Billion |
| Projected Market Size in 2030 | USD 3.2 Billion |
| CAGR Growth Rate | 6.1% CAGR |
| Base Year | 2022 |
| Forecast Years | 2023-2030 |
| Key Market Players | Beijing Beilu Pharmaceutical Co. Ltd., Guerbet, JB Pharma, Jodas Expoim Pvt. Ltd., iMAX, Nano Therapeutics Pvt. Ltd., Bracco, Kiran, Bruker, GE Healthcare, Chematech, MEDTRON AG, Reveal Pharmaceuticals, ESAOTE SPA, Accelius Global, Opakim Tibbi Ürünler San. ve Tic. A.S, Bayer AG, and others. |
| Key Segment | By Product, Type, Application, End-use, and Region |
| Major Regions Covered | North America, Europe, Asia Pacific, Latin America, and the Middle East &, Africa |
| Purchase Options | Request customized purchase options to meet your research needs. Explore purchase options |
Regional Analysis
North America is expected to dominate the market during the forecast period
North America is expected to dominate the global MRI contrast media agents market during the forecast period. Imaging analysis is in demand in this region due to the rising prevalence of chronic diseases like breast cancer, cardiovascular, neurological, and others. For instance, according to the National Cancer Institute, in the United States, there will likely be 1,806,590 new cases of cancer identified in 2020, and there will also likely be 606,520 cancer-related deaths.
The most prevalent cancers are breast cancer, lung and bronchus cancer, prostate cancer, colon and rectum cancer, melanoma of the skin, bladder cancer, non-Hodgkin lymphoma, kidney and renal pelvis cancer, endometrial cancer, leukemia, pancreatic cancer, thyroid cancer, and liver cancer. Similarly to this, according to the American Heart Association, 126.9 million American people between 2015 and 2018 had a CVD of some kind. Total CVD expenses between 2016 and 2017 were $363.4 billion ($216.0 billion in direct costs and $147.4 billion in lost productivity/mortality). Thus, the growing prevalence of the chronic disease is one of the leading aspects that drive the regional demand for contrast agents in MRI.
The Asia Pacific is expected to grow at the highest CAGR over the forecast period. The growth in the region is attributable to the growing geriatric populace and a demand for more advanced imaging techniques. According to the Asian Development Bank, In Asia Pacific, one in four individuals will be older than 60 by 2050. Between 2010 and 2050, the number of older individuals (those over 60) in the region will triple, growing to almost 1.3 billion. This transition will occur quickly in some nations, like the People's Republic of China, Sri Lanka, Thailand, and Vietnam, and slowly in others, like Indonesia, but both will finish up with sizable populations of elderly people.
Additionally, it is anticipated that during the forecast period, the advanced medical imaging industry will develop in line with the expanding medical tourism sector in Asian nations. Due to the rapidly growing demand for healthcare services, the availability of skilled healthcare workers, and the availability of advanced healthcare facilities and services at lower costs than in developed nations in North America and Europe, countries like India, China, and Japan are creating growth opportunities. Thus, this is anticipated to drive market growth in the region over the forecast period.
Competitive Analysis
Beijing Beilu Pharmaceutical Co.Ltd.
Guerbet
JB Pharma
Jodas Expoim Pvt. Ltd.
iMAX
Nano Therapeutics Pvt. Ltd.
Bracco
Kiran
Bruker
GE Healthcare
Chematech
MEDTRON AG
Reveal Pharmaceuticals
ESAOTE SPA
Accelius Global
Opakim Tibbi Ürünler San. ve Tic. A.S
Bayer AG
The global MRI contrast media agents market is segmented as follows:
By Product Segment Analysis
Paramagnetic Agents
Superparamagnetic Agents
By Type Segment Analysis
By Application Segment Analysis
Gastrointestinal
Intravenous
Hepatobiliary
Neurological Imaging
Others
By End-use Segment Analysis
Hospitals
Imaging Centers
By Regional Segment Analysis
North America
Europe

France
The UK
Spain
Germany
Italy
Nordic Countries
Benelux Union

Belgium
The Netherlands
Luxembourg

Rest of Europe

Asia Pacific

China
Japan
India
Australia
South Korea
Southeast Asia

Indonesia
Thailand
Malaysia
Singapore
Rest of Southeast Asia

Rest of Asia Pacific

The Middle East & Africa

Saudi Arabia
UAE
Egypt
South Africa
Rest of the Middle East & Africa

Latin America

Brazil
Argentina
Rest of Latin America