Industry Insights
[216+ Pages Report] According to the report published by Facts and Factors, the global cancer vaccines market size was worth around USD 6.45 billion in 2021 and is predicted to grow to around USD 19.27 billion by 2030 with a compound annual growth rate (CAGR) of roughly 14.75% between 2022 and 2030. The report analyzes the global cancer vaccines market drivers, restraints/challenges, and the effect they have on the demands during the projection period. In addition, the report explores emerging opportunities in the cancer vaccines market.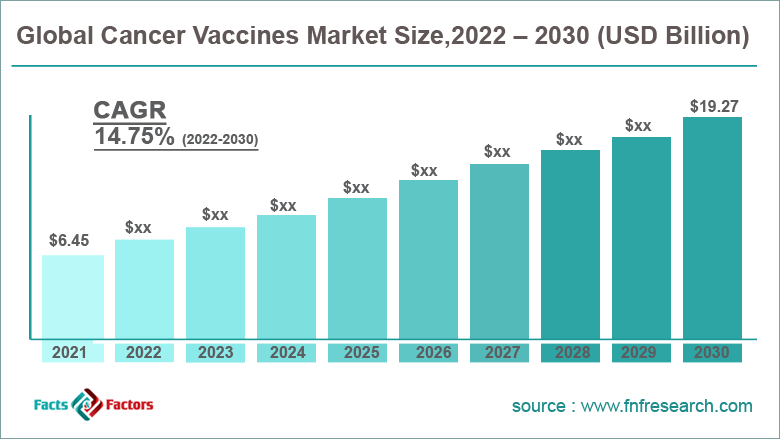 Market Overview
Cancer is a medical disease caused by controlled growth in certain cells in one part of the body and subsequently spreads to other body parts or organs as well. The body is made of trillions of cells, and cancer can start from any part making its way to the rest of the body parts. In normal circumstances, body cells multiply and grow. These normal body cells are required by the body for proper functioning. During the cycle, the cells that become old or damaged are replaced with new and functional cells. When this order breaks down or malfunctions, growth in damaged or abnormal cells increases at a rapid rate which is harmful to the body.
The cells can form lumps, tissues, or tumors which are sometimes cancerous and sometimes non-cancerous, called benign tumors. In the case of cancerous tumors, they invade the surrounding tissues and travel throughout the body to form more tumors. This process is called metastasis. Cancerous tumors are also referred to as malignant tumors. Many cancers may be solid cancers but types of blood cancer like leukemias are not solid cancers.
Key Insights
As per the analysis shared by our research analyst, the global cancer vaccines market is estimated to grow annually at a CAGR of around 14.75% over the forecast period (2022-2030)
In terms of revenue, the global cancer vaccines market size was valued at around USD 6.45 billion in 2021 and is projected to reach USD 19.27 billion, by 2030.
The market is projected to grow at a significant rate due to the growing cancer rate across the globe
Based on indication segmentation, cervical cancer was predicted to show maximum market share in the year 2021
Based on distribution channel segmentation, government suppliers were the leading service channel in 2021
On the basis of region, North America was the leading revenue generator in 2021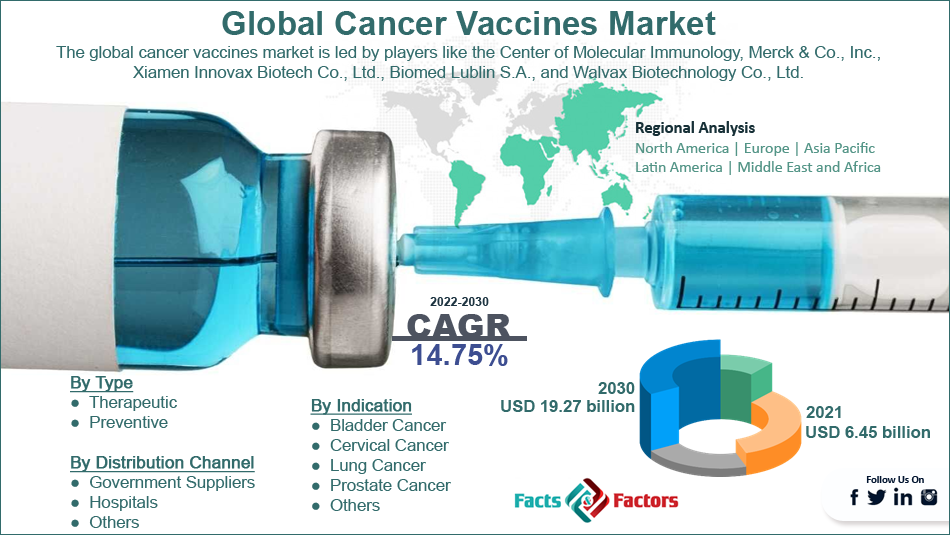 Growth Drivers
Increasing rate of cancer to drive market demand
The global cancer vaccines market is projected to grow due to the increasing number of types of cancer and the population suffering from such cancers. Cancer Research UK states that as of 2022, there are more than 200 recognized types of cancer and they can be classified depending on the organ of origin. There are 5 main groups of classification. Carcinoma is a type of cancer that originates either in the skin or in the tissues that outline internal body organs. There are different subtypes of carcinoma.
Sarcoma cancer begins in supportive or connective tissues like cartilage, bone, blood vessels, muscle, and fat. Leukemia is the cancer of white blood cells (WBCs) and begins in tissues creating blood cells like bone marrow. Myeloma or lymphoma affects the immune system of the patient at the beginning stage. The last type of cancer is the one that affects the spinal cord or brain and is known as central nervous system (CNS) cancer. Some cancers are more common than others. For instance, the chance of getting affected by prostate, rectum, lung, breast, and colon cancer is higher than contracting other types of abnormal cell growth.
Restraints
High cost to restrict market expansion
Cancer treatment or related drugs are expensive and well out of the affordability range for many low to medium-income families in developed or developing nations alike. The total expense of treating cancer includes doctor's fees, the cost of any operations that may be conducted, chemotherapy or radiotherapy, and regular homecare medications prescribed by the medical professional. For instance, without medical insurance, the cost of the human papillomavirus vaccines (HPV) vaccine comes to around USD 300 on average.
Opportunities
Growing efforts by government authorities to increase cancer vaccine accessibility may provide growth opportunities
The global cancer vaccines market is anticipated to benefit from the growing initiative undertaken by regional governments as well as international healthcare associations to make quality cancer care available to the mass population at minimum to no cost. For instance, in India Kidwai Memorial Institute of Oncology is known to provide cancer treatment to the patient at zero cost. Every year more than 17,000 patients register for the treatment. Government bodies have amped up their effort in a bid to reduce cancer spread in their regions. The Australian government provides HPV vaccines for free under the National Immunization Program.
Challenges
Limitations with cancer vaccines a major challenge during the projection period
HPV vaccines can provide protection or they can be used in the treatment of only certain types of cancers. All of the HPV vaccines available in the market provide limited immunity against either 2, 4, or 9 types of cancers which are less as compared to the total number of recognized cancer types. This greatly limits the overall efficiency and applicability of the vaccine.
Segmentation Analysis
The global cancer vaccines market is segmented based on indication, type, distribution channel, and region
Based on indication, the global market is divided into bladder cancer, cervical cancer, lung cancer, prostate cancer, and others. The global market was dominated by cervical cancer vaccines as the majority of the approved vaccines are used in the prevention of vulvar, vaginal, or cervical cancer. As per studies around 1 in 125 US women are at risk of contracting cervical cancer with a sexually transmitted virus or smoking as the top risk factors that can cause cancer. However, the condition is preventable and can be diagnosed before it turns into cancer. Women who have been sexually active before the age of 18 or have multiple sexual partners are more at risk.
Based on distribution channel, the global market is segmented into government supplies, hospitals, and others with the government supplied leading the global market growth in 2021. Most of the vaccines are made available at government centers which makes them a part of the national healthcare regime. The recommended age for HPV vaccines is 11 to 12 years however it can be given as early as 9 years of age.
Recent Developments:
In January 2022, the Government of Delhi, an Indian state, announced that it will launch HPV to treat cervical cancer. Between 2016-2020, more than 13,000 girls were administered the vaccine but the number dropped in the last few years due to the pandemic. With this move, Delhi became the first state to launch the HPV vaccine for cervical cancer.
In December 2022, Moderna in collaboration with Merck Co. announced that the cancer vaccine being developed by the companies has shown promising results in phase 2 trials. The vaccine under question is a personalized messenger RNA (mRNA) cancer vaccine
Report Scope
| | |
| --- | --- |
| Report Attribute | Details |
| Market Size in 2021 | USD 6.45 Billion |
| Projected Market Size in 2030 | USD 19.27 Billion |
| CAGR Growth Rate | 14.75% CAGR |
| Base Year | 2021 |
| Forecast Years | 2022-2030 |
| Key Market Players | Center of Molecular Immunology, Merck & Co. Inc., Xiamen Innovax Biotech Co. Ltd., Biomed Lublin S.A., Walvax Biotechnology Co. Ltd., and Others |
| Key Segment | By Indication, Type, Distribution Channel, and Region |
| Major Regions Covered | North America, Europe, Asia Pacific, Latin America, and the Middle East &, Africa |
| Purchase Options | Request customized purchase options to meet your research needs. Explore purchase options |
Regional Analysis
North America to register the highest growth
The global cancer vaccines market is projected to register the highest growth in North America due to the ongoing research activities to develop more effective cancer vaccines. Many recent trials of new vaccines under the development process have shown promising results. Growth in Europe may be driven by the intensive measures undertaken by the regional governments to promote cancer vaccines.
In 2021, research studies proved that HPV vaccines can help reduce the risk of cervical cancer by 90%. Since then European leaders have amped up the programs to deliver HPV vaccines to young girls. For instance, in the United Kingdom, the human papillomavirus vaccine is available for girls in the 8th year of school and in case they missed the vaccine, they can take it until they reach 25 years of age for girls born after 1st September 1991.
Competitive Analysis
Center of Molecular Immunology
Merck & Co. Inc.
Xiamen Innovax Biotech Co. Ltd.
Biomed Lublin S.A.
Walvax Biotechnology Co. Ltd.
The global cancer vaccines market is segmented as follows:
By Indication Segment Analysis
Bladder Cancer
Cervical Cancer
Lung Cancer
Prostate Cancer
Others
By Type Segment Analysis
By Distribution Channel Segment Analysis
Government Suppliers
Hospitals
Others
By Regional Segment Analysis
North America
Europe

France
The UK
Spain
Germany
Italy
Nordic Countries
Benelux Union

Belgium
The Netherlands
Luxembourg

Rest of Europe

Asia Pacific

China
Japan
India
Australia
South Korea
Southeast Asia

Indonesia
Thailand
Malaysia
Singapore
Rest of Southeast Asia

Rest of Asia Pacific

The Middle East & Africa

Saudi Arabia
UAE
Egypt
South Africa
Rest of the Middle East & Africa

Latin America

Brazil
Argentina
Rest of Latin America