Industry Insights
[224+ Pages Report] According to the report published by Facts Factors, the global methyl methacrylate market size was worth around USD 14 billion in 2021 and is predicted to grow to around USD 30 billion by 2030 with a compound annual growth rate (CAGR) of roughly 8.21% between 2022 and 2030. The report analyzes the global methyl methacrylate market drivers, restraints/challenges, and the effect they have on the demands during the projection period. In addition, the report explores emerging opportunities in the methyl methacrylate market.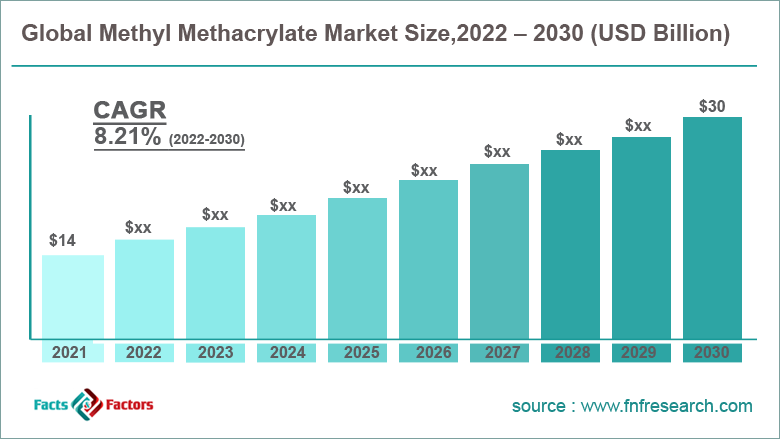 Market Overview
Methyl methacrylate (MMA) is depicted with the chemical formula CH2=C(CH3)COOCH3. It is an organic compound that depicts compounds that have carbon-hydrogen bonds. MMA is the ester derivative of methacrylic acid (MAA) and it is a colorless liquid. Methyl methacrylate is produced on large scale to be further used for the production of poly methyl methacrylate (PMMA), which belongs to the group of engineering plastics exhibiting higher chemical, physical, and thermal properties as compared to everyday plastics. Because MMA is produced in large quantities, there are different methods used in the production process.
PMMA, produced from MMA, are more expensive than traditional plastic and are produced in fewer quantities since they have low-scale applications. However, engineering plastics are slowly but steadily replacing conventional plastics because of the higher benefits provided by the advanced version. This could lead to more demand for MMA in the coming years.
Key Insights
As per the analysis shared by our research analyst, the global methyl methacrylate market is estimated to grow annually at a CAGR of around 8.21% over the forecast period (2022-2030)
In terms of revenue, the global methyl methacrylate market size was valued at around USD 14 billion in 2021 and is projected to reach USD 30 billion, by 2030.
The market is projected to grow at a significant rate due to the growing demand for PMMA
Based on type segmentation, acetone cyanohydrin method was predicted to show maximum market share in the year 2021
Based on application segmentation, automotive was the leading application in 2021
On the basis of region, Asia-Pacific was the leading revenue generator in 2021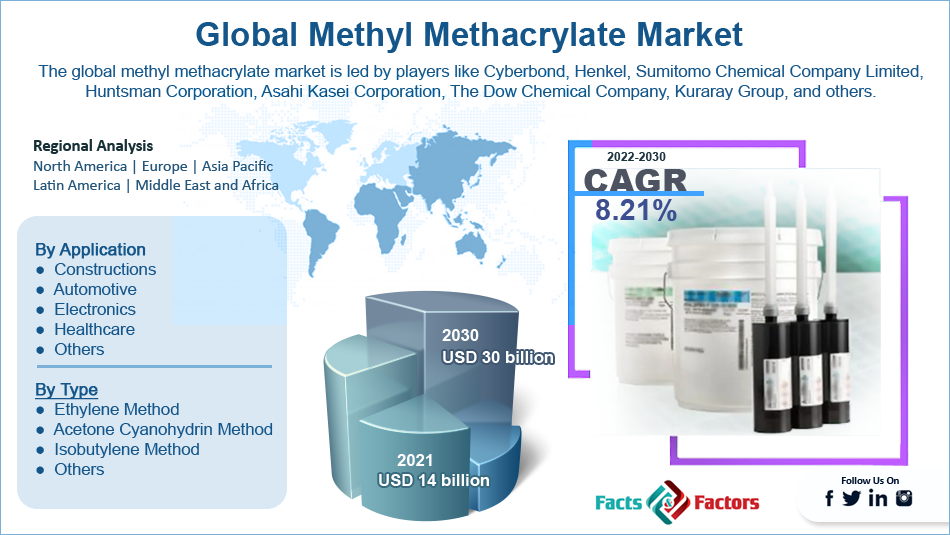 Growth Drivers
Growing demand for PMAA to propel market expansion
The global methyl methacrylate market is projected to grow owing to the increasing demand for poly methyl methacrylate. Almost 75% of the world's MMA production is used for the development of PMMA, which is a transparent thermoplastic. In common terms, it is also called acrylic glass, acrylic, and brand names like Acrylite, Crylux, Lucite, and Perspex. PMAA is widely used in its sheet form to manufacture lightweight and shatter-proof substitutes for glass which has applications in the automobile industry. PMAA can also be used to create coatings & inks and casting resins along with other uses.
Poly methyl methacrylate is considered an economical alternative to polycarbonate in cases where flexural strength, tensile strength, polishability, transparency, and ultraviolet tolerance are more important than other factors like heat resistance, chemical resistance, and impact strength. As the inventions in the automobile segment grow, the demand for PMAA is likely to benefit which could further lead to more demand for MMA production. If an average car weighs around 1300 kilograms, almost 13 to 14% of its mass is made of plastic content.
Restraints
Health concerns to restrict market expansion
One of the leading reasons that could restrict market expansion is the health impact of methyl methacrylate if a person is exposed to the chemical. It is known to cause eye irritation along with pain and swelling. This is not just applicable to humans, but eye, nose, and throat infections are also seen in rodents who have been exposed to MMA in high concentrations. At production sites, these events can occur repeatedly which could later impact the associated ecosystem.
Opportunities
Growing use in the paints and coatings sector to provide market growth opportunities
MMA is widely used in the production of inks and coatings which could lead to higher growth opportunities in the coming years as the demand for coating material increases. The industrial growth is driven by growing demand for high-grade and protective coating in various industries like the automotive sector, building & construction industry, and the architecture designing segment. MMA coatings are dual-system polymers with use in flooring coating activities. It has become popular in the segment due to its high durability, versatility, and fast curing time.
Challenges
Relatively poor heat resistance to challenge market growth
The glass transition (Tg) temperature for methyl methacrylate is around 120°C. If the chemical is exposed to a temperature above the Tg value, methyl methacrylate will turn rubbery which is a critical point of concern for the players in the market dealing with the chemical compound. Once it turns rubbery, the performance index of MMA decreases sharply and it may not be as beneficial as it is under normal conditions. Hence the businesses working with MMA have to be careful with the temperature MMA is stored or transported to avoid any loss of product.
Segmentation Analysis
The global methyl methacrylate market is segmented based on application, type, and region
Based on application, the global market divisions are construction, automotive, electronics, healthcare, and others. In 2021, the highest demand for methyl methacrylate was from the automotive industry where the compound is used to produce PMAA which could potentially replace glass and plastics used in the manufacturing of vehicles. Currently, the material is used extensively as taillight covers along with opaque add-ons for vehicle body parts.
In addition, the material is gaining popularity for interior applications as well like ambient lighting, decorative trim, and door entry strips. The breaking strength for PMAA is 30 times higher than normal mineral glass. The global market could also register a high CAGR in the construction segment due to the increasing use of coating material.
Based on type, the global market divisions are ethylene methods, acetone cyanohydrin method, isobutylene method, and others. Currently, the most widely used method is the acetone cyanohydrin method. In this process, hydrogen cyanide and acetone are condensed to form the resultant compound. The hydrolysis of cyanohydrin occurs in the presence of sulfuric acid. By the end of the process, cyanohydrin is converted into sulfur ester of methacrylamide.
Even though the process is one of the most widely used methods, it also leads to the production of ammonium sulfate, as a by-product in large quantities. The economics associated with this method is highly beneficial and cost-effective. As per estimates, more than 3 billion kilograms of MAA is produced annually using the acetone cyanohydrin method.
Recent Developments:
In October 2022, OQ Chemicals and Rohm announced the official inauguration of a new production facility for the production of methyl methacrylate (MMA). The new facility is housed in Texas, USA where OQ will be responsible for supplying resources & utilities to Rohm
In August 2021, Rohm and Wood jointly launched a digital project, which will make use of software developed by AVEVA to completely integrate the project work
Report Scope
| | |
| --- | --- |
| Report Attribute | Details |
| Market Size in 2021 | USD 14 Billion |
| Projected Market Size in 2030 | USD 30 Billion |
| CAGR Growth Rate | 8.21% CAGR |
| Base Year | 2021 |
| Forecast Years | 2022-2030 |
| Key Market Players | Cyberbond, Henkel, Sumitomo Chemical Company Limited, Huntsman Corporation, Asahi Kasei Corporation, The Dow Chemical Company, Kuraray Group, and others. |
| Key Segment | By Application, Type, and Region |
| Major Regions Covered | North America, Europe, Asia Pacific, Latin America, and the Middle East &, Africa |
| Purchase Options | Request customized purchase options to meet your research needs. Explore purchase options |
Regional Analysis
Asia-Pacific to witness the highest growth
The global methyl methacrylate market is projected to register the highest growth in Asia-Pacific owing to the increasing production and use of MMA in China and South Korea driven by the growing use of the compound in the automotive sector as well as for the manufacturing of small screens which are an integral part of electronics equipment. China is currently a world leader in terms of the chemical industry and the high expansion rate is driven by the country's growing investment in the chemical sector.
The regional growth could also be driven by the high product adoption rate in South Korea where the demand for the product has surged to higher numbers. In 2009, Mitsubishi Rayon and Daesan MMA Corp initiated a joint venture for the commercial production of MMA and MAA. The 50-50 joint venture was established in South Korea in 2006 with Honam Petrochemical Corporation to meet the growing regional demand for MMA.
Competitive Analysis
Cyberbond
Henkel
Sumitomo Chemical Company Limited
Huntsman Corporation
Asahi Kasei Corporation
The Dow Chemical Company
Kuraray Group
The global methyl methacrylate market is segmented as follows:
By Application Segment Analysis
Constructions
Automotive
Electronics
Healthcare
Others
By Type Segment Analysis
Ethylene Method
Acetone Cyanohydrin Method
Isobutylene Method
Others
By Regional Segment Analysis
North America
Europe

France
The UK
Spain
Germany
Italy
Nordic Countries
Benelux Union

Belgium
The Netherlands
Luxembourg

Rest of Europe

Asia Pacific

China
Japan
India
Australia
South Korea
Southeast Asia

Indonesia
Thailand
Malaysia
Singapore
Rest of Southeast Asia

Rest of Asia Pacific

The Middle East & Africa

Saudi Arabia
UAE
Egypt
South Africa
Rest of the Middle East & Africa

Latin America

Brazil
Argentina
Rest of Latin America