Industry Insights
[223+ Pages Report] According to Facts & Factors, the global legal marijuana market was assessed at around USD 22 Billion in 2020 and is anticipated to generate revenue worth over USD 97 Billion by the end of 2026, representing a CAGR of around 28% between 2021 and 2026.
Market Overview
Marijuana is made up of dried cannabis flowers and leaves, which are also known as hemp, weed, dope, or cannabis. Tetrahydrocannabinol (THC) is a psychoactive (mind-altering) compound found in marijuana, as well as non-psychoactive active compounds like cannabidiol (CBD). Marijuana is one of the most heavily abused drugs on the planet. Marijuana is derived from the hemp plant, and the "drug" is most commonly produced in the flowers (also known as "buds"), with much less being produced in the seeds, leaves, and stems. Marijuana is a mixture of dried hemp plant leaves, stems, flowers, and seeds that is sold. Its color is typically green, brown, or grey. Marijuana, like alcohol, cocaine, and ecstasy, is a psychoactive substance. Like these types of other medications, marijuana has potentially adverse side effects.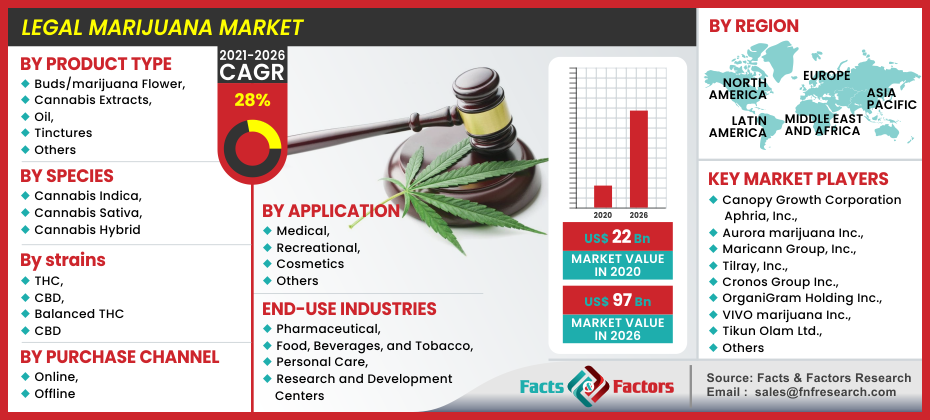 To know more about this report | Request Free Sample Copy
Industry Growth Factors
The demand for legalized marijuana is rapidly increasing, especially in countries where marijuana for medicinal purposes and for food & beverages is legal. CBD isolates will see even more development in the coming year's thanks to a recent novel food ruling in Europe. Furthermore, children who consume cannabis are only prescribed oil because it has proven to be effective in the treatment of conditions such as epilepsy. Owing to shifts in government policy, the market for legal marijuana is expected to skyrocket. Several new cannabis start-ups are pursuing R&D, research, and manufacturing. The privatization of cannabis retail stores is anticipated in several provinces. Several provinces that previously selected a single supplier are now encouraging several suppliers to submit bids. Over the forecast period, these factors are expected to drive the market. The increasing legalization of cannabis in several countries is a major factor driving market development. Marijuana's efficacy for medicinal purposes is gaining traction around the world as a result of recent legalizations in several countries. Medicinal hemp is used to treat chronic diseases like cancer, arthropathy, and neurological conditions like depression, panic attacks, Alzheimer's disease, and Parkinson's disease. The high prevalence of cancer is expected to be a critical factor driving the need for marijuana legalization. However, the various contradictory conclusions about smoking cannabis, such as mucus composition, persistent cough, and respiratory infections like COPD, will serve as a market restriction. The wide legalization of marijuana in this manner will have a variety of consequences for the economy and culture of the countries where it is legalized. Legalization requires policymakers to apply application-based regulations to marijuana production and distribution, meaning that it contributes to the country's GDP. Legalization also aids in the eradication of gangs and black-market traffickers, as well as the reduction of related crime rates.
Segmentation Analysis
The legal marijuana market is segmented based on product type, species, strain, purchase channel, application, and end-user.
As per product type segmentation, the market is divided into Buds/marijuana flower, cannabis extracts(oil, tinctures), others. Based on species type segmentation, the market is classified into Cannabis Indica, Cannabis Sativa, Cannabis Hybrid. Based on strain type segmentation, the market is classified into THC-dominant, CBD-dominant, Balanced THC, and CBD. Based on purchase channel segmentation, the market is classified into online, offline. In terms of application, the market is split into Medical (Chronic Pain, Mental Disorders, Cancer), Recreational, Cosmetics & Others. As per the end-user type, the market is bifurcated into pharmaceutical, food, beverages, and Tobacco, personal care, research, and development centers. The use of medical marijuana is critical for a variety of reasons. Medical marijuana is provided to patients with chronic illnesses including Parkinson's, cancer, Alzheimer's, and a variety of neurological disorders. The demand for cannabis oil is rapidly increasing, especially in countries where medical marijuana is legal. CBD isolates will see even more development in the coming year's thanks to a recent novel food ruling in Europe. Furthermore, children who consume cannabis are only prescribed oil because it has proven to be effective in the treatment of conditions such as epilepsy. The adoption of new and advanced technologies, which has made them more multifunctional, has provided the industry with many lucrative growth opportunities in the coming years.
Regional Analysis
North America dominated the global legal marijuana industry, with Latin America, the Middle East, and Africa, Europe, and Asia-Pacific following closely behind. The largest share of this area is due to technological advances in marijuana cultivation and processing, a broad base of marijuana users, shifting attitudes about marijuana which is legal use for both medicinal and recreational purposes, and increased investments from leading players. Furthermore, recreational use of the cannabis herb, tension, and government restrictions or allowances to use and employ it for health-beneficial purposes have all led to the region's market dominance.
Covid 19 Analysis
The World Health Organization declared the year 2019 to be the Year of Healthcare Emergence. To combat the spread of the coronavirus, the government declared it a pandemic, and many countries implemented lockdowns and airline bans. Marijuana could help manage Covid-19's minor effects. As a result, during the epidemic in research and development efforts, demand for marijuana, which is often employed in medical applications, has surged. The quick increase in significant research and development operations to better understand the application spectrum of legalized marijuana mainly used for medicinal purposes, not just for treating COVID-19 but also for a variety of other conditions, should bode well for market expansion in the next years. In the coming years, the number of nations that have legalized marijuana may increase, broadening the spectrum of its therapeutic applications. These products have been utilized to produce a vaccination to treat Covid-19, and the results have been promising. By 2021, market shares are likely to return to normal levels. According to the World Health Organization (WHO), marijuana or cannabis is used for medical purposes by 80% of the world's population. As a result, the increased acceptability, cultivation, and production of cannabis in developing countries is helping to drive the medical cannabis market forward.
Report Scope
| | |
| --- | --- |
| Report Attribute | Details |
| Market Size in 2020 | USD 22 Billion |
| Projected Market Size in 2026 | USD 97 Billion |
| Growth Rate | CAGR 28% |
| Base Year | 2020 |
| Forecast Years | 2021-2026 |
| Key Market Players | Canopy Growth Corporation Aphria, Inc., Aurora marijuana Inc., Maricann Group, Inc., Tilray, Inc., Cronos Group Inc., OrganiGram Holding Inc., VIVO marijuana Inc., Tikun Olam Ltd., The Green Organic Dutchman Holdings Ltd., Terra Tech Corp., Medical Cannabis, Inc., Stenocare A/S, Cannabis Science, Inc., HEXO Corp and amongst others. |
| Key Segment | By Product Type, By Species, By Strain, By Purchase Channel, By Application, By End-User and By Region |
| Major Regions Covered | North America, Europe, Asia Pacific, Latin America, and the Middle East & Africa |
| Purchase Options | Request customized purchase options to meet your research needs. Explore purchase options |
Competitive Players
Some of the essential players operating in the legal marijuana market are :
Canopy Growth Corporation Aphria Inc.
Aurora marijuana Inc.
Maricann Group Inc.
Tilray Inc.
Cronos Group Inc.
OrganiGram Holding Inc.
VIVO marijuana Inc.
Tikun Olam Ltd.
The Green Organic Dutchman Holdings Ltd.
Terra Tech Corp.
Medical Cannabis Inc.
Stenocare A/S
Cannabis Science Inc.
HEXO Corp
Legal Marijuana Market: Regional Segment Analysis
Germany
U.K.
France
Italy
The Netherlands
Rest of Europe
Australia
South Korea
Rest of Asia-Pacific
Argentina
Colombia
Uruguay
Rest of Latin America
The Middle East and Africa