Industry Insights
[215+ Pages Report] According to the report published by Facts Factors, the global piston engine aircrafts market size was worth around USD 0.87 billion in 2021 and is predicted to grow to around USD 1.15 billion by 2028 with a compound annual growth rate (CAGR) of roughly 4.31% between 2022 and 2028. The report analyzes the global piston engine aircrafts market drivers, restraints/challenges, and the effect they have on the demands during the projection period. In addition, the report explores emerging opportunities in the piston engine aircrafts market.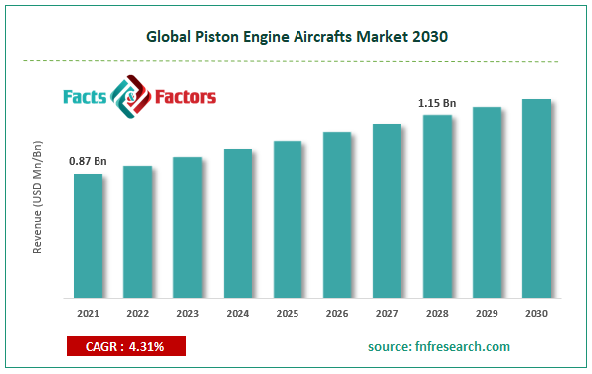 To know more about this report | Request Free Sample Copy
Market Overview
An engine is an extremely important part of aircraft since it plays a key role in aircraft propulsion. Depending on the airplane deliverable, the engine is installed in the plane. A piston engine is an internal combustion engine using a single or more reciprocating piston to help convert pressure into rotational motion. The principle behind the operation of piston engines is similar to the engines installed in automotive vehicles but there are several modifications incorporated for piston engines to be installed in aircrafts. For instance, the use of dual ignition systems can enhance safety and improve redundancy along with air cooling that aids weight reduction. To improve the overall performance of piston engines, makers have known to integrate turbochargers or superchargers, in which installation of the latter is a rare case. Avgas is more commonly used to fuel a piston engine, but in light aircraft, diesel is also being used extensively.
Key Insights
As per the analysis shared by our research analyst, the global piston engine aircrafts market is estimated to grow annually at a CAGR of around 4.31% over the forecast period (2022-2028)
In terms of revenue, the global piston engine aircrafts market size was valued at around USD 0.87 billion in 2021 and is projected to reach USD 1.15 billion, by 2028
Due to a variety of driving factors, the market is predicted to rise at a significant rate
Based on type channel segmentation, single-engine was predicted to show maximum market share in the year 2021
Based on application segmentation, the commercial was the leading application in 2021.
On the basis of region, North America was the leading revenue generator in 2021
Covid-19 Impact
The global market cap was negatively impacted during the virus owing to the closure of domestic and international borders for commercial flights, However, lightweight aircrafts carrying essential items and taking part in rescue operations were flying, and the number was highly concentrated. By the end of 2020, with many countries allowing international travel under heavy restrictions, the global market growth trend could be observed marginally.
Growth Drivers
Increasing passengers in airway travel to people market growth
The global piston engine aircrafts market is projected to grow owing to the increasing number of people preferring the airway as a mode of transport even in domestic travel cases. The increase in airway traffic is a result of a growing population along with the rise in disposable income and a better standard of living. Since the number of players in the commercial aviation market has grown tremendously during the last decade, flying airways has become accessible to more people due to relatively reduced costs, and benefits offered by airway companies like miles compilation, coupon codes, discounts, etc. With the growing list of airway passengers, the global market is also witnessing a rising pressure on attaining fuel efficiency since the engine is currently powered by non-renewable sources of energy and has huge environmental implications in case the fuel is wasted. This is expected to further propel the demand for aircrafts installed with piston engines, as they offer fuel optimization.
Restraints
Increasing cases of engine failure to restrict the market growth
The global market cap may suffer owing to the increasing incidences of engine failure due to technical malfunction. Although this applies to other aircraft engines as well, piston engines are more prone to undesirable incidents in case of a lack of proper maintenance. This is one of the major reasons why aircraft manufacturers prefer other engines over piston types.
Opportunities
Growing number of economic aircrafts to provide excellent expansion opportunities
The global piston engine aircraft market size may grow further in the coming years due to the increasing number of aircrafts offering economic prices. These aircrafts even though restricted for short-distance travel, can attract a huge number of customers owing to cost-effectiveness. The rising strategic collaborations between international and domestic layers to tap into a deep consumer segment may further propel the demand for piston engine aircrafts.
Challenges
Stringent laws regulating engine efficiency to challenge market growth
Since the quality of the engine is responsible for determining the aircraft's safety, there are specific regulatory bodies that determine if the engine meets the standard for being installed in aircrafts. The extremely strict standard protocol may impede global market growth as it affects the entire manufacturing and production process.
Segmentation Analysis
The global piston engine aircrafts market is segmented by maximum take-off weight, type, application, and region.
Based on maximum take-off weight, the global market segments are below 1000 kg, between 1000 to 2000 kg, and above 2000 kg. The global market is led by the 1000 to 2000 kg segment since it is most widely used in low-weight commercial planes. An aircraft is classified as a low-weight plane when the maximum take-off weight is 5,670 kg.
Based on type, the global market is single engine and multi-engine. The former leads the global market segment driven by rising applications for agricultural and training purposes. For instance Cessna 172, a single-engine plane can carry up to 2,550 pounds of weight.
Based on application, the global market is divided into commercial and military, with the maximum revenue generated from the commercial segment, as for military reasons, the piston engine aircraft may not be viable. For instance, Lockheed Martin C-130J from the United States has a maximum take-off weight of 70,370 kg.
Recent Developments:
In March 2021, Achates Power, an American manufacturer of two-stroke, opposite piston, compression ignition engines to be used for passenger and commercial vehicles, announced that the company is developing a 10.6 L opposed-piston (OP) 2-stroke cycle diesel engine, specially designed with applications for heavy-duty trucks of Class-8.
In May 2022, a collaborative forum called the Hydrogen Opposed Piston Engine Working Group was created by a group of companies, academic centers, and research laboratories to research & develop technology for sustainable transportation. The founding members include the Department of Automotive Engineering, and Clemson University amongst others.
Report Scope
| | |
| --- | --- |
| Report Attribute | Details |
| Market Size in 2021 | USD 0.87 Billion |
| Projected Market Size in 2028 | USD 1.15 Billion |
| CAGR Growth Rate | 4.31% CAGR |
| Base Year | 2021 |
| Forecast Years | 2022-2028 |
| Key Market Players | Cirrus Aircraft (The Aviation Industry Corporation of China), American Champion Aircraft Corporation, Piper Aircraft Inc., Diamond Aircraft Industries (Wanfeng Aviation Industry Co. Ltd.), Textron Inc., and others. |
| Key Segment | By Maximum Take-Off Weight, Type, Application, and Region |
| Major Regions Covered | North America, Europe, Asia Pacific, Latin America, and the Middle East &, Africa |
| Purchase Options | Request customized purchase options to meet your research needs. Explore purchase options |
Regional Analysis
Asia-Pacific to lead with the highest CAGR during the forecast period
The global piston engine aircrafts market may be dominated by Asia-Pacific in the coming years majorly driven by the rising need for commercial flights to cater to the needs of the growing population of India and China. The Chinese government is expected to invest higher in its aviation sector, India has managed to register itself at the third position in the domestic aviation segment across the globe. The commercial segment is one of the fastest-growing sections of the Indian economy. India is predicted to overcome the United Kingdom by 2024. The airway mode of transportation supports over USD 13 billion of the Indian gross domestic product (GDP) value in addition to spending by foreign nations of USD 22 billion. North America may also register high CAGR driven by the growing innovation in the field of low-weight aircraft, especially in the United States. For instance, in August 2022, American Airlines announced that it will invest in the development of a revolutionary hydro-electric engine with zero emission. The new technology is termed as ZeroAvia and the engines will power jet aircrafts at the regional level without any emission thus moving toward more sustainable growth.
Competitive Analysis
Cirrus Aircraft (The Aviation Industry Corporation of China)
American Champion Aircraft Corporation
Piper Aircraft Inc.
Diamond Aircraft Industries (Wanfeng Aviation Industry Co. Ltd.)
Textron Inc..
The global piston engine aircrafts market is segmented as follows:
By Maximum Take-Off Weight
Below 1000 Kg
Between 10,00 to 20,00 Kg
Above 2,000 Kg
By Type
Single-Engine
Multi-Engine
By Application
By Regional Segment Analysis
North America
Europe

France
The UK
Spain
Germany
Italy
Nordic Countries
Benelux Union

Belgium
The Netherlands
Luxembourg

Rest of Europe

Asia Pacific

China
Japan
India
Australia
South Korea
Southeast Asia

Indonesia
Thailand
Malaysia
Singapore
Rest of Southeast Asia

Rest of Asia Pacific

The Middle East & Africa

Saudi Arabia
UAE
Egypt
South Africa
Rest of the Middle East & Africa

Latin America

Brazil
Argentina
Rest of Latin America