Covid-19
Global IoT in Defense Market Size, Share
The pandemic continues to cause unprecedented disruption across industries worldwide.Get detailed insights regarding the impact of COVID-19 on the market. Request Sample
Industry Insights
[221+ Pages Report] According to Facts and Factors, the global IoT in defense market was worth around USD 32 billion in 2021 and is estimated to grow to about USD 65 billion by 2028, with a compound annual growth rate (CAGR) of approximately 12.2% over the forecast period. The report analyzes the IoT in defense market's drivers, restraints, and challenges and the effect they have on the demands during the projection period. In addition, the report explores emerging opportunities in the IoT in defense market.
Market Overview
The integration of the Internet of Things (IoT) into defense, also known as Military IoT, is an endeavor to build interconnected devices capable of performing a variety of military functions or missions. Defense IoT is expected to change information collection, analysis, and flow, allowing for more intelligent interactions across humans, interfaces, and networks, ultimately improving combat decision-making. Modern military forces rely heavily on electronic networks for communication and a variety of other activities. Furthermore, the integration of IoT into the armed forces has a wide range of military benefits, ranging from equipment maintenance to personnel monitoring to stock management.
Current military operations are being conducted in a complex, multi-layered, deeply distinctive, and challenging environment in some cases with unexpected allies and intermittent foes. Military commanders operate under strict time constraints and high operational rhythms. Officers have progressively fewer time spans to obtain a precise assessment of the situation, review potential game plans, and make a decision. Furthermore, they must draw from every possible source to ensure that the most complete and pertinent image of the situation can be built in a near-continuous fashion, and they must appreciate the repercussions of their choices and plans.
One answer to these problems is to introduce the concept of the Internet of Things (IoT) into the military realm. The Internet of Things is being developed on a global scale, with a focus on non-military uses for personnel. IoT is a viewpoint that considers the inevitable closeness of a variety of perceptive things and objects on the planet. They can connect and work with each other to create new applications through remote and wired connections, with the end goal of achieving shared objectives.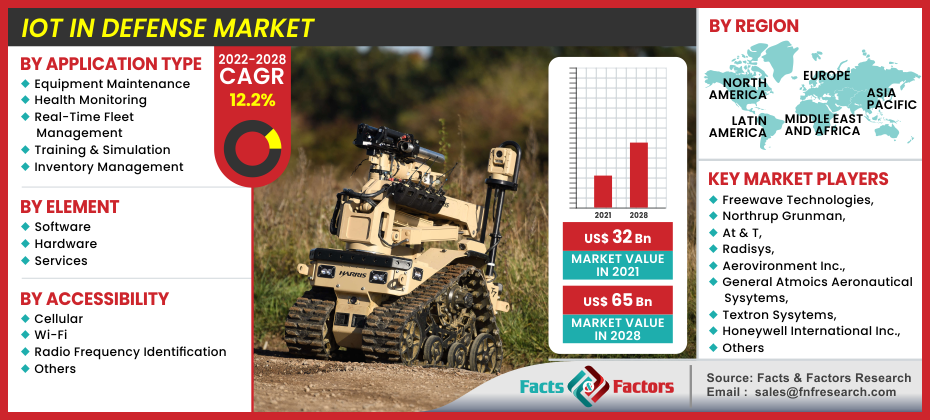 COVID-19 Impact:
The Covid-19 epidemic in 2020 had a negative influence on the economies of several countries throughout the world due to complete or partial lockdown and transportation restrictions. Defense IoT product producers, including subsystems and components, suffered considerable revenue losses. Although the use of IoT in the military for a variety of applications is becoming increasingly significant, the implementation of the lockdown caused a disturbance in the supply chain, resulting in a temporary halt in the production process. The global crisis also impacted long-term defense IoT contracts, which contributed to the global IoT in defense market's falling growth.
The lack of industrial activity, restricted project investments, and slowing economic conditions resulted in lower global demand for industrial products. The Covid-19 pandemic, on the other hand, had a short-term influence on demand for military IoT in the defense sector. In addition, firms are cooperating with technological behemoths to create and deploy digital technologies that will improve the efficiency of military operations.
Growth Drivers
Rising demand to adopt advanced technologies are likely to pave the market's growth
The need for improved national security has increased the demand for global IoT in defense market. The defense industry of an area is seen as a valuable asset for the national territory, and it is critical that this sector be equipped with cutting-edge technology. As a result, demand for military IoT in the defense industry has been increasing at a rapid pace in recent years. National territories desperately need greater physical security on a national scale, and defense IoT plays a significant role in attaining this goal. The defense sector's infrastructure capabilities have changed dramatically over the last decade. The availability of a unified electronic manufacturing base across regions has also played an important role in the expansion of the global IoT in defense market.
The advantages of IoT in terms of high connectivity, increased security, and rapid decision-making skills are driving the IoT in defense market. Furthermore, the IoT in defense market is being driven by a growing demand for creative and dependable services.
Restraints
Vulnerable cyber-attacks and high power usage can prove to be a detriment to market's growth
The vast majority of organizations have implemented Internet of Things (IoT) technology, which is influencing every area of the globe. However, because of the nature of the Internet, connectivity, embedded operating systems, and backend resources, IoT objects are susceptible to cyber-attacks. Furthermore, the majority of traditional security solutions built for enterprise systems are inapplicable to IoT devices. On the other hand, massive power consumption by the IoT during battles or wars may also hinder the growth of the IoT in defense market.
Opportunities
Continuous implementation of new values and security frameworks provides substantial chances for growth
The global IoT in defense market is brimming with profitable chances, and market players may expect to earn significant revenues in the coming years. The requirement for situational awareness and technical superiority in the defense sector has fueled the global demand for military IoT. Furthermore, IoT technologies can be used to improve personnel security in military enterprises. The global market is expected to grow in size and value in the coming years.
Challenges
High expense and insufficient skills: Not only is technology a significant cost to take into account, but the expertise required to implement the technology is a significant challenge that will impede market growth, and the transition to digitally networked devices has created a market for highly skilled labor, which may unknowingly reduce the need for low-skill labor.
Failure to IoT devices: Failure of IoT devices owing to aging, power loss, physical destruction, or external attack are all significant challenges that need to be addressed.
Segmentation Analysis
The global IoT in defense market is segregated on the basis of application type, element, accessibility, and region.
By application type, the market is divided into equipment maintenance, health monitoring, real-time fleet management, training & simulation, and inventory management. Real-time fleet management has the greatest market share in the global market. Because monitoring the fleet in real-time is challenging, the defense industry invests wisely in fleet management. The integration of IoT in the defense industry provides real-time GPS monitoring, which aids in displaying the general state of the engine, speed & motor status, fuel economy, and a variety of other vehicle-related data. Furthermore, defense IoT improves productivity and manageability by exchanging real-time data across vehicles and fleet managers.
By element, the market is classified into software, hardware, and services. Hardware has dominated the global IoT in defense market with the highest share in recent years and is expected to continue this trend over the projected period. It is primarily due to rising defense spending on developing technologically advanced equipment such as UAVs, sensors, biometrics, wearables, robots, health-check devices, armors, and weapons, as well as implementing them across various departments in the defense sector to proficiently exchange real-time information. These hardware components will also allow soldiers to gain improved situational awareness of the battlefield and make smart & informed decisions at the proper time. As a result, demand for military hardware in the Internet of Things (IoT) is expected to skyrocket in the coming years, propelling the global market.
By accessibility, the market is divided into cellular, Wi-Fi, radio frequency identification, and others. Among these, the cellular connectivity mode is predicted to have the largest share during the forecast period because it provides more stable bandwidth correspondence for a number of audio and data real-time applications.
Report Scope
| | |
| --- | --- |
| Report Attribute | Details |
| Market Size in 2021 | USD 32 Billion |
| Projected Market Size in 2028 | USD 65 Billion |
| CAGR Growth Rate | 12.2% CAGR |
| Base Year | 2021 |
| Forecast Years | 2022-2028 |
| Key Market Players | Freewave Technologies, Northrup Grunman, At & T, Radisys, Aerovironment Inc., General Atmoics Aeronautical Sysytems, Textron Sysytems, Honeywell International Inc., Elbit Systems, Prox Dynamics., and Others |
| Key Segment | By Application Type, By Element, By Accessibility, and By Region |
| Major Regions Covered | North America, Europe, Asia Pacific, Latin America, and the Middle East & Africa |
| Purchase Options | Request customized purchase options to meet your research needs. Explore purchase options |
Regional Landscape
North America is expected to account for a sizable share of market revenue
North America earned the most revenue in the global market because of its technologically advanced infrastructure, high adoption of the internet of things (IoT), and growing demand for IoT in defense tools.
Furthermore, technological advancements such as the evolution of industrial infrastructure to a smart environment and the integration of blockchain & cryptographic procedures across IoT security services are likely to propel the market in the Asia Pacific to new heights. Asia Pacific region is expected to grow at a rapid pace throughout the projected period, owing to emerging economies such as India & China, increased urbanization, and other reasons. The Indian government intends to construct Centers of Excellence (CoES) for big data analytics, robotics AI, quantum communication, IoT research, digital manufacturing, and skill training.
Recent Developments
July 2021: Robotics Research (RR), LLC received an all-electric version of the RIPSAW® M5, known as the M5-E, from Textron Systems and Howe & Howe, Inc. This robotic vehicle was supplied in its flat-deck configuration to enable weapon integration testing at the US Army Combat Capabilities Development Command Armaments Center. The deal, which was won in the fall of 2020, resulted in a vehicle with innovative technology that provided unparalleled capability.
August 2021: The Missile Defense Futures Lab (MDFL) of Northrop Grumman Corporation has recently been established in Huntsville. MDFL, the company's missile defense division, is leading the way in developing, testing, and fielding an integrated missile defense system with speed and precision.
Competitive Landscape
Some of the main competitors dominating the global IoT in defense market are Freewave Technologies, Northrup Grunman, At & T, Radisys, Aerovironment Inc., General Atmoics Aeronautical Sysytems, Textron Sysytems, Honeywell International Inc., Elbit Systems, and Prox Dynamics.
The global IoT in defense market is segmented as follows:
By Application Type Segment Analysis
Equipment Maintenance
Health Monitoring
Real-Time Fleet Management
Training & Simulation
Inventory Management
By Element Segment Analysis
Software
Hardware
Services
By Accessibility Segment Analysis
Cellular
Wi-Fi
Radio Frequency Identification
Others
By Regional Segment Analysis
North America

The U.S.
Canada
Mexico
Rest of North America

Europe

France
The UK
Spain
Germany
Italy
Nordic countries

Denmark
Finland
Iceland
Sweden
Norway

Benelux Reunion

Belgium
The Netherlands
Luxembourg

Rest of Europe

Asia Pacific

China
Japan
India
New Zealand
Australia
South Korea
Southeast Asia

Indonesia
Thailand
Malaysia
Singapore
Rest of Southeast Asia

Rest of Southeast Asia

The Middle East & Africa

Saudi Arabia
UAE
Egypt
Kuwait
South Africa
Rest of Middle East & Africa

Latin America

Brazil
Argentina
Rest of Latin America