Covid-19
Flexible AC Transmission Systems (FACTS) Market
The pandemic continues to cause unprecedented disruption across industries worldwide.Get detailed insights regarding the impact of COVID-19 on the market. Request Sample
Industry Insights
[179+ Pages Report] According to the report published by Facts and Factors, the global flexible AC transmission systems (FACTS) market was valued at approximately USD 1,271.04 Million in 2020 and is predicted to create revenue of almost USD 2,028.21 Million by the end of 2026, with a CAGR of around 8.1% between 2021 and 2026.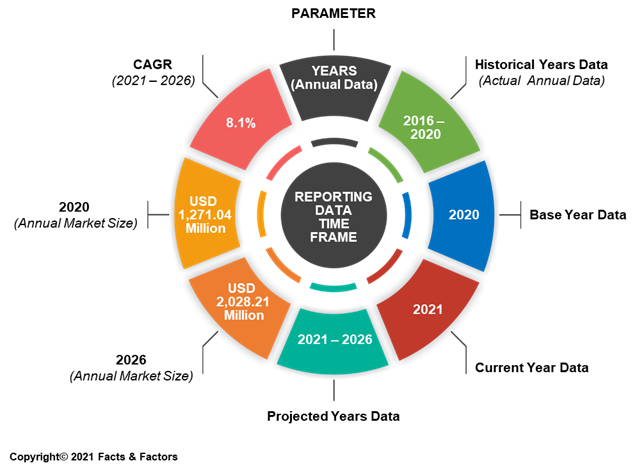 Market Overview
The Flexible AC transmission system (FACTS )is a system that uses power electronic devices in conjunction with power system devices to improve the transmission system's stability and controllability, as well as its power transfer capabilities. It is utilized to regulate the high voltage side of the network using power electronic devices to activate inductive and capacitive power in the network. As a result, it aids in improving power quality and transmission efficiency in order to increase AC grid dependability.
Industry Growth Factors
Governments have been concentrating on boosting generating capacity and expanding grid infrastructure over the past few years. As a result, an enormous network of transmission lines has been built to transport electricity from power plants to customers. The power transmission industry will be bolstered by the ongoing development of utility-based transmission networks, as well as growing expenditures in grid infrastructure rehabilitation. The power transmission business will benefit from favorable regulatory revisions relating to the combination of a sustainable electric network and the continuous expansion of cross-border interconnections. Rapid industrial development by industry participants to enhance volume production, along with a preference for the integration of renewable energy infrastructure, will boost product demand even more. China, the United States, and India are all lengthening their transmission lines. As a result, the expansion of transmission lines is propelling the FACTS market forward. Because the initial costs of installing FACTS are very high, most businesses and utility companies are hesitant to embrace this technology. FACTS' global implementation is hampered by its comparatively expensive initial cost investment compared to its competitors. When the financial advantages and return on investment, such as higher annual sales owing to FACTS' enhanced power transfer capacity, are weighed against the original investment cost, the financial benefits and return on investment surpass the initial investment cost. Because of the small sizes and falling prices of FACTS devices, the impact of this constraint is now mild and is likely to diminish in the future years.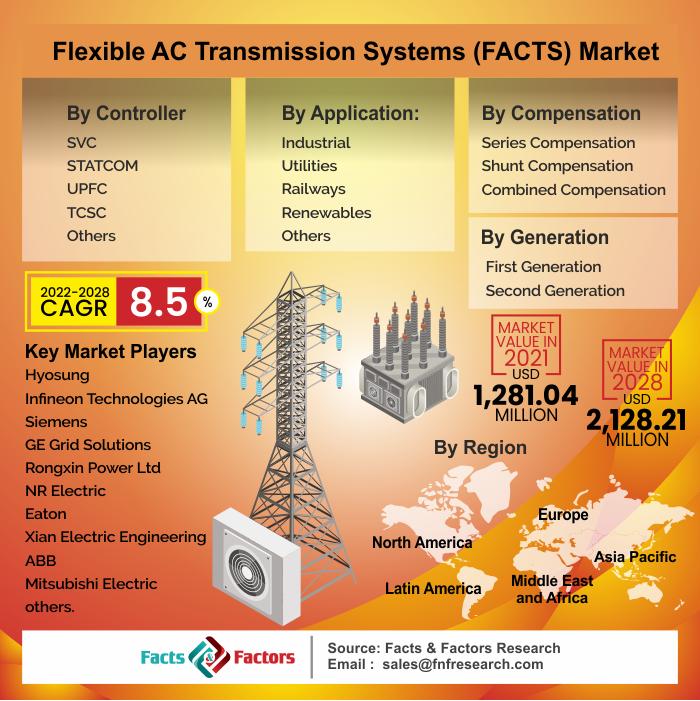 Segmentation Analysis
The global flexible AC transmission systems (FACTS) market is segregated based on generation type, compensation type, function type, controller type, and region.
First-generation and second-generation makeup generation type segment of the global flexible AC transmission systems (FACTS) industry. The global flexible AC transmission systems (FACTS) market can be divided into series compensation, shunt compensation, and combined compensation based on the compensation type. SVC, STATCOM, UPFC, TCSC, and Others are the controller type segment of the global flexible AC transmission systems (FACTS) market.
Voltage control, network stabilization, enhanced transmission capacity, power oscillation damping, and power flow management are all examples of FACTS uses in electrical utilities. FACTS devices can offer a cost-effective and efficient way to relieve strain on existing transmission lines while avoiding the high upfront costs of developing new network expansions. The need for FACTS in utilities is likely to rise as a result of this. Because of the high need for power generation, companies like ABB, GE, and Siemens supply FACTS to electric utilities.
Regional Analysis
Due to the growing demand for power transmission solutions, voltage, and power infrastructure in countries such as India and China, the Asia Pacific regional market is projected to lead the Flexible transmission system market. In the past, the North American regional market led the worldwide industry, capturing a large part of the flexible AC transmission system market. In established countries such as North America and Europe, expanding replacement and expansion of existing power infrastructures, as well as integrating renewable sources into power grids, is projected to boost the regional market over the forecasted period. Due to the delayed adoption of flexible AC transmission systems across industry verticals such as manufacturing, railroads, and renewable energy industries, the Middle East and Africa are likely to gain traction.
Competitive Players
Some main participants of the global flexible AC transmission systems (FACTS) market are Hyosung, Infineon Technologies AG, Siemens, GE Grid Solutions, Rongxin Power Ltd, NR Electric, Eaton, Xian Electric Engineering, ABB, Mitsubishi Electric, American Superconductor, Toshiba Corp, Adani Power, CISCO, American Electric Power and Alstom, amongst others.
Global Flexible AC Transmission Systems (FACTS) Market – By Generation Type:
First Generation
Second Generation
Global Flexible AC Transmission Systems (FACTS) Market – By Compensation Type:
Series Compensation
Shunt Compensation
Combined Compensation
Global Flexible AC Transmission Systems (FACTS) Market – By Controller Type:
SVC
STATCOM
UPFC
TCSC
Others
Global Flexible AC Transmission Systems (FACTS) Market – By Application:
Industrial
Utilities
Railways
Renewables
Others
Global Flexible AC Transmission Systems (FACTS) Market – By Region:
North America
Europe

France
The UK
Spain
Germany
Italy
Rest of Europe

Asia Pacific

China
Japan
India
South Korea
Southeast Asia
Rest of Asia Pacific

Latin America

Brazil
Mexico
Rest of Latin America

Middle East & Africa

GCC Countries
South Africa
Rest of Middle East & Africa
Covid-19
Flexible AC Transmission Systems (FACTS) Market
The pandemic continues to cause unprecedented disruption across industries worldwide.Get detailed insights regarding the impact of COVID-19 on the market. Request Sample
Table of Content