Industry Insights
[230+ Pages Report] According to Facts and Factors, the global industrial gases market was valued at roughly USD 97 Billion in 2020 and is predicted to create revenue of roughly USD 130 Billion by the end of 2026, with a CAGR of roughly 5.2% between 2021 and 2026.
Market Overview
The term "industrial gases" refers to gases generated in large quantities for use in manufacturing operations. These gases are known for their uses as refrigerant, medicinal, specialty gases, and fuel, depending on their use in various industries. Some industrial gases, such as oxygen and helium, are used in artificially ventilated patients' life support systems and modern anesthetic methods. In the transportation business, hydrogen is employed, whereas oxygen is used in gasification plants, hospitals, and steel mills. In addition, liquid helium is used to cool superconductive magnet coil scanners in magnetic resonance imaging (MRI) equipment.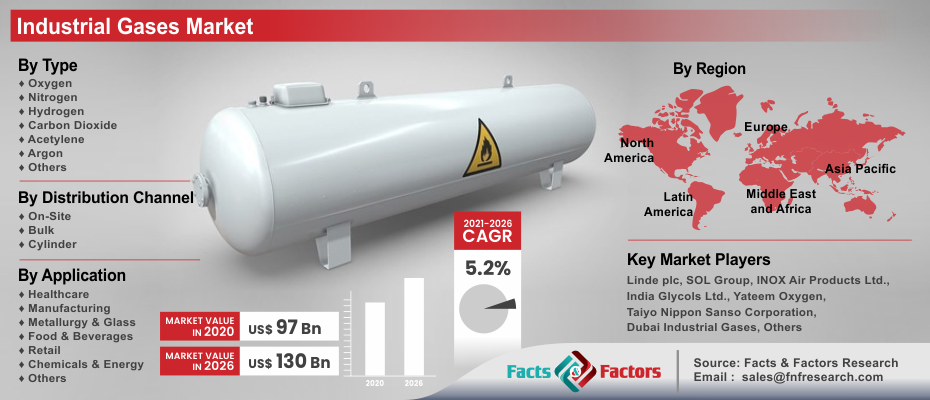 To know more about this report | Request Free Sample Copy
Key Trends
With the increase in industrial activity, the number of production facilities producing various types of industrial gases for various industries is rising. In both emerging and developed nations, this drives the industrial gas market. Industrial gases such as cutting and welding gases are in high demand in metalworking and welding applications due to the rapid growth of infrastructure and construction activities in emerging nations. Global warming and ozone depletion are also caused by the release of industrial gases into the atmosphere. As a result, producers and regulatory authorities have a problem in avoiding and adopting natural-based industrial gases, as well as the necessity for skilled personnel when working with flammable gases. Climate change, health care demands, energy demand, and expanding infrastructure projects have raised awareness of the need to develop sustainable industrial gases.
Segmentation Analysis
The global industrial gases market is divided based on type, application, distribution channel, and region
Based on type the market is bifurcated into nitrogen, carbon dioxide, argon, oxygen, hydrogen, acetylene, and others. Oxygen dominated the type segment in 2020 with a revenue market share of around 30%. This can be attributed to increased demand from healthcare facilities globally due to the COVID-19 pandemic. Oxygen is utilized in the treatment of contaminated water and hazardous wastes, as well as in the coal gasification process. In order to decrease pollution, the gas can also be used to substitute chlorine in the pulp and paper sector. Oxygen is also used extensively in the medical field. As a result, the widespread use of oxygen in many industries is projected to drive up industrial oxygen demand in the upcoming years.
Based on the application the market is segregated into manufacturing, food & beverages, chemicals & energy, healthcare, metallurgy & glass, retail, and others. The manufacturing segment accounted for a revenue market share of around 27% in 2020 and is anticipated to grow at a significant rate in the upcoming years. Because of the increasing manufacturing industries in Brazil, India, South Korea, and China, demand for industrial gases such as hydrogen, carbon dioxide, oxygen, and nitrogen is expected to increase significantly in emerging countries. The electronic industry's rising need for sophisticated industrial gases is likely to push this segment's expansion even further.
Based on the distribution channel, the market is bifurcated into the cylinder, bulk, and on-site. The cylinder accounted for a revenue share of around 35% in 2020 dominating the distribution channel segment. However, the on-site is anticipated to grow rapidly in the upcoming years. Because on-site generation eliminates numerous issues associated with hydrogen transportation and distribution, the industry is projected to expand significantly. In small-scale enterprises, on-site hydrogen generation has grown in favor as new technologies have become more inexpensive compared to provided dispersed routes.
Industrial Gases Market: Report Scope
| | |
| --- | --- |
| Report Attribute | Details |
| Market Size in 2020 | USD 97 Billion |
| Projected Market Size in 2026 | USD 130 Billion |
| CAGR Growth Rate | 5.2% |
| Base Year | 2020 |
| Forecast Years | 2021-226 |
| Key Market Players | Linde plc, SOL Group, INOX Air Products Ltd., India Glycols Ltd., Yateem Oxygen, Taiyo Nippon Sanso Corporation, Dubai Industrial Gases, Sicgil India Limited, Mohammed Hamad Al Mana Group, Tripti Gases Pvt. Ltd., Air Liquide, Air Products and Chemicals, Inc.Ellenbarrie Industrial Gases Ltd., Iwatani Corporation, Abdullah Hashim Industrial Gases & Equipment Co. Ltd, Buzwair Industrial Gases Factory, Gulf Cryo, Bristol Gases – Concorde Corodex Group, Bhuruka Gases Ltd., The Southern Gas Ltd., and Mohsin Haider Darwish LLC amongst others. |
| Key Segments | Type, Application, Distribution Channel, and Regions |
| Major Regions Covered | North America, Europe, Asia Pacific, Latin America, and Middle East & Africa |
| Purchase Options | Request customized purchase options to meet your research needs. Explore purchase options |
Regional Analysis
Asia Pacific region dominated the industrial gases market with a revenue share in 2020 of around 35% and is anticipated to continue its dominance in the upcoming years. The growing demand for industrial gases is due to increasing demand from developing and developed economies in the region such as India, China, Japan, and South Korea. The growing demand from end-user industries in these countries is one of the driving factors for the industrial gases market in the Asia Pacific. The aerospace industry demands high-quality gas solutions and the growing Aerospace industry in the region is driving the market for industrial gases. China dominated the Asia Pacific market in 2020. Growing demand for iron and steel from a variety of sectors, as well as new steel ventures, along with government measures to promote the industrial sector, are projected to increase the use of mechanical gas generation units to meet the mass requirements for modern gases. Growing economies such as India and China are anticipated to generate lucrative opportunities for the industrial gases market in the Asia Pacific region.
Competitive Players
Some main participants of the global industrial gases market are :
Linde plc
SOL Group
INOX Air Products Ltd.
India Glycols Ltd.
Yateem Oxygen
Taiyo Nippon Sanso Corporation
Dubai Industrial Gases
Sicgil India Limited
Mohammed Hamad Al Mana Group
Tripti Gases Pvt. Ltd.
Air Liquide
Air Products and Chemicals Inc.
Ellenbarrie Industrial Gases Ltd.
Iwatani Corporation
Abdullah Hashim Industrial Gases & Equipment Co. Ltd
Buzwair Industrial Gases Factory
Gulf Cryo
Bristol Gases – Concorde Corodex Group
Bhuruka Gases Ltd.
The Southern Gas Ltd.
Mohsin Haider Darwish LLC
By Type:
Oxygen
Nitrogen
Hydrogen
Carbon Dioxide
Acetylene
Argon
Others
By Application:
Healthcare
Manufacturing
Metallurgy & Glass
Food & Beverages
Retail
Chemicals & Energy
Others
By Distribution Channel:
By Region:
North America
Europe

France
UK
Spain
Germany
Italy
Rest of Europe

Asia Pacific

China
Japan
India
South Korea
Southeast Asia
Rest of Asia Pacific

Latin America

Brazil
Mexico
Rest of Latin America

Middle East & Africa

GCC Countries
South Africa
Rest of Middle East & Africa