Covid-19
In-vehicle Payment Services Market
The pandemic continues to cause unprecedented disruption across industries worldwide.Get detailed insights regarding the impact of COVID-19 on the market. Request Sample
Industry Insights
[193+ Pages Report] According to a Facts and Factors report, the global in-vehicle payment services market was accounted to be around USD 3.09 Billion in 2020, with annual sales of approximately USD 7.66 Billion by the end of 2026, representing a CAGR of around 16.3% from 2021 to 2026.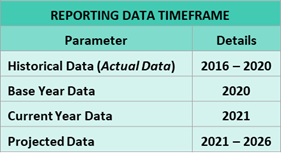 Market Overview
In-vehicle payment services related to vehicle systems that are equipped with a payment technology that allows drivers to see and complete transactions with a variety of businesses, including gas stations, smart parking, and toll gates. In-vehicle payment systems allow passengers to make purchases from their car dashboards without having to take out any cards or gadgets, saving time for drivers and allowing them to arrive at their destination in a safer, faster, and more efficient manner.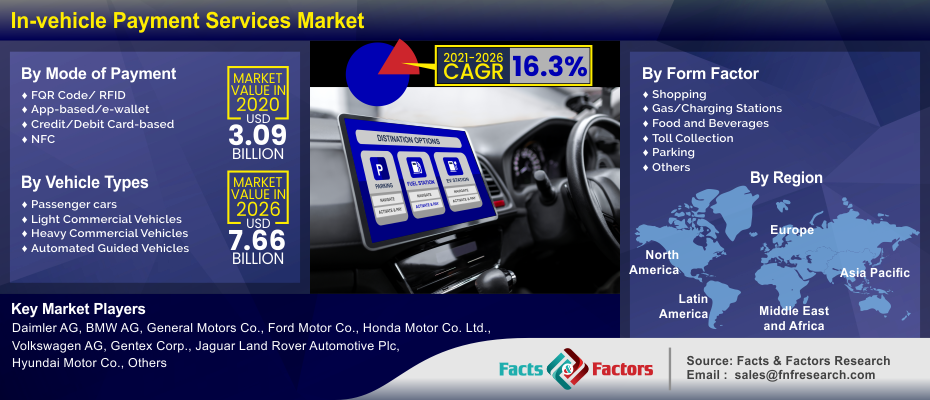 Industry Growth Factors
With the simplicity and convenience that various modalities of payment services provider to their drivers and passengers, in-vehicle payment services are gaining popularity. Automobile manufacturers like Mercedes-Benz, Honda, Jaguar Land Rover, BMW, General Motors, and Ford have included solutions and services into their vehicles. In-vehicle payment systems are likely to grow in popularity in the future years as linked automobiles and sophisticated entertainment become more common. Vehicle owners are currently searching for a hassle-free experience and an enhanced lifestyle in their hectic schedules. As a result, the ability to buy, order, and pay on the move without having to use a card or cash transaction saves time and allows commuters to travel securely. As a result, payment service providers such as MasterCard, Visa, and PayPal are aggressively forming alliances and cooperation with OEMs in order to provide effective in-vehicle payment systems.
The global pandemic has had a significant impact on the global economy. Due to the lockdowns and other limitations imposed by governments in various regions of the world as part of their efforts to contain the spread of the virus, supply chains have been interrupted and manufacturing activities at many production facilities have been temporarily suspended. As a result, COVID-19 had a negative influence on the market in the short term. Nonetheless, the growing demand among individuals for contactless payments to avoid any potential exposure to coronavirus, as urged by various governments, is projected to contribute to the expansion of the in-vehicle payment services market in the post-COVID-19 period.
Segmentation Analysis
The global in-vehicle payment services market is segmented on the basis of mode of payment as QR code/ RFID, app-based/e-wallet, credit/debit card-based, and NFC. By vehicle types, the market is divided into passenger cars, light commercial vehicles (LCVs), heavy commercial vehicles (HCVs), and automated guided vehicles. By form factor, the market is segmented into an embedded system, tethered system, and integrated system. By application, the market is divided into shopping; gas/charging stations, food and beverages, toll collection, parking, and others.
Regional Analysis
Regionally the in-vehicle payment services market is segmented into five parts namely North America, Europe, Latin America, Asia Pacific, and The Middle East and Africa.
In 2020, North America had the highest revenue share, accounting for approximately more than 39% of the market share. The area has the highest percentage of linked vehicles. Furthermore, technological firms located in North America, such as Apple Inc. and Google Inc., have joined the automobile sector with their ability to develop and compete with automotive companies.
Similarly, in-between 2021 to 2026, the Asia Pacific regional market is expected to grow at a rapid rate. The expansion of the regional market is projected to be grow owing to the expanding population and rising levels of disposable income. Over the projection period, the adoption of the most modern technologies and continuous advancements in the way payments are made and processed will also play a key part in fuelling the regional market's growth.
Competitive Players
Some major players operating in the in-vehicle payment services market are Daimler AG, BMW AG, General Motors Co., Ford Motor Co., Honda Motor Co. Ltd., Volkswagen AG, Gentex Corp., Jaguar Land Rover Automotive Plc, Hyundai Motor Co., and ZF Friedrichshafen AG among others.
By Mode of Payment:
QR Code/ RFID
App-based/e-wallet
Credit/Debit Card-based
NFC
By Vehicle Types:
Passenger cars
Light Commercial Vehicles (LCVs)
Heavy Commercial Vehicles (HCVs)
Automated Guided Vehicles
By Form Factor:
Embedded System
Tethered System
Integrated System
By Application:
Shopping
Gas/Charging Stations
Food and Beverages
Toll Collection
Parking
Others
By Region:
North America
Europe

France
The UK
Spain
Germany
Italy
Rest of Europe

Asia Pacific

China
Japan
India
South Korea
Southeast Asia
Rest of Asia Pacific

Latin America

Brazil
Mexico
Rest of Latin America

Middle East & Africa

GCC
South Africa
Rest of Middle East & Africa
Covid-19
In-vehicle Payment Services Market
The pandemic continues to cause unprecedented disruption across industries worldwide.Get detailed insights regarding the impact of COVID-19 on the market. Request Sample
Table of Content