Industry Insights
[197+ Pages Report] The report published by Facts and Factors states that the global hardware security modules (HSM) market is estimated at USD 0.93 Billion in 2020 and it is further projected to reach USD 1.8 Billion by the end of 2026, rising at a CAGR of about 11.6% between 2021 and 2026. The report analyzes the hardware security modules (HSM) market's drivers, restraints, opportunities, and challenges and the impact they have on consumption during the projection period.
Global Hardware Security Modules Market: Overview
A Hardware Security Module (HSM) is a physical device that adds additional security to sensitive data. This device is used to perform critical operations like encryption, decryption, and authentication for applications, identities, and databases. Businesses can employ hardware security modules to protect valuable trade secrets by guaranteeing that only authorized persons have access to the module in order to perform a cryptography key exchange. The hardware security modules module manages the whole cryptographic key lifecycle, from provisioning, maintaining, and storing keys to disposing or archiving them. A hardware security modules module can also record digital signatures, and all access transactions are logged to generate an audit trail.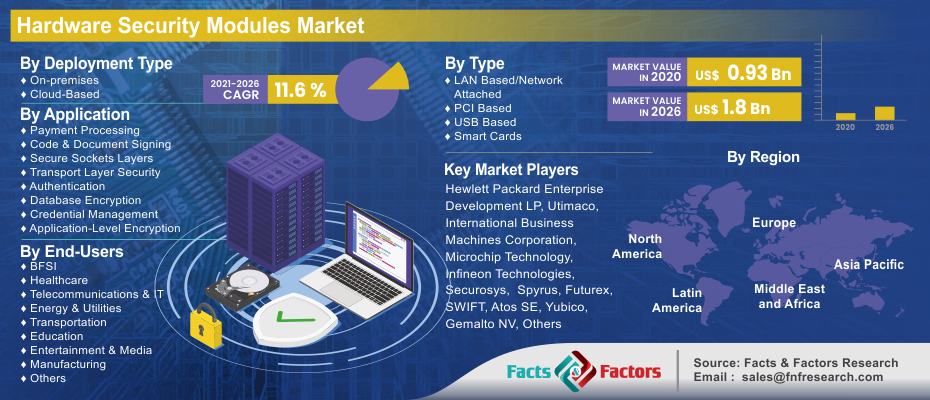 To know more about this report | Request Free Sample Copy
Global Hardware Security Modules Market: Growth Factors
Cryptography at the hardware level is the root of providing security to many processes such as document signing, authentication, and application-level encryption. If these processes are not properly managed, they can become complex, expensive, and risk-prone. To manage the entire life cycle of keys, hardware security modules can be used. These modules are dedicated cryptographic hardware modules that create an isolated zone for the cryptographic functions. Key management is employed within an organization's IT infrastructure to manage the number and diversity of keys. Hardware security modules enable organizations to improve the security of data encryption and digital signing processes by protecting keys and operations with tamper-resistant hardware.
Thus, the ability of these modules to enable effective management of cryptographic keys is expected to drive the market. Adoption of cloud is rapidly increasing among the industries, giving rise to many security challenges for the providers of cloud services, especially in dealing with the complexity of privacy and data protection regulations. Companies are accumulating massive amounts of data, ranging from highly confidential financial, business, and customer data to fairly unimportant information. They are also moving more of their data to the cloud and collecting it in more places than ever – private, public, and hybrid clouds, software-as-a-service applications, and so on. As they do this, companies are finding how complicated it can be to protect all their data across multiple environments.
For instance, they no longer know where all their data and applications are. With most of their functions and data housed on third-party structures, companies no longer have prominence in who is using and accessing their data and applications, which devices are being used for access, or how their data is potentially being used or shared. They have no understanding of how cloud providers are securing and storing their data. Even though nearly all cloud providers have state-of-the-art security, this security is limited due to the limited usage of this security by cloud users. Different cloud providers have different capabilities, which can result in unreliable cloud data security and protection.
To guarantee the security of data on the cloud, providers of cloud services are adopting technologies such as encryption, tokenization, and other cryptographic solutions, which can provide secure data transfers and safety for data stored on the cloud. The demand for HSMs for securing the data and information on the cloud environment is likely to provide huge opportunities to the manufacturers and cloud service providers to develop customized solutions that provide key management and key storage as a managed service.
Global Hardware Security Modules Market: Segmentation
The global hardware security modules market is segmented on the basis of deployment type as on-premises, cloud-based.
Based on type, the market has been categorized into LAN Based/Network Attached, PCI-based, USB based and smart cards. On the basis of Applications payment processing, code & document signing, secure sockets layers, transport layer security, authentication, database encryption, credential management, and application-level encryption. In terms of end-users, the market has been segmented intoBFSI, healthcare, telecommunications & IT, energy & utilities, transportation, education, entertainment & media, manufacturing, and others.
Report Scope
| | |
| --- | --- |
| Report Attribute | Details |
| Market Size in 2020 | USD 0.93 Billion |
| Projected Market Size in 2026 | USD 1.8 Billion |
| CAGR Growth Rate | 11.6% CAGR |
| Base Year | 2020 |
| Forecast Years | 2021-2026 |
| Key Market Players | Hewlett Packard Enterprise Development LP, Utimaco, International Business Machines Corporation, Microchip Technology, Infineon Technologies, Securosys, Spyrus, Futurex, SWIFT, Atos SE, Yubico, Gemalto NV, Thales e-Security, Ultra Electronics, Enthrust Co., Rambus.com, Cardcontact Systems, JN UNION, JN TASS, Beijing Sansec Technology, and Micro Focus among others. |
| Key Segment | By Deployment Type, By Type, By Application, By End-Users, and By Region |
| Major Regions Covered | North America, Europe, Asia Pacific, Latin America, and the Middle East & Africa |
| Purchase Options | Request customized purchase options to meet your research needs. Explore purchase options |
Global Hardware Security Modules Market: Regional Analysis
Geographically, the market is widespread across five major regions, namely North America, Europe, Asia Pacific, the Middle East & Africa, and Latin America. They are further categorized into countries. Furthermore, the fastest-growing region for Hardware Security Modules Market is projected to be Latin America, followed by the Asia Pacific during the forecast period. Due to the introduction of new regulatory compliance requirements and implementation of modern technologies such as cloud loT, the demand in Latin America is expected to grow at the highest rate during the forecast period, creating an enormous opportunity for data and information security.
However, high anticipated growth in the Asia Pacific HSM market can be attributed to the growing focus on payment system digitization. Due to its various benefits such as cheaper price compared to LAN-based HSMs and USB-based HSMs, compactness, profitability functionality, demand is also projected to rise during the forecast period. In February 2017, Utimaco introduces the new generation HSM, Utimaco security server 4.10 with a strong security boost that is needed for cloud applications. It provides unrivaled flexibility and security for HSM service in the cloud.
The European market for hardware security modules has been segmented into Germany, the UK, France, Italy, the Netherlands, and the Rest of Europe. The thriving BFSI, IT & Telecommunications, and medical and life sciences, along with the automotive industry in the region, act as an opportunity for the market. The growth of 4G LTE technology in the region and ongoing developments and smaller deployments of 5G infrastructure is expected to drive the need for enhanced network security, leading to increased demand for hardware security modules across the IT and telecommunications sector.
Global Hardware Security Modules Market: Competitive Players
Major players in the market are :
Hewlett Packard Enterprise Development LP
Utimaco
International Business Machines Corporation
Microchip Technology
Infineon Technologies
Securosys
Spyrus
Futurex
SWIFT
Atos SE
Yubico
Gemalto NV
Thales e-Security
Ultra Electronics
Enthrust Co.
Rambus.com
Cardcontact Systems
JN UNION
JN TASS
Beijing Sansec Technology
Micro Focus
Global Hardware Security Modules Market: Deployment Type
Global Hardware Security Modules Market: By Type
LAN Based/Network Attached
PCI Based
USB Based
Smart Cards
Global Hardware Security Modules Market: By Application
Payment Processing
Code & Document Signing
Secure Sockets Layers
Transport Layer Security
Authentication
Database Encryption
Credential Management
Application-Level Encryption
Global Hardware Security Modules Market: By End-Users
BFSI
Healthcare
Telecommunications & IT
Energy & Utilities
Transportation
Education
Entertainment & Media
Manufacturing
Others
Global Hardware Security Modules Market: By Region
North America
Europe

France
The UK
Spain
Germany
Italy
Rest of Europe

Asia Pacific

China
Japan
India
South Korea
Southeast Asia
Rest of Asia Pacific

Latin America

Brazil
Mexico
Rest of Latin America

Middle East & Africa

GCC
South Africa
Rest of the Middle East & Africa