Industry Insights
[218+ Pages Report] According to Facts and Factors, the global green hydrogen market was valued at roughly USD 0.8 Billion in 2021 and is predicted to grow to about USD 10.2 Billion by 2028, with a compound annual growth rate (CAGR) of approximately 55.2% over the projection period. The report analyzes the green hydrogen market's drivers, restraints, opportunities, and challenges and the impact they have on consumption during the projection period.
Green Hydrogen Market: Overview
Hydrogen is the most abundant and lightest element on the planet. It is a rich source of energy and significantly more efficient than other fuels, and has numerous industrial applications ranging from refinement to petrochemical products to steel manufacturing. The old methods of manufacturing hydrogen emit a significant quantity of carbon dioxide, which is now a big issue for market producers. Fortunately, advances in electrolysis technology and the falling cost of renewable energy are enabling the large-scale production of green hydrogen, which is environmentally sustainable.
Green hydrogen is created by electrolyzing water with regenerative energy sources. Water is separated into hydrogen and oxygen in an electrolyzer using an electric current, and grey hydrogen generated from fossil fuels (like natural gas) is separated. The physicochemical characteristics of hydrogen are unappreciated. Hydrogen is environmentally safe and may be stored and transformed into power or heat as needed. Green hydrogen is an important component of the energy equation, and hydrogen is viewed as a major potential renewable energy supply. It is one of the most significant circular carbon economy (CCE) ideas because it is produced using solar energy. It is produced by utilizing renewable energy sources as opposed to the carbon-based energy present in natural gas and other fossil fuels.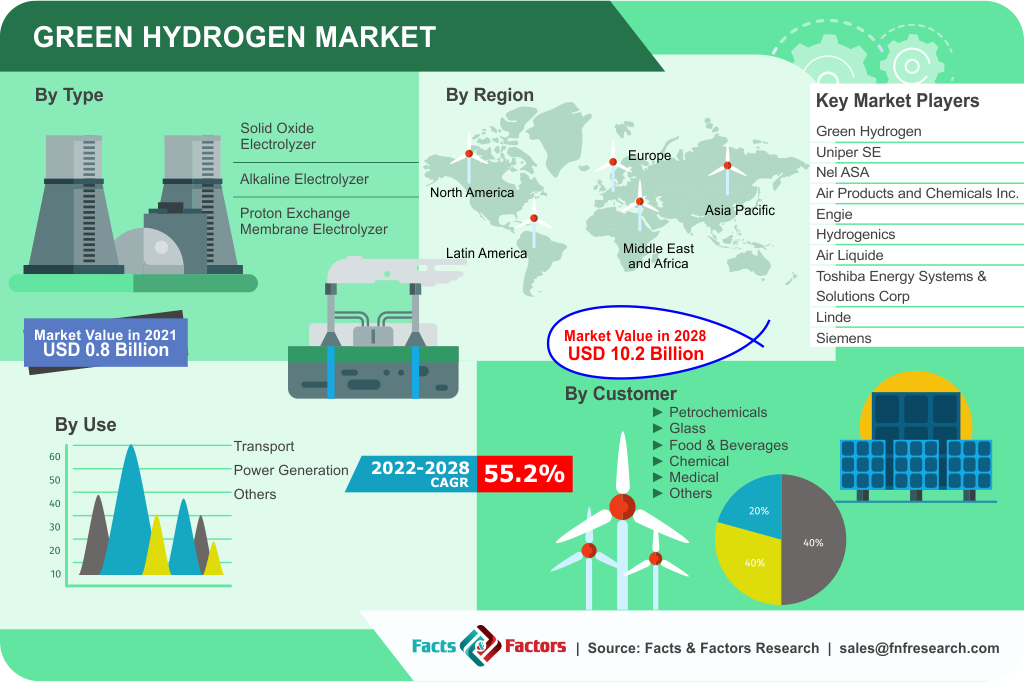 To know more about this report | Request Free Sample Copy
COVID-19 Impact:
The global COVID-19 outbreak has had an impact on the green hydrogen market. Repeated lockdowns from early 2020 to mid-2021 caused a slew of issues, including reduced labor & employee availability, logistical challenges, and a disturbing supply chain. Despite these challenges, the pandemic expanded the market for renewable energy, resulting in a significant revenue increase in the global green hydrogen market. Going forward, global market growth is likely to revert to normal and gain traction.
Green Hydrogen Market: Growth Drivers
The increasing popularity of Green Globe Projects are driving the market's growth
Green hydrogen is produced using an electrolysis process in which water is split into oxygen and hydrogen using power supplied from renewable sources. The decreasing cost of reusable power and electrolysis technology will result in increased demand for green hydrogen, boosting global green hydrogen market sales growth.
Several industries, including oil & gas, steel, utilities, and fertilizers, are turning to green hydrogen to balance the intermittent nature of reusable resources. Furthermore, this sort of hydrogen is widely employed as an energy alternative for decarbonizing the industrial, transportation, and chemical domains. Aside from these industrial applications, the advantage of keeping green hydrogen in existing gas pipes to power domestic appliances would result in a gradual growth in household demand for green hydrogen. It turns renewable energy into a carrier like ammonia, which may then be used in fuel cells to power anything that runs on electricity, like electronic devices and electric vehicles. Green hydrogen's numerous and cost-effective applications are propelling global revenue growth.
Green Hydrogen Market: Restraints
Relatively high operational expenses may limit the market's growth
Green hydrogen is extremely difficult and costly to preserve and transport. Because it is highly combustible and has a poor volumetric density, it necessitates significant investment in pipelines and carriers. Furthermore, a lack of skilled personnel is a problem limiting the global green hydrogen market's expansion and growth.
Green Hydrogen Market: Opportunities
Advancements in technologies can bring considerable growth opportunities
A variety of technologies are being used to create hydrogen on a large scale. To satisfy customer needs, the total hydrogen quantum generated in the present situation is mostly used in petroleum refining and fertilizer production. Green hydrogen adoption in several market categories is still nearing its apex, with a positive rate of acceptance and use globally. As a result of technical improvements, substantial chances for the expansion of the global green hydrogen market are emerging.
Green Hydrogen Market: Challenges
Green hydrogen production is a challenging process
Green hydrogen can be produced in a variety of ways, including steam reforming, electrolysis, and fermentation. Every step in these processes is fraught with difficulty. The problems that prominent market players are facing are related to the commercialization and large-scale implementation of the electrolysis process. As a result, all of these issues might impede market expansion.
Green Hydrogen Market: Segmentation
The global green hydrogen market is segregated on the basis of type, use, customer, and region.
By type, the market is divided into solid oxide electrolyzer, alkaline electrolyzer, and proton exchange membrane electrolyzer. The alkaline electrolyze segment has the largest market share by technology because of its higher operational time capacity and low capital cost. Furthermore, the category is predicted to develop at a faster rate throughout the projection period.
By use, the market is divided into transport, power generation, and others. Among these, the power generation category dominates the market by the application due to demand from the manufacturing industry for on-site electrolyze setup.
By customer, the market is segmented into petrochemicals, glass, food & beverages, chemical, medical, and others. The chemical segment dominates the market because the chemical industry is a significant producer of hydrogen which is used both internally and externally.
Report Scope
| | |
| --- | --- |
| Report Attribute | Details |
| Market Size in 2021 | USD 0.8 Billion |
| Projected Market Size in 2028 | USD 10.2 Billion |
| CAGR Growth Rate | 55.2% CAGR |
| Base Year | 2021 |
| Forecast Years | 2022-2028 |
| Key Market Players | Green Hydrogen, Uniper SE, Nel ASA, Air Products and Chemicals, Inc., Engie, Hydrogenics, Air Liquide, Toshiba Energy Systems & Solutions Corp, Linde, and Siemens. |
| Key Segments | Type, Use, Customer, and Region |
| Major Regions Covered | North America, Europe, Asia Pacific, Latin America, and Middle East & Africa |
| Purchase Options | Request customized purchase options to meet your research needs. Explore purchase options |
Recent Developments
March 2020: The Fukushima Hydrogen Energy Research Field has been completed, according to the Toshiba Energy Systems & Solutions Corporation (Toshiba ESS), New Energy and Industrial Technology Development Organization (NEDO), Iwatani Corporation (FH2R), and Tohoku Electric Power Co., Inc. The plant has a 10 MW class production capacity and reusable power. It is thought to be the world's largest category. It would aid in the development of reasonable green hydrogen generation technology by maximizing the use of environmental assets.
April 2020: Uniper SE and Siemens Gas & Power have established a collaboration to develop and implement green hydrogen production and usage projects based on renewable energy sources.
Regional Landscape
Europe is found to be dominating the green hydrogen market
The European region has the biggest share of the global green hydrogen market. During the forecast period, the European region is anticipated to grow at a rapid pace. This is due to the industry's solid, lengthy infrastructure and a wide range of possibilities. Furthermore, the cost of renewable generation is falling, which is yet another factor pushing its growth.
The European Clean Hydrogen Alliance was reported in March 2020 as part of Europe's new industrial strategy, and it was inaugurated on July 8, 2020, at the very same time as the EU hydrogen strategy. Major European automotive manufacturers such as Ducati, Porsche, Audi, and BMW are concentrating on the downsizing idea of car engines and creating fuel-efficient and lightweight engines, which will promote the expansion of the green hydrogen market.
Asia Pacific region is the green hydrogen market's fastest-expanding region. Due to its potential to create vast facilities for storing green hydrogen, Asia Pacific will be the fastest-expanding region in the global market. China may play a vital role in this region's economic progress.
Competitive Landscape
Some of the main competitors dominating the global green hydrogen market are :
Green Hydrogen
Uniper SE
Nel ASA
Air Products and Chemicals Inc.
Engie
Hydrogenics
Air Liquide
Toshiba Energy Systems & Solutions Corp
Linde
Siemens
The global green hydrogen market is segmented as follows:
By Type Segment Analysis
Solid Oxide Electrolyzer
Alkaline Electrolyzer
Proton Exchange Membrane Electrolyzer
By Use Segment Analysis
Transport
Power Generation
Others
By Customer Segment Analysis
Petrochemicals
Glass
Food & Beverages
Chemical
Medical
Others
By Regional Segment Analysis
North America

The U.S.
Canada
Mexico
Rest of North America

Europe

France
The UK
Spain
Germany
Italy
Nordic countries

Denmark
Finland
Iceland
Sweden
Norway

Benelux Reunion

Belgium
The Netherlands
Luxembourg

Rest of Europe

Asia Pacific

China
Japan
India
New Zealand
Australia
South Korea
Southeast Asia

Indonesia
Thailand
Malaysia
Singapore
Rest of Southeast Asia

Rest of Southeast Asia

The Middle East & Africa

Saudi Arabia
UAE
Egypt
Kuwait
South Africa
Rest of the Middle East & Africa

Latin America

Brazil
Argentina
Rest of Latin America