Industry Insights
Industry Prospective:
[226+ Pages Report] According to the report published by Facts Factors, the global graphene composites market size was worth around USD 14 million in 2022 and is predicted to grow to around USD 130 million by 2030 with a compound annual growth rate (CAGR) of roughly 38.81% between 2023 and 2030. The report analyzes the global graphene composites publishing market drivers, restraints/challenges, and the effect they have on the demands during the projection period. In addition, the report explores emerging opportunities in the graphene composites market.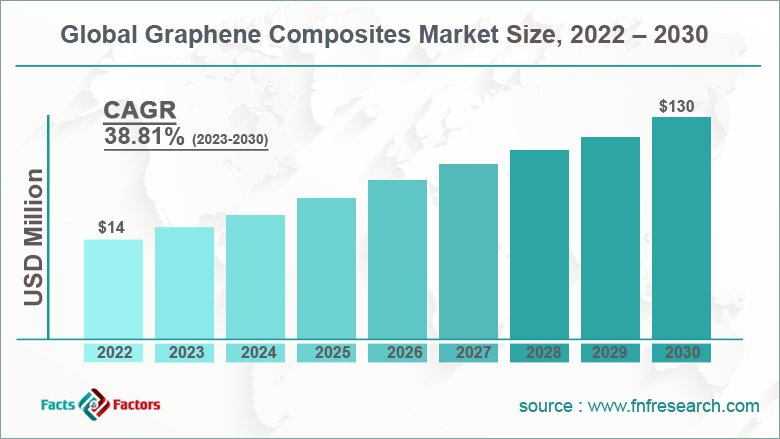 To know more about this report | Request Free Sample Copy
Market Overview
Graphene composites are materials made of a mixture containing graphene and other materials like ceramics, polymers, metals, and others. Graphene consists of a single layer of carbon atoms that are arranged in a hexagonal lattice structure. Graphene is non-metallic and delivers unique properties like electrical conductivity, high strength, and thermal conductivity which makes the compound extremely popular in end-user verticals. Given the extensively useful properties of graphene, it is currently being heavily researched for further applications in large-scale industries like aerospace, automotive electronics, medical devices, and others.
By mixing graphene with other materials it is possible to improve the overall performance of the final compound offering better functionalities and improved results. The global fraternity is expected to amass a large sales volume as the final applications of graphene composites continue to rise driven by several advantages of the composites.
Key Insights
As per the analysis shared by our research analyst, the global graphene composites market is estimated to grow annually at a CAGR of around 38.81% over the forecast period (2023-2030)
In terms of revenue, the global graphene composites market size was valued at around USD 14 million in 2022 and is projected to reach USD 130 million, by 2030.
The market is projected to grow at a significant rate due to the unique and desired properties of graphene
Based on distribution channel segmentation, veterinary hospitals & clinics were predicted to show maximum market share in the year 2022
Based on animal type segmentation, the farm was the leading type in 2022
On the basis of region, Asia-Pacific was the leading revenue generator in 2022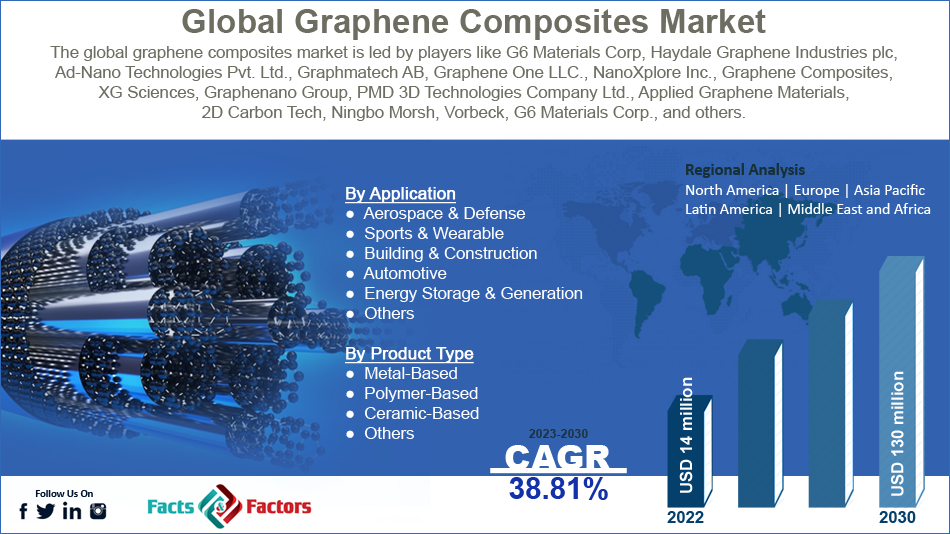 To know more about this report | Request Free Sample Copy
Growth Drivers
Unique and desired properties of graphene to drive market demand
The global graphene composites market is projected to grow owing to the unique and desirable properties that graphene has to offer especially when it is combined with other materials. It has high electrical conductivity while also exhibiting thermal conductivity,
Furthermore, graphene has high tensile strength. The combination of these properties is extremely rare and only certain compounds or elements across the globe offer such a unique range of physical and chemical properties. When graphene is used with other materials, the final composite showcases improved properties which are rare to find. This tends to make graphene composites highly advantageous across end-user verticals like energy storage, automotive, and aerospace to name a few. As the revenue, supply, and demand in these verticals continue to grow owing to rapid industrialization, urbanization, and surging investment, the demand for graphene composites is expected to skyrocket in the coming years. Furthermore, the supportive government initiatives and regulatory framework to encourage the adoption of graphene composites act in the favor of the global industry.
Restraints
High production cost to act as a barrier
The global market may face certain growth restraints during the forecast period mainly due to the high production cost associated with the manufacturing and storing of graphene composites. Since graphene production requires specialized equipment along with skilled professionals, the initial investment required to produce graphene is extremely high. This ultimately translated to graphene composites being expensive rendering them unaffordable by small players who are trying to make a market in the competitive end-user verticals. In addition to this, there is a significant lack of standardization surrounding graphene composites which means that healthcare or medical device manufacturing companies may refrain from product adoption.
Opportunities
Growing demand in energy storage to promote further growth
The global graphene composites market is projected to grow owing to the increasing demand for materials in the energy storage segment, which is one of the fastest-growing industries globally. As more investments are expected to arise in renewable energy sources, the demand for graphene composites may rise alongside. This is due to the growing need of the hour to develop sustainable energy systems and graphene composite can be extremely useful in achieving this goal, especially in products like supercapacitors and batteries.
Challenges
Higher need for standard policies to act as a challenge during the growth phase
Regulatory frameworks regarding graphene production and distribution are vague and change from one nation to another. This makes large-scale adoption of graphene and its corresponding composites a challenge for potential market players. Furthermore, producers face difficulty in producing consistently reliable and quality products thus damaging the hold over the existing market.
Segmentation Analysis
The global graphene composites market is segmented based on application, product type, and region
Based on application, the global industry is segmented into aerospace & defense, sports & wearable, building & construction, automotive, energy storage & generation, and others.
In 2022, the highest revenue was generated from the aerospace segment due to the large demand for materials for application purposes in the sector
Since graphene and its composites offer a unique combination of properties that are highly suitable for the aerospace industry which is currently struggling to find alternatives that can be used to build lightweight structures, the sector is crucial for fraternity growth
The automotive segment also registers high CAGR and is expected to grow at a rapid rate in the coming years due to growing applications encouraged by research & development along with innovation activities
Graphene's tensile strength is estimated to be around 130 gigapascals (GPa)
Based on product type, the global market divisions are metal-based, polymer-based, ceramic-based, and others
Although the demand for different product-based composites depends on the final requirement, 2022 registered the highest growth in the metal-based segment
This is because it has higher applications in growing end-user verticals like electronics, automotive, aerospace, and others due to the high durability of the compound
Metal-based products offer high-grade mechanical properties along with excellent resistance to corrosion and wear
Polymer-based composites have high demand in healthcare, packaging where demand for lightweight material is steadily growing
On average, graphene weighs around 0.77 milligrams per square meter (mg/m²)
Recent Developments:
In September 2021, Colloids Ltd, a leading masterbatch manufacturer, announced the launch of advanced graphene with 2-dimensional polymer composites. The company has over 50 years of experience and will be using its breakthrough graphene masterbatch manufacturing technology called Graphanced
In November 2022, Université Libre de Bruxelles (ULB, Belgium) and the University of Cambridge, partners of the Graphene Flagship, announced a collaboration with European Space Agency (ESA) and Mohammed bin Rashid Space Centre (MBRSC, United Arab Emirates) in order to test graphene on the Moon. The joint venture has witnessed the involvement of multiple reputed stakeholders
In May 2020, Haydale announced the launch of new and enhanced graphene composites. The Announcement was made by Haydale subsidiary Haydale Composites Solutions Ltd at the JEC Composites Show in Paris
Report Scope
| | |
| --- | --- |
| Report Attribute | Details |
| Market Size in 2022 | USD 14 Million |
| Projected Market Size in 2030 | USD 130 Million |
| CAGR Growth Rate | 38.81% CAGR |
| Base Year | 2022 |
| Forecast Years | 2023-2030 |
| Key Market Players | Beijing Beilu Pharmaceutical Co. Ltd., Guerbet, JB Pharma, Jodas Expoim Pvt. Ltd., iMAX, Nano Therapeutics Pvt. Ltd., Bracco, Kiran, Bruker, GE Healthcare, Chematech, MEDTRON AG, Reveal Pharmaceuticals, ESAOTE SPA, Accelius Global, Opakim Tibbi Ürünler San. ve Tic. A.S, Bayer AG, and others. |
| Key Segment | By Application, Product Type, and Region |
| Major Regions Covered | North America, Europe, Asia Pacific, Latin America, and the Middle East &, Africa |
| Purchase Options | Request customized purchase options to meet your research needs. Explore purchase options |
Regional Analysis
Asia-Pacific to dominate with the highest CAGR
The global graphene composites market is projected to witness the highest growth in Asia-Pacific with countries like India, China, Japan, Singapore, and South Korea acting as major contributors. The growth is driven by the rising demand for graphene composites for end-user applications in the growing automotive industry along with the aerospace sector.
Both industries are registering a high influx of domestic and foreign investments as the demand for the end-products is consistently on the rise for the last few years. China is currently moving toward becoming a world leader in terms of all large-scale sectors and the country has already launched multiple programs that are expected to help it reduce its import value. The regional growth is further encouraged by the presence of an extensive number of suppliers and producers that ease the process of accessing graphene and allow easy production of its composites.
Competitive Analysis
G6 Materials Corp
Haydale Graphene Industries plc
Ad-Nano Technologies Pvt. Ltd.
Graphmatech AB
Graphene One LLC.
NanoXplore Inc.
Graphene Composites
XG Sciences
Graphenano Group
PMD 3D Technologies Company Ltd.
Applied Graphene Materials
2D Carbon Tech
Ningbo Morsh
Vorbeck
G6 Materials Corp.
The global graphene composites market is segmented as follows:
By Application Segment Analysis
Aerospace & Defense
Sports & Wearable
Building & Construction
Automotive
Energy Storage & Generation
Others
By Product Type Segment Analysis
Metal-Based
Polymer-Based
Ceramic-Based
Others
By Regional Segment Analysis
North America
Europe

France
The UK
Spain
Germany
Italy
Nordic Countries
Benelux Union

Belgium
The Netherlands
Luxembourg

Rest of Europe

Asia Pacific

China
Japan
India
Australia
South Korea
Southeast Asia

Indonesia
Thailand
Malaysia
Singapore
Rest of Southeast Asia

Rest of Asia Pacific

The Middle East & Africa

Saudi Arabia
UAE
Egypt
South Africa
Rest of the Middle East & Africa

Latin America

Brazil
Argentina
Rest of Latin America