Covid-19
Global Gable Boxes Market Size, Share
The pandemic continues to cause unprecedented disruption across industries worldwide.Get detailed insights regarding the impact of COVID-19 on the market. Request Sample
Industry Insights
[195+ Pages Report] According to the report published by Facts and Factors, the global gable boxes market was valued at approximately USD 7,834.9 Million in 2019 and is expected to generate revenue of around USD 12,159.3 Million by end of 2026, growing at a CAGR of around 6.4% between 2020 and 2026.
Market Overview
The front or side of a building with a pitched roof is referred to as the gable. This is what a Gable box looks like. Gable boxes are a type of container that is most often used to carry food or party favors. The auto bottom of these handle boxes is square, and the top is triangular. The top ends of the triangular top fold up into the handle, which is connected by two narrow slits. Aside from that, there are a variety of other handle options, such as wire handles and so on.
Industry Growth Factors
There is a range of reasons why these gable boxes are in such high demand. Cardboard sheets and paperboard materials are used to make them. These materials make the handle boxes light in weight while maintaining a high level of quality. Furthermore, this material is environmentally friendly, does not damage the environment, and is readily accessible. Because of these features, they are less costly for a wide range of consumers. Furthermore, cardboard materials are ideal for printing custom gable boxes. In addition, the increasing demand for gable boxes for gifting purposes is also predicted to support the growth of the gable boxes market in years to come.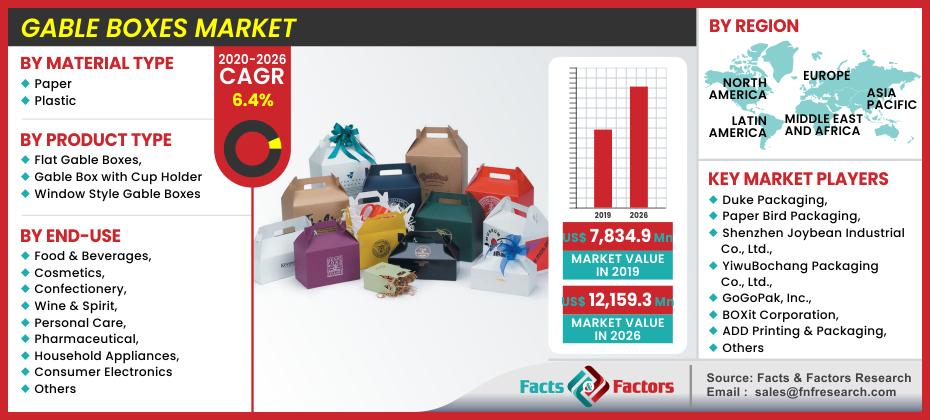 Segmentation Analysis
The global Gable Boxes Market is segregated based on material type, product type, and end-use, and regions.
Paper and Plastic are the further bifurcations of the material type segment of the global gable boxes market. Moreover, the paper segment is classified into cardboard and corrugated paper. Based on product type, the global gable boxes market is categorized into flat gable boxes, gable boxes with cup holders, and window-style gable boxes. In addition, the global gable boxes market report also classified the end-user segments into food & beverages, cosmetics, confectionery, wine & spirit, personal care, pharmaceutical, household appliances, consumer electronics, and others.
Regional Analysis
From a regional standpoint, Asia Pacific is projected to maintain its dominance in the global Gable Boxes industry. Increasing disposable incomes paired with rising demand from India China and Japan are expected to drive the market in the Asia Pacific in coming years. High consumption of confectionery products is expected to propel the demand for gable boxes in North America and Europe region considerably in the analysis period.US and Germany held the majority revenue share in North America and Europe gable boxes market respectively. The Middle East and Africa are also expected to observe significant growth owing to demand from Muslim-dominated countries such as Saudi Arabia and the United Arab Emirates are expected to fuel demand for cosmetics.
Competitive Players
Some main participants of the gable boxes market are Duke Packaging, Paper Bird Packaging, Shenzhen Joybean Industrial Co., Ltd., YiwuBochang Packaging Co., Ltd., GoGoPak, Inc., BOXit Corporation, Guangzhou Huaisheng Packaging Co., Ltd., ADD Printing & Packaging, ZoxxBox, Dongguan AM Packaging Company Limited, Smurfit Kappa Group PLC, Shenzhen Mengsheng Paper Package Products Co., Ltd., Custom Packaging Pro., Box and Wrap, Llc., and QingdaoYilucai Packaging Co., Ltd. amongst others.
Gable Boxes Market: Regional Segment Analysis
North America
Europe

UK
France
Germany
Italy
Spain
Rest of Europe

Asia Pacific

China
Japan
India
South Korea
Southeast Asia
Rest of Asia Pacific

Latin America

Brazil
Mexico
Rest of Latin America

Middle East and Africa

GCC Countries
South Africa
Rest of MEA