Covid-19
Global Food Traceability (Tracking Technologies) Market Size, Share
The pandemic continues to cause unprecedented disruption across industries worldwide.Get detailed insights regarding the impact of COVID-19 on the market. Request Sample
Industry Insights
[197+ Pages Report] According to Facts and Factors Research, the global food traceability market was valued at around USD 14,314.95 Million in the year 2020 and is expected to generate about USD 24,406.80 Million by the end of 2026, with a CAGR of approximately 9.3% between 2021 and 2026.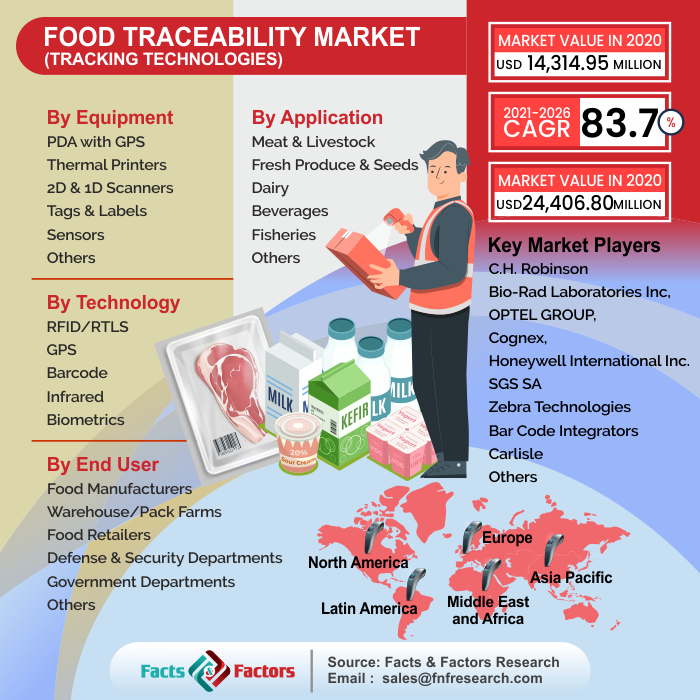 Global Food Traceability Market: Overview
The purpose is to identify and evaluate various stages of the food chain from production to distribution is referred to as food traceability (tracking technologies). It entails identifying the source of food as well as its final destination, from whence it is intended to be dispersed to various end-users. Because multi-ingredient food contains elements from a range of fast-food chains and regions, this method is necessary for food research and is essential in the global food trade. As a result, importers are reliant on the traceability systems of other countries until they reach the point of import. Meat and cattle, fresh produce and seeds, dairy, drinks, fisheries, and others are the key uses of the food safety market. PDAs with thermal printers, GPS, 2D & 1D scanner, tags & labels, sensors, and other items are among the various equipment's used to support the system.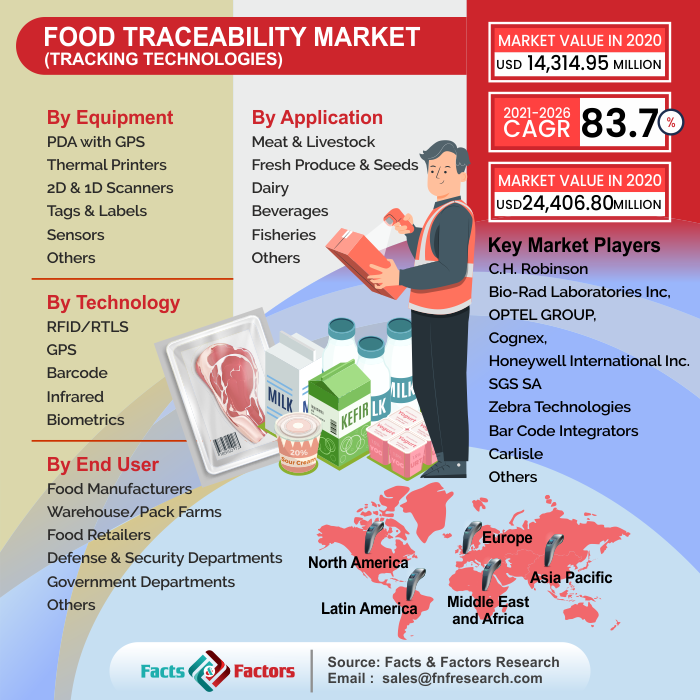 Food traceability refers to the tracking and monitoring of food goods as they travel to their final destination, whether it's a customer or a store. The technology employed in this procedure tracks the exact location of the food, avoiding tainted or discarded food from being mixed in with the edible food. In the food traceability market, there are a variety of technologies with various applications that focus on enabling quick and effective corrective steps if something goes wrong, hence preventing tainted food from reaching customers.
Internal traceability and chain traceability are the two types of traceability systems. Internal traceability refers to data that is recorded within an organisation or at a different geographic location. Data is recorded and transferred along a supply chain between Intra and inter organisations, which is referred to as chain traceability. Traceability data can be static or dynamic, depending on the type of business. Static data does not change over time, whereas dynamic data does. The use of software such as Enterprise Resource Planning (ERP) and database management systems, cloud computing, and SaaS (software as a service) solutions to gather, record, store, and distribute traceability data efficiently is expected to result in lower costs and more cost-effective operations.
With the use of a tag that identifies and tracks food goods using radio waves, radio frequency identification technology (RFID) is utilised to track real-time information. RFID technology is beneficial since it tracks data and complex characteristics like temperature, air pressure, and humidity. It also has an advantage over its competitors in that it does not require user-initiated, line-of-sight activities, and it is capable of simultaneously reading and writing hundreds of tags, lowering labour resources and expenses. RFID enables businesses to capture data with the fewest possible errors.
Global Food Traceability Market: Growth Factors
The technologically sophisticated countries, such as the United States, Japan, the United Kingdom, and others, are majorly driving the food traceability technology industry. End-users from developing countries are adopting the technology as a result of increased awareness. Furthermore, organisations now maintain a solid business framework for optimal inventory levels and seamless operations, increasing demand for food traceability technologies around the world.
The primary factors for the global food traceability market growth are the legislative framework and certifications and standardizations. This is owing to various governments in developed and developing countries being forced to obey food safety regulations and legislation, which further supports market expansion. Competitive advantage and brand loyalty, tracing contamination and product recall, and information flow upstream and downstream of the supply chain are all aspects that drive the market.
According to the World Health Organization, contaminated food causes about 600 million cases of foodborne disease worldwide each year. As a result of such incidents, food safety has become a major concern, posing serious health risks. This is expected to increase demand for food traceability, favourably boosting the market growth.
Food processing operations have increased tremendously in prominence over the past 3 decades, choiring a significant amount of food handling. Of this has manifested in a rise in the number of individuals food handling, as well as other developments such as new methods of producing and distributing food, which has increased the risk of foodborne infection transfer from handlers to consumers, boosting the need for food traceability systems.
Global Food Traceability Market: Segmentation
The food traceability market is segmented based on by equipment, technology, end-user and application:
As per equipment (PDA with GPS, thermal printers, 2d & 1d scanners, tags & labels, sensors), technology (RFID/RTLS, GPS, barcode, infrared, and biometrics), end-user (food manufacturers, warehouse/pack farms, food retailers, defence & security departments, other government departments, and others) and application (meat & livestock, fresh produce & seeds, dairy, beverages, fisheries and others).
Global Food Traceability Market: Regional Analysis
Due to early implementation by business experts and government regulations promoting food traceability in these nations, the food traceability market is well established in developed countries such as the United States, the United Kingdom, Japan, Australia, and others. Food can now be obtained from anywhere in the world, posing a significant traceability difficulty. Due to increased awareness and knowledge among the general population, as well as improvements in people's lifestyles, advanced economies such as India, China, Korea, and others are in the process of adopting strict traceability systems, resulting in the rapid growth of the food traceability market in Asia-Pacific.
Because of the quick shift in the population's consumption habits as a result of increased awareness about healthy food and beverages, Asia-Pacific is predicted to grow at a substantial rate from 2021 to 2028. Furthermore, due to the significant need for food traceability in growing countries, North America leads the way in food traceability.
Global Food Traceability Market: Covid-19 Analysis
Due to the emergence of COVID-19, the Food Traceability Market will expand at a negative rate from 2020 to 2026. This is an excellent opportunity to distinguish truth from fiction and purposeful emotion, as well as to supply decision-makers with reliable data and experience. The COVID-19 pandemic however has put unprecedented strains on food supply networks, resulting in bottlenecks in farm labour, processing, transportation, and logistics, as well as significant demand fluctuations. The majority of these snarls are the consequence of policies enacted to stop the virus from spreading. In the face of these challenges, food supply chains have shown amazing resilience. As stockpiling behaviour faded and supply networks adjusted to growing demand, grocery store shelves were restocked over time. Long lineups at the border dwindled swiftly as a result of efforts aimed at removing superfluous barriers. While the effects of COVID-19 are still being felt, experience has demonstrated the need for an open and predictable international commerce environment in ensuring that food can reach those who need it. The greatest threat to food security is not a lack of food, but rather a lack of access to food by consumers: safety nets are required to avoid an increase in hunger and food insecurity.
Global Food Traceability Market: Competitive Players
Some of the essential players operating in the food traceability market are C.H. Robinson, Bio-Rad Laboratories Inc, OPTEL GROUP, Cognex, Honeywell International Inc., SGS SA, Zebra Technologies, Bar Code Integrators, Carlisle, Merit-Trax, FoodLogiq, Safe Traces, Food Forensics, Bext360, rfxcel, Covectra, SMAG, TE-Food, Mass Group, Source Trace, Trace One, Crest Solutions, Traceall Global, VeeMee and among others.
Global Food Traceability Market – By Equipment:
PDA with GPS
Thermal Printers
2D & 1D Scanners
Tags & Labels
Sensors
Others
Global Food Traceability Market – By Technology:
RFID/RTLS
GPS
Barcode
Infrared
Biometrics
Global Food Traceability Market – By Application:
Meat & Livestock
Fresh Produce & Seeds
Dairy
Beverages
Fisheries
Others
Global Food Traceability Market – By End User:
Food Manufacturers
Warehouse/Pack Farms
Food Retailers
Defense & Security Departments
Government Departments
Others
Global Food Traceability Market – By Region:
France
UK
Germany
Italy
Spain
Rest of Europe
China
India
Japan
Australia
South Korea
Rest of APAC
Brazil
South Africa
Saudi Arabia
Turkey
Rest of LAMEA