Covid-19
Global Food Cold Chain Market Size, Share
The pandemic continues to cause unprecedented disruption across industries worldwide.Get detailed insights regarding the impact of COVID-19 on the market. Request Sample
Industry Insights
[223+ Pages Report] According to Facts and Factors, the global food cold chain market was valued at roughly USD 233.8 Billion in 2020 and is predicted to create revenue of roughly USD 366.8 Billion by the end of 2026, with a CAGR of roughly 7.8% between 2021 and 2026.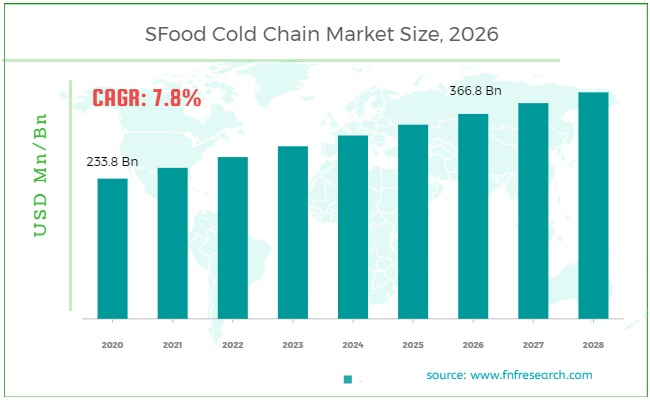 Market Overview
In today's global food logistics industry, it's critical to understand how food safety, refrigeration, and food waste are all intertwined. Fruits, vegetables, dairy products, meats, and fish products, among other perishable foods, must be kept cold or frozen throughout the supply chain. The food may be ingested and cause foodborne diseases, which have a large social cost when the safety risk is unknown or not disclosed. According to the United Nations (UN), roughly 1/3 of all food produced for human consumption is wasted each year, while other statistics claim that food waste accounts for 40% of output.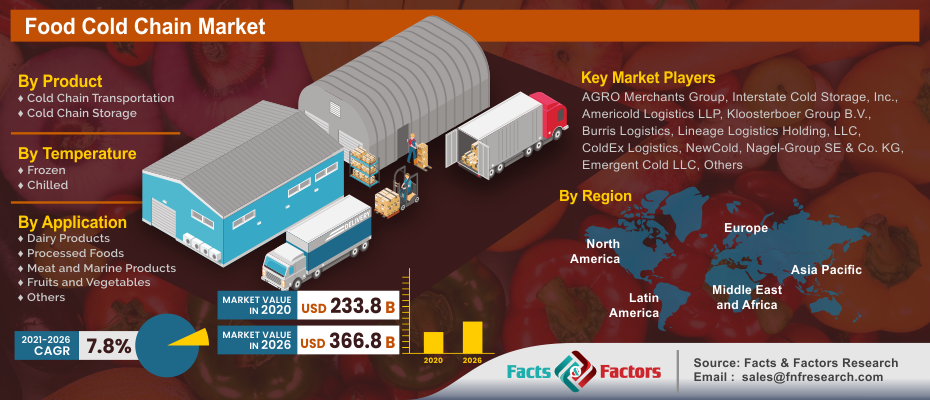 Industry Growth Factors
Consumers are becoming more conscious of health and wellbeing, as well as the impact that food components, particularly protein, have on total physical and mental development. Perishable goods, such as dairy products, fruits and vegetables, and high-protein animal-based products, have changed consumption patterns as a result of this (such as meat, eggs, and fish and seafood). Perishable food items are in great demand in the Asia Pacific and Latin America's emerging economies. This may be ascribed to the growing urbanization of these nations, changing tastes and preferences, and rising disposable income of consumers. Because of their lower adoption rates, these nations have the large market potential for processed and frozen food items. In these nations, demand for ready-to-eat meals is constantly increasing.A key element driving the expansion of the food cold chain industry is the development of retail channels and chains in the form of supermarkets, hypermarkets, and convenience shops. Furthermore, retail chains have progressed to the point that several companies now have their own chilled storing facilities. Walmart, for example, is the world's largest international retailer, with over 11,000 shops in 27 countries. It has a big fleet for perishable products transportation and an efficient distribution network. It also engages third-party refrigerated warehouse service providers to convey perishable items effectively to its retail stores. The development of such major merchants, as well as their increasing activities in international commerce, is spurring expansion in the refrigerated warehousing and refrigerated transportation markets. In these nations, a lack of appropriate food storage, processing, and cold chain logistics, as well as a lack of organization and execution of controls for standard compliance, remains a major problem. In a cold chain network, service providers confront several problems, from procurement to retail distribution. The lack of missing links in these networks continue to limit route options, while limited capacity and bad infrastructure increase transit costs and time. These markets' cold chain systems aren't integrated or interoperable enough to handle diverse perishable commodities, posing a significant barrier to market expansion.
Segmentation Analysis
The global food cold chain market is segregated based on product type, temperature type, application, and region.
Cold chain transportation and cold chain storage make up product-type segments of the global food cold chain market. Based on temperature type, the global food cold chain industry is categorized into frozen and chilled.Dairy products, processed foods, meat, and marine products, fruits and vegetables, and others are the application segment of the global food cold chain market. Frozen meats such as cattle, chicken, and pork are transported using a cold chain. Cold storage facilities are frequently used to transport frozen bakery items such as cakes and bread. Milk and dairy products, meanwhile, have been linked to foodborne diseases and are thus strictly controlled. Demand for animal protein products such as milk, cheese, and meat has been high, necessitating the need to preserve the quality of dairy products.
Regional Analysis
Seasonality, temperature fluctuation across time, with the year road connectivity are some of the reasons driving demand for food cold chains in the North American market. Furthermore, the market's gradual shift from highly processed, unhealthy goods with long shelf life and perishable food products that are sensitive to changing temperatures is fueling demand for a cold supply chain with improved technologies. The logistics firm is expanding its cold chain network in response to the industry's fast expansion.Furthermore, as consumers migrate to e-commerce and online grocery shopping, cold storage space is becoming more scarce in the region. In response to the industry's rapid growth, the logistics company is extending its cold chain network. Furthermore, as more people turn to e-commerce and online food shopping, cold storage space in the region is becoming rare.
Competitive Players
Some main participants of the global food cold chain market are AGRO Merchants Group, Interstate Cold Storage, Inc., Americold Logistics LLP, Kloosterboer Group B.V., Burris Logistics, Lineage Logistics Holding, LLC, ColdEx Logistics, Nagel-Group SE & Co. KG, Emergent Cold LLC, NewCold, VersaCold Logistics Services, Gruppo Marconi SRL, Penske Logistics, Inc., Hanson Logistics, Inc., Tata Motors, Henningsen Cold Storage Co., and the United States Cold Storage, Inc. (USCS) amongst others.
Global Food Cold Chain Market– By Product Type:
Cold Chain Transportation
Cold Chain Storage
Global Food Cold Chain Market– By Temperature Type:
Global Food Cold Chain Market– By Application:
Dairy Products
Processed Foods
Meat and Marine Products
Fruits and Vegetables
Others
Global Food Cold Chain Market– By Region:
North America
Europe

France
The UK
Spain
Germany
Italy
Rest of Europe

Asia Pacific

China
Japan
India
South Korea
Southeast Asia
Rest of Asia Pacific

Latin America

Brazil
Mexico
Rest of Latin America

Middle East & Africa

GCC Countries
South Africa
Rest of Middle East & Africa