Covid-19
Global Flat Glass Market Size, Share
The pandemic continues to cause unprecedented disruption across industries worldwide.Get detailed insights regarding the impact of COVID-19 on the market. Request Sample
Industry Insights
[225+ Pages Report] As per the market research report published by Facts and Factors, the global flat glass market was valued at approximately USD 114.7 Billion in 2019, and is expected to generate revenue of around USD 187.8 Billion by end of 2026, growing at a CAGR of around 7.3% between 2020 and 2026.
Market Overview
Flat glasses are the glasses that are used in automotive doors, windows, solar panels, and transparent walls. Sand and other materials are melted into a liquid to create the glass. By varying the concentrations of limestone, dolomite, and sodium sulfate, it can be tailored to a variety of applications. It's commonly used indoors, windows, solar cells, chairs, tabletops, cabinet closures, and walls in the infrastructure sector. Additionally, it is often used as windshields and mirrors, and it is easily bent and reused in the auto industry. It is environmentally friendly and manufactured from renewable raw materials, resulting in a high level of light transmission and chemical inertness. Furthermore, the market is expected to grow as a result of environmental concerns about waste management, as well as the recyclability of glass, which encourages its use in a variety of end-use applications.
Industry Growth Factors
Flat glass demand could be driven by rising disposable incomes and increased production of automobiles. It is made of vacuum insulated glass, which guarantees thermal and acoustic insulation. The market will grow due to increased demand for rooftops for aesthetic reasons and insulated glass in luxury windows cars. In the auto sector, flat glass is commonly used in the windshield, mirrors, and backlight. Flat glass demand growth could be aided by increasing use in luxury car roofs and laminated windows for superior aesthetics, as well as consumer spending in the automotive sector. Due to large-scale automotive production, technological market innovations, and demand for lightweight vehicles, industry demand will see substantial growth. Advances in the chemical industry have also aided in increasing demand for flat glass around the world. Manufacturers have devised new methods for creating flat glass, which has aided in the speeding up of production. The ability to meet the high demand for flat glass would be a leading indicator of market maturity. The willingness of the leading vendors in the global flat glass market to reach out to new and uncharted territories will be crucial. Marketing tricks have been critical in boosting the market's development dynamics.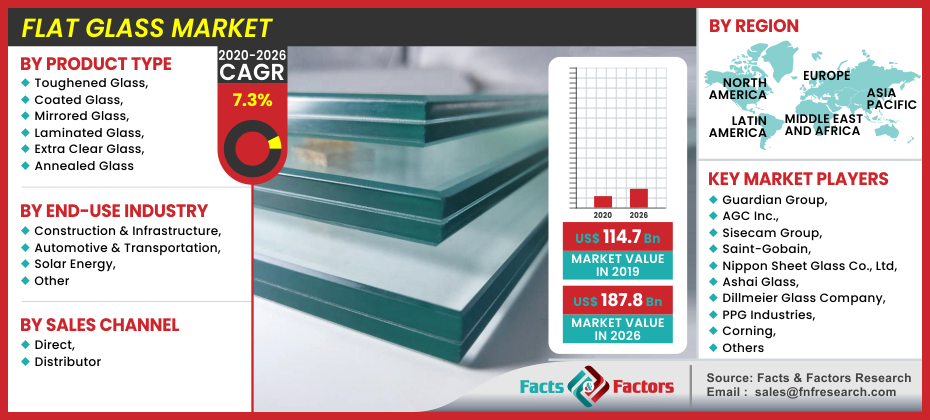 Segmentation Analysis
The global flat glass market is segregated into product type, end-use industry, sales channel, and regions. The product type category is segmented into toughened glass, coated glass, mirrored glass, laminated glass, extra clear glass, and annealed glass. Laminated glass has accounted for the major market share. Since it has improved UV filtration and decreases inherent visual distortion, laminated flat glass is commonly used in commercial and residential applications. The market for laminated flat glass improves protection as it is higher in strength and durable PVB interlayering. Because of the growing trend of replacing brick and granite building exteriors with laminated flat glass, the market will expand. It is difficult to crack, and it provides safe from break-in attempts, car accidents, and extreme weather. It is often used in offices to relieve tension because it allows natural daylight to enter and improves lighting conditions. Based on the end-use industry, the market has been categorized into construction & infrastructure, automotive & transportation, solar energy, and others. In terms of sales channel, the industry has been bifurcated into direct, and distributor.
Regional Analysis
Due to the growing construction market in developing countries such as China, India, and other ASEAN countries, Asia-Pacific is expected to register the highest growth. In China, the construction industry developed at a high rate in 2019, but at a slower rate than in 2018. Even the other sectors, such as automotive and electronics, suffered from the US-China trade war, the residential construction sector aided the country's economic development. Furthermore, millennials account for more than half of the productive population in Indonesia. Housing demand has risen in tandem with the country's growing young population. The construction of housing units has increased in the country in order to meet the rising demand for affordable housing. All of the aforementioned factors are expected to boost the residential sector's growth, which, in turn, will propel the flat glass market due to its numerous advantages. Moreover, owing to growing environmental concerns about CO2 emissions and high energy use, the European region is expected to see substantial market growth. Because of their ability to transmit natural light and solar radiation, flat glass products have energy-efficient solutions. Furthermore, increased advances in coated glass technology would raise market share.
Competitive Players
Some main participants of the global Flat Glass market are Guardian Group, AGC Inc., Sisecam Group, Saint-Gobain, Nippon Sheet Glass Co., Ltd, Ashai Glass, Dillmeier Glass Company, PPG Industries, Corning, Xinyi Glass Holdings Limited, Cardinal Glass Industries, Taiwan Glass Industry Corporation, Central Glass, Fuyao Glass Industry Group, Vitro, S.A.B. De C.V., and CSG Holding Co., Ltd. amongst others.
Flat Glass Market: Regional Segment Analysis
North America
Europe

UK
France
Germany
Italy
Spain
Rest of Europe

Asia Pacific

China
Japan
India
South Korea
Southeast Asia
Rest of Asia Pacific

Latin America

Brazil
Mexico
Rest of Latin America

Middle East and Africa

GCC Countries
South Africa
Rest of MEA