Industry Insights
[207+ Pages Report] According to Facts and Factors, the global fetal surgery market size was worth USD 3.15 billion in 2021 and is estimated to grow to USD 5.14 billion by 2028, with a compound annual growth rate (CAGR) of approximately 8.50% over the forecast period. The report analyzes the fetal surgery market's drivers, restraints/challenges, and their effect on the demands during the projection period. In addition, the report explores emerging opportunities in the fetal surgery market.
Market Overview
Fetal surgery, often referred to as fetal reconstructive surgery, antenatal surgery, and prenatal surgery, is a rapidly expanding area of maternal-fetal medicine that deals with a wide range of surgical procedures designed to cure congenital disabilities in fetuses while they are still inside the pregnant uterus. There are three primary types: open fetal surgery, which completely opens the uterus to operate on the fetus; minimally invasive fetoscopic surgery, which makes small incisions and is guided by fetoscopy and sonography; and percutaneous fetal therapy, which entails inserting a catheter while receiving continuous ultrasound guidance. The global fetal surgery market is influenced by several factors, including an increase in the prevalence of cardiopulmonary diseases, technological advancements like non-invasive surgeries, an increase in government & non-government initiatives for maternal and fetal health worldwide, an increase in awareness of and willingness to invest in the development of fetal monitoring, an increase in the number of multiple pregnancies, post-term pregnancy, and premature delivery cases.
COVID-19 Impact:
The primary factor contributing to the fall in fetal surgeries during the COVID-19 pandemic was the reduction in hospital patient load due to rescheduling and postponing treatments for safety. These delays came about following a comprehensive examination of the patient's medical history, and healthcare professionals rescheduled fetal surgeries where it was practical to lessen the risk of COVID-19 exposure when visiting the hospital. Furthermore, due to new government regulations or hospital standards, areas that are badly affected by COVID-19 have limited fetal surgery and surveillance. As a result, the COVID-19 pandemic has had a detrimental effect on the fetal surgery market.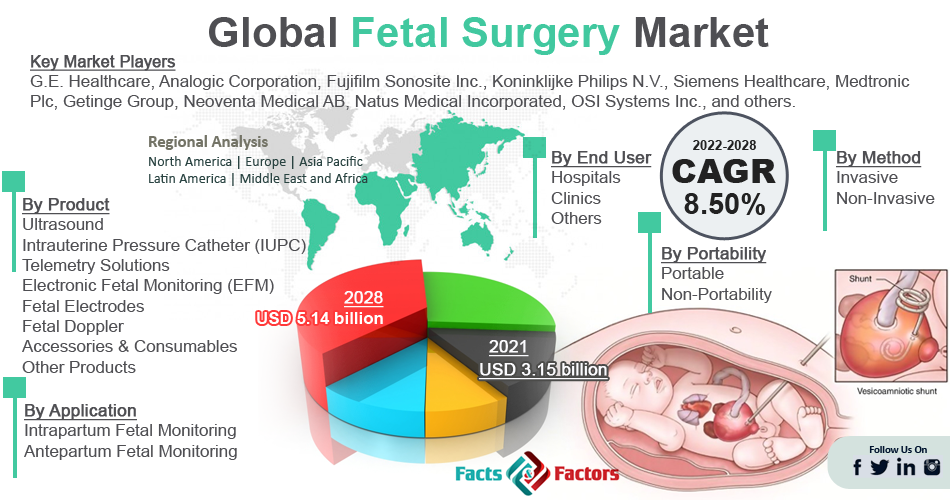 Key Insights
As per the analysis shared by our research analyst, the global fetal surgery market value will grow at a CAGR of 8.50 % over the forecast period.
In terms of revenue, the global fetal surgery market size was valued at around USD 3.15 billion in 2021 and is projected to reach USD 5.1 billion by 2028.
The industry is expected to develop as the demand for fetal surgery during pregnancy rises. Future growth of the worldwide market is anticipated to be fueled by technological improvements, an increase in preterm births, and rising birth rates.
By product, the ultrasound category dominated the market in 2021.
By this method, the non-invasive category dominated the market in 2021.
Asia-Pacific dominated the global fetal surgery market in 2021.
Growth drivers
Advanced fetal surgery technologies drives the market growth
The global fetal surgery market is growing due to the newest cutting-edge technologies, supported by increased research and product introductions. Modern fetal surgery and monitoring systems are being simplified to help in utero fetal surgeries, which sometimes include difficult physical fetal access and technical difficulties. The advancement of high-fidelity hemodynamic and continuous physiologic monitoring in fetal cardiac evaluations has also facilitated early diagnosis and treatment. Continuous cardiotocography (CTG) and fetal heart rate (FHR) auscultation during labor both make use of computer-aided decision support systems and artificial intelligence (A.I.). Along with computational techniques, machine learning, and deep learning tools, the patient's electronic health records (EHRs) are used.
Restraints
Expensive fetal surgery supplies may hinder the market growth
The cutting-edge technology included in the fetal surgery market has a high cost. Expensive monitoring methods like Doppler ultrasound devices are also required. The cost of the Doppler technology's probes can range from USD 4,500 to USD 17,000 (for instance, the Philips Doppler transducer). Additionally, these devices require maintenance costs, which total 15% of the unit's purchase price. The high cost of fetal monitoring technology might be difficult for low-income countries and institutions with limited resources, which limits the growth of the global fetal surgery market.
Opportunity
The development of sophisticated, non-invasive, and portable fetal monitoring presents market opportunities
The leading producers in the fetal surgery market are diversifying their product offerings to include accurate, secure, cost-effective, portable, and wireless monitoring devices. The major market participants are incorporating telecoms into these gadgets as well. For instance, Philips introduced Avalon CL in the U.S. in 2020 and Lumify, a portable and tele-ultrasound solution, in Japan. Similarly, in 2019, the U.S. distribution and supply of the noninvasive intrapartum monitor MERIDIAN M110 Fetal Monitoring System increased thanks to a strategic partnership between MindChild Medical and Henry Schein Medical.
Segmentation Analysis
The global fetal surgery market is segregated based on product, method, portability, application, end user, and region.
Based on product, the market is classified into ultrasound, intrauterine pressure catheter (IUPC), telemetry solutions, electronic fetal monitoring (EFM), fetal electrodes, fetal doppler, accessories & consumables, and other products. In terms of products, the ultrasound sector dominated the global fetal surgery market in 2021. This trend is expected to hold during the projected period. Increased post-term pregnancies, multiple pregnancies, and a rise in the incidence of preterm deliveries are the main drivers of the fetal surgery market's expansion.
Based on the method, the market is segmented into invasive and non-invasive methods. The non-invasive segment currently leads the global market and is predicted to keep doing so for the duration of the projected period.
The fetal surgery market is classified into portable and non-portable systems based on portability. Due to their widespread use in hospitals and diagnostic facilities to evaluate fetal and maternal health, non-portable systems held the greatest share of this market in 2021.
By application, the market is segmented into intrapartum fetal monitoring and antepartum fetal monitoring. The highest market share belongs to the antepartum sector. Antepartum fetal monitoring is done throughout gestation to identify congenital fetal anomalies. The antepartum category is expanding due to intensive monitoring protocols, recent product introductions, increasing fetal abnormalities, and mother fatalities.
Based on end users, the fetal surgery market is classified into hospitals, clinics, and other users. Hospitals held the highest share of this market in 2021. The expansion of this market may be attributable to various elements, including the expansion of hospital technology and, thus, a rise in the frequency of fetal surgeries. Government financing and technological improvements stimulate new equipment installation in hospitals, fostering market expansion.
Recent Developments
In 2020: The SonoSite PX Ultrasound System was introduced by UroLift FUJIFILM SonoSite in the United States.
Report Scope
| | |
| --- | --- |
| Report Attribute | Details |
| Market Size in 2021 | USD 3.15 Billion |
| Projected Market Size in 2028 | USD 5.14 Billion |
| CAGR Growth Rate | 8.50% CAGR |
| Base Year | 2021 |
| Forecast Years | 2022-2028 |
| Key Market Players | G.E. Healthcare, Analogic Corporation, Fujifilm Sonosite Inc., Koninklijke Philips N.V., Siemens Healthcare, Medtronic Plc, Getinge Group, Neoventa Medical AB, Natus Medical Incorporated, OSI Systems Inc., and others. |
| Key Segment | By Product, Method, Portability, Application, End User, and Region |
| Major Regions Covered | North America, Europe, Asia Pacific, Latin America, and the Middle East &, Africa |
| Purchase Options | Request customized purchase options to meet your research needs. Explore purchase options |
Regional Landscape
Asia-Pacific dominated the fetal surgery market in 2021
Asia-Pacific dominated the global fetal surgery market due to increased fetal monitoring awareness and rising disposable budgets in 2021. The market growth in this sector is also due to the growing need for advanced fetal surgery equipment. In addition, the market is anticipated to grow due to rising pregnancies and technological advancements in the healthcare sector. Many people live in Asia, with China and India being the two most populous countries. As a result, given the region's substantial population and rising rate of pregnancies, it is projected that the fetal surgery market in Asia-Pacific will grow.
Competitive Landscape
G.E. Healthcare
Analogic Corporation
Fujifilm Sonosite Inc.
Koninklijke Philips N.V.
Siemens Healthcare
Medtronic Plc
Getinge Group
Neoventa Medical AB
Natus Medical Incorporated
OSI Systems Inc.
Global fetal surgery market is segmented as follows:
By Product
Ultrasound
Intrauterine Pressure Catheter (IUPC)
Telemetry Solutions
Electronic Fetal Monitoring (EFM)
Fetal Electrodes
Fetal Doppler
Accessories & Consumables
Other Products
By Method
By Portability
By Application
Intrapartum Fetal Monitoring
Antepartum Fetal Monitoring
By End User
By Regional Segment Analysis
North America
Europe

France
The UK
Spain
Germany
Italy
Nordic Countries
Benelux Union

Belgium
The Netherlands
Luxembourg

Rest of Europe

Asia Pacific

China
Japan
India
Australia
South Korea
Southeast Asia

Indonesia
Thailand
Malaysia
Singapore
Rest of Southeast Asia

Rest of Asia Pacific

The Middle East & Africa

Saudi Arabia
UAE
Egypt
South Africa
Rest of the Middle East & Africa

Latin America

Brazil
Argentina
Rest of Latin America