Industry Insights
[214+ Pages Report] According to Facts and Factors, the global fatty alcohol market size was worth around USD 5.48 billion in 2021 and is predicted to grow to around USD 7.86 billion by 2028 with a compound annual growth rate (CAGR) of roughly 5.30% between 2022 and 2028. The report analyzes the global fatty alcohol market's drivers, restraints/challenges, and the effect they have on the demands during the projection period. In addition, the report explores emerging opportunities in the global fatty alcohol market.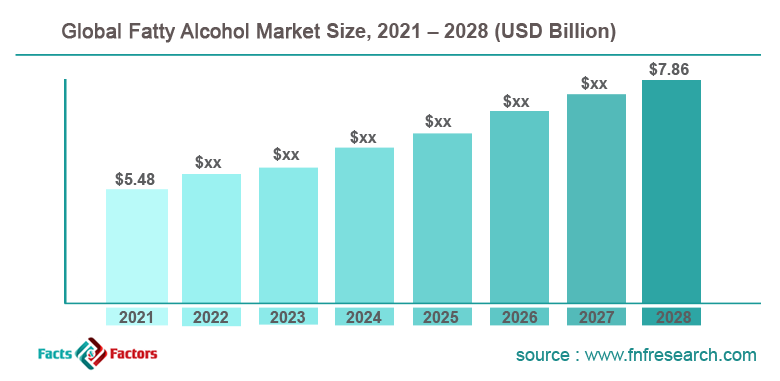 Market Overview
Fatty alcohols, which are generated from fats and oils, are high molecular weight, long-chain alcohols with a chain of three to more than 27 carbon atoms. They come in the forms of waxy solids, colorless oily liquids (for lower carbon numbers), or saturated or unsaturated liquids. Depending on where they come from, fatty alcohols can be either natural or petrochemical in origin. Fatty Alcohols behave as non-ionic surfactants due to their amphipathic character; as a result, they are mostly used in the creation of detergents and surfactants. In the pulp and paper, cosmetics, agriculture, emollient, thickening, and solubilizing sectors, fatty alcohols are frequently utilized as co-emulsifiers, emollients, thickeners, and solubilizing agents. In the pharmaceutical business, alcohol surfactants are also employed as lipophilic solubilizers for lotions and ointments.
Due to the slowdown in the industrial sectors, the COVID-19 pandemic is expected to have a substantial effect on the market. Major corporations, like Wilmar International Limited, were obliged to temporarily close their manufacturing facilities in order to stop the spread of the coronavirus due to its unexpected effects. The company's revenue production and market share would suffer significantly as a result of these plants being shut down. Production levels have significantly decreased as a result of lockdown in various nations. There are bottlenecks in the market's supply chain as a result of restrictions on the transit of materials. The aforementioned causes are expected to cause a decrease in demand.
Key Insights
As per the analysis shared by our research analyst, the global Fatty Alcohol market is estimated to grow annually at a CAGR of around 5.30% over the forecast period (2022-2028).
In terms of revenue, the global Fatty Alcohol market size was valued at around USD 5.48 billion in 2021 and is predicted to grow to around USD 7.86 billion by 2028.
Due to a variety of driving factors, the market is predicted to rise at a significant rate. The increasing demand for surfactants in personal care products, conditioners, lipsticks, shower gel, and antiperspirant is recognized to be a salient cause that can grow the market significantly during the forecast period.
Based on type, the pure & mid-cut segment were predicted to show maximum market share in the year 2021
Based on application, industrial & domestic cleaning was predicted to show maximum market share in the year 2021
On the basis of region, Asia Pacific was the leading revenue generator in 2021.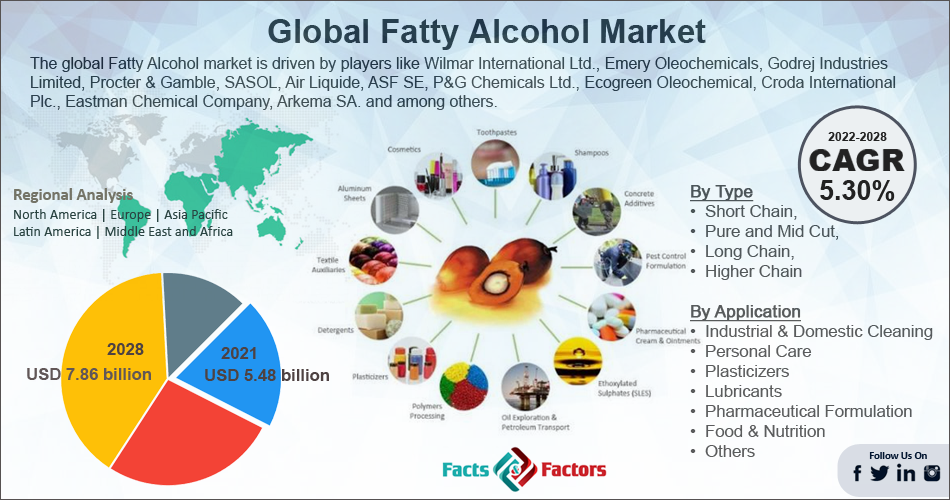 Growth Drivers
Increasing Demand for Surfactants to Propel Market Growth
Surfactants, like soaps and detergents, are in exponentially greater demand. Fatty alcohol-based surfactants have a variety of uses in the paper & pulp, cosmetics, and agricultural industries. They serve as wetting and cleaning agents as well as solubilizing and emulsifying agents. Fatty alcohols are anticipated to be in great demand because of these qualities. Additionally, the rising demand for personal care items such as liquid soaps and hand sanitizers in an effort to curb COVID-19's spread is anticipated to fuel the global fatty alcohols market expansion.
Restraints
Fluctuating Prices of Raw Materials to Hamper Growth
Raw materials like tallow, palm oil, rapeseed oil, and others are used to make fatty alcohols. Major producers of these raw minerals in the Asia Pacific region are Malaysia and Indonesia. The raw materials for other regions, such North America and Europe, are sourced from Asian nations. As a result, changes in the price of raw materials depend on the trading conditions in these areas. Further impeding the market's expansion will be recently implemented limits on the import of refined palm oil into India.
Opportunity
Increase in demand for bio-based and renewable resources-based products
The demand for bio-based chemicals has been seen to be driven by shifting consumer tastes. Over the past ten years, there has been a rapid rise in consumer awareness of the damaging environmental effects of products made using petroleum. Consumers are being encouraged to use eco-friendly items because of rising environmental concerns. These elements are compelling chemical producers to make their products with bio-based raw materials. Oleo-based fatty alcohols are more environmentally friendly and less harmful than their traditional petroleum-based counterparts. They are chosen to produce the ingredients for personal care products.
Challenges
Fluctuating raw material prices
The primary raw materials utilized in the production of fatty alcohol are, among others, rapeseed oil, PK oil, palm oil, and PK oil. These raw materials are imported into regions like North America and Europe from APAC because of the latter's favorable geographic circumstances for the development of raw materials for fatty alcohols. Prices may therefore change often depending on the nature of the trade between these places. 2020 saw a sharp decline in palm oil prices as a result of the global COVID-19 outbreak. The production of palm oil has significantly decreased as a result of the disruption in the global supply chain and the state of lockdown in many Asian nations. Indonesia's exports of palm oil dropped by 12% to 2.54 million tons in February 2020 from the prior month.
Segmentation Analysis
The global fatty alcohol market is segmented based on type, application, and region
Based on type, the market has been segmented into short chain, pure and mid cut, long chain, and higher chain. During the forecast period, the pure and mid-cut category held the majority of the market share. The extensive usage of these chemicals in the production of Sodium Laureth Sulfate (SLS) and Sodium Lauryl Ether Sulfate (SLES), which are present in a variety of personal care products like soaps, shampoos, toothpaste, and others, is credited with the market expansion in this sector. During the projected period, these variables are anticipated to enhance demand.
Based on application, the market has been segmented into industrial & domestic cleaning, personal care, plasticizers, lubricants, pharmaceutical formulation, food & nutrition, and others. Due to rising living standards and a rise in the purchasing power parity of low-income groups in emerging nations like APAC, the industrial & household cleaning industry is expanding quickly. In addition, as fatty alcohols are used in powder and liquid cleaning products as a form controller, emollient, antistatic agent, and pacifier, demand for industrial and household cleaning is rising.
Recent Developments:
In March 2018- Musim Mas expanded its fatty alcohol production capabilities by opening a new facility in Batam with a production capacity of 150 KT per annum.
In June 2017- Royal Dutch Shell is set to expand the production capacity of mid-cut and low-cut alcohols at its Geismar, U.S. facility. This expansion will help the company to meet the growing demand for surfactant and plasticizer alcohol from consumers.
Report Scope
| | |
| --- | --- |
| Report Attribute | Details |
| Market Size in 2021 | USD 5.48 Billion |
| Projected Market Size in 2028 | USD 7.86 Billion |
| CAGR Growth Rate | 5.30% CAGR |
| Base Year | 2021 |
| Forecast Years | 2022-2028 |
| Key Market Players | Wilmar International Ltd., Emery Oleochemicals, Godrej Industries Limited, Procter & Gamble, SASOL, Air Liquide, ASF SE, P&G Chemicals Ltd., Ecogreen Oleochemical, Croda International Plc., Eastman Chemical Company, Arkema SA., and others. |
| Key Segment | By Type, Application, and Region |
| Major Regions Covered | North America, Europe, Asia Pacific, Latin America, and the Middle East &, Africa |
| Purchase Options | Request customized purchase options to meet your research needs. Explore purchase options |
Regional Analysis
Asia Pacific to lead the market growth during the projection period
In the Asia Pacific region, the market for Fatty alcohol is growing significantly. Due to the growing demand from the personal care & cosmetics and surfactant sectors, it is the main driver of market growth. The market would expand exponentially under the influence of rising disposable incomes in South Korea, China, and India. Additionally, China, which is home to several of the world's largest soap and detergent producers, is showing signs of rising usage. The market expansion in North America is related to the increasing demand for surfactants. The COVID-19 outbreak would also increase demand for sanitizers and household cleaning supplies in this area, which would encourage use. The personal care industry's explosive demand is what distinguishes the European market.
Competitive Analysis
Wilmar International Ltd.
Emery Oleochemicals
Godrej Industries Limited
Procter & Gamble
SASOL
Air Liquide
ASF SE
P&G Chemicals Ltd.
Ecogreen Oleochemical
Croda International Plc.
Eastman Chemical Company
Arkema SA.
The global Fatty Alcohol market is segmented as follows:
By Type
Short Chain,
Pure and Mid Cut,
Long Chain,
Higher Chain
By Application
Industrial & Domestic Cleaning
Personal Care
Plasticizers
Lubricants
Pharmaceutical Formulation
Food & Nutrition
Others
By Regional Segment Analysis
North America
Europe

France
The UK
Spain
Germany
Italy
Nordic Countries
Benelux Union

Belgium
The Netherlands
Luxembourg

Rest of Europe

Asia Pacific

China
Japan
India
Australia
South Korea
Southeast Asia

Indonesia
Thailand
Malaysia
Singapore
Rest of Southeast Asia

Rest of Asia Pacific

The Middle East & Africa

Saudi Arabia
UAE
Egypt
South Africa
Rest of the Middle East & Africa

Latin America

Brazil
Argentina
Rest of Latin America