Industry Insights
[232+ Pages Report] According to Facts and Factors, the global exosome research market size was valued at USD 132.4 million in 2021 and is predicted to increase at a CAGR of 32.5% to USD 716.4 million by 2028. The study examines the market in terms of revenue in each of the major regions, which are classified into countries.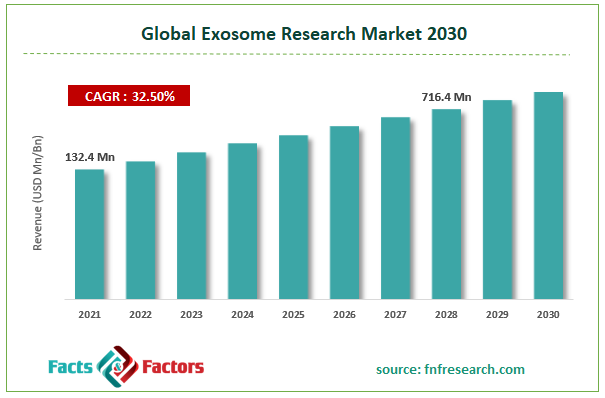 To know more about this report | Request Free Sample Copy
Market Overview
Exosomes are extracellular vesicles that are released from cells when the multivesicular body (MVB), an intermediate endocytic compartment, fuses with the plasma membrane. They have a diameter of 30nm to 120nm and include RNA and protein cargos. These have pleiotropic physiological and pathological functions. Exosomes help with cancer, neurological diseases, and infections. These are necessary for the body's renewal and regeneration. Cancer and other brain illnesses or infections are becoming more common. The increased investment in research and development activities by the life sciences industry will give more profitable opportunities for the exosome research products market, all of which will contribute to the market's growth.
Governments in developing countries are investing heavily in modernizing healthcare infrastructure in their individual countries, with the goal of increasing access to healthcare services. Exosome research items are predicted to be in high demand as a result of this. However, a lack of public awareness will hinder market expansion, particularly in low and middle-income economies. Exosome application laws that are excessively restrictive can stifle market expansion. Moreover, the scarcity of trained and skilled professionals in the exosome research sector and strict regulatory requirements for approval are the factors affecting the growth of the exosome research products market.
Segmental Overview
The exosome research market is divided into three categories based on product and service: kits & reagents, instruments, and services. Antibodies, isolation, purification, quantitation kits & reagents, and other kits & reagents make up the kits & reagents category. Circulating exosomal microRNAs (miRNAs) have emerged as promising biomarker candidates, necessitating a thorough examination of these exosomes. As a result, easy-to-use kits and reagents have been developed to exploit these entities in exosome research. Isolation and purification are also important processes in exosome research techniques, which contribute to their widespread use in the market.
Academic and research institutes, hospitals and clinical testing laboratories, and pharmaceutical and biotechnology businesses are the end users in the exosome research market. Because of their potential in illness detection and their developing role as intercellular messengers, there has been an increase in demand for exosome study in recent years. This has captivated the interest of academic researchers, leading to the academic and research institutes' end-user segment's market domination.
Report Scope
| | |
| --- | --- |
| Report Attribute | Details |
| Market Size in 2021 | USD 132.4 million |
| Projected Market Size in 2028 | USD 716.4 million |
| CAGR Growth Rate | 32.5% CAGR |
| Base Year | 2021 |
| Forecast Years | 2022-2028 |
| Key Market Players | Thermo Fisher Scientific, Inc., Bio-Techne Corporation, QIAGEN, System Biosciences, LLC, Miltenyi Biotec, NanoSomiX, Inc., Norgen Biotek Corp., AMS Biotechnology (Europe) Ltd., Lonza, and Others |
| Key Segment | By Product & Service Type, Application, End-user, and Region |
| Major Regions Covered | North America, Europe, Asia Pacific, Latin America, and the Middle East & Africa |
| Purchase Options | Request customized purchase options to meet your research needs. Explore purchase options |
Regional Overview
North America held the highest proportion of the exosome research products market in 2021. During the projected period, the North American market is expected to develop at the fastest CAGR. Exosome market expansion in North America is being fueled by factors such as government support for life science research, a favorable regulatory environment, a growing focus on exosomes in research and diagnostics, and the presence of high-quality infrastructure for clinical and laboratory research. Due to an increase in research and development efforts, increased government initiatives to improve health care, and a surge in key players' focus on developing or reinforcing their presence in the region, the market in the Asia Pacific is expected to grow at a quick pace during the forecast period.
Competitive Landscape
The report contains qualitative and quantitative research on the global exosome research market, as well as detailed insights and development strategies employed by the leading competitors. The report also provides an in-depth analysis of the market's main competitors, as well as information on their competitiveness. The research also identifies and analyses important business strategies used by these main market players, such as mergers and acquisitions (M&A), affiliations, collaborations, and contracts. The study examines, among other things, each company's global presence, competitors, service offers, and standards.
List of Key Players in the Global Coconut Water Market:
Thermo Fisher Scientific, Inc.
Bio-Techne Corporation
QIAGEN
System Biosciences, LLC
Miltenyi Biotec
NanoSomiX, Inc.
Norgen Biotek Corp.
AMS Biotechnology (Europe) Ltd.
Lonza
Other prominent players
The Global Exosome Research Market is segmented as follows:
By Product & Service Type
Kits & Reagents
Instruments
Services
By Application
By End-user
Hospitals & Clinical Testing Laboratories
Academic & Research Institutes
Pharmaceutical & Biotechnology Companies
By Region
North America
Europe

France
The UK
Spain
Germany
Italy
Nordic Countries
Benelux Union

Belgium
The Netherlands
Luxembourg

Rest of Europe

Asia Pacific

China
Japan
India
Australia
South Korea
Southeast Asia

Indonesia
Thailand
Malaysia
Singapore
Rest of Southeast Asia

Rest of Asia Pacific

The Middle East & Africa

Saudi Arabia
UAE
Egypt
South Africa
Rest of the Middle East & Africa

Latin America

Brazil
Argentina
Rest of Latin America