Industry Insights
[225+ Pages Report] According to Facts and Factors, the Clinical Decision Support System market size was worth USD 1,382.4 million in 2021 and is estimated to grow to USD 2,714.1 million by 2028, with a compound annual growth rate (CAGR) of approximately 11.9% over the forecast period. The report analyzes the Clinical Decision Support System Market, the drivers, restraints/challenges, and their effect on the demands during the projection period. The study also looks at new potential in the market for healthcare decision support systems.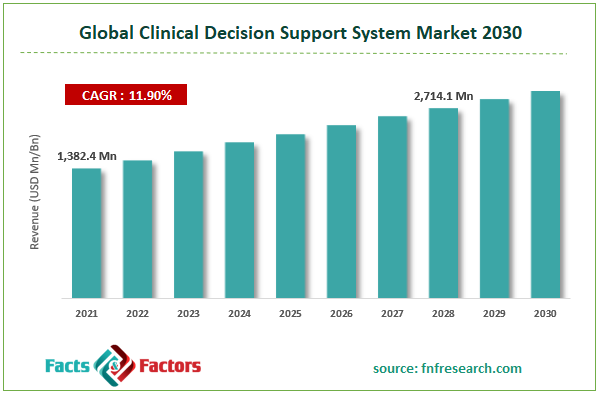 To know more about this report | Request Free Sample Copy
Market Overview
The Clinical Decision Support System is an intelligent tool that analyses past data and treatment trends to arrive at informed decisions that will improve patient health. One of its primary advantages is that a healthcare decision support system provides clinicians, staff, and patients with the knowledge and person-specific information. To deal with the rapidly increasing prevalence of chronic diseases and the expanding patient population, systems with cutting-edge algorithms, interactive user interfaces, and service-oriented architectures are currently required on a global scale.
During the projected time frame, the demand for advanced software solutions to efficiently manage the fast-growing patient population globally is predicted to fuel the global market expansion for healthcare decision support systems. Additionally, it is expected that the use of healthcare decision support systems will increase in the near future as a result of software technology's ability to predict patient conditions.
Rapid biotechnology and bioinformatics advancements have improved and optimized data management, analytics, and storage platforms. As a result of R&D programs backed by sizeable corporate investments, the industry is anticipated to see a sizable number of advancements. The adoption of healthcare decision support systems would be accelerated by integrating interoperability and cloud computing platforms into diverse systems, further stimulating effective operation and seamless data flow.
COVID-19 Impact:
The COVID-19 outbreak has put medical practices of all sizes under a great deal of stress, and healthcare facilities around the world are being overrun by the vast number of people who come to see them every day. The onset of this pandemic has increased the demand for precise diagnostic and therapeutic tools in numerous nations around the world. Clinical decision support systems have shown to be helpful in this area since they enable healthcare organizations and physicians to monitor patients using a variety of tools, including pulse oximeters and home blood pressure monitors.
The disease's rapid global expansion has also brought on a lack of hospital beds and medical personnel. As a result, the need for linked medical devices to monitor vital signs has been fuelled. Additionally, due to the pandemic, there was a greater requirement for the social distance between doctors and patients, which boosted the demand for HDSS solutions and quick and accurate transmission of patient health records.
Key Insights
Due to its low cost, the standalone HDSS product group had the greatest revenue share in 2021.
Due to clinicians' quick adoption of healthcare I.T. solutions, the integrated EHR with HDSS product segment is anticipated to grow noticeably over the ensuing years.
By application, drug allergy alerts held the largest revenue share in 2021 due to the rising prevalence of allergies.
By component, the software segment is anticipated to grow profitably over the forecast period due to cutting-edge developments for technical support and interoperability of healthcare I.T. systems.
Growth Drivers
Government rules and measures to encourage the use of HDSS solutions
The European Union's health ministers agreed to work together and create an eHealth common area in 2020, allowing for the unfettered flow of electronic health records throughout the continent. The declaration also urges the inclusion of eHealth as a key component of the Europe 2020 plan. Such policies/initiatives are anticipated to increase the demand for and uptake of EHR, which will have an impact on the uptake of HDSS in important global markets.
Restraints
Data security concerns related to cloud-based decision support system
The fact that vendor-hosted data is less secure than data stored on-premises is a fundamental concern with cloud-based DSS. Patient information is regarded as being extremely sensitive, and strict privacy standards must be upheld to ensure that only authorized individuals can access this information. Legal frameworks, such as the data privacy regulations imposed by HIPAA, constantly scrutinize patient information across numerous nations (Health Insurance Portability and Accountability Act). In addition, the E.U. Data Protection Regulation, which has consequences for safeguarding private health information, is in place in the European Union. Despite the fact that private clouds provide greater access protocols and systems, the healthcare sector is unsure about their efficacy.
Opportunity
Social media integration and rising technological advancements
Another developing trend in healthcare decision support system solutions is access to media channels. For instance, social media data gathered for patients with chronic diseases has been included in the cloud-based Smart Clinical Decision Support System (Smart CDSS) created by private researchers. This information is combined with clinical findings from actual interactions in healthcare facilities. The system keeps track of patients' emotional states, hobbies, and health through their social media activities. It gathers patient-specific information from Twitter, email analysis, and other social media platforms and extracts keywords, concepts, and attitudes. This enhances clinical decision-making by assisting healthcare professionals in better comprehending a patient's behavior and lifestyle. The input is then used by an intelligent healthcare decision support system to propose recommendations that are patient-specific.
Challenges
Shortage of skilled I.T. professionals in the healthcare industry
Strong I.T. infrastructure and support are required both internally within the company and by the solution provider for the effective use of healthcare I.T. solutions. Technical assistance is constantly required in a healthcare company to maintain the server and network for the smooth functioning of clinical workflows and the fastest possible interface speed for healthcare I.T. systems. The production of screen loads results from the poor server or network maintenance, which slows down the clinical process. In addition, the use of web-based and on-premise HCDD systems is being hampered by the lack of a competent labour force in many large markets.
Segmentation Analysis
The Clinical Decision Support System Market is segregated on the basis of offering, product type, model, deployment type and by application.
Depending on the method of deployment, the market is divided into On-Premise, Web-Based, and Cloud-Based segments. The main forces behind the growth of the cloud-based market segment are the rising cost of healthcare and the adoption of cloud computing. In addition, the government is taking steps in a number of European nations to assist the development of information technology in healthcare. For instance, nearly two million National Health Services (NHS) mail mailboxes were transferred to Exchange Online, a component of Microsoft's Azure Cloud, in February 2021 as the U.K. government announced a plan to embrace a fully linked cloud-driven health service. As a result, communication between NHS organizations and department staff members will be easier and more effective, and the information available will increase.
Additionally, local knowledge management of healthcare decision support systems (HDSS) may necessitate significant processing and storage resources, which could lead to expensive running costs. Cloud-based programs, in contrast, are run on remote servers and don't need a lot of processing power or storage space on the user's device to run.
The market is divided into dental laboratories, dental hospitals, dental clinics, and others based on application. In 2021, the market is dominated by the dental clinic sector. The majority of the market is made up of dental clinics. Because more surgeries, such as dental implants, regenerative treatments, dental crown lengthening, and other procedures, are being performed in dental clinics. Due to the high volume of operations performed there, the high volume of patients who visit these locations, the availability of modern infrastructure, rising investments in developing infrastructure, skilled workers, and simple accessibility, the hospital sector is anticipated to grow at the fastest rate.
Report Scope
| | |
| --- | --- |
| Report Attribute | Details |
| Market Size in 2021 | USD 1,382.4 Million |
| Projected Market Size in 2028 | USD 2,714.1 Million |
| CAGR Growth Rate | 11.9% CAGR |
| Base Year | 2021 |
| Forecast Years | 2022-2028 |
| Key Market Players | MEDITECH (US), NextGen Healthcare (US), Siemens Healthineers (US), EBSCO Health (US), GE Healthcare (US), Philips Healthcare (Netherlands), Wolters Kluwer N.V. (Netherlands), Cerner Corporation (US), Change Healthcare (US), Epic Systems (US), Zynx Health (US), Elsevier B.V. (UK), IBM Watson Health (US) , and Others |
| Key Segment | By Deployment Mode, Model, Product Type, Offering, Application, and Region |
| Major Regions Covered | North America, Europe, Asia Pacific, Latin America, and the Middle East & Africa |
| Purchase Options | Request customized purchase options to meet your research needs. Explore purchase options |
Recent Developments
• A strategic cooperation deal between Elsevier and RELX Group was established in July 2018 with the aim of developing and marketing STATdx, an online radiology diagnostic decision support tool.
•In August 2018, Mayo Clinic and National Decision Support Company (NDSC) agreed to work together strategically to build and improve the Integrated Blood Management System. (IBMS). The new launch will broaden the clinical knowledge of Mayo Clinic and the product line of NSDC's EHR-enabled clinical decision support system.
• In September 2018, F. Hoffmann-La Roche Ltd. added two new software programs to their catalog of clinical decision support systems. The purpose of NAVIFY Clinical Trial Match and NAVIFY Publication Search is to locate relevant information on a particular disease condition or drug phase on clinical trial and medical publishing databases.
Regional Landscape
Rising awareness of periodontal disorders is likely to help North America dominate the global market
North America dominated the HDSS market worldwide with a revenue share of more than 45.0 percent in 2021,. This can be linked to the growing need in the medical industry for healthcare I.T. solutions. The market expansion in this region is also fuelled by quick technology development and the rising relevance of offering high-quality healthcare services.
Over the projected period, the region with the quickest growth is expected to be the Asia Pacific. This is due to countries like Australia, China, India, and Japan making larger investments in the healthcare industry. Furthermore, the Asia Pacific market is exhibiting significant potential due to rising R&D spending by the governments of important economies to boost the penetration of information technology in the medical industry. In addition, the growing elderly population is probably one of the major drivers of the Asia Pacific market.
Competitive Landscape
Key players within the global clinical decision support system market include
MEDITECH (US)
NextGen Healthcare (US)
Siemens Healthineers (US)
EBSCO Health (US)
GE Healthcare (US)
Philips Healthcare (Netherlands)
Wolters Kluwer N.V. (Netherlands)
Cerner Corporation (US)
Change Healthcare (US)
Epic Systems (US)
Zynx Health (US)
Elsevier B.V. (UK)
IBM Watson Health (US)
Allscripts Healthcare LLC (US)
athenahealth (US)
eClinicalWorks (US)
RAMPMedical (Germany)
The Medical Algorithms Company Limited (UK)
Hera-MI (France)
CureMD Healthcare (US)
CareCloud
Inc (US)
Visual DX (US)
The Global Dental Periodontics market is segmented as follows:
By Deployment Mode
On-Premise
Cloud-based
Web bases
By Model
Knowledge-based
Non-Knowledge based
By Product Type
Standalone HDSS Solution
Integrated HDSS Solution
By Offering
Services
Software
Hardware
By Application
Advanced CDSS
Conventional CDSS
By Regional Segment Analysis
North America
Europe

France
The UK
Spain
Germany
Italy
Nordic Countries
Benelux Union

Belgium
The Netherlands
Luxembourg

Rest of Europe

Asia Pacific

China
Japan
India
Australia
South Korea
Southeast Asia

Indonesia
Thailand
Malaysia
Singapore
Rest of Southeast Asia

Rest of Asia Pacific

The Middle East & Africa

Saudi Arabia
UAE
Egypt
South Africa
Rest of the Middle East & Africa

Latin America

Brazil
Argentina
Rest of Latin America