Industry Insights
[227+ Pages Report] According to Facts and Factors, the global eSIM market was valued at roughly USD 8.9 billion in 2021 and is predicted to grow to about USD 25.8 billion by 2028, with a compound annual growth rate (CAGR) of approximately 16.42% over the projection period. The report analyzes the eSIM market's drivers, restraints, opportunities, and challenges and the impact they have on consumption during the projection period.
Market Overview
With the continuous expansion of smart connected electronics in every business sector, the demand for centrally managed web devices is continuously increasing. The requirement for remote connectivity for device management is growing. The number of smart device makers is fast expanding to meet this need.
eSIMs are becoming incredibly popular since they enable customers to manage every connected device remotely, including mobile phones, cars, medical equipment, wearables, and others. Because of their "Machine to Machine" features and remote provisioning, e-SIMs are becoming incredibly common among smart device manufacturers.
An eSIM, also known as an Embedded Universal Integrated Circuit Card (eUICC), is a universal integrated circuit card (UICC) in a generic form. It functions similarly to a normal SIM card. It has pre-programmed settings and can be programmed by plugging the card into a modem or computer. The eSIM was created for the telecommunications sector, primarily for network-attached storage installations (NAS). The principal application of eSIM is in the mass manufacture of Microsemi transistors and other embedded communication devices. There are various manufacturers who support eSIM based cards. eSIM manufacturers provide support for eSIM by providing hardware and software updates and upgrades, as well as their own line of e-SIM cards. eSIM is used in a wide range of networking devices, including laptop computers, digital cellular phones, modems, desktop computers, distribution equipment, wireless personal area networks, fax machines, printers, and many others.
COVID-19 Impact:
Several industries have seen significant changes as a result of the COVID-19 outbreak. Manufacturing operations have also been temporarily delayed in numerous countries to limit the coronavirus, which has had a substantial influence on the growth of the eSIM market. There seems to be a lack of 5G chipsets on the market as a result of production disruption. Many manufacturing businesses, including Xiaomi, Samsung, OPPO, and LG Display, have halted operations in India, China, South Korea, and Europe. For instance, OPPO Company closed its business in Noida, India, in May 2020 after six employees screened positive for COVID-19. Furthermore, as a result of the lockdown imposed in certain countries, demand for e-SIM devices has declined.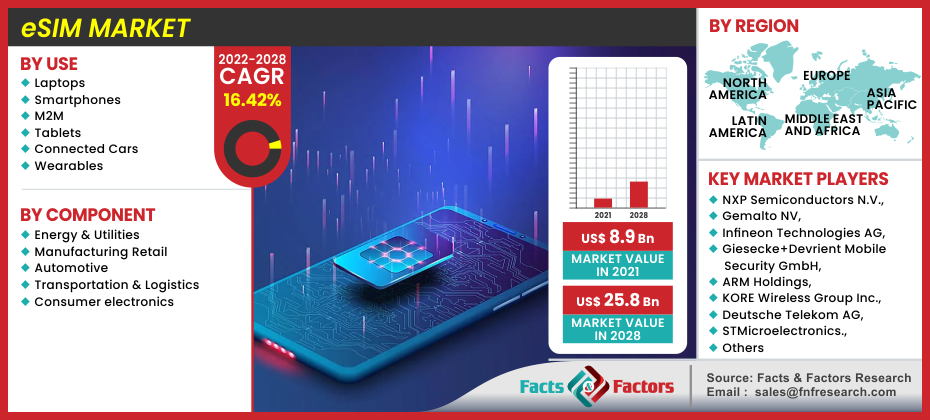 To know more about this report | Request Free Sample Copy
Growth Drivers
Increasing popularity and M2M application is boosting the market's growth
Remote provisioning means the capability to download an operator account to an in-market SIM and alter or delete subscriber identity module (SIM) identities without physically accessing the SIM card. The eSIM card is a key facilitator for machine-to-machine (M2M) connectivity, which includes seamless and simple mobile connections for all types of linked devices. M2M requires the widespread networking of machines across geographical areas. Embedded SIM eliminates the hassle of switching service providers, resulting in increased operational excellence, and runs in a controlled and safe environment. The most recent embedded SIM cards provide ensured profile interoperability as well as a key platform for participants to collaborate on common grounds. All these factors are likely to boost the growth of the global eSIM market in the near future.
Restraints
Increasing security threats can hinder the market's growth
As technology advances, IoT device penetration increases, and M2M services proliferate, it becomes increasingly critical to provide safe and dependable communication among linked systems. As a result, ensuring the integrity of these systems has become a difficult effort. By offering automatic compatibility across connectivity platforms and different SIM operator profiles, embedded SIM cards enable the remote provision of SIM profiles. However, if security were compromised, the operational flexibility provided by an integrated SIM would be a waste of time. The e-SIM captures and maintains mobile network operator (MNO) credentials in the device's inbuilt software, which is vulnerable to different security breaches. It also uses various mobile network operators and physical systems, exposing it to the hazards of the virtual world.
Opportunities
Growing demand for smart solutions can bring considerable growth opportunities
Smart solutions, such as smart cities, electric vehicles, and smart meters, are becoming more popular around the world as a result of the IoT infrastructure's flexibility and connectivity, as well as the accelerated drive for smart cities and economic growth in emerging nations. The progression and advancement of networks, the lower cost of devices such as actuators & sensors, and the rise of new marketing strategies are some of the major elements that will lead to the establishment of services such as automatic security systems, smart grid deployment, connected cars, and many others, resulting in increased investment opportunities in implementing creative smart solutions. As a result, the increased need for efficient technologies for a variety of applications in industries like energy & power, healthcare, agriculture, and automotive is projected to open up new opportunities for the global e-SIM market participants.
Challenges
Inadequate standardization remains a challenge
The e-SIM business model is quite complicated, including numerous stakeholders. As a result, stakeholders must coordinate and collaborate to establish standards for efficiencies, interoperability, and cloud technology such as M2M communications and widespread sensor systems for the better execution of integrated SIMs across a wide range of applications. To address the issue of lack of standardization and ease industry-wide adoption of eSIM, international organizations such as the GSM Association (GSMA) and the European Telecommunications Standards Institute (ETSI) are working to develop technical and operational standards.
Segmentation Analysis
The global eSIM market is segregated on the basis of use, component, and region.
By use, the market is divided into laptops, smartphones, M2M, tablets, connected cars, and wearables. The M2M segment is anticipated to account for the majority of the eSIM market during the projection period due to the numerous benefits provided by the application of eSIM in M2M devices, such as a simplified and efficient approach with no need to replace or insert a SIM card, enhanced security and reliability, a modern look, and no connector requirement. Furthermore, e-SIM provides efficient operation and smooth connectivity of M2M modules that are often hermetically sealed and located remotely.
By component, the market is divided into energy & utilities, manufacturing retail, automotive, transportation & logistics, and consumer electronics. The consumer electronics segment continues to be a significant driver of change, innovation, and growth in a variety of technology areas. Consumer electronics applications based on E-SIM are expected to revolutionize the industry. Enhanced connectivity, excellent reliability, and better safety are just a few of the benefits of using e-SIMs in consumer electronic applications.
Report Scope
| | |
| --- | --- |
| Report Attribute | Details |
| Market Size in 2021 | USD 8.9 Billion |
| Projected Market Size in 2028 | USD 25.8 Billion |
| CAGR Growth Rate | 16.42% CAGR |
| Base Year | 2021 |
| Forecast Years | 2022-2028 |
| Key Market Players | NXP Semiconductors N.V., Gemalto NV, Infineon Technologies AG, Giesecke+Devrient Mobile Security GmbH, ARM Holdings, KORE Wireless Group Inc., Deutsche Telekom AG, and STMicroelectronics. |
| Key Segment | By Use, By Component, and By Region |
| Major Regions Covered | North America, Europe, Asia Pacific, Latin America, and the Middle East & Africa |
| Purchase Options | Request customized purchase options to meet your research needs. Explore purchase options |
Regional Landscape
North America dominates the eSIM market
North America holds the highest revenue share in the global e-SIM market and is predicted to maintain this position throughout the forecast period. The expansion is expected to be helped by network providers' strong presence and rapid technological advancements. Europe is expected to grow at a CAGR of more than 13% during the forecast period. One of the important factors driving growth is the existence of prominent market participants such as Gemalto NV, ARM Holdings, and Giesecke+Devrient Mobile Security GmbH. Regional expansion is also projected to be helped by government laws on car assistance.
During the forecast period, Asia Pacific is projected to have significant growth in the eSIM market. Consumer demand for embedded connectivity in automobiles and increased usage of IoT technologies are projected to fuel the regional e-SIM market expansion. Furthermore, the rising usage of consumer electronics products such as laptops, smartphones, and wearables, among others, is likely to boost growth in the future.
Recent Developments
June 2021: Kigen (UK) Ltd.'s GSMA-compliant remote SIM software solution can now be paired with the Infineon compact e-SIM security controller and Kigen (UK) Ltd.'s GSMA-compliant 24mm x 24mm NBIoT SIM7070 module.
January 2018: Sierra Wireless introduces the Air Prime HL78 module, the industry's smallest, and low-power, multi-mode Low Power Wide Area (LPWA) cellular module designed for smart city applications and high-growth markets such as asset tracking and connected industrial equipment, medical, rural economy, and wearable device markets.
Competitive Landscape
Some of the main competitors dominating the global eSIM market are :
NXP Semiconductors N.V.
Gemalto NV
Infineon Technologies AG
Giesecke+Devrient Mobile Security GmbH
ARM Holdings
KORE Wireless Group Inc.
Deutsche Telekom AG
STMicroelectronics
The global eSIM market is segmented as follows:
By Use Segment Analysis
Laptops
Smartphones
M2M
Tablets
Connected Cars
Wearables
By Component Segment Analysis
Energy & Utilities
Manufacturing Retail
Automotive
Transportation & Logistics
Consumer electronics
By Regional Segment Analysis
North America

The U.S.
Canada
Mexico
Rest of North America

Europe

France
The UK
Spain
Germany
Italy
Nordic countries

Denmark
Finland
Iceland
Sweden
Norway

Benelux Reunion

Belgium
The Netherlands
Luxembourg

Rest of Europe

Asia Pacific

China
Japan
India
New Zealand
Australia
South Korea
Southeast Asia

Indonesia
Thailand
Malaysia
Singapore
Rest of Southeast Asia

Rest of Southeast Asia

The Middle East & Africa

Saudi Arabia
UAE
Egypt
Kuwait
South Africa
Rest of the Middle East & Africa

Latin America

Brazil
Argentina
Rest of Latin America