Covid-19
Global Energy Meter Market Size, Share
The pandemic continues to cause unprecedented disruption across industries worldwide.Get detailed insights regarding the impact of COVID-19 on the market. Request Sample
Industry Insights
[193+ Pages Report] According to a Facts and Factors market research report, the global energy meter market was estimated to be USD 9.21 Billion in the year 2020; and the revenue is projected to reach about USD 13.12 Billion by the end of 2026, increasing at a CAGR of around 6.07% from 2021 to 2026.
Market Overview
Energy meters are measuring devices that are used to determine the amount of electricity consumed in various areas such as residential, industrial, and commercial buildings. The energy provider typically installs this meter to measure consumption volume and calculate the amount to be invoiced to the customer.
Industry Growth Factors
The rising number of government initiatives to develop advanced infrastructure for consistent delivery of energy and power to underdeveloped regions, as well as the high level of construction and industrialization activities in the global region, which has been one of the major applications for energy meters, will propel the market forward. For instance, by 2022, India intends to set up energy meters across its rural and semi-urban network to avoid losses. Government efforts like these will help the market develop during the forecast period. Consumer preference for smart meters over traditional meter variations and technologies has boosted the growth of the energy meter market, and it is predicted to be one of the most important growth drivers in the forecasted period.
Developing countries where infrastructure expansion is very intensive are also a growth factor where urbanizing the cities and industrial infrastructure are taking place, and many under-construction projects are installing energy meter market as a default electricity connection.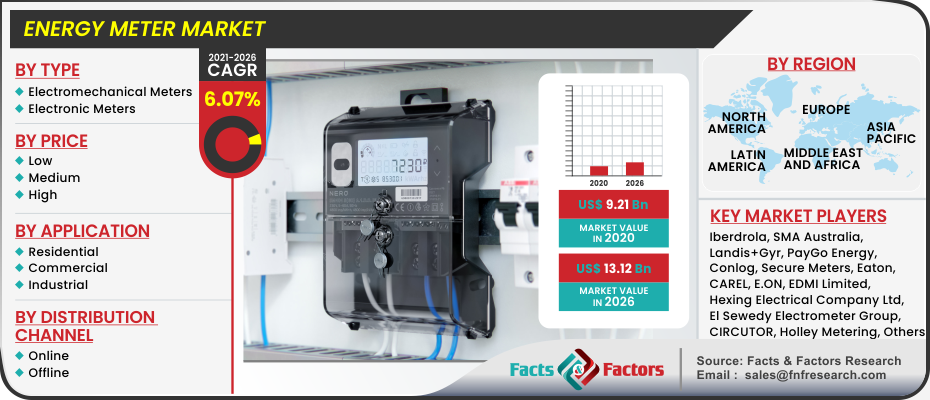 Segmentation Analysis
On the basis of type, the energy meter market is segmented into electromechanical meters and electronic meters. On the basis of price, the energy meter market is segmented into low, medium, and high. On the basis of application, the energy meter market is segmented into residential, commercial, and industrial. On the basis of distribution channels, the energy meter market is segmented online and offline.
Regional Analysis
Asia Pacific is considered to be one of the promising markets for the energy meter market because of the developing countries that it constitutes.
Competitive Players
Some of the major market players in the energy meter market are Iberdrola, SMA Australia, Landis+Gyr, PayGo Energy, Conlog, Secure Meters, Eaton, CAREL, E.ON, EDMI Limited, Hexing Electrical Company Ltd, El Sewedy Electrometer Group, CIRCUTOR, Holley Metering, Elster GmbH, Exceleron, HCL, Itron Inc., and Siemens AG among others.
By Type Segmentation Analysis:
Electromechanical Meters
Electronic Meters
By Price Segmentation Analysis
By Application Segmentation Analysis:
Residential
Commercial
Industrial
By Distribution Channel Segmentation Analysis:
Regional Segmentation Analysis
North America
Europe

Germany
The UK
France
Spain
Italy
Rest of Europe

Asia Pacific

China
Japan
India
South Korea
Southeast Asia
Rest of Asia Pacific

Latin America

Brazil
Mexico
Rest of Latin America

Middle East & Africa

GCC Countries
South Africa
Rest of Middle East & Africa