Covid-19
Global Emulsion Polymers Market Size, Share
The pandemic continues to cause unprecedented disruption across industries worldwide.Get detailed insights regarding the impact of COVID-19 on the market. Request Sample
Industry Insights
[204+ Pages Report] According to Facts and Factors, during the forecast period of 2022 to 2028, the global emulsion polymers market is estimated to develop at a compound annual growth rate (CAGR) of 10.3%. The global emulsion polymers market was worth USD 28.8 billion in 2021, and it is anticipated to exceed USD 49.2 billion by 2028. The study investigates several elements and their consequences on the growth of the global emulsion polymers market.
Market Overview
Emulsion polymers are the result of radical polymerization that begins with the emulsion phase, which consists of monomer, water, and surfactant in the most common case, an oil-in-water emulsion. Depending on their structure and method of polymerization, emulsion polymers are classified as either bio-based or synthetic. Emulsion polymers have a high molecular weight, polymerize quickly, and are environmentally friendly. Emulsion polymers are used in the paper industry to make sheets, boxes, paper bags, cartons, and other items. It is used as a binding agent in adhesives such as stickers, bands, windings, glue, and hygiene products. These end-user segments significantly contribute to the growth of the polymer emulsion market.
COVID-19 Impact
Almost every country in the world has tightened travel restrictions as a result of the COVID-19 outbreak. Due to an increase in the number of infected patients and a total lockdown in large industrial hubs, the manufacturing industry has been brought to a halt since March 2020. Workers have either returned to their home countries or have been quarantined in order to prevent the spread of the coronavirus. Construction, automotive, chemical, textile, and coatings firms have been forced to close locations due to potential upstream supply chain issues. People are deterred from seeking alternative homes due to negative market sentiment and falling incomes, so the requirement for residential construction is considered low.
Automobile demand has plummeted dramatically as a result of future uncertainty. Chemical manufacturers have either ceased operations or are operating at a low capacity. However, with the hoisting of the lockdown, governments around the world are steadily encouraging construction, automobile, chemical, and textile & coatings businesses to resume operations, and companies are working towards market recovery, with sales expected to rise gradually.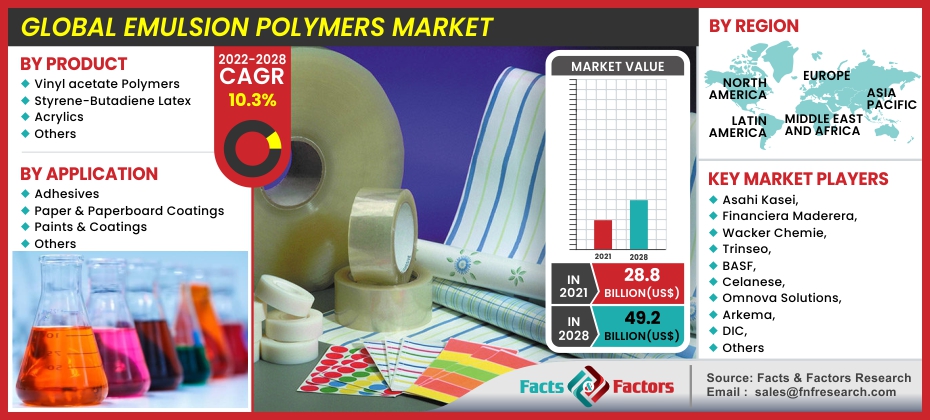 Growth Drivers
Strong growth in the global architectural paints & coatings sector is expected to drive market growth
The global architectural paints and coatings industry grew significantly in 2019, owing primarily to the increased demand for protective and durable paints. Urbanization and soaring consumer disposable income are also expected to drive global emulsion polymers market growth during the forecast period of 2022–2028. Surging demand for high-quality color paints, combined with increased residential infrastructure development, particularly in emerging economies, is expected to boost industry growth over the forecast period.
Adoption of environmentally friendly products to expand the market
During the forecast period, 2022–2028, increasing awareness among end-use industries about the impact of solvent-based products on the environment, combined with favorable regulatory trends, is expected to fuel global emulsion polymers market demand. VOC-free or low VOC content paints and coatings are expected to benefit from the shift in the trend toward environmentally friendly paints and coatings. The global market for emulsion polymerization has been fueled by this trend. Industry operators can generate high molecular weight polymers with low viscosity using this technique. Additionally, over the forecast period, rising consumer awareness of green building is expected to drive global demand.
Restraints
Volatile raw material costs may stymie market growth
Some raw materials used by industry players are obtained from petrochemical-based feedstocks like natural gas and crude oil, which are prone to sudden and significant price fluctuations. These price fluctuations could be exacerbated by global macroeconomic factors as well as supply and demand factors, such as rising global demand for petroleum-based products and OPEC production quotas. Significant changes in the availability and expense of raw materials may have a negative impact on industry operations.
Opportunities
Increasing opportunities for bio-based polymer emulsions to boost the market growth
Growing environmental concerns, as well as increased competition among market players, have prompted manufacturers to make continuous technological advancements and expand their use of green or bio-based products. As a result, there is a growing demand for low-VOC products made from renewable materials.
Challenges
Making a cost-effective polymer emulsion can be complicated
One of the challenges for market participants is to produce polymer emulsions with low VOC. VOC emissions have a number of negative effects on the health of both workers and end-users. Furthermore, they lead to prolonged respiratory conditions such as asthma and other breathing problems. As a result, the mature North American and European markets have enacted stringent regulations governing the use of VOC-containing products.
Segmentation Analysis
The global emulsion polymers market is segmented on the basis of product, application, and region.
By product, the market is divided into vinyl acetate polymers, styrene-butadiene latex, acrylics, and others. Acrylics are anticipated to be the fastest-growing segment in the coming years due to increased product demand from the superabsorbent polymers and adhesives and sealants segments. Demand is expected to be fueled further by a rise in building and construction activities in developing countries. Furthermore, the increasing use of acrylic polymers in water treatment is expected to drive growth. Vinyl acetate is also expected to grow rapidly from 2022 to 2028, owing to a growing application base in fabric, sealants, paper, and wood production.
By application, the market is divided into adhesives, paper & paperboard coatings, paints & coatings, and others. Paints & coatings seem to have the largest market share and are expected to maintain their dominance throughout the forecast period. Consumers are increasingly concerned with quality and appearance, and as a result, increased demand for high-quality paints and technology-driven coatings is estimated to spur product growth over the coming years.
Report Scope
| | |
| --- | --- |
| Report Attribute | Details |
| Market Size in 2021 | USD 28.8 Billion |
| Projected Market Size in 2028 | USD 49.2 Billion |
| CAGR Growth Rate | 10.3% CAGR |
| Base Year | 2021 |
| Forecast Years | 2022-2028 |
| Key Market Players | Asahi Kasei, Financiera Maderera, Wacker Chemie, Trinseo, BASF, Celanese, Omnova Solutions, Arkema, DIC, BATF Industrial, Nuplex, and DSM, among others |
| Key Segment | By Product, Application, and Region |
| Major Regions Covered | North America, Europe, Asia Pacific, Latin America, and the Middle East & Africa |
| Purchase Options | Request customized purchase options to meet your research needs. Explore purchase options |
Regional Landscape
Asia Pacific region dominates the market
The Asia Pacific dominated the global emulsion polymer market, accounting for more than 39% of total sales, followed by Europe and North America. The product's rising demand in the building & construction, paints & coatings, and automotive industries in Asia Pacific's developing countries is expected to drive market growth. Moreover, the availability of low-cost raw materials, land, and skilled labor are among the factors driving the growth of the Asia Pacific emulsion industry. Furthermore, Asia Pacific is expected to remain the largest consumer during the forecast period, owing to increased construction spending, a rising population, a higher standard of living, and higher purchasing power.
Recent Development
June 2020: Celanese Corporation has agreed to supply emulsion polymers to Megafarma, an Azelis company, in Mexico.
January 2020: Celanese Corporation plans to expand its global emulsion polymer business. Celanese began debottlenecking VAE production facilities in Nanjing, China, and Geleen, the Netherlands, as part of this expansion. Furthermore, the company announced plans to expand the Nanjing VAE production facility by 66,000 metric tons by 2022 and the Geleen facility by 55,000 metric tons per year by 2023.
Competitive Landscape
Some of the global emulsion polymers market players are Asahi Kasei, Financiera Maderera, Wacker Chemie, Trinseo, BASF, Celanese, Omnova Solutions, Arkema, DIC, BATF Industrial, Nuplex, and DSM.
The global emulsion polymer market is segmented as follows:
By Product Segment Analysis
Vinyl Acetate Polymers
Styrene-Butadiene Latex
Acrylics
Others
By Application Segment Analysis
Adhesives
Paper & Paperboard Coatings
Paints & Coatings
Others
By Regional Segment Analysis
North America

The U.S.
Canada
Mexico
Rest of North America

Europe

France
The UK
Spain
Germany
Italy
Nordic countries

Denmark
Finland
Iceland
Sweden
Norway

Benelux Reunion

Belgium
The Netherlands
Luxembourg

Rest of Europe

Asia Pacific

China
Japan
India
New Zealand
Australia
South Korea
Southeast Asia

Indonesia
Thailand
Malaysia
Singapore
Rest of Southeast Asia

Rest of Asia Pacific

The Middle East & Africa

Saudi Arabia
UAE
Egypt
Kuwait
South Africa
Rest of the Middle East & Africa

Latin America

Brazil
Argentina
Rest of Latin America