Industry Insights
[227+ Pages Report] According to the report published by Facts Factors, the global electric blankets market size was worth around USD 1.03 billion in 2022 and is predicted to grow to around USD 1.89 billion by 2030 with a compound annual growth rate (CAGR) of roughly 7.71% between 2023 and 2030. The report analyzes the global electric blankets market drivers, restraints/challenges, and the effect they have on the demands during the projection period. In addition, the report explores emerging opportunities in the electric blankets market.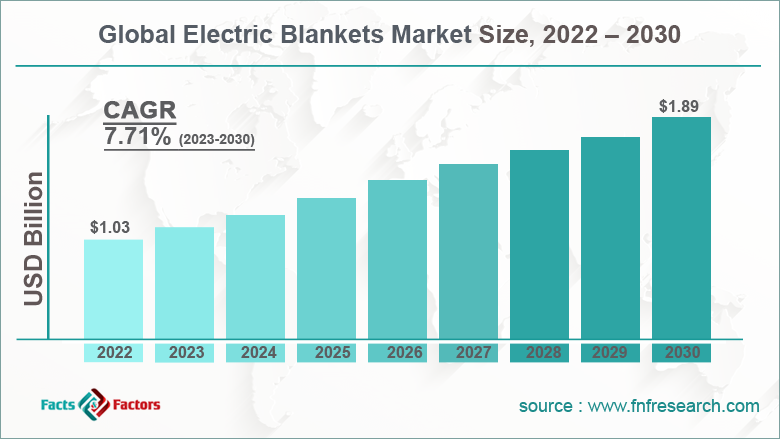 To know more about this report | Request Free Sample Copy
Market Overview
The industry is a sub-segment of the larger bedding and home textile market. It revolves around the raw material procurement, production, sales, and distribution of electric blankets. These covering materials are bedding products that make use of electricity to provide comfort and warmth to the user. There are several factors responsible for the revenue in the industry including growing awareness, a rising number of players, product efficiency, and others to name a few.
The market is run by a large variety of electric blankets like over blankets, under blankets, throws, and duvets that are sold across colors, sizes, designs, and materials thus providing options to the large consumer database that exists in the industry. The production and sales of electric blankets are highly competitive since there is a presence of a large number of suppliers and manufacturers offering products at different price points.
Key Insights
As per the analysis shared by our research analyst, the global electric blanket market is estimated to grow annually at a CAGR of around 7.71% over the forecast period (2022-2030)
In terms of revenue, the global electric blankets market size was valued at around USD 1.03 billion in 2022 and is projected to reach USD 1.89 billion, by 2030.
The market is projected to grow at a significant rate due to the growing demand for cost-effective bedding products
Based on material segmentation, polyester was predicted to show maximum market share in the year 2022
Based on type segmentation, over-blankets was the leading application in 2022
On the basis of region, Asia-Pacific was the leading revenue generator in 2022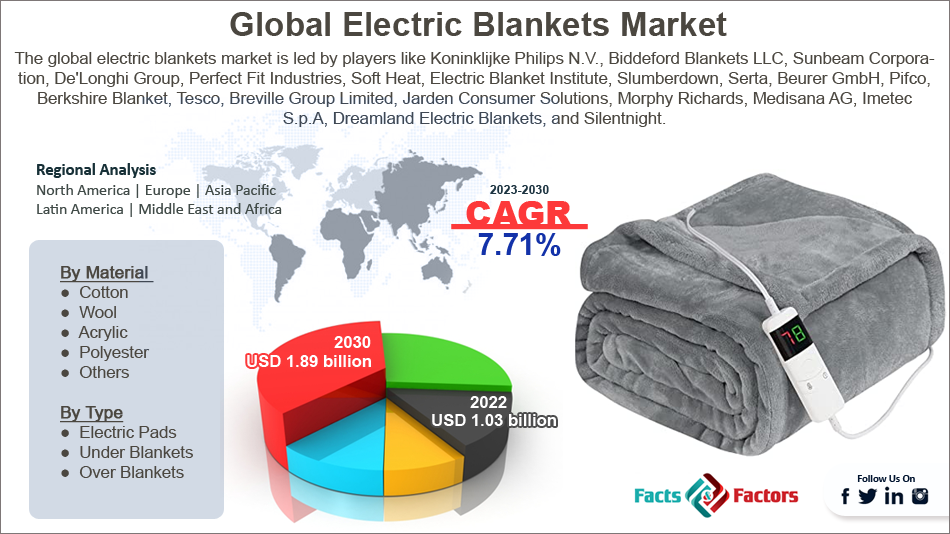 To know more about this report | Request Free Sample Copy
Growth Drivers
Growing demand for cost-effective bedding products to propel market growth
The global electric blankets market is projected to grow owing to the growing demand amongst the consumer group for cost-effective bedding products. Electric blankets are designed so that they can provide warmth to the consumer by using lesser energy as compared to traditional heating measures The growing focus on energy conservation and achieving energy efficiency, the demand for electric blankets is surging rapidly, especially in regions that suffer from extremely low temperatures and areas that do not have proper infrastructure that allows them to use traditional methods of heating a room. This has led to an overall increase in energy and cost-efficient bedding products like electric blankets. Furthermore, the changing lifestyles of the users allow them to experiment with the day-to-day products and since electric blankets are significantly new, they are currently attracting a lot of attention.
Restraints
Safety concerns to restrict market expansion
Electric blankets are powered by electricity. In case they are not used properly or precautionary measures are not followed, they can be harmful especially if they are being used by children or elderly citizens. Although modern electric blankets are designed to minimize any risk of electric shock, there are other factors that can impact the blanket's performance. For instance, overheating and the absence of ground fault protection. The growing concerns over the safety of the blankets are projected to restrict market expansion.
Opportunities
Product innovation and differentiation to provide growth opportunities
One of the leading characteristics of the global industry is the constant effort toward product innovation and differentiation. This trend has given rise to intense competition in the market, the result of which are improvements in product deliverables. This aspect provides market players with an opportunity to enhance product quality by adding new features, designs, and safety protocols. For instance, manufacturers can make use of wireless connectivity to regulate the heating process in such blankets.
Challenges
Competition from alternatives to challenge market growth
Electric blankets are relatively new in the bedding industry and along with internal competition, they also faced opposition from the availability of other alternatives like comforters, traditional blankets, space heaters, and other devices that can provide heat. These alternatives may be cheaper and still provide the same result as electric blankets. Furthermore, certain segments of the consumer group may believe electric blankets as just fancy products without any actual use. It is difficult to change the perception and is time-consuming.
Segmentation Analysis
The global electric blankets market is segmented based on material, type, and region.
Based on material, the global market divisions are cotton, wool, acrylic, polyester, and others.
The most common material used in electric blankets is polyester
It is a lightweight synthetic material that is highly durable and low in maintenance since it does not require too much care
It is an effective insulator and assists in heat-trapping when used in electric blankets
Polyester is generally used in combination with other materials like cotton to enhance the overall performance of the blanket. For instance, this combination assists in improving comfort and provides breathability
Polyester fabrics are generally known to last for 3 to 5 years when cared for properly
Based on type, the global market divisions are electric pads, under-blankets, and over blankets
Over blankets, a segment that dominated the global industry in 2022
This type is typically designed to be put as a top layer on the couch or a bed
It is often made of plush and soft material so that it can impart comfort and warmth
Under blankets and electric pads are popular as well but they are generally limited in application since they have specific roles to play
For instance, electric pads are used to relieve muscle cramps or soreness
A typical electric blanket uses 50 to 200 watts of electricity
Recent Developments:
In January 2023, BBC.com published a new report in which they warned against the risk of using electric blankets that are sold online. The world news website reported that several illegal electric blankets had their way on several online portals and since they are poorly made, these blankets posed a serious risk to the users
In November 2022, the Minister of Parliament of Plymouth, a city in England, announced that he was aiming to raise funds close to £2,000. The money generated will be used to buy electric blankets that would be distributed amongst families struggling with finances to help them keep warm during the harsh winter
In November 2022, the East Sussex Fire and Rescue Service, the statutory fire and rescue service for the county of East Sussex and the city of Brighton and Hove, England tested more than 547 electric blankets and found that almost 188 blankets failed to pass safety checks at a recent event.
Report Scope
| | |
| --- | --- |
| Report Attribute | Details |
| Market Size in 2022 | USD 1.03 Billion |
| Projected Market Size in 2030 | USD 1.89 Billion |
| CAGR Growth Rate | 7.71% CAGR |
| Base Year | 2022 |
| Forecast Years | 2023-2030 |
| Key Market Players | Koninklijke Philips N.V., Biddeford Blankets LLC, Sunbeam Corporation, De'Longhi Group, Perfect Fit Industries, Soft Heat, Electric Blanket Institute, Slumberdown, Serta, Beurer GmbH, Pifco, Berkshire Blanket, Tesco, Breville Group Limited, Jarden Consumer Solutions, Morphy Richards, Medisana AG, Imetec S.p.A, Dreamland Electric Blankets, Silentnight, and others. |
| Key Segment | By Material, Type, and Region |
| Major Regions Covered | North America, Europe, Asia Pacific, Latin America, and the Middle East &, Africa |
| Purchase Options | Request customized purchase options to meet your research needs. Explore purchase options |
Regional Analysis
Asia-Pacific to lead with the highest growth
The global electric blankets market is projected to register the highest growth in Asia-Pacific with China emerging as one of the most dominant contributors. It is also the largest exporter of electric blankets. The growth is driven by the high demand for the product in the country. China is known to provide mass products that are sold at cheaper prices across the globe. The country has generated significant revenue by producing and selling everyday products at low prices. It also fosters product innovation and development at a rapid rate. This is the reason why many consumer goods are exported from China to its trading countries.
Furthermore, the growing number of people in low or medium-income families are major contributors to the regional market since regionally produced electric blankets are low in cost and provide warmth against the harsh cold environment.
Competitive Analysis
Koninklijke Philips N.V.
Biddeford Blankets LLC
Sunbeam Corporation
De'Longhi Group
Perfect Fit Industries
Soft Heat
Electric Blanket Institute
Slumberdown
Serta
Beurer GmbH
Pifco
Berkshire Blanket
Tesco
Breville Group Limited
Jarden Consumer Solutions
Morphy Richards
Medisana AG
Imetec S.p.A
Dreamland Electric Blankets
Silentnight
The global electric blankets market is segmented as follows
By Material Segment Analysis

Cotton
Wool
Acrylic
Polyester
Others

By Type Segment Analysis

Electric Pads
Under Blankets
Over Blankets

By Regional Segment Analysis

North America
Europe

France
The UK
Spain
Germany
Italy
Nordic Countries
Benelux Union

Belgium
The Netherlands
Luxembourg

Rest of Europe

Asia Pacific

China
Japan
India
Australia
South Korea
Southeast Asia

Indonesia
Thailand
Malaysia
Singapore
Rest of Southeast Asia

Rest of Asia Pacific

The Middle East & Africa

Saudi Arabia
UAE
Egypt
South Africa
Rest of the Middle East & Africa

Latin America

Brazil
Argentina
Rest of Latin America