Covid-19
Global E-Waste to Preciometal Market Size, Share
The pandemic continues to cause unprecedented disruption across industries worldwide.Get detailed insights regarding the impact of COVID-19 on the market. Request Sample
Industry Insights
[173+ Pages Report] As per the latest research and survey report issued by Facts and Factors, the global E-Waste to Preciometal Market was valued at around USD 9,500 Million in 2020 and is expected to register revenues worth USD 12,500 Million by the end of 2026, growing at an exceptional CAGR of approximately 4.5% between 2021 and 2026.
Market Overview
Electronic waste is becoming a constant industrial hazard because of a sudden uptake of consumption of electronic devices. However, safe disposal of such materials becomes quite challenging. Precious metals are used in a variety of application, especially electrical-based devices. Their common applications include PCBs of mobile and computers, motherboards, connectors of various kinds, and so on. Their functionality depends on the ability to carry low-ampere current, high sensitivity unlike corrosion and thus, make their use cases highly application based.
Industry Growth Factors
Health concerns related to incinerating e-waste and growing environmental concerns are the major factors governing the growth of e-waste to Preciometal market. A high rise of surge in consumer electronic across a wide variety of application has led to greater collection of e-waste. Additionally, government bodies across various country, OEM's, and non-profit organizations have begun scaling campaigns and incentives to propel the market growth for e-waste to Preciometal by including monetary relief.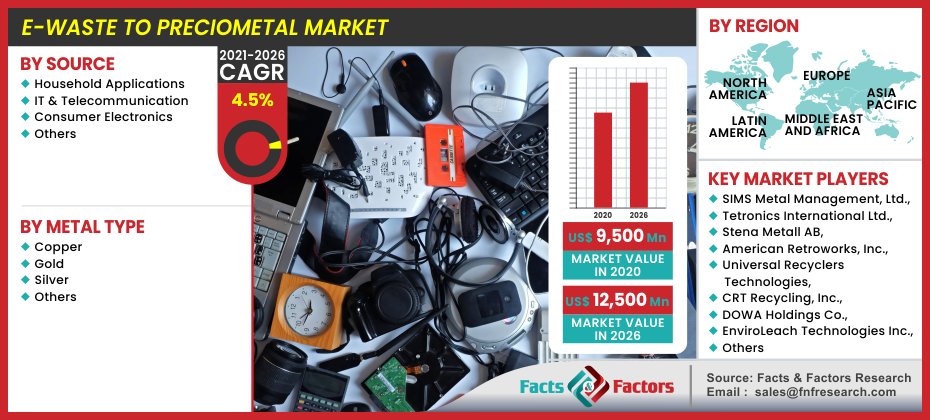 An increased need for precious metals such as copper, gold, silver, platinum, and palladium has been observed from an increase in use from their application. Copper is used extensively in communication-based applications as well as in the electrical and thermal sector. However, a serious regard of lack of disposal infrastructures and a smaller number of e-waste collection centers are likely to hinder the growth of the market. Furthermore, due to less advanced technological steps, a decayed paced of recycling and few policies regarding monetary relief are likely to hinder the growth of the e-waste to Preciometal market.
Segmentation Analysis
The global e-waste to Preciometal market is segregated based on source, metal type, and regions.
On the basis of source, the e-waste to Preciometal market can be segmented across household applications, IT & telecommunication, consumer electronics, and others. The other subsegment can be further categorized into medical & industrial tools. The household application will account for the largest market share during the forecast period owing to a great deal of electronics come accumulated from this sector. Household applications include device that assist in tasks such as cooking, cleaning, and food conservation. Such devices are regularly discarded which pushed the market share to a greater extent. On the basis of, the e-waste to Preciometal market can be segmented across copper, gold, silver, and others. Copper occupies the largest market share in the subcategory owing to an extensive use case scenario in various sectors such as infrastructure, power transmission, and electronic manufacturing, among others. Copper is also the main ingredient used in wiring and plumbing application which pushed the market value in the category to rise to a high level.
Regional Analysis
The region of Asia-Pacific is expected to witness the highest market value during the forecast period. Stringent policies and regulation regarding disposal of e-waste plays a big role in driving the market value in the region. Additional factors such as ease of availability of cheap labor and raw material further help achieve a huge foothold. With a larger market cap, firms in the region have limited pollution which makes the region the most exclusive destination for the market.
Europe ranks in second with regards to revenue generation as the EU enforced a directive of Waste Electrical and Electronic Equipment (WEEE) Directive, among other. The following initiative takes aim at reducing electronic waste and maximizes the use of reusable materials for similar applications.
Competitive Players
Some main participants of the global market are e-waste to Preciometal market are SIMS Metal Management, Ltd., Tetronics International Ltd., Stena Metall AB, American Retroworks, Inc., Universal Recyclers Technologies, CRT Recycling, Inc., DOWA Holdings Co., EnviroLeach Technologies Inc., and Umicore NV, among others.
By Source Segment Analysis
Household Applications
IT & Telecommunication
Consumer Electronics
Others
By Metal Type Segment Analysis
Copper
Gold
Silver
Others
By Regional Segment Analysis
North America
Europe

UK
France
Germany
Italy
Spain
Rest of Europe

Asia Pacific

China
Japan
India
South Korea
Southeast Asia
Rest of Asia Pacific

Latin America

Brazil
Mexico
Rest of Latin America

Middle East and Africa

GCC Countries
South Africa
Rest of MEA