Industry Insights
[224+ Pages Report] According to the report published by Facts and Factors, the global e-KYC market size was worth around USD 1571.12 billion in 2021 and is predicted to grow to around USD 2792 billion by 2030 with a compound annual growth rate (CAGR) of roughly 21.55% between 2023 and 2030. The report analyzes the global e-KYC market drivers, restraints and the effect they have on the demands during the projection period. In addition, the report explores emerging opportunities in the e-KYC market.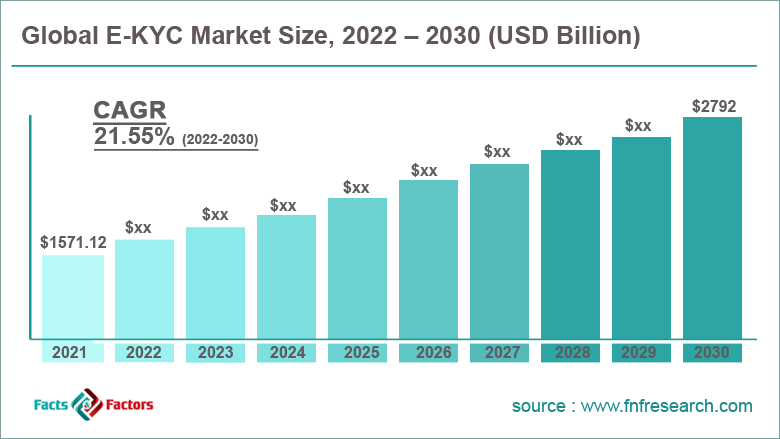 To know more about this report | Request Free Sample Copy
Market Overview
E-KYC is also known as paper KYC and stands for digital or electronic verification of customer information. KYC is the abbreviated form of 'know your customer' and it is a compulsory process for institutes that deal in any sort of financial transaction. The KYC process is used for the identification and verification of clients' reorganization or identity when opening an account that will be used for financial dealings.
With growing commercialization, there has been a steady growth in the number of identity theft, identity and signature falsification along with phishing activities. These incidents have led the solution providers to create various secure ways of eKYC that have zero room for any offense or crime related to counterfeiting personal information. The global market is influenced by various regulations including but not limited to terrorist financing and anti-money laundering.
Key Insights
As per the analysis shared by our research analyst, the global e-KYC market is estimated to grow annually at a CAGR of around 21.55% over the forecast period (2023-2030)
In terms of revenue, the global e-KYC market size was valued at around USD 1571.12 billion in 2021 and is projected to reach USD 2792 billion, by 2030.
The market is projected to grow at a significant rate due to the stringent regulations laid down by regional governments
Based on deployment mode segmentation, on-premise was predicted to show maximum market share in the year 2021
Based on end-user segmentation, banks were the leading users in 2021
On the basis of region, North America was the leading revenue generator in 2021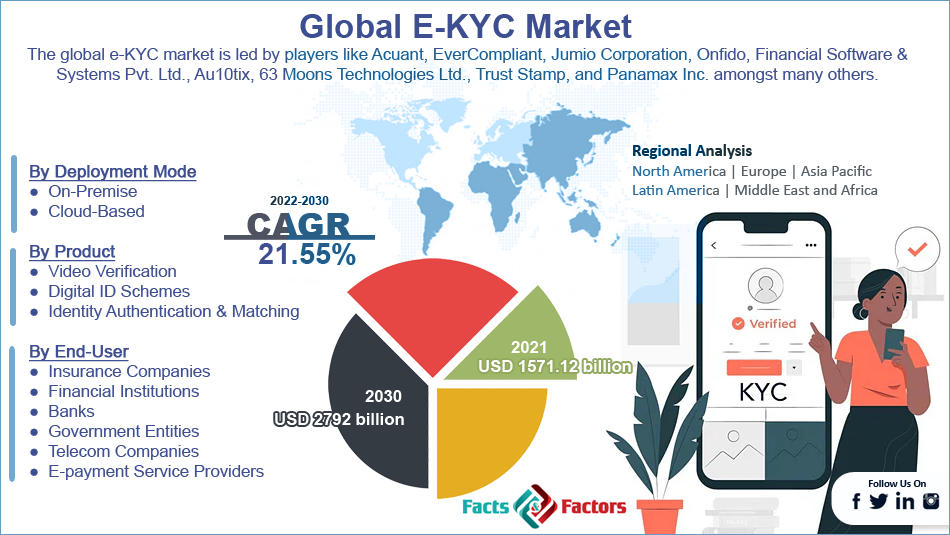 To know more about this report | Request Free Sample Copy
Growth Drivers
Stringent rules by regional governments to propel market demand
The global e-KYC market is projected to grow owing to the stringent government laws and regulations related to customer identification. KYC is important as it helps in preventing money laundering or financing of any criminal or terrorist activities. KYC guidelines help in the prevention of banks from being used against any anti-social act. In India, the e-KYC guidelines are laid down by the Reserve Bank of India, the country's national bank and it is about the recommendations provided by the Financial Action Task Force (FATF) of the country which deals with Combating Financing of Terrorism (CFT) and Anti Money Laundering (AML). This gives a preview of the importance of customer identity verification.
Other factors like the adoption of advanced technology and the benefits that eKYC provides to the customer as well as the institution using the systems are expected to help the global market generate more revenue. Financial intuitions have been at the forefront of leveraging technological systems to create a user-friendly experience which helps in reducing accessibility concerns amongst clients that may not be able to physically visit the unit due to various reasons.
Restraints
Growing risk of data theft to restrict market expansion
Although there are several benefits to eKYC, there are certain elements that impact the global market growth and the major concern is growing incidents of data theft. As electronic KYC makes use of digital systems, there have been multiple cases in which customer data was targeted.
The total number of data breaches in India reached 86 million as of November 2021 and the country ranked third in the list of global data breaches. Cloud systems are highly vulnerable to cyber-crimes and customers may be hesitant in providing details over electronic mediums.
Opportunities
Growing importance to paperless activities may provide market growth
The world is moving toward digitization at an exponential rate. There is a growing rate of voluntary efforts undertaken by corporations and businesses to move to digital technology and reduce the dependency on paper, which is currently a growing environmental concern.
E-KYC greatly encourages this move as there is no requirement for the paper to process the identification verification process. The largest segment that is following the trend is the financial segment as banks have drastically shifted to advanced technological systems for almost all associated processes.
Challenges
Lack of awareness to act as a major challenge
One of the critical challenges the global market may face is the lack of awareness about the benefits of e-KYC, especially for the elderly population or people who are not comfortable with technology or are used to working in old paperwork ways. Although it cannot be generalized, senior citizens who have not been exposed to digital technology could be hesitant in adopting the new means as they may have inhibitions. For instance, a recent survey by No Isolation reported that nearly 77% of the senior population in the survey mentioned that they need external assistance to navigate through tablets or smartphones.
Segmentation Analysis
The global e-KYC market is segmented based on deployment mode, product, end-user, and region
Based on deployment mode, the global market is divided into on-premise and cloud-based. The global market was driven by the on-premise segment in 2021 as most of the units requiring eKYC prefer to have a system on-premise instead of opting for cloud-based services. This preference is mainly driven by the security quotient offered by on-premises systems as cloud-based services are more prone to cyber-attacks.
Financial units, government sectors, or any other end-users operating in the market generally trade in large monetary dealings and hence tend to spend heavily on internal systems that can help them safeguard customer information and other crucial data. In the last decade, the Bank of America has consistently spent over USD 3 billion on initiatives related to new technology.
Based on end-user, the global market is segmented into insurance, companies, financial institutions, banks, government entities, telecom companies, and e-payment service providers. Banks are the largest consumers of e-KYC followed by telecom companies and e-payment service providers. e-KYC is one of the mandated processes for any institute that works with financial dealings, especially banks. Billions of bank accounts are created every year across the world and every new account is linked with KYC either digitally or non-digitally. As of March 2017, India had more than 157 crore bank accounts.
Recent Developments:
In November 2022, Airtel Payment Bank, a Bharti Airtel subsidiary, rolled out e-KYC which will use face recognition systems for authentication. The step has helped the scheduled bank take one ahead in its trajectory of technical growth as the e-KYC technique will ease the process of bank account opening for the customers
In April 2019, the Central Bank of Bahrain (CBB) announced the launch of e-KYC in Bahrain in accordance with its vision to digitally transform the sector. The move came in after the announcement of the electronic Know-Your-Customer (eKYC) and national digital identity platform operated by the Information and eGovernment Authority (IGA)
Hello
Report Scope
| | |
| --- | --- |
| Report Attribute | Details |
| Market Size in 2021 | USD 1571.12 Billion |
| Projected Market Size in 2030 | USD 2792 Billion |
| CAGR Growth Rate | 21.55% CAGR |
| Base Year | 2022 |
| Forecast Years | 2023-2030 |
| Key Market Players | Acuant, EverCompliant, Jumio Corporation, Onfido, Financial Software & Systems Pvt. Ltd., Au10tix, 63 Moons Technologies Ltd., Trust Stamp, Panamax Inc., and others. |
| Key Segment | By Deployment Mode, Product, End-User, and Region |
| Major Regions Covered | North America, Europe, Asia Pacific, Latin America, and the Middle East &, Africa |
| Purchase Options | Request customized purchase options to meet your research needs. Explore purchase options |
Regional Analysis
North America to lead with the highest CAGR
The global e-KYC market is expected to be led by North America in the coming years as it has in 2021. The US is projected to generate the highest revenue in terms of regional growth due to the growing emphasis on fraud detection and anti-money laundering programs in the country. The US is one of the most technically advanced countries as it is home to some of the biggest digital program developers catering to multiple industries and their specific needs.
The growing incidences of data theft and cyber-attack especially on medium or small-sized firms could further lead to investments in the development of even more advanced systems that can provide higher safety. The high number of technically-inclined population encourages companies like banks, financial institutes, and digital payment gateways to use computerized systems to reduce dependence on manpower for monotonous tasks. Growth in the Middle East could be augmented by the increasing efforts by government regulatory bodies to digitize as many sectors as possible.
Competitive Analysis
Acuant
EverCompliant
Jumio Corporation
Onfido
Financial Software & Systems Pvt. Ltd.
Au10tix
63 Moons Technologies Ltd.
Trust Stamp
Panamax Inc.
The global e-KYC market is segmented as follows:
By Deployment Mode Segment Analysis
By Product Segment Analysis
Video Verification
Digital ID Schemes
Identity Authentication & Matching
By End-User Segment Analysis
Insurance Companies
Financial Institutions
Banks
Government Entities
Telecom Companies
E-payment Service Providers
By Regional Segment Analysis
North America
Europe

France
The UK
Spain
Germany
Italy
Nordic Countries
Benelux Union

Belgium
The Netherlands
Luxembourg

Rest of Europe

Asia Pacific

China
Japan
India
Australia
South Korea
Southeast Asia

Indonesia
Thailand
Malaysia
Singapore
Rest of Southeast Asia

Rest of Asia Pacific

The Middle East & Africa

Saudi Arabia
UAE
Egypt
South Africa
Rest of the Middle East & Africa

Latin America

Brazil
Argentina
Rest of Latin America