Covid-19
Global E-Glass Fiber Market Size, Share
The pandemic continues to cause unprecedented disruption across industries worldwide.Get detailed insights regarding the impact of COVID-19 on the market. Request Sample
Industry Insights
[216+ Pages Report] As per the latest research and survey report issued by Facts and Factors, the global e-glass fiber market was valued at around USD 8.60 Billion in 2020 and is expected to register revenues worth USD 13.02 Billion by the end of 2026, growing at an exceptional CAGR of approximately 7.15% between 2021 and 2026.
Market Overview
E-glass fiber is an industrial material that can be produced easily from raw materials. It is a versatile version of glass fiber. This glass fiber possesses properties such as chemical attack resistance, transparency, hardness, and stability. The demand for e-glass fibers is increasing basically due to its properties such as flexibility, stiffness, and strength. The e-glass fibers are used in the production of various special-purpose products, structural composites, and printed circuit boards. It is a version of glass fiber that can provide excellent insulation for electric wires and other electrical conduits. These excellent properties have increased the use of e-glass fiber in the production of different types of fiberglass. The intricately woven fibers of glass make it better than fibers such as polymer and carbon fiber.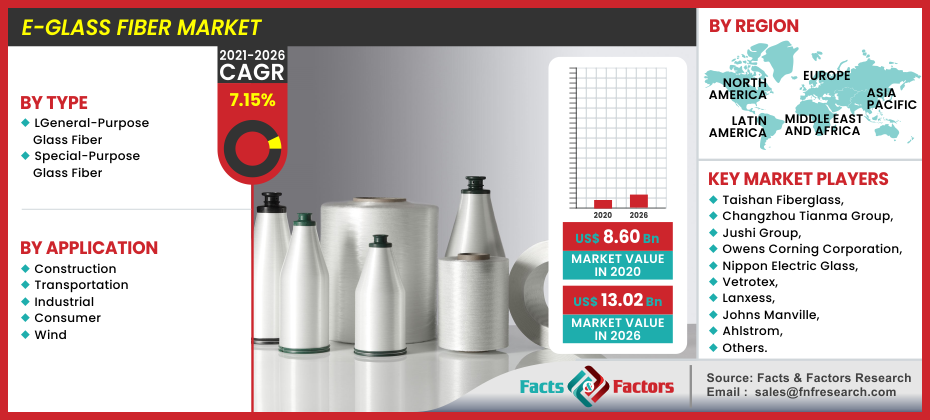 Industry Growth Factors
Advancements in research and technology and continuous up-gradation of the previous iteration of e-glass fiber will drive the market during the forecast years. A wide range of applications is dependent on e-glass fiber. Additionally, when compared to glass and silk fibers, e-glass fibers fares the best at an optimal price. The defense and aerospace industry has a tremendous applicable components which has given a rise to government funding and incentive for the market. Furthermore, advent of an increase in wind energy plants and swift change from traditional to alternative energy sources will further drive the market of global e-glass fiber to a lucrative market during the forecast period. High initial cost and intricate manufacturing processes will hamper the growth of the market to a certain extent.
Growing need for high-performance fiber glass and technological advancements for the production of lightweight material for automotive parts' production is projected to drive the global e-glass fiber market. Furthermore, it is also widely used as additives in building & construction, aerospace, marine, wind energy, automotive & transport, pipes & tanks, and other industrial sectors owing to its cost effectiveness, lightweight products, and superior durability. The research carried out in the area of thermal insulation of e-glass fiber helps open new funding opportunities for the market.
Segmentation Analysis
The global e-fiber glass market can be segmented on the basis of types, applications, and regions.
The global e-glass fiber market can be divided into general-purpose glass fiber and special-purpose glass fiber on the basis of types. The global e-glass fiber can be broken down into construction, transportation, industrial, consumer, and wind on the basis of applications.
Regional Analysis
The region of North America is expected to witness the market share during the forecast period. The extensively developed aerospace and defense sector in the region alongside a well-funded government program for further research and development will drive the growth of the market in the region.
Regional Analysis
The global participants in the global e-fiber glass market are Taishan Fiberglass, Changzhou Tianma Group, Jushi Group, Owens Corning Corporation, Nippon Electric Glass, Vetrotex, Lanxess, Johns Manville, Sichuan Weibo New Material Group, Ahlstrom, and PPG Industries, among others.
By Type Segment Analysis.
General-Purpose Glass Fiber
Special-Purpose Glass Fiber
By Application Segment Analysis
Construction
Transportation
Industrial
Consumer
Wind
By Regional Segment Analysis
North America
Europe

UK
France
Germany
Italy
Spain
Rest of Europe

Asia Pacific

China
Japan
India
South Korea
Southeast Asia
Rest of Asia Pacific

Latin America

Brazil
Mexico
Rest of Latin America

Middle East and Africa

GCC Countries
South Africa
Rest of MEA