Industry Insights
[201+ Pages Report] According to the report published by Facts and Factors, the global e-cigarette market size was worth/valued around USD 17,429.5 million in 2021 and is estimated to surpass to around USD 42,906.36 million by 2028 with a compound annual growth rate (CAGR) of approximately 16.20% between 2022 and 2028. The report analyzes the global e-cigarette market drivers, restraints, and the effect they have on the demands during the projectiont period. In addition, the report analyzes emerging opportunities in the e-cigarette market.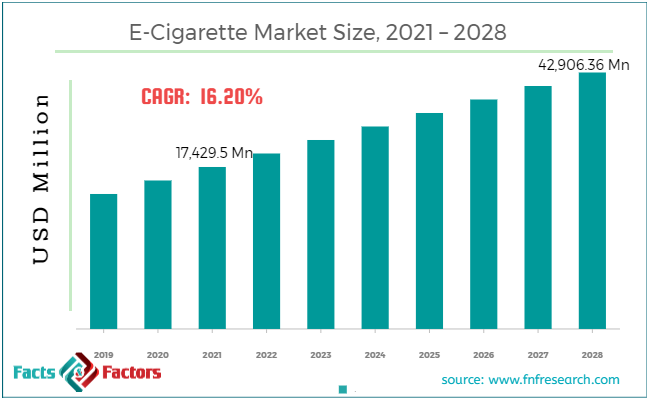 To know more about this report | Request Free Sample Copy
Market Overview
An electronic cigarette (e-cigarettes) is a device that consists of a battery, an atomizer, and an inhaler and simulates tobacco smoking without using tobacco. The gadget contains a nicotine-containing or nicotine-free liquid solution that is heated and converted into vapors before being inhaled, making it less harmful than traditional cigarettes. Because it delivers benefits like as zero smoke, no pollution, fewer health-related problems, and the ability to be smoked in public places, this device has been regarded as a viable replacement for traditional cigarettes.
Increased awareness of the harmful effects of traditional cigarettes, electronic cigarettes' lower tar and carbon monoxide absorption, rising affluence, and technological breakthroughs by electronic cigarette manufacturers all contribute to the market increase. The rising awareness that e-cigarettes are safer than traditional cigarettes, especially among the younger population, as a consequence of various studies undertaken by medical institutions and associations, is likely to push market expansion even further.
Government regulations on consumption and import are being implemented. Risks linked with vaping and events that have been documented. High nicotine addiction has a negative impact on one's health.
Impact of COVID - 19
The COVID-19 epidemic impacted electronic cigarette sales at brick and mortar retailers, causing consumers to shift to internet sales channels to purchase consumer electronic devices, resulting in an increase in online sales of e-cigarette products. The consumer goods industry is predicted to rise, which is expected to enhance sales of e-cig products throughout the forecast period, as lockdown limitations are eased and logistics are improved in light of COVID-19 preventive measures. COVID-19 is more likely to impact smokers than non-smokers, according to the World Health Organization. Furthermore, the COVID-19 pandemic in the United States had far-reaching effects on e-cigarette use. According to a survey published by Gaiha University, roughly 56.4 percent of the young American population has changed their e-cigarette use since the COVID-19 pandemic began.
Furthermore, one-third of young people stopped vaping, while another third cut back on their usage of e-cigarettes, with the remainder increasing their use or switching to other nicotine or cannabis products. As a result, higher nicotine dependence, e-cigarette use frequency, poor online age verification, and several other characteristics were linked to long-term use of e-cigarette products, according to the study.
The complete research study looks at both the qualitative and quantitative aspects of the E-Cigarette market. Both the demand and supply sides of the market have been investigated. The demand side study examines market income in various regions before comparing it to all of the major countries. The supply-side research examines the industry's top rivals, as well as their regional and global presence and strategies. Each major country in North America, Europe, Asia Pacific, the Middle East and Africa, and Latin America was thoroughly investigated.
Segmentation Analysis
The global E-Cigarettemarket is segregated based on type, flavor, distribution channel, and region.
In 2021, the rechargeable segment had the highest market share at more than 40%. Rechargeable gadgets are likely to become more popular as they are less expensive and eliminate the need to repurchase consumables like cartridges. Customers who make their own e-liquid do not need to buy pre-filled cartridges. Rechargeable e-cigarettes are especially cost-effective for experienced smokers. Rechargeable e-cigarettes, which emit less smoke and can be charged via a USB connection, are also gaining popularity among adolescents in a number of significant countries.
In 2021, the retail store segment had the biggest market share, with over 84 percent. Previously, e-cigarettes were sold in stores like vape shops and gas stations. Customers were able to choose from a variety of devices and e-liquids at these stores. Additionally, vape shops that allow customers to try out and test these devices before making a purchase choice are likely to promote retail store growth throughout the projection period.
Report Scope
| | |
| --- | --- |
| Report Attribute | Details |
| Market Size in 2021 | USD 17,429.5 Million |
| Projected Market Size in 2028 | USD 42,906.36 Million |
| CAGR Growth Rate | 16.20% CAGR |
| Base Year | 2021 |
| Forecast Years | 2022-2028 |
| Key Market Players | Altria Group, British American Tobacco, Imperial Brands, International Vapor Group, Japan Tobacco, NicotekLlc, Njoy Inc., Philip Morris International Inc., Reynolds American Inc., VMR Flavors LLC, and Others |
| Key Segment | By Product Type, Flavor, Distribution Channel, and Region |
| Major Regions Covered | North America, Europe, Asia Pacific, Latin America, and the Middle East & Africa |
| Purchase Options | Request customized purchase options to meet your research needs. Explore purchase options |
Regional Landscape
In the e-cigarettes market, North America has the largest stake. Youth involvement in the use of these items has resulted in an increase in demand. In the United States, for example, youth are the primary users of e-cigarettes. According to the Centers for Disease Control and Prevention (CDC), 3.6 million US middle and high school students used e-cigarettes during a 30-day study period in 2020, with 4.7 percent of middle school students and 19.6 percent of high school students using them. E-cigarettes account for the majority of tobacco products; there are presently over 3,000 e-cigarette varieties available in the US market, with new tastes being released every year.
Nicotine-free e-liquids have a smoother vaping experience than other types. Furthermore, in the regional market, professional vapers who perform at multiple events and engage in chain vaping for practice believe nicotine-free vaping to be the finest option for traditional vaping. In the North American market, the link of vaping/e-cigarettes with fashion appeal boosts e-cigarette demand.
Competitive Landscape
List of Key Players in the Global E-Cigarette Market:
Altria Group
British American Tobacco
Imperial Brands
International Vapor Group
Japan Tobacco
NicotekLlc
Njoy Inc.
Philip Morris International Inc.
Reynolds American Inc.
VMR Flavors LLC
The Global E-Cigarette Market is segmented as follows:
By Product Type Segment Analysis
Disposable
Rechargeable
Modular
By Flavor Segment Analysis
Tobacco
Botanical
Fruit
Sweet
Beverage
Others
By Distribution Channel Segment Analysis
Specialist E-cig Shops
Online
Supermarkets
Tobacconist
Others
By Regional Segment Analysis
North America
Europe

France
The UK
Spain
Germany
Italy
Nordic Countries
Benelux Union

Belgium
The Netherlands
Luxembourg

Rest of Europe

Asia Pacific

China
Japan
India
Australia
South Korea
Southeast Asia

Indonesia
Thailand
Malaysia
Singapore
Rest of Southeast Asia

Rest of Asia Pacific

The Middle East & Africa

Saudi Arabia
UAE
Egypt
South Africa
Rest of the Middle East & Africa

Latin America

Brazil
Argentina
Rest of Latin America