Industry Insights
[221+ Pages Report] According to Facts and Factors, the global directed energy weapons market was valued at USD 4,172.50 million in 2021 and is predicted to increase at a CAGR of 18.10% to USD 11,311.29 million by 2028. The study examines the market in terms of revenue in each of the major regions, which are classified into countries.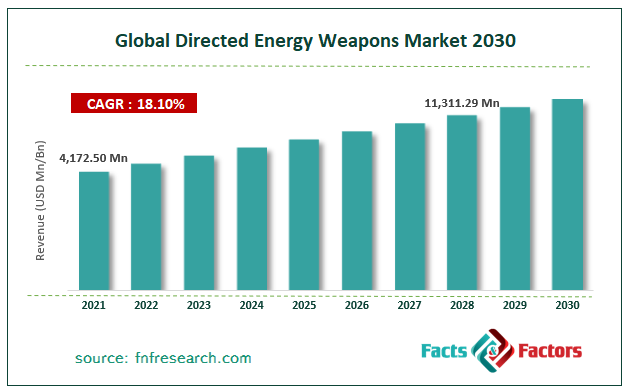 To know more about this report | Request Free Sample Copy
Market Overview
Directed energy weapons are weapons that emit focused energy and can transfer that energy to harm a target (DEW). The market for directed energy weapons is well known for producing extremely powerful beams. The growing need for lasers, particularly in the navy, as well as the regulations and legal implications of DEWs, have resulted in the growth of the directed energy weapons market. Furthermore, the need for precision has contributed to the market's popularity. However, arms transfer policy and a lack of funding have stifled market growth to a greater extent. On the other hand, increased defense spending by many countries, as well as technological advancements, are expected to provide more opportunities for key market players. The defense against terrorist attacks, chemical, biological, radiological, and nuclear materials in order to protect civilian lives and a country's national security is one of the key drivers driving the growth of the global directed energy weapons market.
Improved system reliability is a critical factor in any country's decision to use a directed energy weapon. The incorporation of advanced hardware units to aid in the gathering and distribution of capability across various defense platforms such as combat vehicles. These directed energy weapons are strategically placed to increase detection rates. High-accuracy, cutting-edge directed energy weapons have led countries with border disputes and regional threats to rely on these advanced directed energy weapons for border protection. As a result, increased R&D in advanced directed energy weapons technologies is opening up a slew of new opportunities in defense sector applications. Large investments in weapon development and demonstration are expected to boost the global market during the forecast period.
Directed energy weapons (DEW) can select specific targets. They operate at breakneck speed, wreaking havoc on employees, facilities, and equipment. A weapon of this type also emits a beam of acoustic energy, atomic particles, and electromagnetic energy. The changing nature of conflict in the global environment is expected to drive the global market over the projected period. Furthermore, directed energy weapons have the capacity to damage the target while causing the least amount of collateral damage. Over the projection period, this factor is expected to boost global demand.
Impact of COVID – 19
The COVID-19 pandemic has wreaked havoc on the economies of countries all over the world. Directed energy weapon manufacturing, including systems, subsystems, and components, has also been impacted. Although directed energy weapons are critical for national integration, supply chain disruptions have temporarily halted their production processes. The level of COVID-19 exposure, the level at which manufacturing operations are running, and import-export regulations, among other factors, all influence the resumption of manufacturing activities. While businesses may continue to accept orders, delivery schedules may not be fixed.
The complete research study looks at both the qualitative and quantitative aspects of the directed energy weapons market. Both the demand and supply sides of the market have been investigated. The demand side study examines market income in various regions before comparing it to all of the major countries. The supply-side research examines the industry's top rivals, as well as their regional and global presence and strategies. Each major country in North America, Europe, Asia Pacific, the Middle East and Africa, and Latin America is thoroughly investigated.
Segmentation Analysis
The global directed energy weapons market is segregated based on technology, application, platform, product, range, and region.
Based on the technology, the high-energy laser segment is expected to account for the highest share. During the forecast period, this segment is expected to grow at the fastest CAGR. This growth can be attributed to high-energy laser weapons' ease of installation and low power consumption. They have a near-zero time of flight when compared to conventional ordnance, allowing for a longer decision time and a faster reaction time.
Based on the application, the military segment is expected to capture the greatest share of the directed energy weapons market due to an increase in demand for precision technology in lethal weapons from military forces throughout the world. The global market for directed energy weapons is being propelled by increased geographical conflicts and the rising need for innovative military gadgets in combat applications. Additionally, various defense and military organizations are increasing their investments in the modernization of existing infrastructures to improve national security, which is boosting the market growth.
Report Scope
| | |
| --- | --- |
| Report Attribute | Details |
| Market Size in 2021 | USD 4,172.50 Million |
| Projected Market Size in 2028 | USD 11,311.29 Million |
| CAGR Growth Rate | 18.10% CAGR |
| Base Year | 2021 |
| Forecast Years | 2022-2028 |
| Key Market Players | Lockheed Martin Corporation (US), Raytheon Technologies (US), Northrop Grumman Corporation (US), The Boeing Company (US), Thales Group (France), Leonardo SPA (Italy), BAE Systems (UK), Elbit Systems (Israel) L3Harris Technologies (US), and Others |
| Key Segment | By Technology, Application, Platform, Product, Range, and Region |
| Major Regions Covered | North America, Europe, Asia Pacific, Latin America, and the Middle East & Africa |
| Purchase Options | Request customized purchase options to meet your research needs. Explore purchase options |
Regional Landscape
Due to technological advancements in warfare platforms and collective defense budgets, North America is expected to dominate the market. The majority of companies operating in the directed energy weapons market are based in the United States, further cementing the region's overall dominance of the global market. Rising geographical conflicts, as well as rising demand for advanced military devices in combat applications, are propelling the global market for directed energy weapons forward. Furthermore, growing investments by various defense and military organizations in modernizing existing infrastructures to improve national security are boosting market growth.
Competitive Landscape
List of Key Players in the Global Directed Energy Weapons Market:
Lockheed Martin Corporation (US)
Raytheon Technologies (US)
Northrop Grumman Corporation (US)
The Boeing Company (US)
Thales Group (France)
Leonardo SPA (Italy)
BAE Systems (UK)
Elbit Systems (Israel)
L3Harris Technologies (US)
The Global Directed Energy Weapons Market is segmented as follows:
By Technology Segment Analysis
High Energy Laser
High Power Microwave
Electromagnetic Weapons
Sonic Weapons
By Application Segment Analysis
Homeland Security
Military
By Platform Segment Analysis
Land
Airborne
Naval
Space
By Product Segment Analysis
Lethal Weapons
Non-lethal Weapons
By Range Segment Analysis
Less than 1 KM
More than 1 KM
By Regional Segment Analysis
North America
Europe

France
The UK
Spain
Germany
Italy
Nordic Countries
Benelux Union

Belgium
The Netherlands
Luxembourg

Rest of Europe

Asia Pacific

China
Japan
India
Australia
South Korea
Southeast Asia

Indonesia
Thailand
Malaysia
Singapore
Rest of Southeast Asia

Rest of Asia Pacific

The Middle East & Africa

Saudi Arabia
UAE
Egypt
South Africa
Rest of the Middle East & Africa

Latin America

Brazil
Argentina
Rest of Latin America