Covid-19
Global Dental Turbine Market Size, Share
The pandemic continues to cause unprecedented disruption across industries worldwide.Get detailed insights regarding the impact of COVID-19 on the market. Request Sample
Industry Insights
[187+ Pages Report] According to the report published by the Facts & Factors, the global dental turbine market was estimated at approximately USD 108.2 Million in 2020 and is expected to generate revenue of around USD 226.7 Million by end of 2026, growing at a CAGR of around 10.8% between 2021 and 2026.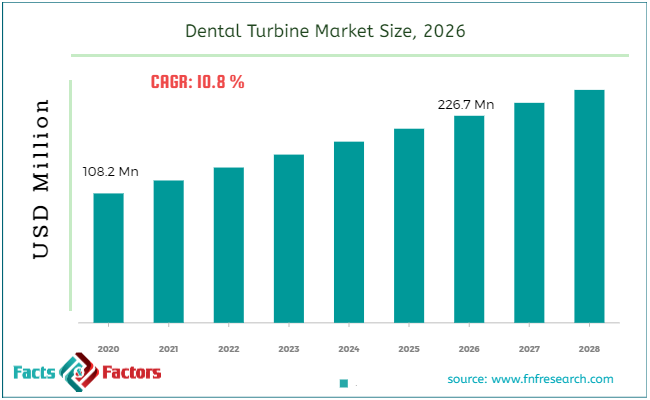 Market Overview
Dental turbines are instruments designed to perform dental procedures by combining precision parts that move in perfect synchronization the dental drill, also known as the dental handpiece, should be safe, effective, and available at a wide range of speeds, allowing for gross hard tissue removal, preparation refinement, and performance with minimal patient discomfort. For more than 30 years, dental turbines have been widely used in clinical dentistry.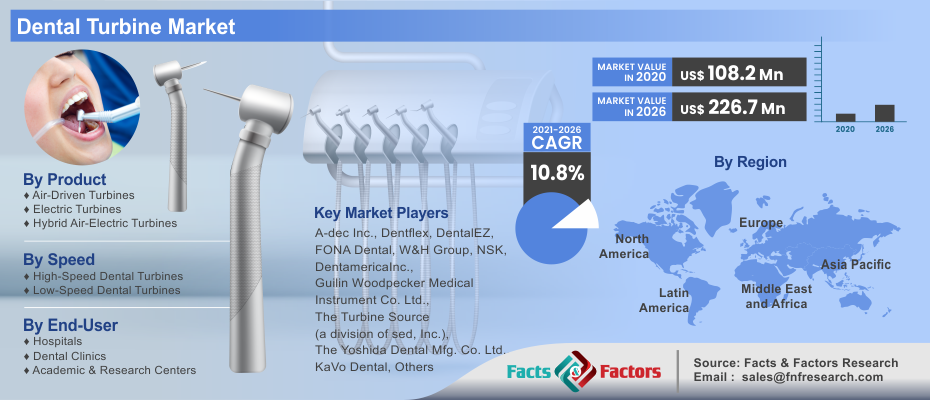 Industry Growth Factor
The rise in the incidence of dental disorders, as well as the increase in the number of specialized dental clinics, the adoption of advanced technologies by dentists, and rising aesthetic dental awareness, is driving the growth of the global dental turbines market. However, the high cost of dental handpiece devices, heavy materials, and brand loyalty are the factors impeding global deregulation and speed. These instruments are used to eliminate dental decay and restructure a tooth before a filling or crown is placed. During endodontic procedures, dental turbines are also utilized to clean or shape the root canal. Dental drills can rotate at speeds ranging from 100,000 to 400,000 revolutions per minute. Metal alloy bits, also known as burrs in dental turbines, can be made of steel coated with either tungsten carbide or diamond.
Bonding, implants, dental crowns, canalling, dental bridges, periodontal treatments, and maxillofacial procedures are among the most commonly performed dental procedures. As a result, the high demand for these dental treatments is expected to favor the growth of the dental turbine market. Furthermore, nearly 99.7 percent of adults believe that their smile is an important social asset, according to a survey conducted by the American Academy of Cosmetic Dentistry. While nearly 74.0 percent of adults believe that an unattractive smile can harm a person's chances of success in the workplace. People have chosen beautification and restorative procedures as a result of such factors. This, in turn, is likely to drive the dentistry market in the future and thereby favor the growth of the market for dental turbines.
Segmentation Analysis
The dental turbines market is divided into three categories: product type, speed, and end-user. The market based on product type is separated into air-driven turbines, electric turbines, and hybrid air-electric turbines. Air-driven turbines are less expensive than electric turbines; however, electric turbines provide more torque than air-driven turbines. Based on the speed, the market is classified into high-speed dental turbines and low-speed dental turbines. In procedures such as dental cuttings and finishing restoration, high-speed turbines are preferred. Based on the end-user, the dental turbines market is segmented into hospitals, dental clinics, and academic & research centers. Hospitals and dental clinics are likely to drive in this segment in the coming years.
Regional Analysis
The dental turbines market can be divided into North America, Europe, Asia Pacific, Latin America, and the Middle East and Africa. North America leads the global dental turbines market due to an increase in dental visits, technological advancements, and the availability of world-class and specialized dental hospitals and clinics. Europe is the second-largest market for dental turbines, owing to the population's high awareness of oral health. Due to an increase in the number of patients with dental disorders and the adoption of novel dental technologies by dentists in emerging countries such as India and China, Asia Pacific is expected to be the most lucrative market for dental turbines.
Competitive Players
Major companies in the dental turbine market include A-dec Inc., Dentflex, DentalEZ, FONA Dental, W&H Group, NSK, DentamericaInc., Guilin Woodpecker Medical Instrument Co. Ltd., The Turbine Source (a division of sed, Inc.), The Yoshida Dental Mfg. Co. Ltd., KaVo Dental, Cefla S.C., and DentsplySirona Inc.
For example, KaVo Kerr is a dental equipment manufacturer group that was spun off from Danaher Corporation. In 2014, Kerr acquired DUX Dental and Vettec Inc. and In 2015, Total Care, Axis SybronEndo, and Kerr reorganized into a unilateral organization: Kerr Dental.
By Product Type
Air-Driven Turbines
Electric Turbines
Hybrid Air-Electric Turbines
By Speed
High-Speed Dental Turbines
Low-Speed Dental Turbines
By End-User
Hospitals
Dental Clinics
Academic & Research Centers
Regional Segmentation Analysis
North America
Europe

France
The UK
Spain
Germany
Italy
Rest of Europe

Asia Pacific

China
Japan
India
South Korea
Southeast Asia
Rest of Asia Pacific

Latin America

Brazil
Mexico
Rest of Latin America

Middle East & Africa

GCC
South Africa
Rest of the Middle East & Africa