Industry Insights
[212+ Pages Report] According to Facts and Factors, the Global Dental Periodontics market size was worth around USD 14829.50 million in 2021 and is estimated to grow to about USD 25986.07 million by 2028, with a compound annual growth rate (CAGR) of approximately 9.80% over the forecast period. The report analyzes the Dental Periodontics market's drivers, restraints/challenges, and their effect on the demands during the projection period. In addition, the report explores emerging opportunities in the Dental Periodontics market.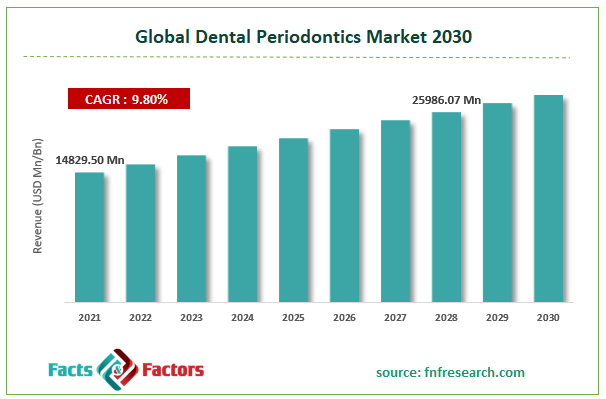 To know more about this report | Request Free Sample Copy
Market Overview
Dental periodontics is a specific branch of dentistry that deals with investigating, diagnosing, and treating problems relating to the teeth, gums, alveolar bone, periodontal ligament, and associated structures. Along with treating and preventing periodontal diseases, periodontists are professionals in treating mouth inflammation. In terms of technical treatment, dental periodontics has advanced, including nanotechnology, ozone treatment, probiotic treatment, etc. In periodontal therapy, which is anti-inflammatory, purifies blood and lymph, inactivates viruses and bacteria, and has painless treatment processes, ozone has anti-microbial activity, it oxidizes biomolecules, and it has healing and tissue formation qualities.
The need for dental care and treatments has increased due to the aging population, and this factor is anticipated to support the expansion of the dental periodontics market. The dental periodontics industry has been cushioned by the rising spending from government and private organizations to improve dental treatment infrastructures. Non-invasive laser treatments are aiding the development of the sector. One of the key factors projected to restrain the expansion of the dental periodontics market in the forecast period is the absence of payback roles for dental procedures and treatments.
COVID-19 Impact:
Due to a decrease in the number of patients, the COVID-19 pandemic decreased the need for dental products. Due to the novel coronavirus's rapid transmission and the ensuing overburdening of diagnostics, in-patient care, and post-recovery complications, healthcare facilities worldwide found themselves in an unprecedented scenario. Due to the pandemic, major market companies saw a considerable revenue drop.
The sales of implants, prosthetics, and scanners were hampered by the reallocation of healthcare resources, decreased clinic visits from patients, supply chain interruptions, and other significant factors. Dental offices were shut down in numerous nations due to the strict social distance requirements.
Key Insights
Dental Periodontics market share value at a CAGRof 9.80% over the forecast period.
Growing population increased frequency of periodontal disorders, and rising demand for cosmetic dental procedures are all driving market expansion.
By type, the advanced periodontics segment dominated the market in 2021.
By application, the dental clinic's segment dominated the market in 2021.
North America dominated the Global Dental Periodontics market in 2021.
Growth Drivers
Increased dental and oral hygiene awareness will likely pave the way for global market growth
The demand for increased dental and oral hygiene awareness has arisen due to the significant increase in oral illnesses, particularly periodontal ones, during the past few years. As a result, consumers now spend significantly more on dental care and healthcare, which has boosted demand for periodontal dental services. With the prevalence of dental illnesses, many developing nations are becoming new markets for periodontal dental treatment providers. Opportunities for periodontal dental service providers will expand due to the rising demand for sophisticated periodontal treatments, the increasing popularity of non-invasive treatment options, the inflated market for cosmetic dentistry, and developing dental tourism.
Restraints
A lack of skilled personnel may hamper the global market growth.
Highly modern and complex periodontal dental services are relatively pricey and thus out of reach for unprotected and pensioner patients. Since oral disorders are not seen as life-threatening, most people in underdeveloped nations continue to ignore dental problems and resort to self-treatment. Despite technical advances in dentistry and the fact that it is one of the most profitable career options, the majority of medical students choosing dentistry remains low. As a result, the business lacks well-educated and skilled personnel.
Opportunities
The rising demand for franchise dentistry brings up several growth opportunities.
Franchise dentistry is getting increasingly popular. In a market dominated by freelance dentists, this is a massive shift. Franchises have greater purchasing power than individual proprietors. Dental franchises save money for dentists by providing staffing, accounting, and other services. The dental franchise offers cost savings and increased bargaining power due to economies of scale. Dental franchises reduce the cost of care, increasing the number of patients and driving the market growth.
Challenges
The high cost of service is likely to limit the global market growth.
Dental procedures are frequently perceived as more expensive because, as dental care becomes more specialized, the more sophisticated and trained the dental team must be to provide high-quality service for procedures such as regenerative procedures, dental implants, gum graft operations, and pocket reduction procedures. Furthermore, government regulations and interventions raise the cost of care. Expensive dental treatments due to expensive dental equipment deter consumers from seeking periodontal dental care and are likely to stifle market expansion.
Segmentation Analysis
The global Dental Periodontics market is segregated based on product, type, application, and region.
By type, the market is divided into Mild Periodontics and Advanced Periodontics. Over the forecast period, the advanced periodontics segment is expected to develop at the fastest rate in 2021. Due to the increasing demand for plastic surgery worldwide, the advanced periodontics sector is anticipated to dominate the worldwide dental periodontics market. A significant shift from the use of invasive treatments for the therapy of periodontitis and gingivitis has occurred in recent years due to novel techniques and screening platforms for the detection of periodontal disorders. Recent dentistry advancements are significantly impacting consumers and practitioners in preventing periodontal infections.
By application, the market is classified into Dental Laboratories, Dental Hospital, Dental Clinics, and Others. The dental clinic segment will dominate the market in 2021. The part of dental clinics has the largest share. Because dental clinics are performing an increasing number of surgeries, including dental implants, regenerative treatments, dental crown lengthening, and other procedures. The hospital sector is expected to expand at the fastest rate due to the high number of surgeries performed there, the high number of patients who visit these locations, the availability of up-to-date infrastructure, rising investments in developing infrastructure, skilled workers, and easy accessibility.
Report Scope
| | |
| --- | --- |
| Report Attribute | Details |
| Market Size in 2021 | USD 14829.50 Million |
| Projected Market Size in 2028 | USD 25986.07 Million |
| CAGR Growth Rate | 9.80% CAGR |
| Base Year | 2021 |
| Forecast Years | 2022-2028 |
| Key Market Players | Young Innovations Inc., Align Technology Inc., LED Medical Diagnostics Inc., Henry Schein Inc., PLANMECA OY, Western Dental, Orval, Dentsply Sirona, Nobel Biocare Services AG, Zimmer Biomet, BEGO GmbH & Co. KG, Midmark Corporation, Glidewell Laboratories, Institut Straumann AG , and Others |
| Key Segment | By Product, Type, Application, and Region |
| Major Regions Covered | North America, Europe, Asia Pacific, Latin America, and the Middle East & Africa |
| Purchase Options | Request customized purchase options to meet your research needs. Explore purchase options |
Recent Developments
In May 2019, AMD Lasers, Inc introduced Picasso Clario Dental Laser. The Picasso Clario is designed to help dental hygienists adopt a clear and concise navigation method for the right treatments. This introduction represents an expansion of the company's current soft-tissue laser line.
In March 2019, a new line of intraoral scanners from Planmeca OY enables quick and precise scanning.
Regional Landscape
The rising prevalence of spinal problems is likely to help North America dominate the global market.
North America is expected to dominate the dental PeriodonticsMarket in 2021because there is a greater awareness of periodontal disorders. The region's dental periodontics market is likely to rise because of the rising cases of periodontal diseases linked to sedentary lifestyles, efficient payback plans, and an aging population. Furthermore, the aging population and low sedentary lifestyle contribute to the increased necessity for dental periodontics. Another element influencing the market's growth is the efficient repayment schedule. Additionally, it is predicted that the rising demand for improved dental services would foster a positive business environment in this area. The increase is linked to the region's consumers' rising disposable income. The United States, in particular, plays a crucial role in North America.
Over the forecast period, Asia Pacific regional market is expected to grow significantly in theDental Periodonticsmarket in 2021. Due to the rising senior population, increasing dental tourism in significant Asian economies, rising healthcare costs, rising disposable income in this region, and increasing consumer willingness to spend on dental care, the market expansion in this area is being boosted. Due to the region's vast patient base, expanding healthcare infrastructure, and rising healthcare spending, the dental periodontics market is anticipated to grow considerably. Recent technology developments like intra-oral cameras, digital dentures, telemedicine, and laser therapy have increased the demand for dental periodontics.
Competitive Landscape
Key players within the global dental periodontics market include
Young Innovations Inc.
Align Technology Inc.
LED Medical Diagnostics Inc.
Henry Schein Inc.
PLANMECA OY
Western Dental
Orval
Dentsply Sirona
Nobel Biocare Services AG
Zimmer Biomet
BEGO GmbH & Co. KG
Midmark Corporation
Glidewell Laboratories
Institut Straumann AG
Carestream Dental LLC
VATECH
Ultradent Products Inc.
Apteryx Inc.
Flow Dental.
The Global Dental Periodontics market is segmented as follows:
By Product
Injectable Anesthetics
Gelatin-Based Hemostats
Topical Anesthetics
Dental Hemostats
Dental Anesthetics
Oxidized Regenerated Cellulose-Based Hemostats
Collagen-Based Hemostats
Dental Sutures
Non-Absorbable Dental Sutures
Absorbable Dental Sutures
X-Ray
Intraoral Cameras
Optical Imaging
Cone Beam Computed Tomography (CBCT)
Infection Control
Sanitizing Gels
Disinfectants
Personal Protective Wear
By Type
Mild Periodontics
Advanced Periodontics
By Application
Dental Laboratories
Dental Hospital
Dental Clinics
Others
By Region
North America
Europe

France
The UK
Spain
Germany
Italy
Nordic Countries
Benelux Union

Belgium
The Netherlands
Luxembourg

Rest of Europe

Asia Pacific

China
Japan
India
Australia
South Korea
Southeast Asia

Indonesia
Thailand
Malaysia
Singapore
Rest of Southeast Asia

Rest of Asia Pacific

The Middle East & Africa

Saudi Arabia
UAE
Egypt
South Africa
Rest of the Middle East & Africa

Latin America

Brazil
Argentina
Rest of Latin America