Industry Insights
[219+ Pages Report] According to the report published by Facts and Factors, the global cultured meat market size was valued around USD 103 million in 2020 and is expected to grow to around USD 248 million by 2026 with a compound annual growth rate (CAGR) of roughly 15.7% between 2021 and 2026. The report analyzes the global cultured meat market drivers, challenges, and the impact they have on the demands during the forecast period. In addition, the report explores emerging opportunities in the cultured meat market.
To know more about this report | Request Free Sample Copy
Market Overview
Cultured meat is made from animal cells using modern techniques rather than slaughtering cattle. The cultured meat is made by extracting animal cells and cultivating them in a nutrient-rich medium. They can duplicate to such a degree that each cell can be used to provide enough meat for the entire world's population in a year. As food producers gradually approach meat replacement products, such meat is becoming a big fad in the food and beverage industry.
Although a large number of intermediate steps will be required to produce cultured meat in large quantities. With the aid of a mechanical process, the cells multiply and develop a sponge-like structure that is eventually soaked in nutrients, increasing their protein content and size. Cultured meat processing is a proposed option for feeding the world's ever-increasing population. It will also have advantages such as lower saturated fat levels, lower environmental effects, and fewer foodborne illnesses. The resulting cultured meat is expected to be seasoned, harvested, and prepared to consistency for use as any other meat commodity, including chicken, hamburgers, sausages, and even steaks or chicken breasts.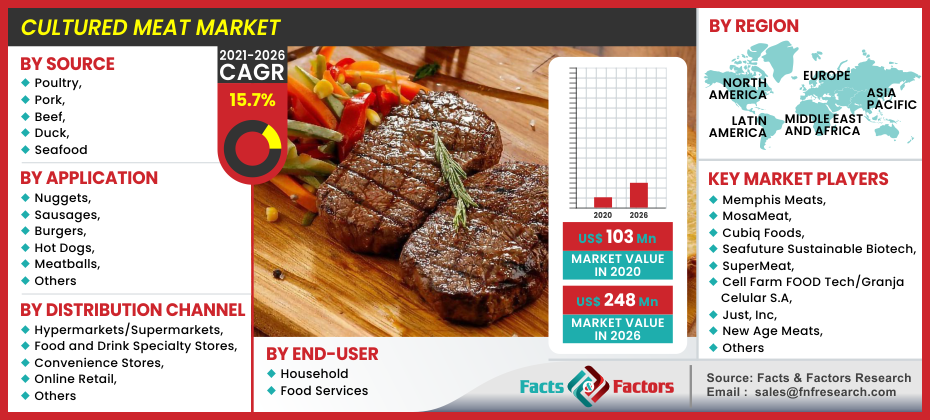 To know more about this report | Request Free Sample Copy
Industry Growth Factors
The growing customer demand for cultured meat as a replacement for animal-based goods is driving the industry. Concerns over animal cruelty in meat processing have had a major effect on public attitudes toward meat consumption. However, fulfilling everyday protein requirements and the flavor of meat products are important considerations when using animal-based meat substitutes. This is shaping up to be a win-win situation for the cultured meat industry. Furthermore, as technology advances, cultured meat production is expected to increase in the future.
The increased use of meat products in developing regions such as Europe and North America is one of the driving forces for the cultured meat demand in these regions. High prices and a lack of understanding, on the other hand, are the main factors limiting the development of the cultured meat industry. Since the demand for meat alternatives is increasing, especially in developing countries, cultured meat producers are gaining a competitive advantage in the market. Cultured meat is one of the most important research efforts in the last decade, and it is about to hit the market with greater promise. This is further enhancing the global cultured meat demand's favorable market scenario.
Covid 19 Analysis
The global pandemic of COVID-19 disease is wreaking havoc on the food and beverage market, with prices of big food and beverage products predicted to suffer. Cultured meat is a rapidly growing segment in the food and beverage industry, and it is primarily processed using a microbiological method. Due to disease, processing and research and development activity has been halted, which may have an effect on the future of cultured meat. Furthermore, after the coronavirus disease epidemic has ended, customer food demand and lifestyle will have a significant effect, which would be a significant factor in the demand for cultured meat. As a result, the COVID-19 disease pandemic will have a mild to strong effect on the cultured meat industry.
Segmentation Analysis
The global cultured meat market is segregated based on source, application, end-user, distribution channel, and region
As a popular frozen meat commodity, nuggets are becoming increasingly popular. Nuggets are one of the most popular ways that chicken meat is eaten in different countries. Consumers are searching for choices that are easy to eat at any moment, thanks to the growing popularity of on-the-go lifestyles and snacking items, especially in the United States and other developed countries. As a result, major corporations such as Tyson Foods and Cargill are concentrating their efforts on introducing clean meat or cultured meat chicken nuggets to appeal to customers. As a result, during the forecast era, the North American region is expected to dominate the demand for cultured meat nuggets.
According to the source, the poultry segment is predicted to dominate the global cultured meat market during the forecast period. This is due to the prevalence of poultry products in numerous quick-service restaurants (QSRs), which has prompted producers to create innovative alternative products to satisfy potential meat market demand. Cultured chicken goods are projected to be less expensive than other suppliers and to achieve widespread acceptance around the world. Furthermore, as the market for animal protein rises, so does the demand for poultry products.
The global demand for cultured meat is projected to rise much more as a result of this. Furthermore, increasing demand for chicken meat is projected to sustain the global cultured meat industry, owing to the rapidly increased urban population in developing countries.
Report Scope
| | |
| --- | --- |
| Report Attribute | Details |
| Market Size in 2020 | USD 103 Million |
| Projected Market Size in 2026 | USD 248 Million |
| CAGR Growth Rate | 15.7% CAGR |
| Base Year | 2020 |
| Forecast Years | 2021-2026 |
| Key Market Players | Memphis Meats, MosaMeat, Cubiq Foods, Seafuture Sustainable Biotech, SuperMeat, Cell Farm FOOD Tech/Granja Celular S.A, Just Inc, New Age Meats, Fork & Goode, Integriculture, Lab farm Foods, Aleph Farms Ltd, Finless Foods Inc., Meatable, Avant Meats Company Limited, Shiok Meats, Balletic Foods, Bluenalu Inc., Mission Barns, Appleton Meats, Kiran Meats, Future Meat Technologies Ltd, Higher Steaks, Wild Type, Biofood Systems LTD, and Others |
| Key Segment | By Source, Application, End-User, Distribution Channel, and Region |
| Major Regions Covered | North America, Europe, Asia Pacific, Latin America, and the Middle East & Africa |
| Purchase Options | Request customized purchase options to meet your research needs. Explore purchase options |
Regional Analysis
North America is expected to dominate the industry in 2021, with the highest market share in cultured meat. The larger share is projected to be driven by an increase in technologies and inventions, as well as increased investment in productive R&D. The shifting consumer preference towards cultured meat products owing to health issues regarding meat intake, a rise in investor interest in alternative proteins, and the ability to provide the necessary nutrients in tailor-made proteins.
Metropolitan areas in the United States and Canada are projected to lead development due to a larger number of flexitarians that are receptive to and embrace meat alternatives and alternate proteins. Increased investment in cultured meat firms is supported by increasing demand for substitute protein in the field.
The region of Asia-Pacific also holds the maximum share in the cultured meat market, and it is predicted to continue to do so over the forecast period. Market surveys on cultured meat have been described as being particularly common in India and China. This can be due to rising economies as well as rising population, resulting in increased meat intake and market affordability for premium food products.
The Singapore Food Agency, for example, had given Eat Just, a start-up company in the US, permission to market its lab-grown, cultured chicken as a food ingredient in Singapore. The cultured chicken was served in a single restaurant at first, with a gradual expansion to 15 restaurants expected in the immediate future. The brand also intended to expand into supermarkets in the future.
Some of the leading players in the global market include
Memphis Meats
MosaMeat
Cubiq Foods
Seafuture Sustainable Biotech
SuperMeat
Cell Farm FOOD Tech/Granja Celular S.A
Just Inc
New Age Meats
Integriculture
Lab farm Foods
Aleph Farms Ltd
Fork & Goode
Finless Foods Inc.
Meatable
Avant Meats Company Limited
Shiok Meats
Balletic Foods
Bluenalu Inc.
Future Meat Technologies Ltd
Mission Barns
Appleton Meats
Kiran Meats
Higher Steaks
Wild Type
Biofood Systems LTD
others
The global cultured meat market is segmented as follows:
By Source Analysis
Poultry
Pork
Beef
Duck
Seafood
By Application Analysis
Nuggets
Sausages
Burgers
Hot Dogs
Meatballs
Others
By End-User Analysis
By Distribution Channel Analysis
Hypermarkets/Supermarkets
Food and Drink Specialty Stores
Convenience Stores
Online Retail
Others
By Regional Segment Analysis
North America
Europe

UK
France
Germany
Italy
Spain
Rest of Europe

Asia Pacific

China
Japan
India
South Korea
Southeast Asia
Rest of Asia Pacific

Latin America

Brazil
Mexico
Rest of Latin America

Middle East and Africa

GCC Countries
South Africa
Rest of MEA