Industry Insights
[210+ Pages Report] According to Facts and Factors, the global crowdfunding market is expected to increase at a compound annual growth rate (CAGR) of 11.8% during the projection period between 2022 and 2028. The valuation for the global crowdfunding market was USD 13.5 billion in 2021 and it is expected to cross USD 28.2 billion, by 2028. The report explores various factors and their implications on the global crowdfunding market's growth.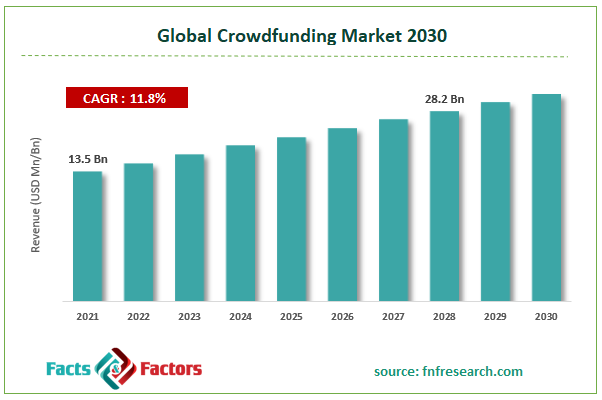 To know more about this report | Request Free Sample Copy
Market Overview
Crowdfunding is the process of raising funds for a business, charitable cause, or project through little contributions from a substantial number of people. It offers financial assistance through a variety of methods, that includes equity investment, peer-to-peer lending, donation-based, reward-based, and hybrid models. It is typically carried out online via social networking forums and websites. Crowdfunding allows for direct market access and negates the need for venture capitalists or banks. When compared to traditional methods, it is considered a flexible, scalable, and effective fund-raising solution.
In response to the unexpected outbreak of COVID-19, many NGOs are raising funds by means of crowdfunding campaigns. These campaigns provide easy access to large networks of people and assist an entity in fundraising in a shorter period of time. Aside from that, the growing impact of social media is bolstering the growth of the crowdfunding market. Crowdfunding via these platforms allows the general public to provide responses and vital information on the advancement and demand for a new product. As a result, it is gaining traction in a variety of businesses to promote a concept, gauge audience interest, and pre-sell a commodity.
COVID-19 Impact:
The COVID-19 pandemic has had a positive impact on the market. During the COVID-19 pandemic, businessmen and small-scale businesses largely used crowdfunding to secure financing for their creative projects. According to the Journal of Medical Internet Research, the overall number of GoFundMe campaigns related to COVID-19 increased by 735 percent in March 2020. According to Enventys Partners, despite the COVID-19 pandemic, the number of Kickstarter projects increased by 8.8 percent from January to April 2020.
Growth Drivers
The expansion of the market is aided by the use of social media platforms
One of the main factors driving growth in the crowdfunding industry is free social media promotion. It enables you to pre-sell a commodity while also acting as a minimal marketing strategy. As a consequence, an effective crowdfunding campaign might achieve more than just raise funds. Such campaigns are low-priced and can reach out to a wide range of channels quickly.
Many crowdfunding initiatives use social media as a medium because it allows them to track referral traffic to websites. As a result, a company can freely endorse an idea on social media, which is supposed to drive the global crowdfunding market during the forecast period.
Restraints
Low investment liquidity, as well as regulatory constraints and associated risks in crowdfunding, are expected to stymie market growth
Because securities bought through equity crowdfunding platforms are extremely volatile, exit alternatives are non-existent or limited, similar to those available to traditional venture capital investors. Because the company takes years to reach its potential, crowdfunding investors might just have to wait a few more years for their investments to pay off. Additionally, rising cases of crowdfunding fraud documented in numerous countries throughout the world, as well as the substantial dangers associated with these investments, are expected to stymie market expansion.
Opportunities
Crowdfunding is associated with a number of opportunities
Crowdfunding platforms are increasingly being used by businesses not only to obtain financing but also as a marketing platform. Fundraisers can use crowdfunding for market testing, particularly in terms of pricing. In some cases, funders are offered the opportunity to pre-purchase commodities from a new venture. Fundraisers could thus project the potential performance of a particular venture through market prices and the volume of pre-sales over a limited time period.
Crowdfunding gives marketers the ability to use price discrimination. By strategically determining the crowdfunding campaign aim and pre-order price, marketers can persuade high-value customers to pay more for a product.
Crowdfunding projects provide fundraisers with an opportunity to get funders more engaged with the organization and its operational processes. Crowdfunding can be used for marketing purposes through "cause marketing," in which a brand or company uses crowdfunding to support a cause while also gaining sympathy from its target audience.
Fundraisers can solicit concepts from their target audience to develop new products or improve current ones. Because they are at the heart of the manufacturing process, this allows for a better link between the product and the target market.
Challenges
The potential disadvantages of crowdfunding for funders and fundraisers are difficult to assess
Crowdfunding, particularly in developing countries, frequently lacks a legal framework for secure transactions. There is no regulation of crowdfunding in many emerging countries, which may increase the skepticism of prospective funders. The lack of available electronic payment options and restricted Internet connectivity is essential in the development of crowdfunding, which may limit the development of certain developing countries.
Social networking sites may be unable to garner the type of audience needed for particular projects. Fundraisers may jeopardize future investment opportunities if their crowdfunding campaigns perform poorly or projects develop a bad reputation on the platform. Because of the public and social essence of crowdfunding, ideas are vulnerable to being copied or stolen after being disclosed on a platform.
Funders may become especially skeptical due to certain fundraisers' lack of experience or competence. As a result, they may be reluctant to participate in a project with a low chance of success. Few cases of fraud have been reported worldwide to date, which can be a deterrent to funders' willingness to engage in crowdfunding campaigns.
Finally, the inherent risk of any project or type of investment is a potential deterrent to crowdfunding, particularly lending and equity-based crowdfunding models.
Segmentation Analysis
The global crowdfunding market is segregated on the basis of type, sales model, application, deployment type, and region.
By type, the market is divided into donation, equity crowdfunding, reward-based crowdfunding, and others. The majority of the market share is accounted for by reward-based crowdfunding, and this trend is expected to continue during the forecast period.
By sales model, the market is classified into reward, P2P lending, equity investment, hybrid, and others. During the projected period, the P2P lending prototype will make up a large portion of the crowdfunding market share. One of the driving factors in this segment is the ability to access funds for investing in scheduled events in a shorter period of time because P2P lenders liquidate the fund long before the loan's terms are up.
By application, the market is classified into healthcare, technology, product, cultural industries, and others. Cultural industries account for the majority of crowdfunding events and thus account for the majority of market share, which is projected to continue even during the forecast period, followed by technology.
By deployment type, the market is divided into on-premise and cloud. The cloud segment makes up the majority of sales volume and is anticipated to grow throughout the forecast period. Because of the increased adoption of cloud-based services, improved security, and advancements in cloud computing, the cloud is by far the most widely used segment.
Report Scope
| | |
| --- | --- |
| Report Attribute | Details |
| Market Size in 2021 | USD 13.5 Billion |
| Projected Market Size in 2028 | USD 28.2 Billion |
| CAGR Growth Rate | 11.8% CAGR |
| Base Year | 2021 |
| Forecast Years | 2022-2028 |
| Key Market Players | Gust, Crowdfunder, RocketHub, FirstGiving, Teespring, DonorsChoose.org, CircleUp, GiveForward, Fundable, YouCaring, IFunding, GoFundMe, Patreon, CrowdRise, Kiva, Kickstarter, Causes, FundRazr, and Indiegogo., among others. |
| Key Segment | By Type, Sales Model, Application, Deployment Type, and Region |
| Major Regions Covered | North America, Europe, Asia Pacific, Latin America, and the Middle East & Africa |
| Purchase Options | Request customized purchase options to meet your research needs. Explore purchase options |
Regional Landscape
North American region accounts for a sizable portion of the market
Between 2022 and 2028, North America is projected to grow at the fastest rate, at 4.8%. Start-ups in the United States account for more than 17.5% of the total population, while start-ups in Canada account for 18.4% of the total population. As a result, there will be a huge opportunity for crowdfunding in North America. Furthermore, with the growing market for crowdfunding, this opportunity grows even more. As a result, over the forecast period, the region is anticipated to grow at the highest CAGR. On the other hand, Asia Pacific is projected to be the largest and most advanced region. By 2028, it is expected to account for the lion's share of global revenue.
As per the Cambridge Centre for Alternative Finance, reward-based crowdfunding is the most popular crowdfunding model in China for participant numbers. Crowdfunding as a source of funding in China has grown and evolved at a breakneck pace. According to Advances in Crowdfunding Research and Practice, the primary focus of R & D for 95% of Asia Pacific reward-based crowdfunding forums is "media and promotion." As a result, there is a high demand for crowdfunding, which adds to the sales of the regional market.
Recent Developments
May 2020: BuildHer, a crowdfunding platform for women of African descent based in the United Kingdom, has officially launched its service. BuildHer, which was founded in 2018, claims to provide disadvantaged young women in Kenya with accredited construction skills, resulting in changing male attitudes, increasing financial prosperity, and promoting gender equality in the construction industry.
April 2020: Aescuvest International GmbH, a renowned crowdfunding platform operated by EIT Health in their Call4Ideas Campaign, seeks to aid start-ups and researchers in their efforts to flatten the COVID-19 curve, thereby accelerating their market entry.
Competitive Landscape
Some of the main competitors dominating the global crowdfunding market are Gust, Crowdfunder, RocketHub, FirstGiving, Teespring, DonorsChoose.org, CircleUp, GiveForward, Fundable, YouCaring, IFunding, GoFundMe, Patreon, CrowdRise, Kiva, Kickstarter, Causes, FundRazr, and Indiegogo.
The global crowdfunding market is segmented as follows:
By Type Segment Analysis
Donation
Equity Crowdfunding
Reward-Based Crowdfunding
Others
By Sales Model Segment Analysis
Reward
P2P Lending
Equity Investment
Hybrid
Others
By Application Segment Analysis
Healthcare
Technology
Product
Cultural Industries
Others
By Deployment Type Segment Analysis
By Regional Segment Analysis
North America

The U.S.
Canada
Mexico
Rest of North America

Europe

France
The UK
Spain
Germany
Italy
Nordic countries

Denmark
Finland
Iceland
Sweden
Norway

Benelux Reunion

Belgium
The Netherlands
Luxembourg

Rest of Europe

Asia Pacific

China
Japan
India
New Zealand
Australia
South Korea
Southeast Asia

Indonesia
Thailand
Malaysia
Singapore
Rest of Southeast Asia

Rest of Asia Pacific

The Middle East & Africa

Saudi Arabia
UAE
Egypt
Kuwait
South Africa
Rest of the Middle East & Africa

Latin America

Brazil
Argentina
Rest of Latin America