Industry Insights
According to the report published by Facts & Factors, the global Cream Cheese market size was worth around USD 31000 million in 2019 and is predicted to grow around USD 53000 million by 2026 with a compound annual growth rate (CAGR) of roughly 8% between 2020 and 2026. The report analyzes the global Cream Cheese market drivers, restraints/challenges, and the effect they have on the demands during the projection period. In addition, the report explores emerging opportunities in the Cream Cheese market.
The global cream cheese market report is a modest effort of subject matter experts and analysts to deliver market forecast and analysis. The report delivers quantitative as well as qualitative analysis of the global cream cheese market. It also highlights the premium insights delivered by industry experts. In quantitative research, the report provides a forecast for the type, application, and end-users of the global cream cheese market.
While in qualitative analysis the report delivers non-numerical facts and data. Qualitative research is done by referring to annual reports of leading players, research papers, investor presentations, National government documents, and internal and external proprietary databases. Moreover, interviews of industry experts, distributors, retailers, purchase managers, and investment bankers are done to know the details and insights about the global cream cheese market.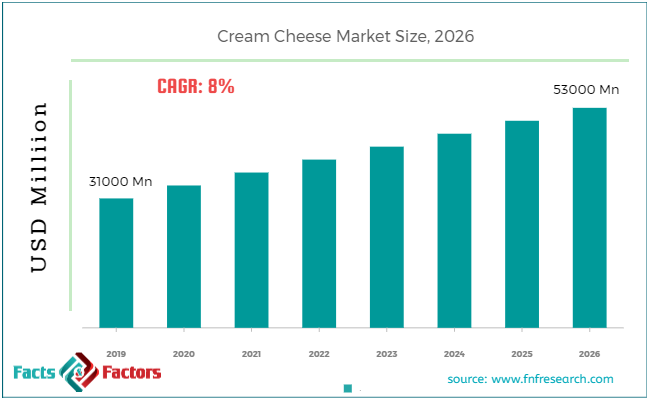 To know more about this report | Request Free Sample Copy
---
Key Insights from Primary Research
According to our Primary respondents, the global cream cheese market is expected to grow annually at a rate of around 8%.
According to our primary and secondary research, the global cream cheese market was valued at USD 31000 Million.
Our estimated forecast states that the global cream cheese market is expected to grow at around USD 53000 Million in the forecasted period.
In terms of volume, the global cream cheese market stood at around 7000 Kilo Tons, in 2019 and it is expected to grow at around 11000 Kilo Tons in 2026.
The "Processed Cream Cheese" category, on the basis of type segmentation, was the prominent revenue-generating category accounting for around 58% share, in 2019.
On the basis of usage segmentation, the "Bucket" category contributed a prominent share at more than 55%, in 2019.
Key Recommendations from Analysts
According to primary research, our research analysts identified that consumers are slowly shifting to a healthier lifestyle and they started preferring natural cream cheese over processed cheese. Consumers became more aware of the ingredients used in the cream cheese. Preservatives are less likely to get accepted by the market.
Millenials are driving premium product range and premium food service channels due to their openness to accept new trends. While Generation X and baby boomers are likely to prefer discount channels.
As per our Analysts, the new product launch strategy pushes the cream cheese market. New acquisitions, contracts, and joint partnerships are the important strategies that key players have accepted to endure the market's rigid rivalry.
The global market for cream cheese is driven by an increase in the number of restaurants, fast food joints, and fast-service restaurants. Due to the increase in disposable income and change in living standards, the number of fast-food joints or restaurants has increased.
The bucket cheese is expected to grow at a significant rate owing to, demand generated by the business-to-business market. The business-to-business market is expected to grow owing to the rapid rise in quick service restaurants and food chains.
Market Attractiveness – By Usage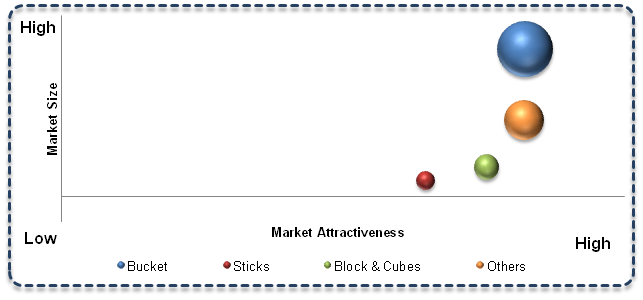 To know more about this report | Request Free Sample Copy
The report delivers a thorough quantitative and qualitative analysis of the market with respect to region, type, and application. The report highlights factors boosting the growth, factors that are pulling down the growth, current trends, and opportunities. The report also briefs region, type, and application rendering to their business attractiveness. It is expected to deliver a clear idea about the superior investment options offered according to type and application. The report provides help to enter the global cream cheese market by offering thorough raw material analysis, and distributor and end-user analysis.
The report also delivers marketing strategies including brand, pricing strategy, and marketing channel analysis to launch the product in the market. The report briefs about import and export data with respect to the region to make the reader aware of potential regions. The report offers quantitative and qualitative analyses with respect to type, application, and region. The qualitative analysis comprises of porters five analysis, PESTLE analysis, along with SWOT analysis which is added in the global cream cheese market report.
Report Scope
| | |
| --- | --- |
| Report Attribute | Details |
| Market Size in 2019 | USD 31000 Million |
| Projected Market Size in 2026 | USD 53000 Million |
| CAGR Growth Rate | 8% CAGR |
| Base Year | 2019 |
| Forecast Years | 2020-2026 |
| Key Market Players | Franklin Foods, Inc., RENY PICOT, Schreiber Foods, Britannia Industries Limited, Almarai, D'LECTA, Philadelphia, Crystal Farms, and others. |
| Key Segment | Type, Usage, and Region |
| Major Regions Covered | North America, Europe, Asia Pacific, Latin America, and the Middle East &, Africa |
| Purchase Options | Request customized purchase options to meet your research needs. Explore purchase options |
The report provides a competitive landscape for the leading market players. The competitive landscape gives detailed market share for leading market players according to sales and volume generated. The report also offers an extensive analysis of leading market players according to their products and their features, strategic developments and business strategies. The report delivers global presence, competitors and gross margin for each leading player.
Leading Market Players
Franklin Foods, Inc.
RENY PICOT
Schreiber Foods
Britannia Industries Limited
Almarai
D'LECTA
Philadelphia
Crystal Farms
Others
This report segments the global cream cheese market as follows:
By Type Segment Analysis
By Usage Segment Analysis
Bucket
Sticks
Block & Cubes
Others
Regional Segment Analysis
North America

The U.S.
Canada
Rest of North America

Europe

Germany
France
U.K.
Spain
Italy
Rest of Europe

Asia Pacific

China
India
Thailand
Taiwan
Vietnam
South Korea
Southeast Asia
Rest of Asia Pacific

The Middle East & Africa

KSA
Emirates
Rest of the Middle East
South Africa
Rest of Africa

Latin America

Brazil
Mexico
Rest Of Latin America
Key Pointers Addressed by the Report
Historical data and forecast analysis of the market
Drivers and Restraints affecting market dynamics
Exhaustive analysis of the future market trends
Comprehensive information about the leading market segments and region
Strategic developments made by the competitive players and in-depth analysis about its impact on market growth