Industry Insights
[222+ Pages Report] According to Facts and Factors, the global cloud migration office tool market size was worth around USD 1,031.20 million in 2021 and is estimated to grow to about USD 2564.84 million by 2028, with a compound annual growth rate (CAGR) of approximately 16.40 percent over the forecast period. The report analyzes the cloud migration office tool market drivers, restraints/challenges, and the effect they have on the demands during the projection period. In addition, the report explores emerging opportunities in the cloud migration office tool market.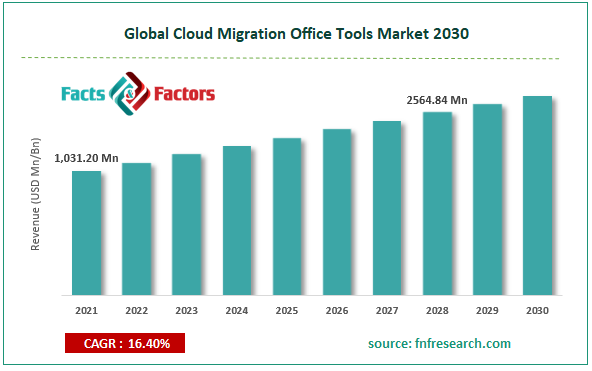 To know more about this report | Request Free Sample Copy
Market Overview
Office migration refers to the process of relocating office supplies and software. It could take place on different continents or inside the same structure. Enterprises can shift their current office setting to the cloud with the help of cloud-based tools, maintaining business continuity. Email clients, CRM programs, office suites, and other productivity tools fall under this category. Any cloud migration strategy' main advantage or goal is to host applications and data in the most efficient IT environment possible, which is dependent on things like performance, cost, and security. This is a significant element that is anticipated to fuel the expansion of the global market for cloud migration services over the forecast period.
Enterprises must choose the best cloud scenario from a variety of options, including the public cloud, which offers access to compute resources through dedicated connections or the internet. Private cloud, which uses a proprietary architecture and keeps data in the data center. The hybrid cloud combines private and public cloud models and transfers data between the two, and multi-cloud allows a company to use infrastructure-as-a-service (IaaS) options from more than one public cloud provider. Since moving an application to the cloud is frequently seen as the most natural move for expansion, the cloud migration finally relieves an enterprise IT staff of the burden of monitoring uptime.
COVID-19 Impact:
Many CXOs are under pressure to advance digital technologies and approaches in the Covid-19 epidemic, where firms are dealing with operational difficulties. Among these, cloud migration has seen a significant increase. Many large businesses and SMEs have shifted their allegiance to cloud-savvy managed service providers (MSPs), who have sped up the migration process, scaled existing services, modernized legacy applications, enabled and orchestrated multi-cloud environments, and utilized a variety of cloud-native capabilities. Additionally, many cloud service providers have unveiled a variety of alluring cloud migration tactics that specifically assist SMEs in adopting these services easily and with little financial hardship, opening up a lot of market potential.
Key Insights
The drive to reduce business expenses and project delivery time is likely to increase demand for cloud migration office tools, which is why the market for these tools is projected to reach US$ 2,564.84 Mn in sales by 2028.
Due to the vast amount of data generated by businesses in the normal course of business, the annual subscription segment is anticipated to experience the highest CAGR over the forecast period (2022–2028).
During the forecast period, North America will continue to have the biggest market share, followed by the Asia Pacific.
Among the top players in the market for cloud migration office, goods are AvePoint, Inc., Binarytree.com Inc., BitTitan, Inc., and CodeTwo sp. z o.o. sp. k., Proventeq Limited, Quadrotech Solutions AG, Quest Software Inc., Sharegate Group Inc., Simflofy, and SkyKick Inc.
Cloud Migration Office Tool Market: Growth Drivers
Saas and Paas services likely to boost the market demand
The rise in demand for cloud migration for business continuity Platform and software services are both covered by cloud migration services. Platforms and software providers are included in this value chain segment. PaaS offerings come with application development, group collaboration, database integration, and security. These services are known as PaaS service providers, which are the main trends in the market for cloud migration services. There are many different kinds of PaaS suppliers on the market, but they all provide services or apps. The vendors who hold the subscription-based licenses to provide this service host it.
The subscriber uses a web browser to access SaaS. With the development of mobile applications and other programs like CAD and ERP, SaaS has gained popularity. Due to the rise in demand for both services, SaaS and PaaS providers have a substantial impact on the market for cloud computing services. As a result, it is anticipated that during the projected period, the aforementioned reasons will fuel demand for cloud migration services.
Cloud Migration Office Tool Market: Restraints
The biggest obstacle to a successful migration is frequently found within the individual. People tend to resist change. Additionally, a cloud migration brings about a lot of disruption and upheaval, frequently resulting in radically altered systems, procedures, and even leadership.
The bottom line is that it will be difficult to perform a successful move if the human factor is not addressed.
Cloud Migration Office Tool Market: Opportunities
The best ally is preparation. Spending money on a sound change management strategy may control both the project's scope and the degree of business disturbance with the aid of a well-thought-out plan. Examining the company's goals and needs, IT operations as they stand right now, and the available cloud solutions will be able to pinpoint prospective problems, chances, and needs with the aid of this evaluation and analysis.
Cloud Migration Office Tool Market: Challenges
Despite all of the advantages of cloud computing, the difficulty of migration prevents many businesses from moving forward. Finding employees with the skills to handle an efficient move is one of the main challenges. The demand for migration professionals has increased as more businesses turn their attention to the cloud. Sadly, there is a shortage of cloud professionals compared to demand (at least for now).40% of IT workers' cloud migration is being slowed down by a lack of cybersecurity expertise. That's a major issue for companies attempting to stay competitive.
Cloud Migration Office Tool Market: Segmentation
The global cloud migration services market is segmented into subscription and organization size.
The market is divided into monthly and annual subscriptions based on the type of subscription. The market share that belonged to annual subscriptions was the biggest. Office migration products that are available as annual subscriptions offer a one-time fee that covers the cost of the application and all future updates. The main benefit of this kind is that there are no additional costs associated with utilizing or updating the tool, which results in significant savings over time.
The market is divided into major firms and small- and medium-sized enterprises according to the size of the organization (SMEs). The increasing demand for data security, scalability, and enterprise-level functionality as organizations upgrade their existing systems and applications with new digital technologies is driving SMEs' growth of cloud migration tools. Companies can use these services provided by some vendors, for example, to undertake migrations without needing IT support or help, which lowers the expenses associated with engaging outside consultants or staff.
Report Scope
| | |
| --- | --- |
| Report Attribute | Details |
| Market Size in 2021 | USD 1,031.20 Million |
| Projected Market Size in 2028 | USD 2564.84 Million |
| CAGR Growth Rate | 16.40% CAGR |
| Base Year | 2021 |
| Forecast Years | 2022-2028 |
| Key Market Players | AvePoint Inc., Binarytree.com Inc., BitTitan Inc., CodeTwo sp. z o.o. sp. k., Proventeq Limited, Quadrotech Solutions AG, Quest Software Inc., Sharegate Group Inc., Simflofy, SkyKick Inc, and Others |
| Key Segment | By Subscription, Applications, and Region |
| Major Regions Covered | North America, Europe, Asia Pacific, Latin America, and the Middle East & Africa |
| Purchase Options | Request customized purchase options to meet your research needs. Explore purchase options |
Recent Developments
In February 2020, Amazon Web Services, Inc. declared that 3M Company would be moving its corporate IT infrastructure to AWS. As part of its IT transformation strategy, 3M is migrating its enterprise resource planning (ERP) system, which consists of manufacturing, supply chain management, accounting, product lifecycle management, and e-commerce business-critical enterprise IT applications, to the largest cloud in the world. To upgrade its infrastructure and increase operational effectiveness across its global operations, 3M will employ AWS's dependable global infrastructure and breadth and depth of services.
As businesses increasingly adopt a hybrid and multi-cloud strategy to benefit from agility, scalability, and flexibility, Cisco is integrating its SD-WAN Cloud Hub with Google Cloud in April 2020. This will enable enterprises to fully integrate WAN applications with cloud workloads. The partners are certain that by allocating components to the most suitable locations, their solution will assist businesses in optimizing application stacks.
In order to further Microsoft's cloud-based digital transformation, SAP and Microsoft partnered in May 2016. As part of the partnership, Microsoft will deploy SAP HANA on Azure, enabling new deployment options, cloud integration, and migration from SAP and Office 365.
In May 2016, AWS and Salesforce agreed to work together to implement Salesforce's core services, such as Sales Cloud, Service Cloud, App Cloud, Community Cloud, and Analytics Cloud, using AWS' cloud computing infrastructure. According to the agreement, Salesforce would leverage AWS to aid in more rapidly and effectively bringing new infrastructure online.
Regional Landscape
Advance technology is likely to help North America dominate the global market
In 2021, the North American region held the biggest market share in the global market for cloud office migration tools due to the major presence of the IT & telecom sectors and the robust cloud infrastructure. In North American nations, digital transformation is widely applied in a variety of industrial verticals, including BFSI, healthcare, retail, IT & telecom, and many more. The strong exposure to and awareness of the market's evolving technology is another of the developed and advanced nations' biggest advantages. As the advantages of the new technologies become more widely understood, firms across a variety of industries are being compelled to adopt them and enhance the ones they already use. The market for cloud office migration technologies is being propelled by businesses' growing interest in what the cloud has to offer.
The Asia Pacific region has the second-largest market share and is seeing modest growth rates, improving its capacity for revenue production. This is due to factors including a high acceptance rate of legacy systems, significant IT expenditures, etc.
Competitive Landscape
Key players within the global Cloud Migration Office Tools market include
AvePoint Inc.
Binarytree.com Inc.
BitTitan Inc.
CodeTwo sp. z o.o. sp. k.
Proventeq Limited
Quadrotech Solutions AG
Quest Software Inc.
Sharegate Group Inc.
Simflofy
SkyKick Inc
The global cloud migration office tools market is segmented as follows:
By Types:
Monthly Subscription
Annual Subscription
By Applications:
SME (Small and Medium Enterprises)
Large Enterprise
; By Region
North America
Europe

France
The UK
Spain
Germany
Italy
Nordic Countries
Benelux Union

Belgium
The Netherlands
Luxembourg

Rest of Europe

Asia Pacific

China
Japan
India
Australia
South Korea
Southeast Asia

Indonesia
Thailand
Malaysia
Singapore
Rest of Southeast Asia

Rest of Asia Pacific

The Middle East & Africa

Saudi Arabia
UAE
Egypt
South Africa
Rest of the Middle East & Africa

Latin America

Brazil
Argentina
Rest of Latin America