Industry Insights
[233+ Pages Report] According to the report published by Facts & Factors, the global castor oil derivatives market size was worth around USD 1.5 billion in 2021 and is predicted to grow over USD 2 billion by 2028 with a compound annual growth rate (CAGR) of roughly 5% between 2022 and 2028. The report analyzes the global castor oil derivatives market's drivers, restraints/challenges, and the effect they have on the demands during the projection period. In addition, the report explores emerging opportunities in the castor oil derivatives market.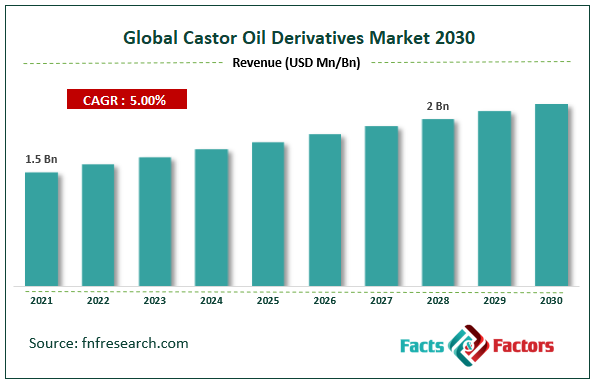 To know more about this report | Request Free Sample Copy
Market Overview
Castor oil are multifunctional chemicals and these are used widely in the production of lubricants, coatings, paints, pharmaceuticals, cosmetics, among others. These derivatives are attracting popularity owing to their unique chemical properties. Leading manufacturers for ingredient are accepting ingredients which are castor oil-based to capitalize in the green chemicals market.
The demand is estimated to be driven by expanded consumption in biodiesel feedstock. Biodiesel, which is a liquid biofuel, is extracted through vegetable oils and animal fats and is either blended with diesel oil or used in diesel engines. Liquid biofuels are used as an alternative fuel for different kind of combustion engines employed on kerosene, gasoline, and diesel as well as in passenger vehicles such as, ships, airplanes, and trucks.
Key Insights
As per the analysis shared by our research analyst, the global castor oil derivatives market is estimated to grow annually at a CAGR of around 5% over the forecast period (2022-2028).
In terms of revenue, the global castor oil derivatives market size was valued at around USD 1.5 billion in 2021 and is projected to reach over USD 2 billion, by 2028. Due to a variety of driving factors, the market is predicted to rise at a significant rate.
Based on type segmentation, sebacic acid were predicted to show maximum market share in the year 2021
Based on application segmentation, plastics & resins were the leading revenue-generating segment in 2021.
On the basis of region, Asia Pacific was the leading revenue generator in 2021.
Covid-19 Impact
Castor oil derivatives market is not immune from pandemic caused by COVID-19. Exports were restrained, exports in the year 2019-20 were much lower than the year before that. Overseas shipments with respect to industry oil were seen at around 500,000 tones in year 2019-20 (Apr-Mar), which was down from 570,000 tons as compared to the year before that. Exports are falling especially, owing to waning demand from sector such as, automobile. Sales and manufacturing are hit hugely owing the pandemic. Not only travel & tourism, but all rest economic activities were hit by the lockdown which was announced by several nations to check the global as well as local spread of the virus.
Growth Drivers
Castor oil is likely to witness a huge demand from cosmetics sector
Castor oil is likely to witness a huge demand over the coming years from industry due to rising healthcare expenditure and increasing awareness among people regarding preventive care and self-management resulting in increasing consumption of cosmetics products. The demand is also anticipated to grow owing to its increasing utilization in the manufacturing of skincare products, soaps, and cosmetics.
The product is employed in the formulation of soaps, perfumes, creams, lipsticks, lip gels, shampoos, hair oils, deodorants, lubricants, sunscreens, among others. The increasing consumption of castor oil in these products is likely to drive its demand. An increase in demand for creams and moisturizers is likely to boost the expansion of the cosmetics industry and consequently the castor oil & derivatives demand. Widespread consciousness and changing lifestyles with respect to grooming the overall personality across developing nations including China, Malaysia, India, and Sri Lanka are likely to drive the global castor oil derivatives market globally.
Growth in key end-use industries
Growth in key end-use sectors (including lubricants, and pharmaceuticals) coupled with increasing demand for biodegradable and sustainable products are likely to drive castor oil derivatives demand. The global castor oil derivatives market is also likely to be driven by support from regulatory authorities and increasing prices of substitute renewable chemicals.
Using castor oil and its derivatives have substantial advantages over vegetable oils owing to their superior fatty acid structure. Coconut, corn, soy, cotton, and rapeseed oil applications are limited mostly to edible purposes. Various factors, like, changing food habits, sleeping disorder and lifestyle, are contributing to change. Globally, individuals are getting more aware and conscious about health and therefore, the demand for pharmaceuticals sector is increasing across the world, which in turn, is leading to huge consumption of chemicals & solvents used in healthcare and pharmaceutical industries.
Furthermore, the world's aging population is causing an increase in pharmaceutical demand. According to a UN Department of Economic and Social Affairs report issued in 2015, the world population of people aged sixty and more is expected to expand by more than 5% between 2015 and 2030, from 901 million to 1.4 billion. Consumption of pharmaceutical solvent is likely to expand in the forecast period to meet this population's healthcare and pharmaceutical needs.
Favorable Socio-Economic Trends and Rising Disposable Income is driving the growth
The demand for Castor oil derivates is likely to increase as a result of growing middle-class population, rapid urbanization, and rising demand for sustainable items. Rising purchasing power, increasing affordability and economic prosperity of products has led in the growth in demand for products, such as cosmetics & personal care. Sound development of end-user industries is likely to fuel the castor oil derivatives demand over the forecast period.
Segmentation Analysis
The global castor oil derivatives market is segmented based on type, application, and region.
Based on type, the global market segments are undecylenic acid, 12-HAS, sebacic acid, castor wax, dehydrated castor oil, ricinoleic acid and others. The sebacic acid segment is likely to hold a significant market share. The higher share is attributed due to the rising inclusion of sebacic acid while manufacturing resins and polyamide. Rising demand for sebacic acid in plastics, aromatic products, and biopolymers production is likely to drive the expansion of the product market and castor oil production.
Ricinoleic acid is likely to witness a substantial CAGR over the coming years. The growth is likely owing to a rise in demand in numerous end-use applications like, coating inks, making soaps, and textile finishing. The acid is reacted with bases such as caustic, ammonia, and ethanolamines in order to produce soaps. The acid is used in metalworking compounds & emulsifiers, industrial lubricants and cutting oils. It is used to make high-solid liquid and transparent bar soaps.
Based on application, the global market segments are lubricants, cosmetics & pharmaceuticals, biodiesel, plastics & resins, and others. Plastics & resins held the largest share of revenue. The demand is attributed owing to the rise in the adoption of sustainable plastics. The product is utilized highly as raw material for manufacturing of plastics in comparison to crude oil. Further, it is also used as an alternative for recycled plastics in the textile market.
Castor oil-based resins like, polyamide resin and castor oil-modified epoxy offer outstanding characteristics such as toughness, flexibility, elevated temperature performance, chemical resistance, rigidity, formulation latitude, and strong adhesive. Consequently, castor oil has emerged as an active ingredient in polyamide resin and epoxy formulations. Cosmetics & Pharmaceuticals is likely to witness the fastest CAGR over the coming years. The growth can be witnessed due to a rise in demand for cosmetic and personal care items which includes body lotions, deodorants, soaps, and skincare products.
Recent Developments:
In August 2020, BASF SE launched Lamesoft Balance, a hydrogenated castor oil-based product to stabilize ingredients in hair and skin cleansing formulations.
Report Scope
| | |
| --- | --- |
| Report Attribute | Details |
| Market Size in 2021 | USD 1.5 Billion |
| Projected Market Size in 2028 | USD 2 Billion |
| CAGR Growth Rate | 5% CAGR |
| Base Year | 2021 |
| Forecast Years | 2022-2028 |
| Key Market Players | Ambuja Solvex Pvt Ltd, The Castor Oil Industries Ltd, Royal Castor Products Limited, Arvalli Castor Derivatives Pvt. Ltd, Gokul Overseas, Jayant Agro Organics, Hokoku Corporation, Adani Group, Alberdingk Boley, NK Industries Limited, Xingtai Lantain Fine Chemical Co. Ltd., Kanak Castor Products Pvt. Ltd., and Others |
| Key Segment | By Application, Type, and Region |
| Major Regions Covered | North America, Europe, Asia Pacific, Latin America, and the Middle East &, Africa |
| Purchase Options | Request customized purchase options to meet your research needs. Explore purchase options |
Regional Analysis
Asia Pacific to lead owing to the dominance in castor oil production
The global castor oil derivatives market is projected to be governed by Asia Pacific during the forecast period. The demand is attributed owing to a rise in production and consumption of the product. Castor seeds are found in the tropical regions of India, Vietnam, Pakistan, Myanmar, Cambodia, Thailand, Philippines, Bangladesh, and Indonesia and the semi-arid regions of Japan, China, and South Korea.
Although these castor seeds were grown traditionally in the wilds of Asia Pacific, but in the past few years, many countries in Asia Pacific have started making efforts to grow these seeds on a commercial level. Apart from seeds, castor stems, leaves, and roots are also of substantial importance. For instance, in China, leaves of castor are used to raise silkworms. The castor plants stems are used to make medium-density boards and paper while root of castor is used as natural medicines.
Europe is likely to grow at a substantial CAGR over the coming years. Europe is one of the major consumers of castor oil and imports majorly from countries such as Brazil, Malaysia, India, China, and Mexico for its local needs. France, Germany, Belgium, Netherlands, the U.K., and Italy were the top importing nations.
North America also emerged as one of the substantial consumers owing to the growth in the consumption of lubricants, diesel, bio-based plastics, and cosmetics. Demand for the biogenic constituent in textile, packaging, automotive, paint, and construction markets is witnessing development in the region. Additionally, rising demand for castor-based alternatives to encourage growth of skin and hair is likely to drive the industry's growth.
Competitive Analysis
Ambuja Solvex Pvt Ltd
The Castor Oil Industries Ltd
Royal Castor Products Limited
Arvalli Castor Derivatives Pvt. Ltd
Gokul Overseas
Jayant Agro Organics
Hokoku Corporation
Adani Group
Alberdingk Boley
NK Industries Limited
Xingtai Lantain Fine Chemical Co. Ltd.
Kanak Castor Products Pvt. Ltd.
The global Castor Oil Derivatives market is segmented as follows:
By Application
Lubricants
Cosmetics & Pharmaceuticals
Biodiesel
Plastics & Resins
Others
By Type
Undecylenic Acid
Sebacic Acid
Castor Wax
Dehydrated Castor Oil
Ricinoleic acid
12-HAS
Others
By Regional Segment Analysis
North America
Europe

France
The UK
Spain
Germany
Italy
Nordic Countries
Benelux Union

Belgium
The Netherlands
Luxembourg

Rest of Europe

Asia Pacific

China
Japan
India
Australia
South Korea
Southeast Asia

Indonesia
Thailand
Malaysia
Singapore
Rest of Southeast Asia

Rest of Asia Pacific

The Middle East & Africa

Saudi Arabia
UAE
Egypt
South Africa
Rest of the Middle East & Africa

Latin America

Brazil
Argentina
Rest of Latin America