Industry Insights
[215+ Pages Report] According to Facts and Factors, the Global Cardiac POC Testing Devices market size was worth USD 1,319.4 million in 2021 and is estimated to grow to USD 1,819.25 million by 2028, with a compound annual growth rate (CAGR) of approximately 5.50% over the forecast period. The report analyzes the Cardiac POC Testing Devices market's drivers, restraints/challenges, and their effect on the demands during the projection period. In addition, the report explores emerging opportunities in the Cardiac POC Testing Devices market.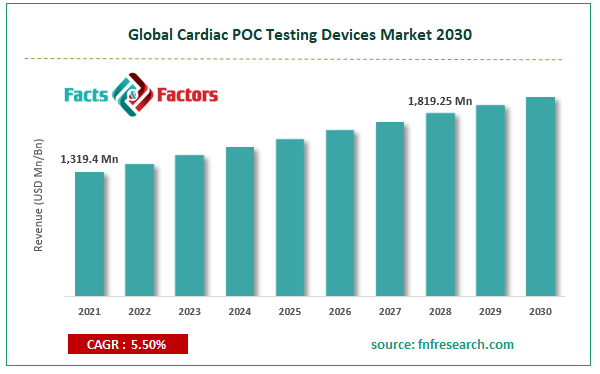 To know more about this report | Request Free Sample Copy
Market Overview
The majority of POC (point of care) devices are utilized for medical diagnostic tests. These tests are carried out at a convenient time and location for the patient. Cardiac POC testing is a diagnostic procedure for the heart that is done at or near the patient's point of care. POC testing is a blood diagnostic method used to detect cholesterol and coagulation problems. Cardiac POCT significantly decreases the time required to retrieve reports and data. The majority of the time, diagnosis reports are supplied an hour after the test sample is submitted. Rising government spending on developing healthcare infrastructure to enable advanced healthcare facilities is an important driver boosting market expansion. Increasing the number of cardiac patients, altering lifestyle habits, increasing infectious diseases, and accelerated economic growth in emerging economies are additional significant market drivers for cardiac point-of-care diagnostics.
The rising technological advancements and modernization in the healthcare sector will also create new growth opportunities for the market for cardiac point-of-care testing kits during the expected timeframe. The growth of the cardiac POC market is, however, constrained by the economic recession and reimbursement problems. One of the main barriers to the expansion of the global cardiac POC market is the lack of specific activities in diagnosing the existence of cardiovascular illnesses.
COVID-19 Impact:
The COVID-19 epidemic greatly hampered the development and distribution of cardiac POC testing equipment. Additionally, the market for cardiac POC testing equipment had been negatively impacted, particularly in 2020, by the decrease in cardiovascular disease testing as a result of COVID-19-related actions. Due to healthcare resources being set aside for COVID-19 patients, there is a delay in the detection of cardiovascular disorders, which has a detrimental effect on the market. In addition, government-imposed lockdowns, supply chain disruptions, and trade bans have hampered the market for cardiac POC testing devices.
Key Insights
Cardiac POC Testing Devices market share value at a CAGR of 5.50% over the forecast period.
An important driver boosting market expansion is rising government spending on the development of healthcare infrastructure to enable advanced healthcare facilities.
By product type, the analyzer segment will dominate the market in 2021.
The hospital's segment will dominate the market by end-users in 2021.
North America will dominate the Global Cardiac POC Testing Devices market in 2021.
Growth Drivers
Increasing cardiovascular disorders are likely to pave the way for global market growth
The rising prevalence of cardiovascular diseases worldwide is one of the primary drivers of the cardiac POC testing equipment market worldwide. In addition, the rise in bad habits such as smoking, drinking alcohol, eating junk food, which causes cholesterol to rise, and the prevalence of other conditions such as diabetes are key reasons for this increased number of disorders.
Restraints
High costs of POC devices may hamper the global market growth
Increased costs for point-of-care testing equipment, product recalls, and industry resistance to changing existing norms are the main factors, among others, that will restrain market growth and pose additional difficulties for the development of the cardiac point-of-care testing kits market over the forecast period.
Opportunities
Technological advancements bring up several growth opportunities
Another key aspect that has contributed to the global market's rise in recent years is the increasing technological advancements in the field of cardiovascular therapies. As a result, manufacturers and healthcare organizations are better positioned to service the increasing demands of patients and their problems with high-tech solutions as a result of these improvements. This has thus contributed to the expansion of the worldwide cardiac POC testing device market.
Segmentation Analysis
The global Cardiac POC Testing Devices market is segregated on the basis of product type,end-user, and region.
The market is divided into Cardiac Markers Test and Analyzers by product type. Among these, the Analyzers segment will dominate the market in 2021. Analyzers provide high-resolution point-of-care diagnostics for cardiac diseases like myocardial infarction and atrial fibrillation. These devices measure the number of enzymes and proteins secreted by the heart. A crucial reason driving the analyzer's sector growth is its ability to quantify biomarker concentrations in whole blood, serum, and plasma to aid clinical diagnosis.
The end user divides the market into Research Laboratories, Hospitals, Ambulatory Surgical Centers, Diagnostic Laboratories and Others. Over the forecast period, the Hospitals segment is expected to develop at the fastest rate in 2021. A significant increase in patients being admitted to hospitals can be attributed to the increased frequency and prevalence of chronic diseases and other illnesses. Furthermore, the POC tests are significantly more practical for ongoing monitoring of a particular analyte or for repeated/routine follow-up tests to assess the effectiveness of treatment. In addition, the point-of-care diagnostics substantially cut down on turnaround time, which is crucial and highly helpful in managing difficult illnesses, especially cardiovascular disease.
Report Scope
| | |
| --- | --- |
| Report Attribute | Details |
| Market Size in 2021 | USD 1,319.4 Million |
| Projected Market Size in 2028 | USD 1,819.25 Million |
| CAGR Growth Rate | 5.50% CAGR |
| Base Year | 2021 |
| Forecast Years | 2022-2028 |
| Key Market Players | Abbott Laboratories, Roche Diagnostics, Nexus -Dx, Lifesign LLC BG Medicine Inc., Siemens Healthneers, Medtronic Inc., and Others |
| Key Segment | By Product Type, End User, and Region |
| Major Regions Covered | North America, Europe, Asia Pacific, Latin America, and the Middle East & Africa |
| Purchase Options | Request customized purchase options to meet your research needs. Explore purchase options |
Recent Developments
In July 2021, Beckman Coulter Inc. signed definitive agreements with Quidel Corporation to acquire all rights to manufacture, distribute, and sell a BNP assay for Beckman Coulter analyzers. According to the terms of the deal, Quidel will continue to manufacture and provide some assay components to Beckman Coulter, while Beckman Coulter will exclusively manufacture the BNP assay.
In July 2020, SphingoTec GmbH will debut IB10 sphingotest bio-ADM, a CE-IVD-marked point-of-care test to quantify blood levels of Bioactive Adrenomedullin (bio-ADM).
Regional Landscape
Highly established healthcare infrastructure likely to help North America dominate the global market
North America is expected to dominate the cardiac POC Testing DevicesMarket in 2021. The highly established healthcare infrastructure, extremely favorable reimbursement rules, and the presence of a number of major businesses in the industry all contribute to the North America regional market's rapid expansion. The greatest market is in the United States, owing to the high prevalence of cardiovascular disorders, higher levels of physician and patient knowledge, favorable government policies, and widespread use of cardiac testing.
Over the forecast period, Asia Pacific regional market is expected to grow at a significant rate in the Cardiac POC Testing Devices market in 2021. As a result of greater awareness of cardiac diagnosis and treatment and rising healthcare expenditure, the Asia Pacific area is also steadily growing. In addition, expanding government investments in healthcare infrastructure construction and introducing novel products by prominent market participants are also driving market expansion.
Competitive Landscape
Key players within the global cardiac POC testing devices market include
Abbott Laboratories
Roche Diagnostics
Nexus -Dx
Lifesign LLC BG Medicine Inc.
Siemens Healthneers
Medtronic Inc.
The Global Cardiac POC Testing Devices market is segmented as follows:
By Product Type
Cardiac Markers Test
Analyzers
By End User
Research Laboratories
Hospitals
Ambulatory Surgical Centers
Diagnostic Laboratories
Others
By Region
North America
Europe

France
The UK
Spain
Germany
Italy
Nordic Countries
Benelux Union

Belgium
The Netherlands
Luxembourg

Rest of Europe

Asia Pacific

China
Japan
India
Australia
South Korea
Southeast Asia

Indonesia
Thailand
Malaysia
Singapore
Rest of Southeast Asia

Rest of Asia Pacific

The Middle East & Africa

Saudi Arabia
UAE
Egypt
South Africa
Rest of the Middle East & Africa

Latin America

Brazil
Argentina
Rest of Latin America