Industry Insights
[221+ Pages Report] According to Facts and Factors, the global calcite market size was USD 11.2 billion in 2021 and is expected to grow at a CAGR of 6.2% between 2022 and 2028, reaching USD 16.5 billion by 2028. The global calcite market report provides a thorough overview of the market. The report offers a comprehensive examination of major segments, developments, drivers, limitations, the competitive landscape, and characteristics that are significant in the market.
Market Overview
Calcite is a mineral that can be found in the earth's crust. Calcite makes up 94%of the limestone found in the earth's crust. Calcite is commonly found in the forms of marble, chalk, and limestone. They are available in two forms: precipitated calcium carbonate and ground calcium carbonate, which is produced by fossil sedimentation. Ground calcium carbonate is produced through the extraction and production of calcite ores, whereas precipitated calcium carbonate is produced synthetically through chemical precipitation.
Calcite is a major ingredient of sedimentary rocks like limestone and forms stalactites & stalagmites in caves. It is clear to opaque and may exhibit phosphorescence or fluorescence on occasion. Calcite has a mineral hardness of 3, a specific gravity of 2.70, and a vitreous luster in crystallized varieties.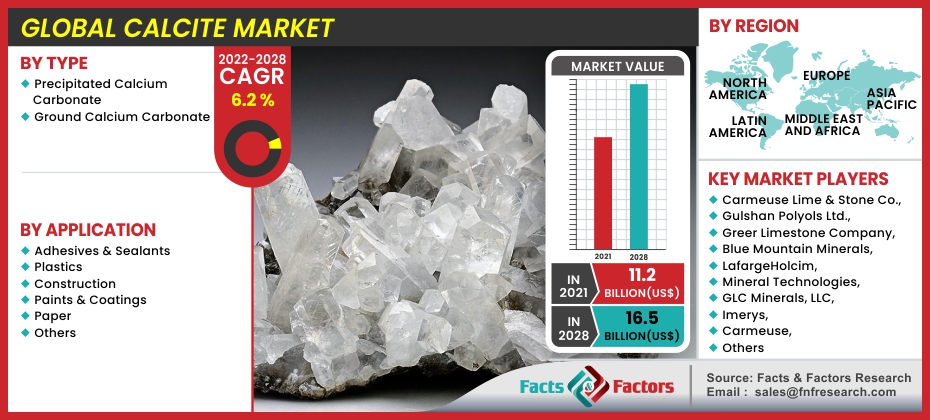 To know more about this report | Request Free Sample Copy
COVID-19 Impact
The global calcite market was severely impacted by the COVID-19 outbreak, as the construction industry was stalled due to lockdowns in various locations. The prolonged inactivity has harmed the majority of construction firms. The migration of labor from the sites brought the work to a halt, effectively halting the entire industry. Furthermore, the laborers from the manufacturing company relocated to their hometowns, causing production to cease. The supply chain was disrupted, and materials were not delivered on a regular basis. However, the situation is expected to improve, restoring the calcite market's growth during the forecasting period.
Industry Growth Factors
The demand for fine-grained calcite powder is increasing
Manufacturers are focusing on reducing the size of calcite to nano levels as fine-sized calcite powder gains popularity due to its growing efficiency in filler applications in paints & coatings, as well as in the polymer & plastic industries. Growing changes in the size of calcite particles for various production processes are likely to cause enormous changes in the calcite market, paving the way for enormous market growth opportunities. Furthermore, the expanding cement and paints & coatings industries are expected to drive the market in the coming years.
Strong demand from the oil & paper industries to fuel the market
Calcite has gained significant popularity in the paper industry, denoting advancement in paper production, and this pattern is expected to continue for some time. Despite the fact that both GCC and PCC are being used to make paper, PCC continues to be the preferred material due to its operational adaptability. The use of PCC in the paper has resulted in improved printing surfaces and brighter papers. The key factor attributed to clearing the way for a broader application extent of PCC in various fragments is improved shine as well as darkness.
Calcite's growing popularity is largely due to its extensive properties, which are paving the way for a variety of applications in industries such as pharmaceuticals, food & beverage, personal care, and drug development. This growing popularity in various fields is likely to boost the global calcite market's growth. Furthermore, calcite continues to see massive use in the manufacture of cement, sealants, polymers, and plastics, fueling the market's growth.
Calcite is also in high demand in the oil & gas industry, where it is used as an additive to fluids used in exhausting to control the volume of liquids leaking from the stone while infiltrating. Furthermore, calcite's growing use as a vital calcium source in animal feed and horticulture lime is giving the calcite market a boost. Calcite's widespread use in a variety of products such as dietary supplements, shaving creams, beautifying agents, skincare, and hair care products is accelerating sales.
Restraints
The mining industry's cyclical nature limits growth
Because the mining industry is cyclical in nature, raw material prices frequently gravitate toward higher values, which is likely to have an adverse impact on calcite market growth. Similarly, volatility and uncertainty in steel production can have an impact on the market growth during the forecast period.
Segmentation Analysis
The global calcite market is segmented on the basis of type, application, and region.
By type, the market is divided into precipitated calcium carbonate and ground calcium carbonate. The segment of ground calcium carbonate is expected to have the largest market share. The factors can be attributed to its lower cost when compared to precipitated calcium carbonate and the increasing demand for ground calcium carbonate as a filler material in the paper industry.
By application, the market is divided into adhesives & sealants, plastics, construction, paints & coatings, paper, and others. Paper is expected to have the highest CAGR during the forecasted period. The factors can be based on their ability to improve the paper's printability, brightness, whiteness, and opacity.
Report Scope
| | |
| --- | --- |
| Report Attribute | Details |
| Market Size in 2021 | USD 11.2 Billion |
| Projected Market Size in 2028 | USD 16.5 Billion |
| CAGR Growth Rate | 6.2% CAGR |
| Base Year | 2021 |
| Forecast Years | 2022-2028 |
| Key Market Players | Carmeuse Lime & Stone Company, Gulshan Polyols Ltd., Greer Limestone Company, Blue Mountain Minerals, LafargeHolcim, Mineral Technologies, GLC Minerals, LLC, Imerys, Carmeuse, The National Lime & Stone Company, NALC, LLC, United States Lime & Minerals, Inc., AGSCO Corp., J.M. Huber Corp., Mississippi Lime, Omya, GCCP Resources, Midwest Calcium Carbonates, Mountain Materials, Inc., Parchem Fine & Specialty Chemicals, and ILC Resources, among others |
| Key Segment | By Type, Application, and Region |
| Major Regions Covered | North America, Europe, Asia Pacific, Latin America, and the Middle East & Africa |
| Purchase Options | Request customized purchase options to meet your research needs. Explore purchase options |
Regional Landscape
Asia Pacific region to dominate the global market during the coming period
The Asia Pacific dominated the global calcite market in 2021, accounting for more than 34% of revenue. Due to increased investments in infrastructure development and manufacturing, the region is expected to grow at a steady CAGR from 2022 to 2028. However, the pandemic has had a significant impact on manufacturing operations and the supply chain. Except for China, all major Asian countries experienced negative GDP growth in the second quarter of 2020. Economies are making extra efforts to ensure that operations in various sectors run smoothly during the pandemic by adhering to essential protocols. Certain industries have noted positive news as operations resume; for example, automotive sales in India have increased in the last two months. Furthermore, demand for paints & coatings, as well as vehicles, is expected to rise, boosting demand for calcium carbonate.
In 2021, North America was the second-largest regional market. Despite the fact that the region has been seriously affected by the outbreak, the market's end-use industries have begun operations at a reduced capacity due to the increase in consumer demand. The medical, packaging and DIY industries are increasing demand for products like paper and adhesives, which is a good sign for the market.
Recent Development
April 2021: Minerals Technologies entered into an agreement with Baiyun Paper to increase its manufacturing capacity and expand into new markets.
February 2020: Omya International AG and Idwala Industrial Holdings Ltd. founded the "Omya Idwala SA" joint venture in South Africa. The joint project will have access to a diverse portfolio of high-quality calcium carbonate and specialty chemical products.
Competitive Landscape
Some of the key calcite market players are :
Carmeuse Lime & Stone Company
Gulshan Polyols Ltd.
Greer Limestone Company
Blue Mountain Minerals
LafargeHolcim
Mineral Technologies
GLC Minerals LLC
Imerys
Carmeuse
The National Lime & Stone Company
NALC LLC
United States Lime & Minerals Inc.
AGSCO Corp.
J.M. Huber Corp.
Mississippi Lime
Omya
GCCP Resources
Midwest Calcium Carbonates
Mountain Materials Inc.
Parchem Fine & Specialty Chemicals
ILC Resources.
The global calcite market is segmented as follows;
By Type Segment Analysis
Precipitated Calcium Carbonate
Ground Calcium Carbonate
By Application Segment Analysis
Adhesives & Sealants
Plastics
Construction
Paints & Coatings
Paper
Others
By Regional Segment Analysis
North America
Europe

France
The UK
Spain
Germany
Italy
Nordic Countries
Benelux Union

Belgium
The Netherlands
Luxembourg

Rest of Europe

Asia Pacific

China
Japan
India
Australia
South Korea
Southeast Asia

Indonesia
Thailand
Malaysia
Singapore
Rest of Southeast Asia

Rest of Asia Pacific

The Middle East & Africa

Saudi Arabia
UAE
Egypt
South Africa
Rest of the Middle East & Africa

Latin America

Brazil
Argentina
Rest of Latin America