Industry Insights
[223+ Pages Report] According to Facts and Factors, the Global Blood Transfusion Market size was worth around USD 4.1 billion in 2021 and is estimated to grow to about USD 6.1 billion by 2028, with a compound annual growth rate (CAGR) of approximately 6.90% over the forecast period. The report analyzes the Blood Transfusion market's drivers, restraints/challenges, and the effect they have on the demands during the projection period. In addition, the report explores emerging opportunities in the Blood Transfusion market.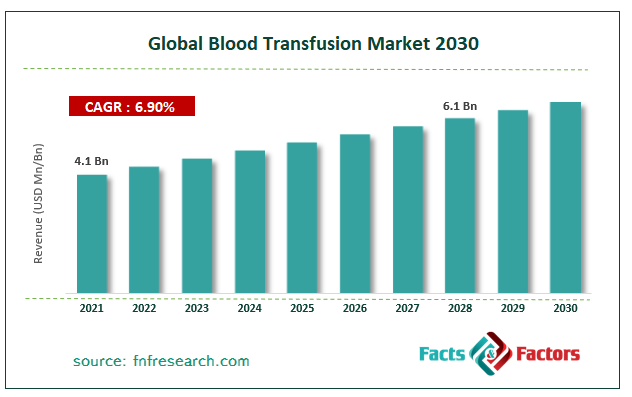 To know more about this report | Request Free Sample Copy
Market Overview
Blood Transfusion is the intravenous administration of blood or blood components into the circulatory system of an individual. Transfusions are primarily used to replace lost blood components in a range of medical circumstances. Anaemia, sickle cell disease, and bleeding disorders like cancer and haemophilia are all treated with transfusions. One of the factors driving the demand for Blood Transfusions s is the rising prevalence of chronic and infectious diseases like severe anaemia, cancer, liver disease, severe infection, sickle cell disease, haemophilia, kidney disease, and thrombocytopenia as well as the introduction of technologically advanced products.
The market is being driven by an increase in transfusions due to operations, deliveries, surgeries, and traffic accidents. Growing blood donation initiatives are another factor that is considerably influencing market expansion. Lack of infrastructure and high instrument costs are limiting developing countries' ability to grow.
COVID-19 Impact:
The Covid-19 pandemic has had a significant impact on the market. The epidemic has decreased the number of spontaneous blood donations and has hampered the global flow of medical equipment. One of the biggest problems blood banks and hospitals had during the crisis was a lack of staff members, a paucity of blood units, and public worries regarding transfusion-transmitted COVID-19. Due to laws governing social distance and an increased emphasis on safety and hygiene, the need for Blood Transfusion s has also decreased throughout this time.
Key Insights
Blood Transfusion Market share value at CAGR of 6.90% over the forecast period.
The market is being driven by an increase in transfusions due to operations, deliveries, surgeries, and traffic accidents.
By application, the disease screening segment will dominate the market in 2021.
By end-use, the hospital's segment will dominate the market in 2021.
North America will dominate the Global Blood Transfusion Market in 2021.
Growth Drivers
Increasing demand for blood and blood components is likely to pave the way for global market growth
The demand for blood products and whole Blood Transfusion s has increased due to the rising prevalence of blood-related disorders such as haemophilia, thrombocytopenia, cancer, etc., and chronic kidney disease (CKD). The demand for Blood Transfusion s is expected to rise due to the rising number of anaemic individuals who need red blood cell transfusions to address their condition. The high demand for Blood Transfusion s is being caused by raising awareness of the infectious disease safety of blood through various programmes in developed and emerging nations.
Restraints
Bloodborne infections due to Blood Transfusion may hamper the global market growth
The majority of newborns with thalassemia, according to the World Health Organization, are born in low-income countries where receiving a Blood Transfusion is difficult or only available to a tiny portion of the population. Side effects of utilizing a Blood Transfusion system include fever, viral and bacterial illnesses, allergic reactions, and blood-borne diseases, which are predicted to restrain the market's growth.
Opportunities
Technological advancement in the field of Blood Transfusion brings up several growth opportunities
The market for Blood Transfusion s is expanding quickly because of the rise in technical improvements. One of the most advanced research techniques is the utilization of stem cell technologies to produce lab-grown blood cells for human transfusion. During the anticipated timeframe, market participants should benefit from rising consumer knowledge and rising approval of Blood Transfusion in developing countries.
Challenges
The high cost of instruments and lack of infrastructure are likely to limit the global market growth
Lack of investment in healthcare infrastructure and strict government regulations, particularly in emerging nations when compared to wealthy nations, are two contributing factors. The expansion of the Blood Transfusion market is expected to be constrained by the high cost of tests, equipment, and reagents as well as a shortage of qualified personnel to handle automated diagnostic solutions.
Segmentation Analysis
The global Blood Transfusion market is segregated on the basis of product, application, end-use, and region.
By product, the market is categorized into Reagents & Kits, Instruments, and Others. Among these, the reagents & kits dominate the market, accounting for more than 65.8% of global sales in 2021. The segment expansion has been significantly influenced by the simple availability of items and the repeated purchasing of these products needed to screen donor and recipient samples. Another element influencing the segmental expansion is the accessibility of a large range of blood grouping, kits, assays, typing, and donor screening reagents produced by international and local firms. This market has grown profitably thanks to the accessibility of very sophisticated donor screening analyzers. Increased product launches and system or automated system approvals by major players for Blood Transfusion are anticipated to propel market expansion.
By application, the market is classified into Blood Grouping and Disease Screening. Over the forecast period, the disease screening segment is expected to develop at the fastest rate, accounting for more than 60% of global sales in 2021. This can be ascribed to a high incidence of transfusion-transmitted infections, increased blood donation safety screening to maintain safe transfusion, rising technical improvements, and broad product portfolios provided by key market competitors. The segment is anticipated to be driven by the increasing emphasis of various research projects on conducting tests with serological testing methodologies.
Report Scope
| | |
| --- | --- |
| Report Attribute | Details |
| Market Size in 2021 | USD 4.1 Billion |
| Projected Market Size in 2028 | USD 6.1 Billion |
| CAGR Growth Rate | 6.90% CAGR |
| Base Year | 2021 |
| Forecast Years | 2022-2028 |
| Key Market Players | Immucor Inc., Ortho Clinical Diagnostics, Abbott, Bio-Rad Laboratories, BAG Healthcare GmbH, DiaSorin S.P.A., Danaher, BIO KIT (Werfen), F. Hoffmann-La Roche AG, Quotient Limited, and Others |
| Key Segment | By Product, Application, End-use, and Region |
| Major Regions Covered | North America, Europe, Asia Pacific, Latin America, and the Middle East & Africa |
| Purchase Options | Request customized purchase options to meet your research needs. Explore purchase options |
Recent Developments
In March 2021, to give customers access to Bio-entire Rad's line of InteliQ products and Unity QC data management solutions, F. Hoffmann-La Roche Ltd. and Bio-Rad Laboratories, Inc. entered into a global partnership agreement.
In April 2019, B.D. Introduced Platelet Quality Control Media to help platelet transfusion patients experience fewer cases of sepsis.
Regional Landscape
Rising health consciousness is likely to help North America dominate the global market
North America dominates the Global Blood Transfusion Market and will account for more than 35% of the global revenue in 2021. Some of the main drivers supporting the regional market are rising health consciousness, high disposable income, attractive reimbursement policies, and well-established healthcare infrastructure. According to data from the Community Blood Center, 43,000 pints of donated blood are used each day in the United States and Canada. In North America, the U.S. had the largest share. Its supremacy is mostly due to the local presence of key market players, the accessibility of numerous diagnostic assays, and the more than 600 independent donation facilities.
Over the forecast period, Asia Pacific regional market is expected to be the fastest-growing region in the Blood Transfusion market in 2021. Regional growth is being promoted by rising blood donation awareness as well as the beginning of several campaigns in Australia and India. The rapid development is a result of ongoing efforts by the government and non-governmental organizations in developing nations to raise awareness about blood donations as well as the existence of a sizable population suffering from serious blood disorders.
Competitive Landscape
Key players within the global blood transfusion market include
Immucor Inc.
Ortho Clinical Diagnostics
Abbott
Bio-Rad Laboratories
BAG Healthcare GmbH
DiaSorin S.P.A.
Danaher
BIO KIT (Werfen)
F. Hoffmann-La Roche AG
Quotient Limited.
The global blood transfusion market is segmented as follows:
By Product
Reagents & Kits
Instruments
Others
By Application
Blood Grouping
Disease Screening
By End-use
Hospitals
Blood Banks
Diagnostic Laboratories
Others
By Region
North America
Europe

France
The UK
Spain
Germany
Italy
Nordic Countries
Benelux Union

Belgium
The Netherlands
Luxembourg

Rest of Europe

Asia Pacific

China
Japan
India
Australia
South Korea
Southeast Asia

Indonesia
Thailand
Malaysia
Singapore
Rest of Southeast Asia

Rest of Asia Pacific

The Middle East & Africa

Saudi Arabia
UAE
Egypt
South Africa
Rest of the Middle East & Africa

Latin America

Brazil
Argentina
Rest of Latin America