Industry Insights
[210+ Pages Report] As per the Facts and Factors market research report, the global Biosensors market generated sales revenue of USD 21.96 Billion in 2020. Further, the Biosensors sales are expected to generate revenue of USD 34.088 Billion by the end of the year 2026, increasing at a CAGR of around 7.6% from 2021 to 2026.
Market Overview
Biosensor device is used to identify the concentration or existence of biological constituents, like a biological structure or a microorganism. These sensors consist of a component that recognizes the analyte & produces a signal, a reader device, and a signal transducer. Additionally, the miniaturization of those biosensors has changed the traditional testing scenario in healthcare and in the medical sector. Medical biosensors are wont to diagnose blood glucose monitoring, cholesterol testing, drug discovery, pregnancy testing systems, and infectious diseases. These sensors are considered to be an important tool in the monitoring and detection of a huge variety of medical situations like cancer and diabetes.
Biosensors are analytical devices that incorporate biological-based sensing instruments, which are associated or integrated with physiochemical transducers. Biosensors aim to supply digital or electronic signals, which are proportional to chemical content and yield specific measurements. Myriad applications within the healthcare sector like cholesterol testing, blood sugar monitoring, pregnancy testing, and drug discovery are expected to impact the marketplace for biosensors, positively. These Biosensors convert a biological response into electrical signals. A biosensor, which may be a short sort of biological sensor, is an analytical device used for the detection of a chemical substance. In layman's language, biosensors are wont to detect the presence and volume of biological substances. Biosensors are utilized in many end-user verticals just like the food and beverage industry. Here, biosensors are utilized in the fermentation process during the assembly of beer, soft drinks, and yogurts among others. Biosensors are often categorized into three parts because the first being analysis and production of an electrical signal, followed by the utilization of a sign transducer which ultimately sends the signal to the reader device. Biosensors are cost-efficient, are simple to use, and deliver fast results.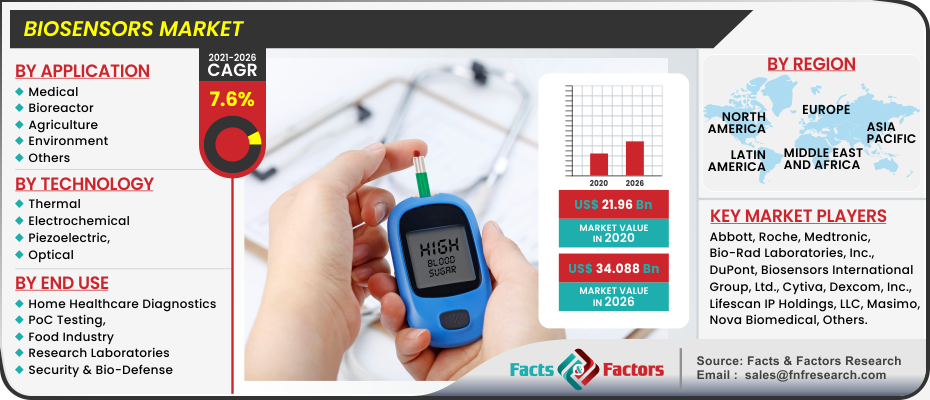 To know more about this report | Request Free Sample Copy
Industry Growth Factor
The biosensors market is attributed to witnessing growth in the future. The demand for factors such as miniature diagnostic devices, the surging scope of application of wearable devices in the medical industry, and rapid technological advancements in biosensors is predicted to spice up market growth. The increasing unhealthy lifestyle, rising chronic diseases alongside an early and precise diagnosis of diseases is anticipated to propel market growth by the end of the day. Moreover, within the recent past, the increasing demand for cost-efficient, user-friendly and disposable devices with fast response have increased. Owing to the need for accurate and timely diagnosis of disease to successful operation them is anticipated to propel growth. The use of biosensors in agriculture to supply specific and rapid detection of various funguses as compared to the older techniques is anticipated to foster growth for biosensors in the forecast time frame. These sensors are adopted to diminish the loss of crops and livestock by bioterrorism and natural threats. The dives also are wont to measure pesticides concentrations, herbicides, and heavy metals. It also can be wont to forecast the occurrence of soil disease, which isn't possible with current technology, and thus it providing advanced and reliable ways for prevention and decontamination of soil disease at the initial phase. Factors like these are likely to contribute to market growth. Biosensors, due to their ability to assess health status, and disease onset and progression, are getting used extensively in-home healthcare by patients, and hence, are expected to spice upmarket growth over the forecast period. Furthermore, technological advancements, also as various non-medical-based applications are expected to reinforce the applicability of the marketplace for biosensors, thus promoting its growth. Furthermore, governmental initiatives aimed toward the event of genomics and proteomics are anticipated to fuel the expansion of the marketplace for biosensors over the forecast period. For instance, National Information and Communication Technology Australia are expected to advance its research on data processing, networks, and embedded systems to be utilized in this field. Additionally, the China government is investing financially large on its computing networks initiated by the Chinese Academy of Sciences and therefore the China National Grid supported by the Ministry of Science and Technology. In addition, most IT corporations also are heavily investing within the marketplace for biosensors. Investments from major IT players like Infosys, TCS, IBM, are expected to spice up market expansion. Thus, such favorable initiatives are expected to possess a positive impact on the market.
Segmentation Analysis
The study provides a decisive view of the global biosensors market by segmenting it based on application, technology, and end-use. The application segment is categorized into a medical, bioreactor, agriculture, environment, and others. thermal, electrochemical, piezoelectric, and optical are the technology segment of the global biosensors market. To offers better target customer analysis, our analyst further bifurcates end-use segment into home healthcare diagnostics, PoC testing, food industry, and research laboratories, and security & bio-defense.
Regional Analysis
Based on regions, the global biosensors market can be divided into five main regions namely North America, Europe, Latin America, Asia Pacific, and The Middle East, and Africa.
On the basis of geography, Asia Pacific is anticipated to unveil a significant growth opportunity during the forecast period. Due to the presence of unmet medical needs relating to target diseases like diabetes and cancer along with other infectious diseases and continuously improving healthcare expenditure in the region, are some factors likely to support the market growth of the Asia Pacific market.
Report Scope
| | |
| --- | --- |
| Report Attribute | Details |
| Market Size in 2020 | USD 21.96 Billion |
| Projected Market Size in 2026 | USD 34.088 Billion |
| CAGR Growth Rate | 7.6% CAGR |
| Base Year | 2020 |
| Forecast Years | 2021-2026 |
| Key Market Players | Abbott, Roche, Medtronic, Bio-Rad Laboratories, Inc., DuPont, Biosensors International Group, Ltd., Cytiva, Dexcom, Inc., Lifescan IP Holdings, LLC, Masimo, Nova Biomedical, Universal Biosensors, Conductive Technologies, EarlySense, Innovative Sensor Technology IST AG, LifeSignals, NeuroSky, Pinnacle Technology Inc., SD Biosensor, INnc. and VitalConnect among others. |
| Key Segment | By Application, By Technology, By End Use, and By Region |
| Major Regions Covered | North America, Europe, Asia Pacific, Latin America, and the Middle East & Africa |
| Purchase Options | Request customized purchase options to meet your research needs. Explore purchase options |
Competitive Players
Some of the key players in the biosensors market are :
Abbott
Roche
Medtronic
Bio-Rad Laboratories Inc.
DuPont
Biosensors International Group Ltd.
Cytiva
Dexcom Inc.
Lifescan IP Holdings LLC
Masimo
Nova Biomedical
Universal Biosensors
Conductive Technologies
EarlySense
Innovative Sensor Technology IST AG
LifeSignals
NeuroSky
Pinnacle Technology Inc.
SD Biosensor INC.
VitalConnect
The global Biosensors Market is segmented as follows:
Global Biosensors Market - By Application:
Medical
Bioreactor
Agriculture
Environment
Others
Global Biosensors Market - By Technology:
Thermal
Electrochemical
Piezoelectric,
Optical
Global Biosensors Market - By End Use:
Home Healthcare Diagnostics
PoC Testing,
Food Industry
Research Laboratories
Security & Bio-Defense
Global Biosensors Market - By Region:
North America
Europe

France
The UK
Spain
Germany
Italy
Rest of Europe

Asia Pacific

China
Japan
India
South Korea
Southeast Asia
Rest of Asia Pacific

Latin America

Brazil
Mexico
Rest of Latin America

Middle East & Africa

GCC
South Africa
Rest of Middle East & Africa