Covid-19
Global Biliary Stents Market Size, Share
The pandemic continues to cause unprecedented disruption across industries worldwide.Get detailed insights regarding the impact of COVID-19 on the market. Request Sample
Industry Insights
[195+ Pages Report] According to the report published by Facts and Factors, the global Biliary Stents market was valued at approximately USD 900 Million in 2019, and is expected to generate revenue of around USD 1,425 Million by end of 2026, growing at a CAGR of around 6.78 % between 2020 and 2026.
Market Overview
Biliary stenting is commonly used to treat benign biliary disorders or to relieve the symptoms of malignant obstruction. The most significant recent developments have been linked to self-expandable metal stents (SEMSs), which are now available in a wide range of designs, and treatment techniques. Biliary stents are used to aid bile drainage into the digestive tract, most often in the treatment of malignant biliary obstruction but also in benign cases such as biliary fistulas or benign biliary strictures. Both biliary SEMS are made of metal alloys such as nitinol or Elgiloy, and are either cut from a metal cylinder or braided from metal wires. The key characteristics that distinguish different types of SEMS are price, shortening ratio, radiopacity, covering, radial force, versatility, mesh size, anchoring mechanisms, and end design. SEMS models have advanced significantly in the last decade. Polyethylene and Teflon are used to make plastic biliary stents. These come in several configurations. Companies have improved stents to reduce biofilm formation and thereby increase patency time. These modifications involve coating with advanced material and windsock distal design. Plastic stents are usually radiopaque and are sold in conjunction with introducer kits. Because of the increased diameter of the stent, SEMS give advantages in terms of minimising chronic obstruction and increasing patency length. Few self-expanding metal stents are fitted with retrieval loops, such as wall flex, that make repositioning and removal easier after the initial placement.
Industry Growth Factors
The rising geriatric .population across the globe has increased the demand for stents. The world's population is ageing: older people are rising in number and constitute a growing share of the population in almost every region, with consequences for nearly every sector of society, including labour and financial markets, demand for goods and services such as housing, transportation, and social security, as well as family structures and intergenerational relations. According to UN Report of World Population of Ageing, "The older population of the developing regions is growing much faster than in the developed regions. Consequently, the developing regions are home to a growing share of the world's older population In 1980, the developing regions were home to 56 percent of persons aged 60 years or over. In 2017, over two-thirds of the world's older persons lived in developing regions. Between 2017 and 2050, the number of persons aged 60 years or over in the developing regions is expected to increase more than twofold, from 652 million to 1.7 billion, whereas the more developed regions are projected to see a 38 per cent increase in the number of older persons over that period, from 310 million persons aged 60 years or over in 2017 to 427 million in 2050. Projections indicate that in 2050, 79 per cent of the world's population aged 60 or over will be living in the developing regions." The global prevalence of biliary diseases is driving the biliary stents market. The rise in biliary disease surgical procedures is expected to fuel the global demand for biliary stents. The increased use of alternatives in biliary procedures is expected to restrain the demand for biliary stents. The high cost of biliary stent implant procedures is also harming business development. Further studies into how to extend the patency span of plastic and metal stents may be a research highlight shortly. Companies are working on Bi degradable stents and more research on it is carried out around the globe.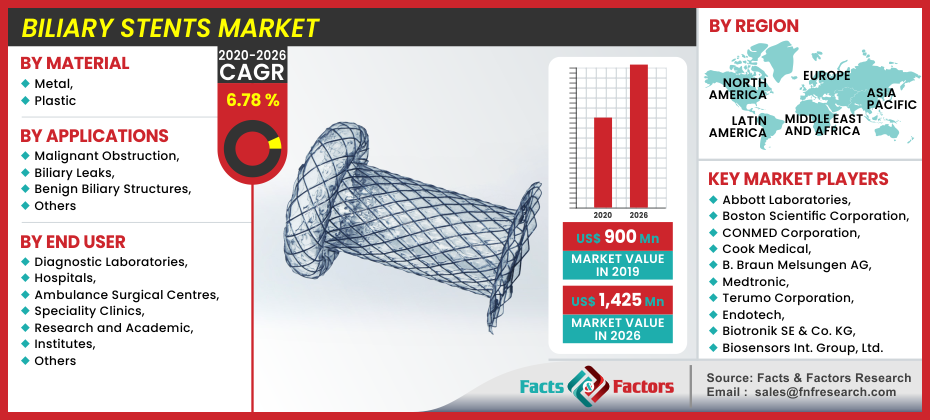 Segmentation Analysis
The global Biliary Stents market is segmented based on material as metal, and plastic. The plastic segment is expected to grow in the near future due to its low cost and ease of insertion and removal during surgeries. Due to the high price factor, self-expanding metal stents may be the second sub-segment of biliary stent form. By application, the market is bifurcated as malignant obstruction, biliary leaks, benign biliary strictures, others. Because of their prevalence and a lack of alternatives to biliary stent insertion, the malignant obstruction, and benign biliary strictures segments are expected to grow rapidly during the forecast era. By end-user, the market is divided into diagnostic laboratories, hospitals, ambulance surgical centers, specialty clinics, research and academic, institutes, others.
Regional Analysis
North America is anticipated to have the largest share in the biliary stent market and the reason for it is robust health infrastructure in the region due to which people of the countries have easier accessibility of hospital services. Moreover, as more and more people are covered under medical insurance, super speciality treatments to cure the disease are increasing. Further, ongoing research on biodegradable stents is also lending fillip to the growth of the market. Similarly, the European region also has accessible medical facilities and a high incidence of the geriatric population which is likely to increase the demand for stent in the market. As the medical facility in the APAC region is increasing, and the proportion of the geriatric population and sedentary lifestyle of youth is expected to increase the demand of biliary stents in the market.
Competitive Players
Major players in the market are Abbott Laboratories, Boston Scientific Corporation, CONMED Corporation, Cook Medical, B. Braun Melsungen AG, Medtronic, Terumo Corporation, Endotech, Biotronik SE & Co. KG, Biosensors International Group, Ltd.
.Global Biliary Stents Market: Regional Segment Analysis
North America
Europe

UK
France
Germany
Italy
Spain
Rest of Europe

Asia Pacific

China
Japan
India
South Korea
Southeast Asia
Rest of Asia Pacific

Latin America

Brazil
Mexico
Rest of Latin America

Middle East and Africa

GCC Countries
South Africa
Rest of MEA