Industry Insights
[206+ Pages Report] According to the report published by Facts Factors, the global automotive parts magnesium die casting market size was worth around USD 12 billion in 2021 and is predicted to grow to around USD 23 billion by 2030 with a compound annual growth rate (CAGR) of roughly 7.21% between 2022 and 2030. The report analyzes the global automotive parts magnesium die casting market drivers, restraints/challenges, and the effect they have on the demands during the projection period. In addition, the report explores emerging opportunities in the automotive parts magnesium die casting market.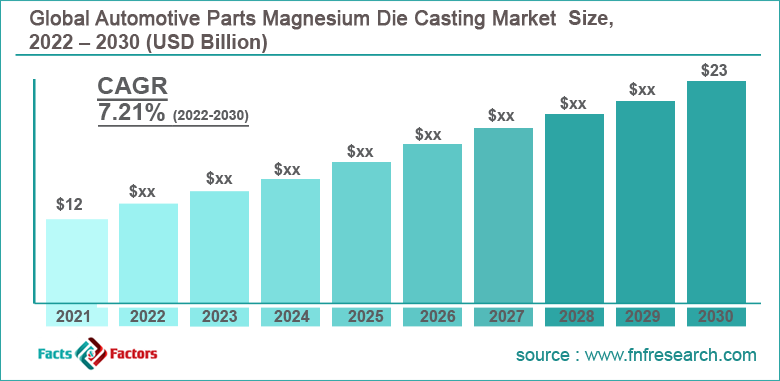 To know more about this report | Request Free Sample Copy
Market Overview
Magnesium is a part of numerous alloys and is widely used as a base material for various structures. The most commonly used magnesium alloy in die-casting processes is the AZ91D due to its excellent resistance to corrosion, high strength, and good cast-ability. For highly durable and lightweight parts, the demand for AZ91D has increased over the years. Magnesium is used in the die-casting processes because of the various benefits associated with its application.
For instance, it is 75% lighter than steel and exhibits the same level of strength. For manufacturing almost-net-shaped or net-shaped, thin-walled, and complex castings, magnesium provides greater stability in terms of dimension. It is also considered stiffer and stronger than most of the modern-age advanced and engineered plastics. Other factors that influence the higher use of magnesium include high wear resistance and better energy absorption which means it can limit the effect of an impact. It also offers resistance to high temperatures.
Key Insights
As per the analysis shared by our research analyst, the global automotive parts magnesium die casting market is estimated to grow annually at a CAGR of around 7.21% over the forecast period (2022-2030)
In terms of revenue, the global automotive parts magnesium die casting market size was valued at around USD 12 billion in 2021 and is projected to reach USD 23 billion, by 2030.
The market is projected to grow at a significant rate due to the numerous benefits of using magnesium and diet casting in combination
Based on production process segmentation, pressure die casting was predicted to show maximum market share in the year 2021
Based on application segmentation, body parts were the leading application in 2021
On the basis of region, Asia-Pacific was the leading revenue generator in 2021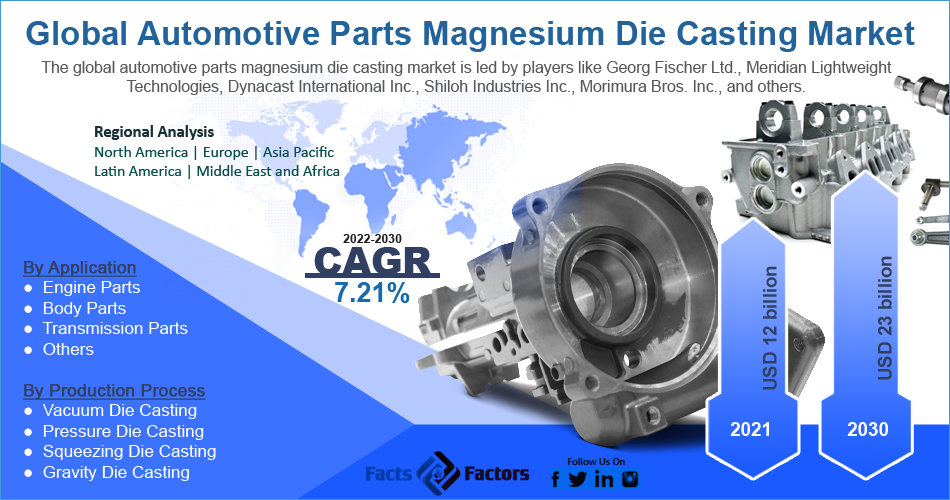 To know more about this report | Request Free Sample Copy
Growth Drivers
Numerous benefits offered by magnesium and die casting as a combination to propel market demand
The global automotive parts magnesium die casting market is projected to grow due to the excellent advantages associated with manufacturing automotive parts by using magnesium as a material and die casting as a process in combination. Magnesium alloys have proven to be far more beneficial in terms of physical, chemical, and mechanical properties as compared to other alloys like steel or aluminum. They are in fact better than the various engineered and modified plastics which makes magnesium one of the most preferred choices of alloy amongst automotive manufacturers.
Most of the players use die casting methods to produce vehicle parts as compared to sand casting methods. Die casting has proven to provide extremely accurate dimensions whereas the other alternative is less accurate. The production volume is also generally higher in die casting methods. It typically begins at 1000 scales and goes higher whereas in the sand casting method the production scale starts from 1 to 1000. The modern day vehicles have complex parts and it is possible to achieve accuracy in manufacturing the complexities in terms of shape using the die casting method.
Restraints
Casting defects to restrict market expansion
The most commonly found defects in terms of magnesium die casting include cold shuts and misruns. They both represent the event where the material may freeze before it fills the mold cavity. They have been termed as serious defects because the area around the defect is known to be weaker than the other areas which could lead to serious issues if the defect is not closely monitored or it is managed to skip the attention of the product provider. However, magnesium is one of the easiest alloys to operate the casting process with but there is always a chance of error during the long production process.
Opportunities
Growing research & development in new magnesium die casting method to provide growth opportunities
Since both magnesium and the die casting process is a popular choices amongst the market players, there has been a growth in the investment toward research & innovation to enhance the output of the die casting process and to achieve 100% accuracy with the use of magnesium alloy. For instance, most corporations are currently using the high-pressure die casting (HPDC) method to manufacture automotive parts; however, the global market is also witnessing a recent shift of interest toward high vacuum die casting processes involving magnesium alloys. These events could provide higher growth opportunities in the coming years.
Challenges
Management of high porosity level to challenge market growth
Even though the magnesium die casting method provides high outputs, the major concern with the use of HPDC includes the management of high porosity level that is a result of injecting molten material at high velocities. This causes the gasses to get trapped. In the case of thin wall sections, the porosity issue is not a serious concern, however, for parts with thicker walls, management of porosity level is a challenging factor for the global market players.
Segmentation Analysis
The global automotive parts magnesium die casting market is segmented based on application, production process, and region
Based on application, the global market segments are engine parts, body parts, transmission parts, and others. In 2021, the body parts segment generated the highest revenue due to the growing revenue in the automobile sector. Die casting allows vehicle manufacturers to explore the areas of complex part production since the process becomes easy with die casting. The segmental growth was also driven by the higher use of magnesium die casting to produce body parts of motorcycles. The sales of 2-wheelers registered surging numbers in 2021. For instance, in India, the sales of two-wheelers rose by 9% in terms of year-on-year revenue.
Based on production process, the global market is segmented into vacuum die casting, pressure die casting, squeezing die casting, and gravity die casting. The highest CAGR was registered in the pressure die casting process owing to the growing demand for electric vehicles. This has resulted in product and service providers phasing out the use of heavy components with lighter-weight structures which can be achieved with magnesium alloys. As compared to aluminum, it is 35% lighter and has almost similar or better mechanical properties.
Recent Developments:
In May 2022, Bocar and GF Casting Solutions entered a collaboration to conduct research & development activities intended to explore die casting methods. The collaboration is expected to help the companies bring higher value to their customers
In June 2020, STIHL Magnesium Die-Casting announced the expansion of its Germany plant with the launch of a new production logistics unit
Report Scope
| | |
| --- | --- |
| Report Attribute | Details |
| Market Size in 2021 | USD 12 Billion |
| Projected Market Size in 2030 | USD 23 Billion |
| CAGR Growth Rate | 7.21% CAGR |
| Base Year | 2021 |
| Forecast Years | 2022-2030 |
| Key Market Players | Georg Fischer Ltd., Meridian Lightweight Technologies, Dynacast International Inc., Shiloh Industries Inc., Morimura Bros. Inc., and others. |
| Key Segment | By Application, Production Process, and Region |
| Major Regions Covered | North America, Europe, Asia Pacific, Latin America, and the Middle East &, Africa |
| Purchase Options | Request customized purchase options to meet your research needs. Explore purchase options |
Regional Analysis
Asia-Pacific to register the highest growth during the projection period
The global automotive parts magnesium die casting market is projected to register the highest growth in Asia-Pacific owing to the growing automobile sector in regions like Japan, China, India, South Korea, and others. The projected regional CAGR for 2030 is 7.56%. The growth could be attributed to the increasing number of small and medium-sized players with aggressive strategies to expand sales and revenue. The increasing number of people opting for different types of vehicles including two-wheelers, three-wheelers, and cars may also lead to higher projected growth. As per a recent survey, around 620 people out of 1000 own at least one car in Japan. The number indicated the consumption rate as of 2020. A 2019 survey by Rakuten Insight indicated that 69% of the respondents mentioned being the owner of a car. Growing investments in the automobile segment are a major reason for the regional market expansion.
Competitive Analysis
Georg Fischer Ltd.
Meridian Lightweight Technologies
Dynacast International Inc.
Shiloh Industries Inc.
Morimura Bros. Inc.
The global automotive parts magnesium die casting market is segmented as follows:
By Application Segment Analysis
Engine Parts
Body Parts
Transmission Parts
Others
By Production Process Segment Analysis
Vacuum Die Casting
Pressure Die Casting
Squeezing Die Casting
Gravity Die Casting
By Regional Segment Analysis
North America
Europe

France
The UK
Spain
Germany
Italy
Nordic Countries
Benelux Union

Belgium
The Netherlands
Luxembourg

Rest of Europe

Asia Pacific

China
Japan
India
Australia
South Korea
Southeast Asia

Indonesia
Thailand
Malaysia
Singapore
Rest of Southeast Asia

Rest of Asia Pacific

The Middle East & Africa

Saudi Arabia
UAE
Egypt
South Africa
Rest of the Middle East & Africa

Latin America

Brazil
Argentina
Rest of Latin America