Industry Insights
[221+ Pages Report] According to Facts and Factors, the global automotive parts die casting (aluminum, magnesium, and zinc) market is expected to increase at a compound annual growth rate (CAGR) of 7.5% during the projection period between 2022 and 2028. The valuation for the global automotive parts die casting (aluminum, magnesium, and zinc) market was USD 12.2 billion in 2021 and it is expected to cross USD 21.5 billion, by 2028. The report explores various factors and their implications on the global automotive parts die casting (aluminum, magnesium, and zinc) market's growth.
Market Overview
The technique of making finely defined, correctly dimensioned, smooth, or patterned metal parts is known as automotive parts die casting. Cars have the most die-cast parts in the automobile industry, which are generally small metal parts such as engine parts, gearbox & motor covers, shading poles, auto forks, connectors, and heat sinks.
Aluminum, magnesium, and zinc parts are produced using the high-pressure die-cast technique. The benefits of this method are mould conformance, acceptable mechanical qualities, and low cost. The method is utilized in the production of automobiles, aerospace, and electrical appliances. The die-casting method involves pouring molten metal at high velocity and pressure into a die.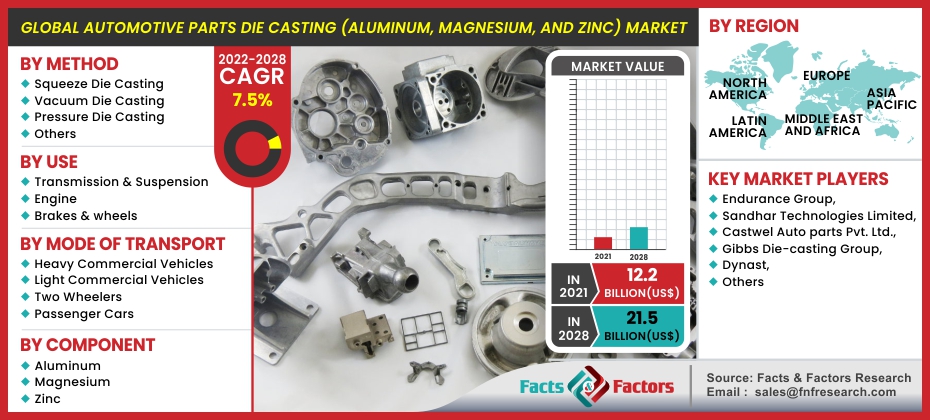 To know more about this report | Request Free Sample Copy
Die casting is an efficient and cost-effective method of producing parts of various forms and sizes in the automotive industry. Die casting allows for the production of vehicle parts at a fast rate. Intricate geometries of utter difficulty can be easily created at a rate that conventional manufacturing techniques cannot match. Once a mould is constructed, thousands of pieces can be produced with little or no processing before the moulds are repaired. Die casting allows for the production of incredibly thin-walled items that are both lighter and stronger.
Die-casting aluminum parts in the automotive sector:
Aluminum is widely employed in the manufacture of car components. Aluminum alloys are lighter and dimensionally stable, making them ideal for making complex machine parts. When it comes to creating extremely thin-walled machine parts, metal is also useful. Die casting in the automotive sector requires low-density aluminum.
There are a variety of reasons why the automobile industry prefers aluminum die casting as a technique of component manufacturing.
- Aluminum die-casting allows for the production of highly lightweight car components.
- Using aluminum die casting, it is feasible to construct components that are heat resistant and friction-resistant, as well as impact-proof to safeguard against road accidents.
- Aluminum, unlike other metals, is more versatile when it comes to making designs that are hard to achieve with other metals.
- Aluminum die casting will be tremendously advantageous in the long run for creating vehicle parts because it is recyclable and has a low environmental impact.
Die-casting Magnesium parts in the automotive sector:
In alloy die casting, magnesium is one of the most malleable and light metals. Because magnesium in its pure form is volatile, corrosive, and flammable, it should be combined with other lighter metals like aluminum before being cast into various textures and shapes.
Magnesium alloys are frequently employed in the production of numerous automotive parts. It can be melted in a number of different ways. Depending on your needs, you could utilize a hot chamber or a cold chamber for die casting.
Some of the advantages of magnesium in die casting are:
- The use of magnesium, aluminum, or zinc alloys allows for the production of high-performance, light-weight products.
- It is feasible to attain good corrosion resistance over carbon steel or aluminum alloys by using new magnesium alloys with higher purity.
- Because magnesium die casting can produce exceptionally thin-walled vehicle parts, structures can be constructed from a single piece rather than multiple components. As a result, costs are reduced, joints are reduced, tool costs are reduced, and dependability is improved.
- Magnesium-cast automobile parts have a higher level of stability and quality.
- It may be harvested and is considered eco-friendly because of its widespread occurrence. It is completely recyclable and biodegradable.
Die-casting Zinc parts in the automotive sector:
- Zinc outperforms aluminum and magnesium in terms of fluidity. Although aluminum is lighter than zinc, it could aid in the creation of parts with more complicated shapes and thinner walls.
- The metal is a good conductor of electricity and heat, making it a good choice for current autos that are becoming more intelligent.
- Automobile parts composed of zinc last a long time because the metal responds very slowly when exposed to the air. This results in an extended die life with no need for routine maintenance.
- Because the volume of waste accumulating on the earth is increasing year after year, employing zinc to manufacture vehicle parts will become an excellent alternative because it is both ecologically benign and recyclable.
- Because the volume of waste accumulating on the earth is increasing year after year, employing zinc to manufacture vehicle parts will become an excellent alternative because it is both ecologically benign and recyclable.
- Without any particular treatment, the metals are much more durable and tougher than aluminum or magnesium. According to studies, the metals can be 15 times stronger and harder than the A380 aluminum alloy.
COVID-19 Impact:
Due to trade restrictions and supply chain disruptions around the world, the COVID-19 pandemic had a significant influence on manufacturing operations, and the market experienced a slowdown. However, as economic activity restarts around the world, the global market is expected to develop steadily over the projection period.
Growth Drivers
Rising demand for automobiles will boost the market growth
During the projected period, rising automobile sales are expected to augment the market of the automotive parts die casting (aluminum, magnesium, and zinc) market. This can be attributed to increased urbanization, rising consumer disposable income, fuel efficiency laws, and improvements in dynamics. Furthermore, a surge in global automobile sales has resulted in a significant shift toward personal vehicles, which is likely to fuel the expansion of the automotive components die casting (aluminum, magnesium, and zinc) market over the forecast period.
Government initiatives to reduce high automobile emission levels may support market growth
Automobile manufacturers are required to utilize modern technologies to limit high emission levels in vehicles in many nations as a result of government activities to implement laws and regulations on vehicular emissions. Automotive manufacturers have been prompted to obtain components for making lightweight vehicles as a result of recent environmental protection agency (EPA) standards. As a result, the market for automobile component die casting in the country is likely to grow. Additionally, steps launched by the National Air Duct Cleaners Association (NADCA) to advance the technical personnel in the die casting business are aiding the market's growth.
Restraints
High cost of the dies can hinder the market growth
Variations in raw material pricing are projected to be a major stumbling block to the market's expansion. The temp of the molten material and the cycle duration of the die determine its durability. Because cast iron cannot sustain the high pressures necessary in die casting, the dies are normally made of hardened tool steels. As a result, the dies are quite expensive, resulting in high start-up costs.
Opportunities
Various government policies aimed at promoting the production and sale of autos in emerging economies such as India, Turkey, Mexico, and Southeast Asian countries are expected to open up a slew of prospects for automotive parts die casting manufacturers.
The push for energy efficiency in automobiles, as well as the adoption of electric vehicles, is driving demand for lightweight material-based components like aluminum, leading to lucrative growth prospects for automotive part die-casting market participants.
Various government-led projects in Turkey, Iran, Morocco, and India will provide appealing prospects for firms wishing to expand their manufacturing facilities.
Challenges
The most critical criteria that automakers have for their suppliers is that they produce parts that are reliable and of good quality in a just-in-time manner. Automobile manufacturers also demand their suppliers have their own manufacturing plants near their factories. Die casting foundries must overcome a number of challenges that interact with one another in order to meet this criteria. Lastly, globalization is included. Because of the worldwide interconnection of industrial activity, well-established automotive suppliers will face stiff international competition, with enterprises from emerging nations playing a larger role. Light metal die casting competes with the production of steel & aluminum sheets and profiles in this industry because structural components often have a wide surface and a small thickness. Die casting foundries may face yet another challenge as a result of this.
Segmentation Analysis
The global automotive parts die casting (aluminum, magnesium, and zinc) market is segregated on the basis of method, use, mode of transport, component, and region.
By method, the market is divided into squeeze die casting, vacuum die casting, pressure die casting, and others. Vacuum die casting is expected to grow at a rapid pace. Most die-casting techniques create weldable automotive products, but vacuum die casting provides better weldable automotive products. It removes air from the mould, allowing the front of the molten metal to combine easily without developing any closures or holes, which is a key difficulty with pressure die casting.
By use, the market is classified into transmission & suspension, engine, and brakes & wheels. By 2028, the automotive casting market for engine use will be worth around USD 85 billion. The expansion of casting inside the engine segment will be triggered by the positive prognosis of the automotive sector.
By mode of transport, the market is divided into heavy commercial vehicles, light commercial vehicles, two-wheelers, and passenger cars. The passenger cars segment contributed to more than half of the market in 2020, and the sector is expected to rise rapidly from 2022 through 2028.
By component, the market is classified into aluminum, magnesium, and zinc. The aluminum material segment is expected to grow at a rate of more than 5.5% by volume through 2028. Aluminum's use in vehicle production has been steadily increasing over the last few decades, and this trend is expected to continue in the next few years.
Report Scope
| | |
| --- | --- |
| Report Attribute | Details |
| Market Size in 2021 | USD 12.2 Billion |
| Projected Market Size in 2028 | USD 21.5 Billion |
| CAGR Growth Rate | 7.5% CAGR |
| Base Year | 2021 |
| Forecast Years | 2022-2028 |
| Key Market Players | Endurance Group, Sandhar Technologies Limited, Castwel Auto parts Pvt. Ltd., Gibbs Die-casting Group, Dynast, and Others |
| Key Segment | By Method, Use, Mode of Transport, Component, and By Region |
| Major Regions Covered | North America, Europe, Asia Pacific, Latin America, and the Middle East & Africa |
| Purchase Options | Request customized purchase options to meet your research needs. Explore purchase options |
Regional Landscape
Asia Pacific region emerged as the fastest growing market holding more than 55% of the market in 2020 and is also predicted to develop at the highest rate throughout the forecast period. Furthermore, because the region has a high number of foundries, obtaining raw materials is simple and inexpensive. Several governments in the region have developed measures to accelerate the growth of the automobile sector.
The Chinese automotive sector contributed 26.6% of the region's overall demand for casting. The Chinese market is expanding, and so is the discretionary income of middle-class consumers. This, in turn, has a positive effect on the vehicle's expanding demand. Automobile production has expanded considerably in the last five years due to the country's low production costs.
Recent Developments
March 2021: Sandhar Technologies Limited has confirmed the signing of a non-viable memorandum of understanding with Unicast Autotech Pvt Ltd to acquire an aluminium die-casting enterprise.
February 2021: Endurance Technologies' new plant in Vadagal, Vallam, Kancheepuram, Tamil Nadu, has begun commercial production. The plant will produce aluminium die-castings and integrate disc brake parts with control brake stimulators in order to deliver billet aluminum castings to Kia, Hyundai, and Royal Enfield.
Competitive Landscape
Some of the main competitors dominating the global automotive parts die casting (aluminum, magnesium, and zinc) market are Endurance Group, Sandhar Technologies Limited, Castwel Auto parts Pvt. Ltd., Gibbs Die-casting Group, and Dynast.
The global automotive parts die casting (aluminum, magnesium, and zinc) market is segmented as follows:
By Method Segment Analysis
Squeeze Die Casting
Vacuum Die Casting
Pressure Die Casting
Others
By Use Segment Analysis
Transmission & Suspension
Engine
Brakes & wheels
By Mode of Transport Segment Analysis
Heavy Commercial Vehicles
Light Commercial Vehicles
Two Wheelers
Passenger Cars
By Component Segment Analysis
By Regional Segment Analysis
North America

The U.S.
Canada
Mexico
Rest of North America

Europe

France
The UK
Spain
Germany
Italy
Nordic countries

Denmark
Finland
Iceland
Sweden
Norway

Benelux Reunion

Belgium
The Netherlands
Luxembourg
Rest of Europe
Asia Pacific

China
Japan
India
New Zealand
Australia
South Korea
Southeast Asia

Indonesia
Thailand
Malaysia
Singapore
Rest of Southeast Asia

Rest of Southeast Asia

The Middle East & Africa

Saudi Arabia
UAE
Egypt
Kuwait
South Africa
Rest of the Middle East & Africa

Latin America

Brazil
Argentina
Rest of Latin America