Industry Insights
[197+ Pages Report] According to a Facts and Factors report, global AI in HIV/AIDS market was valued at over USD 240.0 million in 2020 and is expected to generate revenue of over USD 400.7 million by the end of 2026, with a CAGR of around 8.9% during the projected period.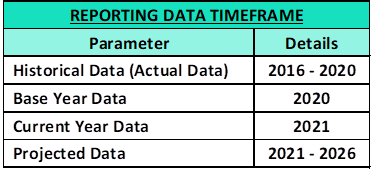 Market Overview
Artificial intelligence (AI) is a term referring to a scientific discipline that focuses on the development of robots that can partially or completely replicate human intelligence. These machines are made up of computers, sensors, robots, and hyper-smart gadgets.
In healthcare, artificial intelligence (AI) is the use of advanced algorithms to mimic human perception in the analysis, comprehension, and interpretation of complicated medical and healthcare data. AI is a type of intelligent system that connects diverse human intelligence-based capabilities including reasoning, learning, and problem-solving across fields such as engineering, biology, computer science, mathematics, psychology, and linguistics. Furthermore, the healthcare business benefits from the integration of artificial intelligence (AI) and machine learning technologies, which makes medication research and development more innovative, time-effective, and cost-effective.
To detect potential candidates for preexposure prophylaxis (PrEP), artificial intelligence and machine learning algorithms have been used in hospital settings in the Denmark and United States, as well as in a population-based research environment in Eastern Africa. The benefits of this technology are to encourage real-time HIV risk reduction and chatbots for HIV education.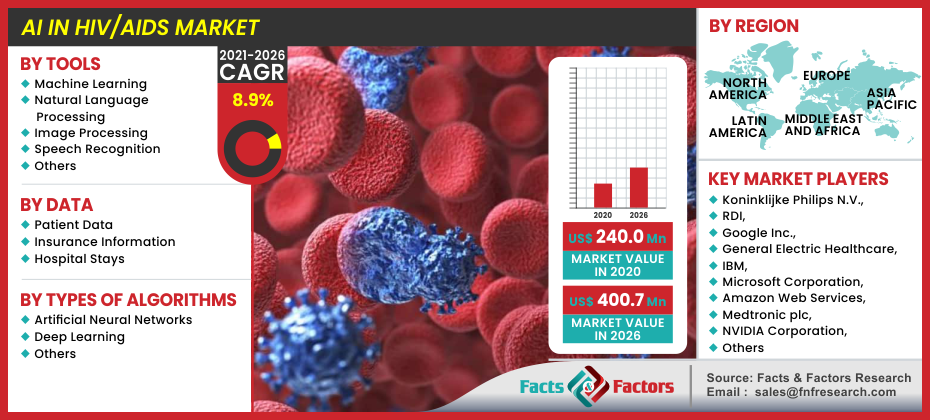 Industry Growth Factors
The healthcare industry is faced with a number of difficulties, including staff reductions, increasing service standards, and budgetary cuts. It's no surprise that many individuals are turning to artificial intelligence (AI) for better solutions, which is propelling AI's growth in the HIV/AIDS industry. In addition, increased AI capabilities and the use of AI for unique surgeries, are propelling the worldwide AI investments in the healthcare sector which is proliferating the market growth forward.
Segmentation Analysis
On the basis of tools used in Artificial Intelligence (AI) in HIV & AIDS Market, the market can be segmented into Machine Learning, Natural Language Processing, Image Processing, Speech Recognition, and others. Based on data used for AI, the Artificial Intelligence (AI) in HIV & AIDS market can be segmented into patient data, insurance information, and hospital stay. Based on the types of algorithms used for Artificial Intelligence (AI) in the HIV & AIDS Market, the market can be segmented into artificial neural networks, deep learning, and others.
Regional Analysis
Since it is home to some of the world's leading giant enterprises, such as Google, Intel, NVIDIA, IBM, GE Healthcare, Microsoft, and Johnson & Johnson, North America dominates the worldwide Artificial Intelligence in HIV & AIDS market. The United States held the largest market share in North America in 2019. Although the United States has the most registered hospitals in the region, a lack of healthcare workers is expected in the future years. AI can aid with patient data management, patient care, and hospital administration apps, all of which can help to alleviate such problems.
Competitive Players
Some main participants of the global AI in HIV/AIDS market are Koninklijke Philips N.V., RDI, Google Inc., General Electric Healthcare, IBM, Microsoft Corporation, Amazon Web Services, Medtronic plc, Johnson & Johnson Services, Inc., NVIDIA Corporation, Intel Corporation, General Vision, Inc., and Siemens Healthineers AG among others.
AI in HIV/AIDS Market: Segmentation Analysis
By Tools:
Machine Learning
Natural Language Processing
Image Processing
Speech Recognition
Others
By Data:
Patient Data
Insurance Information
Hospital Stays
By Types of Algorithms:
Artificial Neural Networks
Deep Learning
Others
Regional Segment Analysis
North America
Europe

UK
France
Germany
Italy
Spain
Rest of Europe

Asia Pacific

China
Japan
India
South Korea
Southeast Asia
Rest of Asia Pacific

Latin America

Brazil
Mexico
Rest of Latin America

Middle East and Africa

GCC Countries
South Africa
Rest of MEA