Industry Insights
[198+ Pages Report] As per the Facts and Factors market research report, the global Agricultural Sensors market generated sales revenue of USD 1.36 Billion in 2020. Further, the agriculture sensors sales are expected to generate revenue of USD 2.63 Billion by the end of 2026, increasing at a CAGR of around 11.56% from 2021 to 2026.
Market Overview
Agricultural sensor is a group of sensing devices used in today's agriculture, like precision farming, to provide data that helps farmers track and optimize crops, as well as respond to evolving environmental conditions. Agricultural sensors are rapidly gaining prominence among farmers as a result of the growing need for optimal productivity with limited resources. Furthermore, evolving weather conditions caused by rising global temperatures have necessitated the use of sophisticated sensors to boost production and crop yield. Through providing sophisticated sensors, farmers will benefit from real-time farm tracking, weather forecasts, optimum field requirements, and other related services. Agricultural sensors allow farmers to maximize yield while reducing human effort and waste.
Industry Growth Factor
The growing acceptance of precision farming technology is projected to drive the global agriculture sensors market over the forecast period. Furthermore, the significant adoption of modern agricultural procedures in North America is driving demand growth during the projected era. Agriculture sensor farming is rapidly gaining commercialization and farmer adoption in developing regions as a result of good research. The growing public and private sector funding for the implementation of precision agriculture approaches is expected to drive up demand for agriculture sensors in the developing world. Precision farming technologies have poor penetration in emerging regions due to a lack of understanding about the advantages of these technologies and their high initial cost.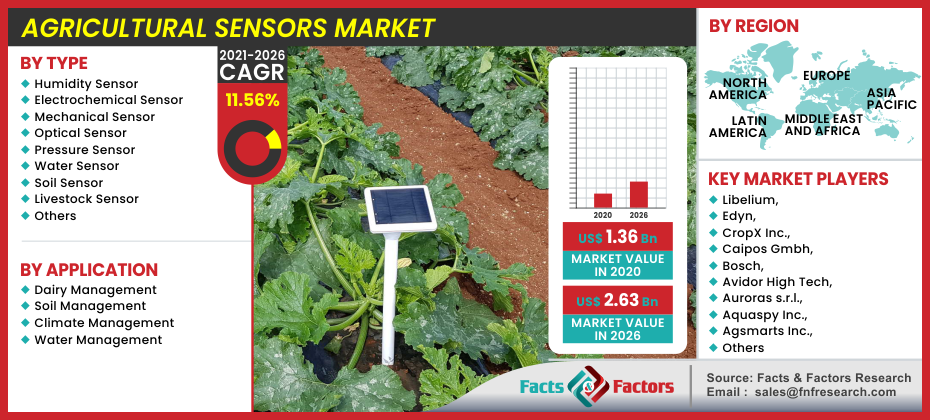 To know more about this report | Request Free Sample Copy
To meet the challenges of a shrinking professional labour force and fluctuating climatic conditions, new techniques for indoor farming are needed. When growing crops solely indoors, the farmer has control over moisture levels, light levels, and nutrient levels. Agriculture sensors with small-scale controller systems with high flexibility allow businesses to increase device automation and yields. This will, in essence, generate prospects throughout the forecast era. The combination of agricultural sensors with the trend in indoor agriculture is expected to increase crop production sizes which in turn will drive the global demand for sensors during the forecast era.
Global Agricultural Sensors Market: Segmentation
Based on Type, the market is bifurcated into optical sensors, livestock sensors, humidity sensors, mechanical sensors, electrochemical sensors, pressure sensors, soil sensors, water sensors, and others. Based on application, the market is bifurcated into dairy management, climate management, soil management, and water management.
Global Agricultural Sensors Market: Regional Analysis
Based on regions, the global Agricultural Sensors market can be divided into five main regions.
North America holds the largest market share. The increased use of advanced agriculture technologies in the US would improve the demand in this area by strong government support to increase agriculture productivity and availability of support infrastructure and acceptability of smart and precession farm methodologies. The enhanced implementation of advanced agricultural technologies in the U.S. and Canada has been strengthened with strong government funding for enhancing agricultural production, access to support facilities, and the adoption of smart and precession methodologies. The use of precise farming methods by large farmers in North America and Europe has greatly gained, and now medium and small farms are also slowly increasing their investment in precious and intelligent farming methods to maximize productivity. In the entire forecast timeframe, Asia Pacific is projected to be experiencing tremendous growth as important countries concentrate on raising awareness of the benefits of precision farming. The vast agricultural areas and the increasing use of precision and smart farming methodologies to meet the demand for agricultural production are expected to be India and China's key market for agriculture sensors.
Global Agricultural Sensors Market: Competitive Players
Some of the key players in the Agricultural Sensors market are Libelium, Edyn, CropX Inc., Caipos Gmbh, Bosch, Avidor High Tech, Auroras s.r.l., Aquaspy Inc., Agsmarts Inc., Acquity Agriculture, Acclima Inc., Pycno Agriculture, Sentek Ltd, Sentera, LLC., Sol Chip Ltd, Texas Instruments, The Yield Pty Ltd, Trimble Inc, and Vegetronix Inc.
Global Agricultural Sensors Market: Type Segment Analysis
Humidity Sensor
Electrochemical Sensor
Mechanical Sensor
Optical Sensor
Pressure Sensor
Water Sensor
Soil Sensor
Livestock Sensor
Others
Global Agricultural Sensors Market: Application Segment Analysis
Dairy Management
Soil Management
Climate Management
Water Management
Global Agricultural Sensors Market: Regional Segment Analysis
North America
Europe
The Asia Pacific
Latin America
The Middle East and Africa