Industry Insights
[212+ Pages Report] According to the report printed by Facts & Factors, the global Advanced Driver Assistance System (ADAS) Sensors market was calculable at about USD 12,500 Million in 2020 and is anticipated to get revenue of around USD 25,000 Million by year-end 2026, growing at a CAGR of around 11.7% between 2021 and 2026.
To know more about this report | Request Free Sample Copy
Global Advanced Driver Assistance System (ADAS) Sensor Market: Overview
Sensors are the foundation of the Advanced Driver Assistance System (ADAS) architecture. ADAS are in-vehicle systems that track, alert, and manage the vehicle with partial and complete driver override. It aids the driver in driving and other tasks such as parking the vehicle, where the person driving the car is unable to fully focus on driving and requires assistance in vehicle control. Since ADAS sensors are such a critical part of ADAS decision-making for vehicle control, many sensor manufacturers are focusing on developing high-precision sensors.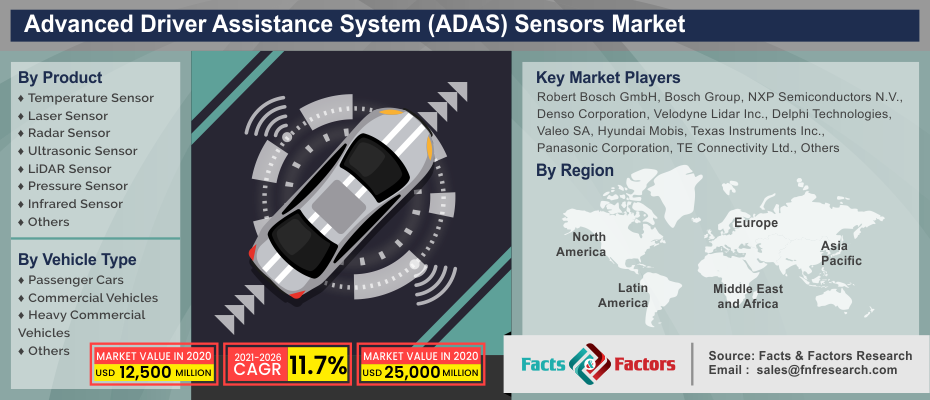 To know more about this report | Request Free Sample Copy
Global Advanced Driver Assistance System (ADAS) Sensor Market: Growth Factors
The ADAS sensors industry would benefit from an increased understanding of vehicle safety scores and lower product costs as a result of the widespread use of cameras and radars. ADAS technologies are being adopted by major automakers in order to obtain better safety scores and draw more customers. As a result, during the forecast period, demand for components such as radar sensors, LiDAR, and ultrasonic sensors would increase due to the growing penetration of ADAS sensor features. For successful operation, ADAS sensors need simple infrastructures with well-organized highways, GPS availability, and lane marking.
The growth of the industry in developing countries is hampered by a lack of infrastructure outside of urban areas, cost considerations, and inadequate driving training or discipline. Furthermore, financial crises brought about by the current COVID-19 pandemic would stymie the growth of new transportation networks. The advent of self-driving cars is supposed to revolutionize commuting. With features including lane tracking, emergency braking, and stability sensors, among others, ADAS innovations have greatly reduced the difficulty of driving. To capture data, autonomous vehicles use sophisticated technology and devices like LiDAR, radar, ultrasonic sensors, and high-definition cameras.
An onboard smart autonomous driving system analyzes this data in order to safely steer the car. In the coming years, major automobile companies such as Volkswagen, General Motors Tesla, and Ford expect to release fully autonomous vehicles. Nissan revealed in March 2018 that ProPILOT will be available in 20 vehicles by 2022. OEMs will be able to add more cruise control technology and sophisticated safety mechanisms for semi-autonomous vehicles as the emphasis on autonomous driving systems grows. Sensors such as radar sensors, ultrasonic sensors, LiDAR, microphones, infrared, and multiple actuators make up the majority of ADAS safety features.
These sensors and actuators keep track of fields in both directions, ensuring the vehicle's, driver's, passengers, and pedestrians' protection. The system's operation is influenced by a variety of influences, including traffic and temperature. In the absence of precise fail-safe procedures, occupant protection can be jeopardized. The stable running of ADAS necessitates a fine combination of automation and manual override. ADAS sensors must be protected against malicious hackers in addition to meeting their practical specifications. An intruder who gains access to the device can be able to take possession of the car. Several experiments have shown that Bluetooth, Wi-Fi, and even GPS can be used to achieve vehicle access. Device suppliers and OEMs face a major security risk as a result of these attacks.
Global Advanced Driver Assistance System (ADAS) Sensor Market: Segmentation
On the basis of product type, the ADAS sensor market is bifurcated into categories such as temperature sensor, laser sensor, radar sensor, ultrasonic sensor, lidar sensor, pressure sensor, infrared sensor, and others. Increasing safety awareness and an increase in the number of injuries are driving the ADAS industry, resulting in increased demand for radar sensors in countries like China, the United States, and big European countries. The use of 24 GHz radar in the 5 GHz bandwidth has been limited by the US Federal Communications Commission (FCC) and the European Telecommunications Standards Institute (ETSI). Moreover, during the projected timeframe, an increased emphasis on collision avoidance systems in semi-autonomous driving systems is likely to fuel demand for radar sensors. Based on the vehicle type, the market could be further split into passenger cars, commercial vehicles, and heavy commercial vehicles. The segment of passenger cars is further split into luxury, compact, SUVs, and mid-sized cars. Due to the high cost of these systems, ADAS is still used in high-end luxury vehicles and other passenger vehicles. As a result, there is much less use in the commercial vehicle market. Due to automakers' preference to incorporate safety features into vehicles to boost their brand reputation in the industry, the OEM segment dominated the ADAS sensors market revenue share. Companies are establishing strategic alliance relationships with component and technology vendors to strengthen their competitive position. This would accelerate the advancement of innovative automotive safety technologies, boosting demand growth.
Global Advanced Driver Assistance System (ADAS) Sensor Market: Regional Analysis
Because of the presence of leading manufacturers in this country, North America and Europe are expected to account for the largest share of the global ADAS sensor market. Furthermore, during the forecast era, increasing awareness about driving safety, as well as initiatives and regulations established by road safety authorities, is expected to accelerate market growth in these regions. Due to the exponential growth of the automotive industry in major economies such as China, India, Japan, and Australia in the region, the demand in the Asia Pacific is expected to rise at a significant pace.
Report Scope
| | |
| --- | --- |
| Report Attribute | Details |
| Market Size in 2020 | USD 12,500 Million |
| Projected Market Size in 2026 | USD 25,000 Million |
| Growth Rate | CAGR 11.7% |
| Base Year | 2020 |
| Forecast Years | 2021–2026 |
| Key Market Players | Robert Bosch GmbH, Bosch Group, NXP Semiconductors N.V., Denso Corporation, Velodyne Lidar Inc., Delphi Technologies, Valeo, SA, Hyundai Mobis, Texas Instruments Inc, Panasonic Corporation, TE Connectivity Ltd., Continental AG., Quanergy Systems Inc., Autoliv Inc., Pixelplus Co. Ltd., HELLA GmbH & Co. KGaA, ON Semiconductor Corp., Littelfuse Inc., OmniVision Technologies Inc., LeddarTech Inc. |
| Key Segment | By Product Type, By Vehicle, By Sales, and By Region |
| Major Regions Covered | North America, Europe, Asia Pacific, Latin America, and the Middle East & Africa |
| Purchase Options | Request customized purchase options to meet your research needs. Explore purchase options |
Global Advanced Driver Assistance System (ADAS) Sensor Market: Competitive Players
The major players dominating the globally advanced driver assistance system (ADAS) sensor market in terms of revenue and development are :
Robert Bosch GmbH
Bosch Group
NXP Semiconductors N.V.
Denso Corporation
Velodyne Lidar Inc.
Delphi Technologies
Valeo SA
Hyundai Mobis
Texas Instruments Inc.
Panasonic Corporation
TE Connectivity Ltd.
Continental AG.
Quanergy Systems Inc.
Autoliv Inc.
Pixelplus Co. Ltd.
HELLA GmbH & Co. KGaA
ON Semiconductor Corp.
Littelfuse Inc.
OmniVision Technologies Inc.
LeddarTech Inc.
Some of the world's most well-known companies are launching new products or acquiring competitors, meaning that the industry will continue to expand exponentially in the coming years. For example, ZF Friedrichshafen announced the implementation of an advanced driver assistance kit, the coASSIST "Level 2+" framework, in January 2020. The new ADAS system will provide traffic sign identification, lane-keeping assistance, and adaptive cruise control functions thanks to specialized components including RADAR and camera sensors.
Global Advanced Driver Assistance System (ADAS) Sensor Market: By Product Type Segmentation Analysis:
Temperature Sensor
Laser Sensor
Radar Sensor
Ultrasonic Sensor
LiDAR Sensor
Pressure Sensor
Infrared Sensor
Others
Global Advanced Driver Assistance System (ADAS) Sensor Market: By Vehicle Type Segmentation Analysis
Passenger Cars
Commercial Vehicles
Heavy Commercial Vehicles
Others
Global Advanced Driver Assistance System (ADAS) Sensor Market: By Sales Channel Segmentation Analysis
Original Equipment Manufacturer (OEM)
Independent Aftermarket (IAM)
Original Equipment Spares (OES))
Global Advanced Driver Assistance System (ADAS) Sensor Market: Regional Segmentation Analysis
North America
Europe

Germany
The UK
France
Spain
Italy
Rest of Europe

Asia Pacific

China
Japan
India
South Korea
Southeast Asia
Rest of Asia Pacific

Latin America

Brazil
Mexico
Rest of Latin America

Middle East & Africa

GCC Countries
South Africa
Rest of the Middle East & Africa